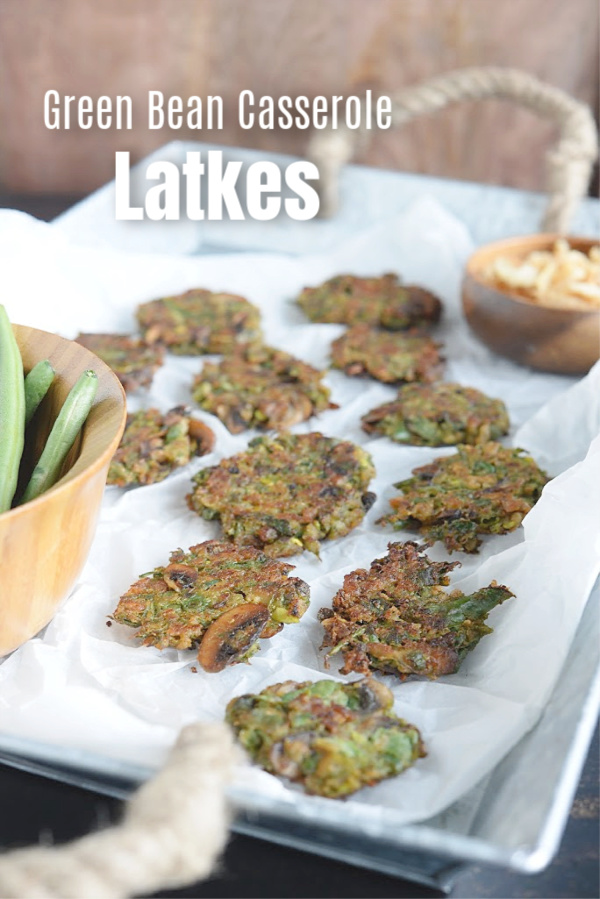 A little over one month until Chanukah so it's time for all things LATKES!!!!! Thank goodness we live in a day and age where a potato latke is no longer the one and only, even though the classic is pretty dang awesome.
…and now Green Bean Casserole Latkes! Clearly I'm a fan of latkes, right?!?! I've combined all of the flavors of a green bean casserole into these latkes, including french fried onions (I think I might have an addiction to those) as the binder that holds these beauties together. If you've never shredded a green bean before, now's your chance!!!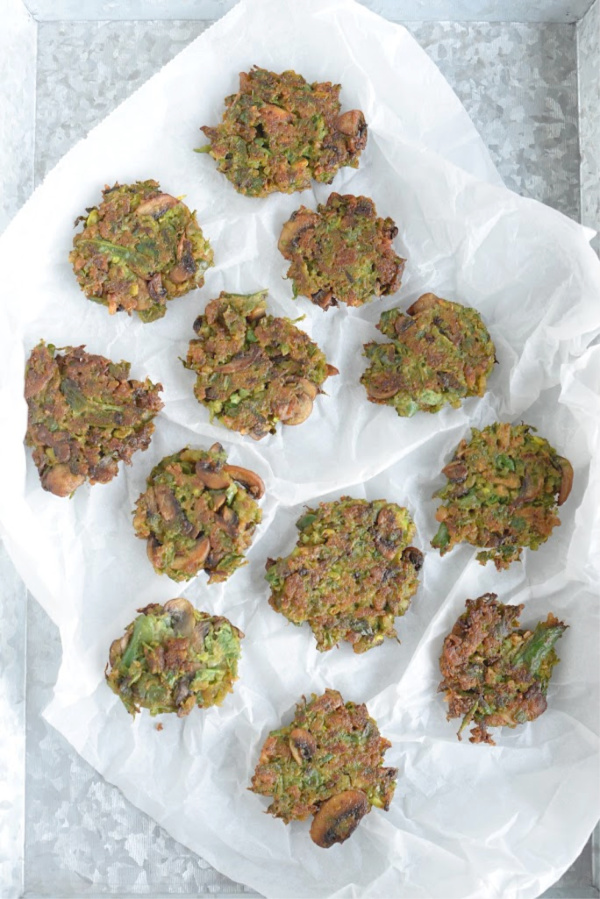 Green Bean Casserole Latkes
---
Ingredients
12 ounces green beans (around 4 cups)
8 ounces button mushrooms (2 cups sliced)
1 egg
1 cup fresh fried onions, crushed
1 tsp kosher salt
1/2 tsp garlic powder
1/2 tsp onion powder
neutral oil, for frying (canola, vegetable, avocado, coconut)
Instructions
Clean and slice mushrooms and saute over medium heat in olive oil until lightly browned. Add a sprinkle of salt and pepper for flavor.
Using a food processor and the shredding blade/disc, shred the green beans by placing a large handful in at the same time. If you don't pack them tight, they might not all shred. It's okay if there are some larger pieces left.
Combine the cooked mushrooms and shredded green beans with 1 egg, the crushed french fried onions, salt, onion and garlic. The mixture should be thick.
Heat a thin layer of oil in a pan over medium heat and drop 1 heaping tablespoon of the latke batter into the oil. This latke is your "tester" latke to make sure the oil is hot enough and the batter stays together. One tip is to measure the latke and then press it into a ball before dropping into the oil so it stays together better. Press down slightly once in the oil and let it cook for around 2 minutes then flip and cook an additional 2 minutes. Transfer the latke to a paper towel lined plate or a cooling rack with paper towels underneath. The paper towel will soak up some of the excess oil.
Repeat with remaining batter and eat! Latkes are best served fresh but can be reheated in an oven on a metal rack for maximum crispiness.
7.8.1.2
271
https://melindastrauss.com/2018/11/01/green-bean-casserole-latkes/