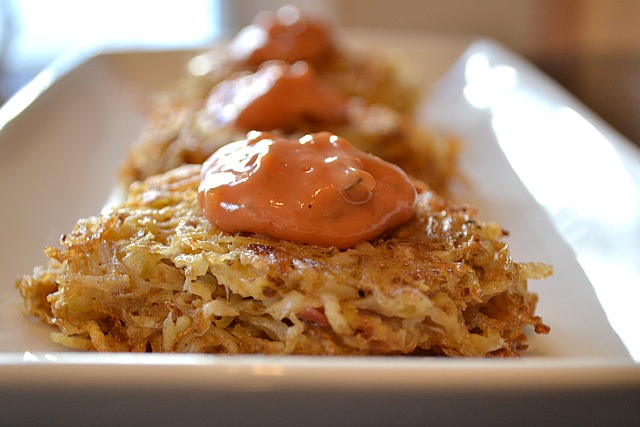 Drum roll please!!! For the first time ever, I made my very own from-scratch latkes! It's not that I've had anything against making my own latkes in the past, but it was always easier to let other people do the work or even just buy the delicious frozen variety. But this year, I decided to take the plunge and come up with my own unique take on the simple fried potato pancake and just in time for Chanukah. A Kosher-Style favorite that I've always dreamt of trying is a Reuben sandwich but alas, the mixture of Swiss cheese and corned beef means that I can never eat the real thing. So instead of drooling over something I will never be able to enjoy, I took the ingredients that make up a Reuben sandwich; rye bread, corned beef, sauerkraut and Russian dressing, and turned them in to the ultimate stuffed latke.
Ingredients
Stuffed Reuben Latkes
3-4 Idaho potatoes
2 cups sauerkraut, drained well then squeezed between paper towels
3 eggs, beaten
1 Tbsp ground caraway seeds
2 tsp salt
1 tsp black pepper
3 Tbsp whole spelt flour (or rye flour)
Vegetable oil for frying
Stuffing
5-6 oz. Corned beef, chopped
3 Tbsp Homemade Russian dressing
1 Tbsp ground caraway Seeds
Homemade Russian Dressing
½ cup ketchup
¼ cup mayonnaise
¼ cup sweet pickle relish
Instructions
In a large frying pan, heat ½ inch of oil on medium-high heat. The oil must be hot enough to crisp up the potatoes and sauerkraut but not too hot to burn them.
Place a heaping spoonful of the latke mix in to the hot oil. You can probably fit 3-4 latkes at a time, but be sure not to overcrowd the pan. They should sizzle and crisp up fairly quickly, after around 2 minutes. Once the latkes begin to crisp, place the corned beef filling inside.
Top with another spoonful of the potato mixture to completely cover the filling. Flip over and fry for another 2 minutes.
Drain on paper towel, serve hot and enjoy!
7.8.1.2
29
https://melindastrauss.com/2011/12/13/stuffed-reuben-latkes/