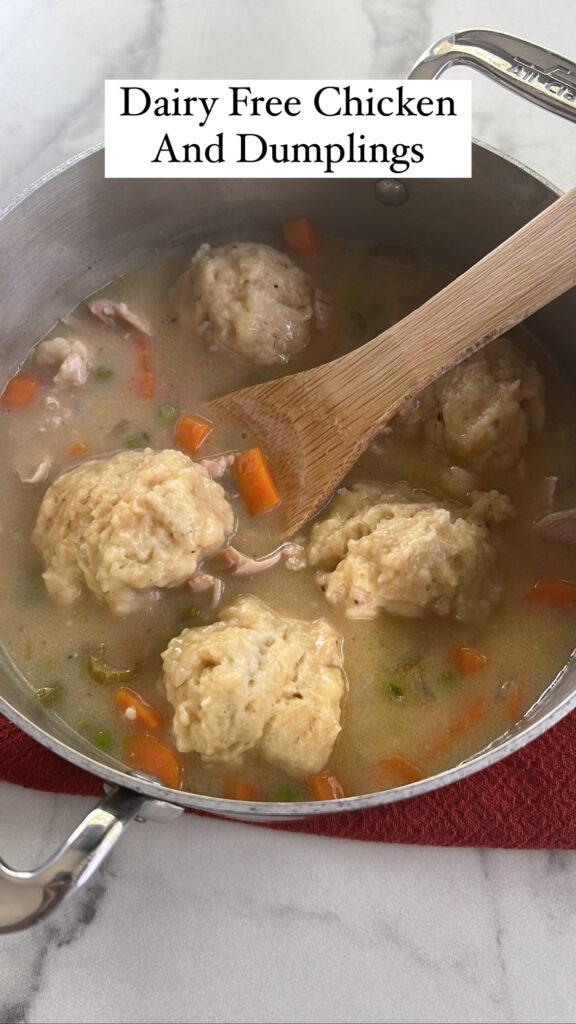 I made this recipe for a blogger party where we all made different dumplings from around the world and it was a HUGE hit!! The most delicious comfort food! And yes, you can use dairy instead of the dairy-free ingredients if you don't keep kosher. I made this dairy free because as a Jew who keeps kosher, I don't mix and dairy.
Print
Dairy Free Chicken And Dumplings
4 Tbsp vegan butter
1 large onion, chopped
4–5 carrots, peeled and diced
4–5 celery stalks, trimmed and diced
4 cloves garlic, minced
1 Tbsp Worcestershire sauce (fish free)
2 tsp salt
1–2 tsp black pepper
1 tsp dried thyme
3 Tbsp all-purpose flour
3 cups chicken stock
1/2 cup soy milk (or any milk alternative)
3–4 cups shredded cooked chicken
1/4 cup frozen peas
Dumplings:
2 cups all-purpose flour
1 Tbsp baking powder
1 tsp black pepper
1 tsp salt
1 tsp dried thyme
4 Tbsp vegan butter, melted
1 cup soy milk (or any milk alternative)
Instructions
Melt butter in a large pot over medium-high heat.
Add onions, carrots, and celery and saute for 5 minutes, until veggies soften.
Add garlic and cook for 1 minute.
Add Worcestershire sauce and season with salt, pepper, and thyme.
Sprinkle flour and stir to combine. Cook for 1 minute.
Stir in the broth and milk and bring the soup to a boil. Add the chicken and frozen peas, then lower to a simmer and make the dumplings.
In a mixing bowl, whisk together the flour, baking powder, pepper, salt, thyme. Make a well in the center, add the melted butter and milk, stir it all together into a thick batter.
Scoop the batter into the soup using a cookie scoop or a large spoon, cover the pot, and simmer for 15 minutes. The dumplings will be puffed up and cooked through the center.
Top with fresh black pepper when serving.