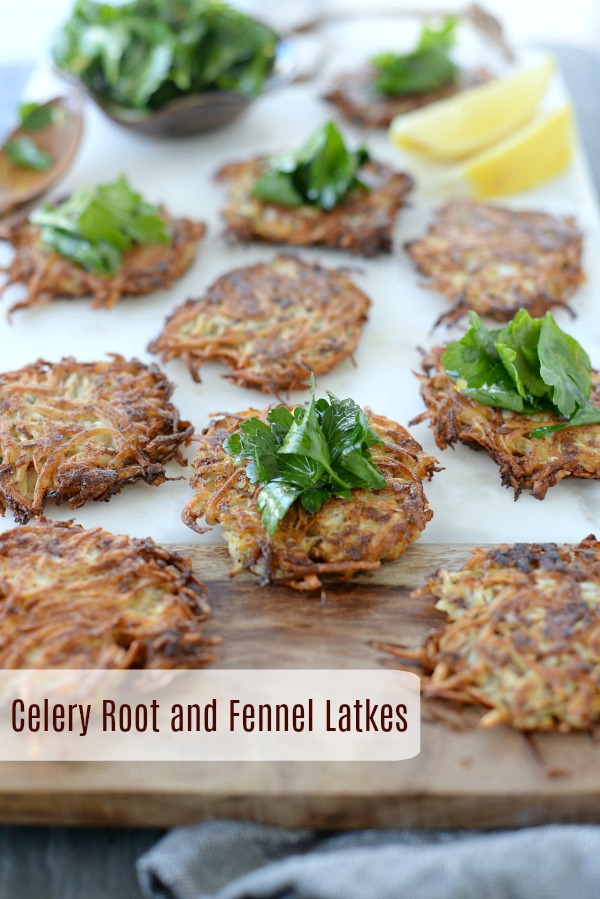 I know, I know, every time I post a latke without potatoes, inevitably someone will tell me that it's not tradition and that I'm nuts. Well yeah, I'm definitely nuts and I'm also totally okay steering away from traditions when it means I get to push my creativity and food education. Let's be honest, potato latkes are insanely delicious but also pretty freaking unhealthy and crazy high in carbohydrates, which are this type 1 diabetics enemy. I love a crunchy oily fried potato latke as much as the next person but they just don't love me back. So this year, more than ever before, I brainstormed latke alternatives that could truly mimic the texture of a potato latke and the aha moment came from my friend, Hudi Riven, talented chef and baker, who suggested I try celery root (also known as celeriac and knob celery). My 'Kitchen Tested' light came on because as many times as I've seen celery root at my local grocery (yeah, it's kinda ugly), I've never actually cooked with it before!
Even before biting into the celery root, the aroma had me mesmerized because it really does smell just like celery! Shocking or not so shocking?? I peeled the skin with a sharp knife because a peeler just won't cut it (yeah, pun intended), and I realized from the texture and raw flavor that you could seriously use celery root like any other root vegetable. Roast it, blend into soups, add to cholent, make a casserole, fry in a hash. I could go on and on but today it's all about the latke! I added shredded fennel for some natural sweetness…and for anyone that doesn't like the anise flavor of raw fennel, roasting or frying completely transforms it. To top off the health factor, I used flaxseed meal instead of flour and fried in much less oil (seriously, they don't need to be deep fried!!!) and I am loving how these latkes came out. Crunchy on the outside, soft on the inside, sweet and savory, easy to fry and they won't fall apart. Success!!!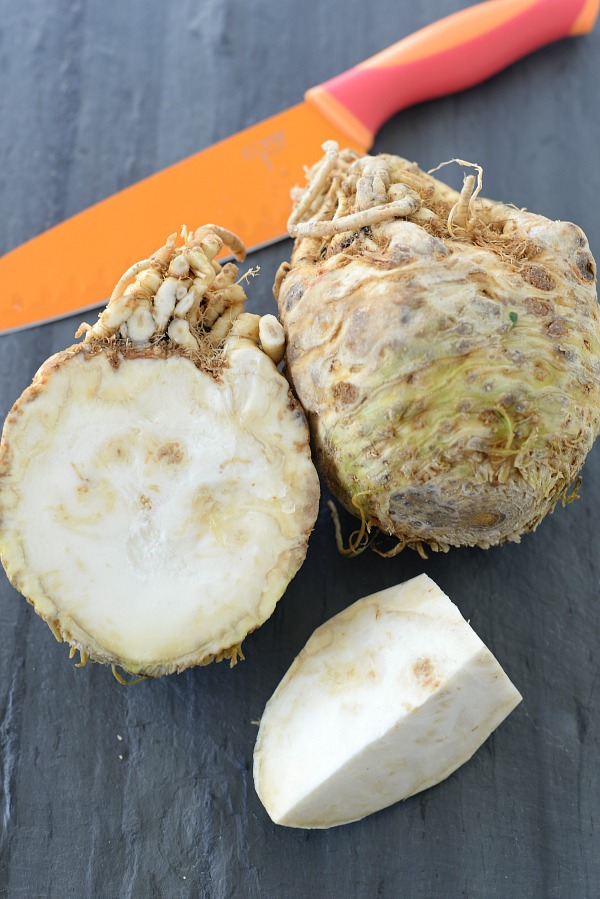 Like I said, celery root isn't the prettiest thing in the produce section but it's definitely one of the tastiest.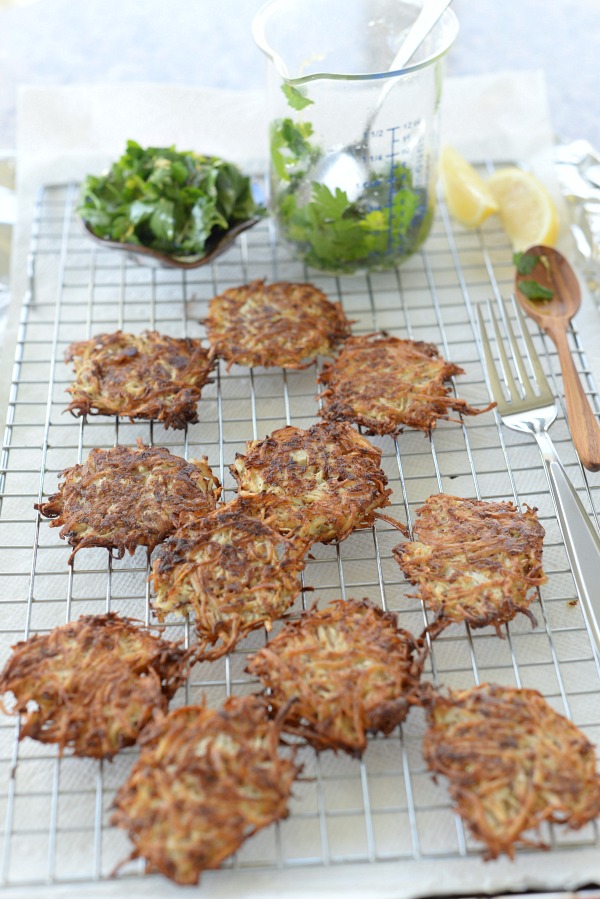 You can see the crunch right through the screen!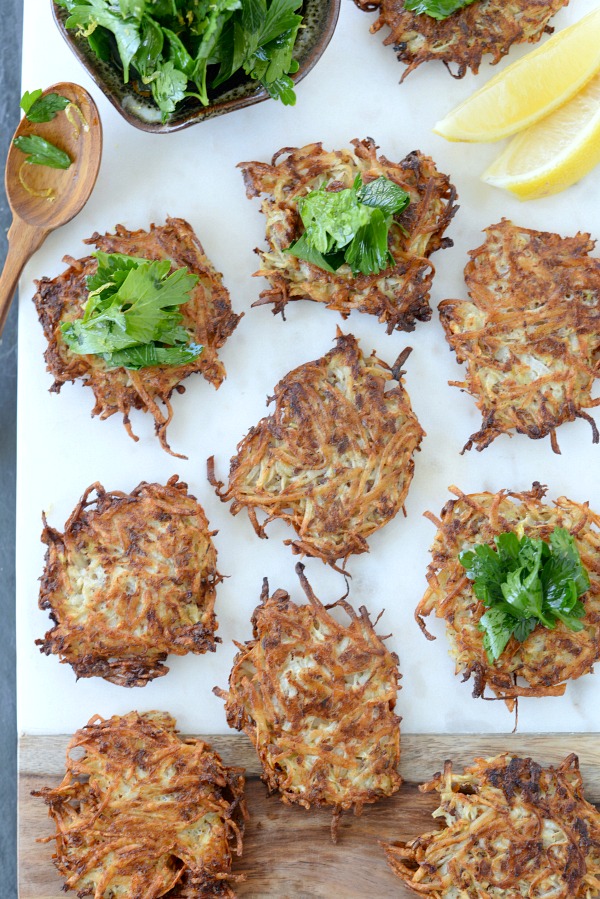 I topped these latkes off with a gremolata of parsley, lemon zest, olive oil and salt for a pop of bright fresh flavor and texture. You can add any of your favorite toppings…apple sauce, sour cream, pulled brisket?
Celery Root and Fennel Latkes
1 cup

grated celery root (from

1

small celery root)

1 cup

grated fennel (from

1

fennel head, greens removed)

2

egg whites

1 Tbsp

flaxseed meal

1 tsp

dijon mustard

1/2 tsp

salt

1/4 tsp

pepper

1/4 cup

coconut oil or vegetable oil (neutral oil)
Parsley Gremolata
1 cup

fresh parsley, roughly chopped

1 Tbsp

olive oil

1 tsp

lemon zest

1/4 tsp

salt
Instructions
Place the grated celery root and fennel in a clean towel or cheesecloth and squeeze out all the moisture from the with your hands. Transfer to a mixing bowl and stir together with the egg whites, flaxseed meal, dijon, salt and pepper.
Heat a frying pan or griddle over medium heat and add the oil. When the oil is hot, add 4-5 small spoonfuls of the latke mixture and press down into a circle. Cook for 2 minutes on each side, until the latkes are golden brown and crispy. Transfer to a metal cooling rack with paper towels underneath to drain any excess oil.
Stir together the parsley, lemon zest, olive oil and salt and top the latkes with this chopped herb mixture, called a gremolata, and serve.