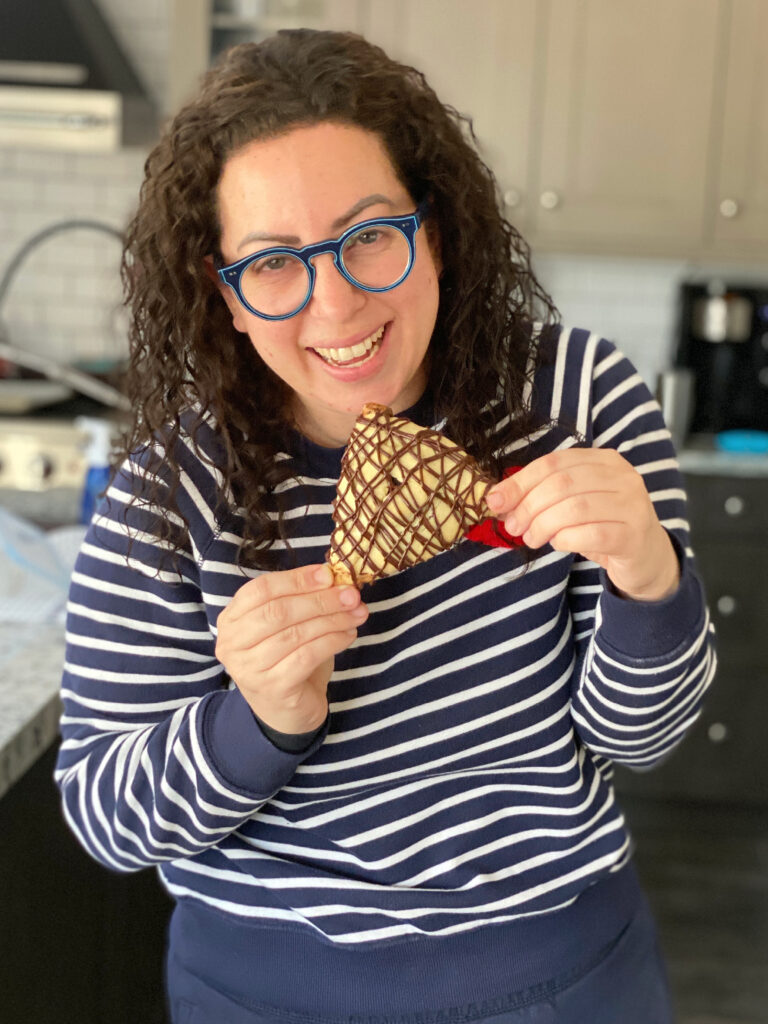 Overstuffed Brownie Hamantaschen aka Brookie Hamantaschen! I know we're told not to overstuff our hamantaschen dough or they open while baking…but these are an exception! These hamantaschen are such a sugar rush but they were so much fun to make.
Print
Overstuffed Brownie Hamantaschen
Author:
Yield:

1

dozen cookies

1

x
2 eggs
½ cup oil
½ cup sugar
½ tsp vanilla extract
2 cups all-purpose flour
½ tsp baking powder
¼ tsp kosher salt
1 box brownie mix (follow package directions but don't bake)
1 package Oreo cookies
1 package store bought cookie dough (or you can make your own)
1 small jar nutella (hazelnut spread)
Instructions
Preheat oven to 350° f. and line two baking sheets with parchment paper.
Mix together the wet ingredients: egg, oil, sugar and vanilla extract. Add the dry ingredients: flour, baking powder and salt, and stir until a smooth dough is formed. Roll out the dough to 1/4 inch thick then using a large cookie cutter or a knife, cut out circles that are around 6 inches wide. These are BIG cookies.
Place a spoonful of raw brownie batter in the bottom, top with cookie dough, hazelnut spread, then an Oreo cookie. Press the filling down slightly then pinch the edges closed to form a triangle.
Bake the hamantaschen for 18-20 minutes. Transfer to a wire rack to cool. Once cooled, you can drizzle some melted chocolate over the hamantaschen.