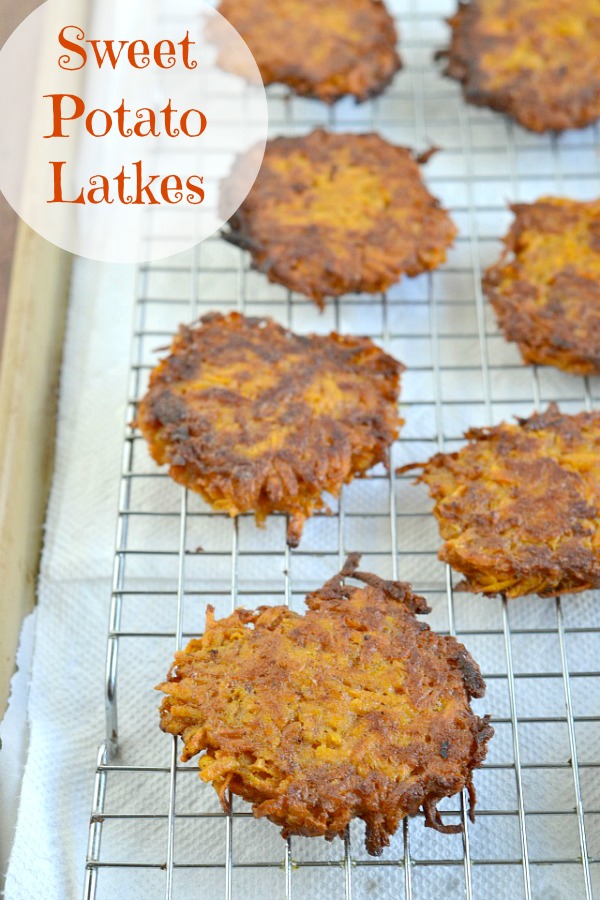 I should really call these SWEET Sweet Potato Latkes because they are practically dessert. I've added brown sugar to the batter and graham cracker crumbs as a binder. If you would like your sweet potato latkes to be more savory, leave out the graham crackers and brown sugar then add a bit of all-purpose flour to bind. I would even sprinkle in a bit of sea salt and black pepper.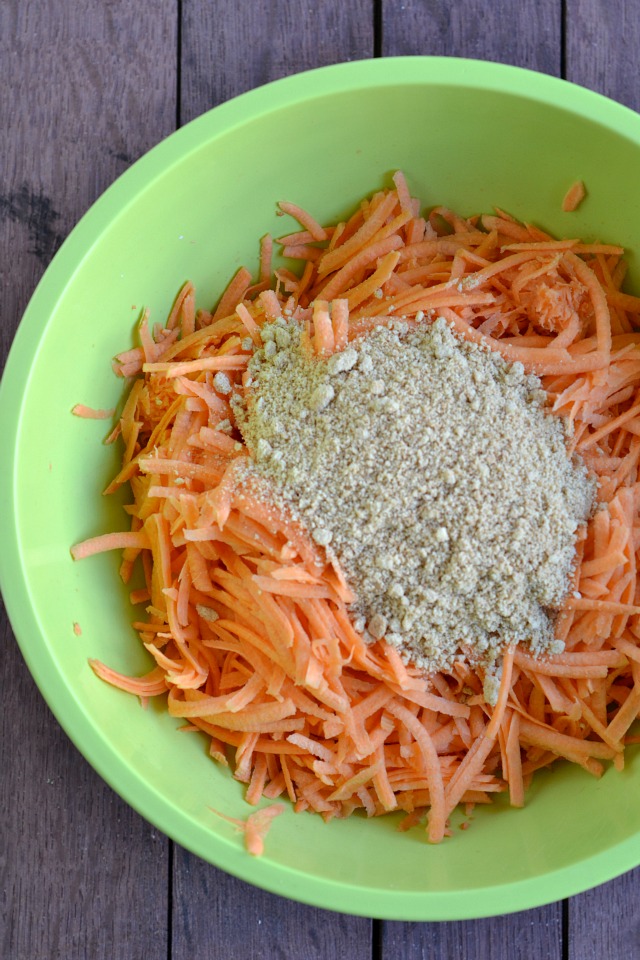 Print
Sweet Potato Latkes
1

lb. sweet potatoes, peeled (

2

–

3

sweet potatoes)

1/2 cup

crushed graham crackers (

4

–

5

crackers)

1/4 cup

brown sugar

2

eggs

1 tsp

ground cinnamon

1/2 tsp

salt

1/2 cup

oil
Instructions
Peel and grate sweet potatoes. Place the shredded sweet potatoes in a cheese cloth or dish towel and squeeze out any excess liquid.
Add the sweet potatoes, graham cracker, brown sugar, eggs, cinnamon and salt together in a mixing bowl and stir until all of the sweet potatoes are covered.
Heat the oil in a frying pan over medium heat for 2-3 minutes. Line a baking sheet with paper towels and top with a metal cooling rack. Check that the oil is hot enough by dropping a bit of latke batter into the pan and if bubbles form around the edges of the potatoes, the oil is ready. Tip: fry one latke first to make sure your oil is the correct temperature and it's a good practice round so you don't burn your latkes.
Scoop the latke batter using a 1/4-cup measuring cup and squeeze out the latke of any liquid so you get a crunchy latke. Carefully drop the latkes into the hot oil and fry for 1-2 minutes per side for a golden crust.
Place the cooked latkes on the cooling rack and the oil will drip down onto the paper towels below.
If you're feeling whimsical, broil some marshmallow on top of your sweet potato latkes and drizzle with chocolate…S'MORES LATKES!!!