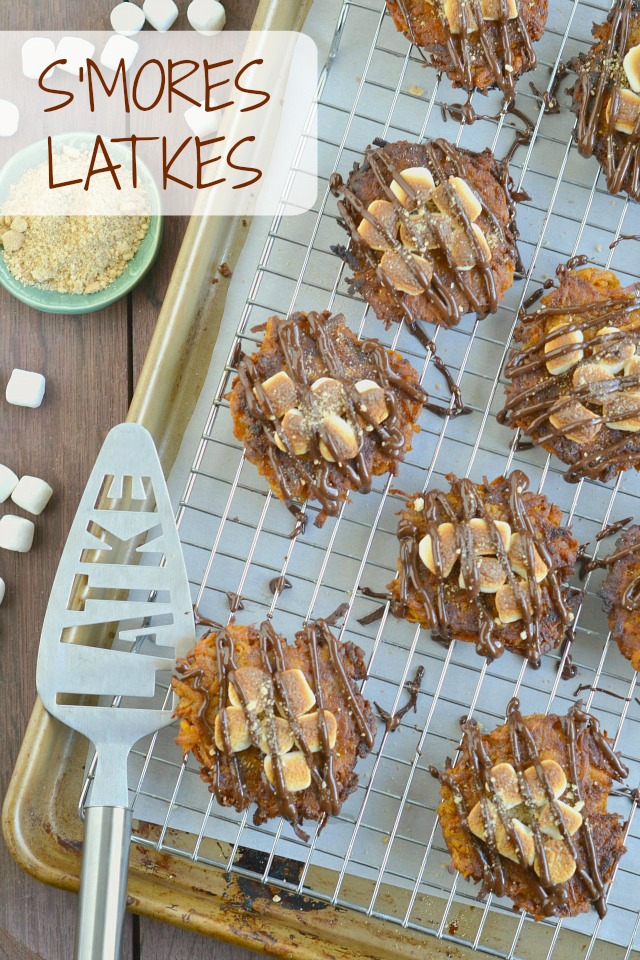 There are just no words. I mean, it's toasted marshmallows and chocolate drizzle allllllll over crunchy sweet potato graham cracker latkes! Most latkes I eat on Chanukah are savory and even when they are sweet, they are still considered a side dish and it's time to take a stand. It's time to say YES to the dessert latke to end all dessert latkes! I don't think we need to sign any petitions or anything but if I had to, I definitely would. As you can tell, I'm obsessed with these S'mores Latkes and I'll tell you why. The batter actually tastes like a graham cracker! I use crushed graham crackers to bind the latkes and cinnamon and brown sugar for flavor. After frying them to crunchy perfection, these latkes get topped with marshmallows, broiled until the house smells like a campfire then drizzled with luscious melted chocolate. You're welcome!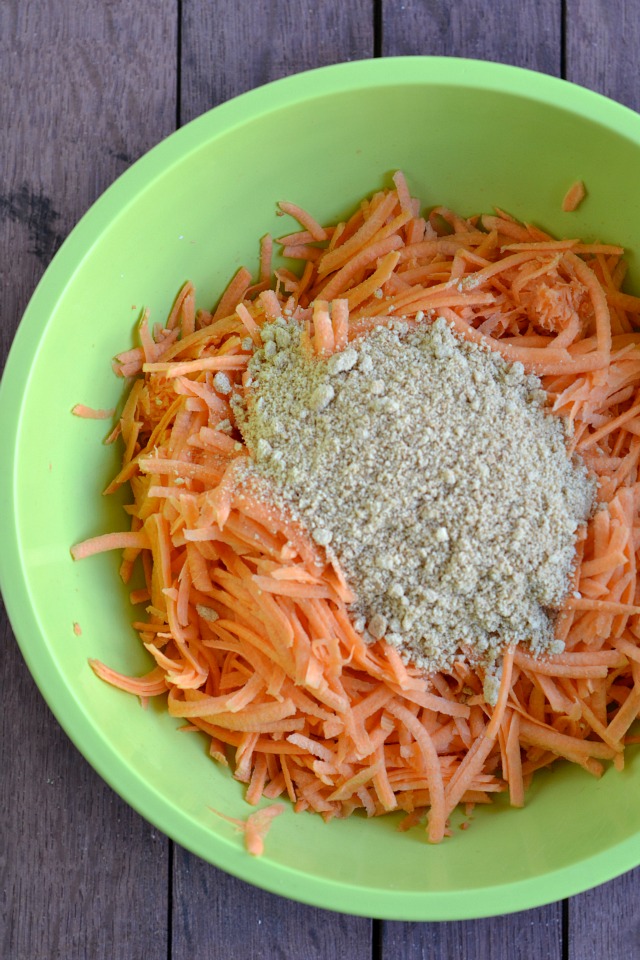 That beautiful crust on the sweet potato graham cracker latkes means you get a crunchy bite that holds up to the toasted marshmallows and chocolate. You can thank the brown sugar and hot oil for that!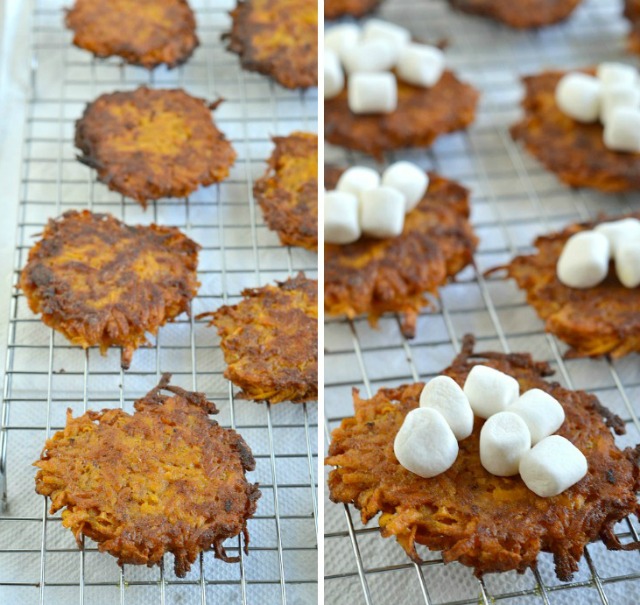 Campfire style!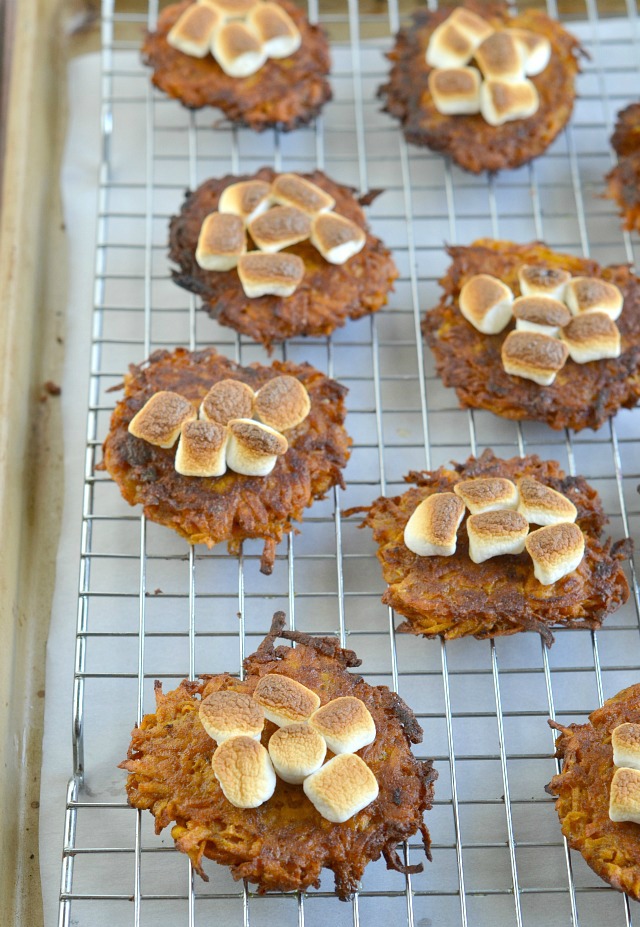 Can you just imagine serving these latkes to your friends and family???? They will go nuts!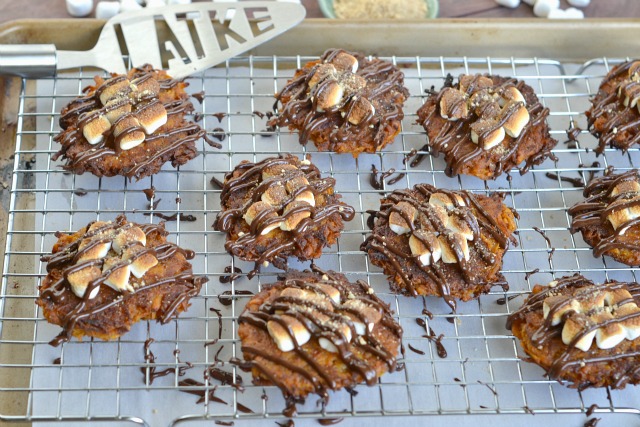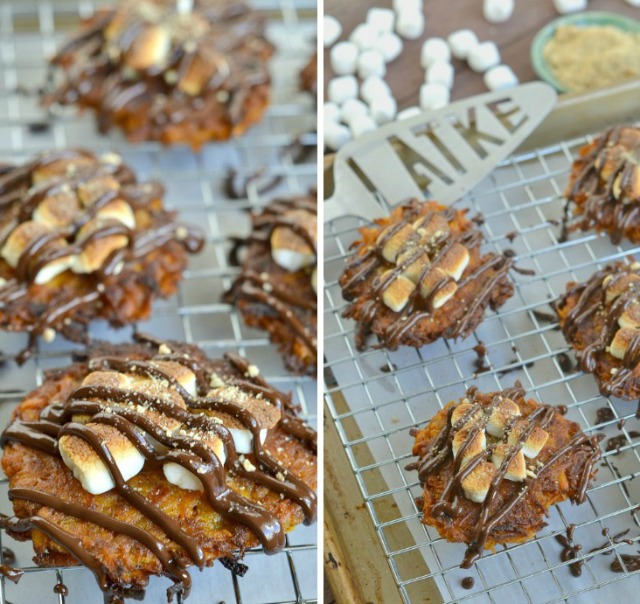 Print
S'mores Latkes
1

lb. sweet potatoes, peeled (

2

–

3

potatoes)

1/2 cup

crushed graham crackers (

4

–

5

crackers)

1/4 cup

brown sugar

2

eggs

1 tsp

ground cinnamon

1/2 tsp

salt

1/2 cup

oil

1 cup

mini marshmallows

1/2 cup

chocolate chips
Instructions
Peel and grate sweet potatoes. Place the shredded sweet potatoes in a cheese cloth or dish towel and squeeze out any excess liquid.
Add the sweet potatoes, graham cracker, brown sugar, eggs, cinnamon and salt together in a mixing bowl and stir until all of the sweet potatoes are covered.
Heat the oil in a frying pan over medium heat for 2-3 minutes. Line a baking sheet with paper towels and top with a metal cooling rack. Check that the oil is hot enough by dropping a bit of latke batter into the pan and if bubbles form around the edges of the potatoes, the oil is ready. Tip: fry one latke first to make sure your oil is the correct temperature and it's a good practice round so you don't burn your latkes.
Scoop the latke batter using a 1/4-cup measuring cup and squeeze out the latke of any liquid so you get a crunchy latke. Carefully drop the latkes into the hot oil and fry for 1-2 minutes per side for a golden crust.
Place the cooked latkes on the cooling rack and the oil will drip down onto the paper towels below. When all of the latkes are cooked, preheat the oven to broil and remove the paper towels from the baking sheet. Don't forget this step or it will catch on fire in the oven! Place 4-5 mini marshmallows on top of each latke then broil the latkes for 1 minute to toast the marshmallows.
Melt the chocolate in a microwave-safe bowl for 1 minute, stir until smooth and drizzle the chocolate over the latkes. Top with any extra crushed graham crackers and eat!