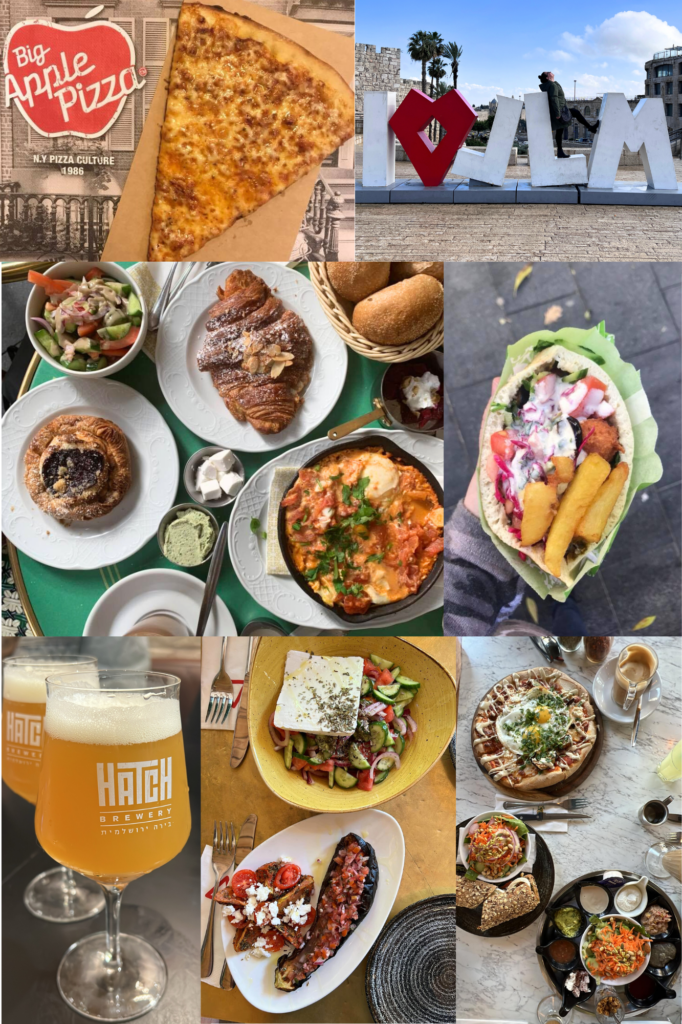 This is an original list made by Melinda Strauss. You can watch many of my videos from Israel here: TikTok Israel Playlist
A few important disclaimers:
Please do your own research on kosher certifications for the restaurants listed below. I will not be adding that information because in Israel, it can change often and we all have different kosher standards of what we eat. This is a no judgement zone so if you wouldn't eat somewhere, just don't eat there.
The kosher restaurants are listed in no particular order and I have eaten at (almost) all of them. You won't see much in Tel Aviv on my list yet since I usually stay in Jerusalem, but I've added the few I've tried so far. I've also added recommendations from many of my blogger friends.
This is not a complete list of all kosher restaurants in Israel. This list is specifically based on the restaurants I and my friends have been to. I will update the list as I try new restaurants. The beauty of Israel is there are so many incredible kosher restaurants, I could make it my life's work trying them all.
Not all restaurants in Israel are kosher but I would say a majority in Jerusalem are. If you don't keep kosher or are not Jewish, you can absolutely eat at kosher restaurants. Just make a note that on Sabbath (which is Friday night to Saturday night at sundown), most stores and restaurants in Jerusalem are not open.
BEST Falafel: Shalom Falafel
BEST Shawarma: Halo Teiman
Big Apple Pizza: Lunz St 3, Jerusalem
Listen, there might be better pizza shops in Jerusalem but Big Apple will always have my heart. Thin crust, served on cardboard, and easy fast food. This is my first stop every time I come to Jerusalem! Try the jalapeno slice!
Aroma: there are Aroma cafes all over Israel. Justin's favorite thing to get there is the Bulgarian cheese boreka. I love it all, especially the sugar free ice coffee (which is actually a slushy).
English Cake Bakery: There are many locations around Jerusalem and this is my dad's FAVORITE place to get challah and pastries for Shabbos. This patisserie also sells breakfast, quiches, and more savory items.
Crave: Mahane Yehuda Market Ha-Shikma St 1, Jerusalem
Gourmet street food, very much inspired by American cuisine. If you can, reserve a table ahead of time because it is always packed in there! The sandwiches are my fave!
Craft Pizza: Mahane Yehuda Market HaTapu'ach St 12 and Shlomzion Hamalka 1 Jerusalem
Amazing charcoal oven pizza, beer and cocktails, and I still dream about the eggplant appetizer I shared with Justin.
Ishtabach: Mahane Yehuda Market Beit Ya'akov St 1, Jerusalem
This is a Kurdish restaurant notorious for serving shamburak, which is a savory bread boat filled with exotic meats.
Hatch Brewery: Mahane Yehuda Market HaEgoz St 26-28, Jerusalem
The menu at Hatch is always changing but the staples are the chicken wings and the popcorn chicken. I highly recommend getting both! The schnitzel sandwich is also amazing! They brew their own beer so get the beer flight too. Just a warning: the restaurant is really tiny but worth the wait.
Jahnun Bar: Mahane Yehuda Market HaEgoz St 30, Jerusalem
A few stores down from Hatch, Jahnun is Middle Eastern street food and such a fun atmosphere! They cook the malawach flatbread right in front of you and you get to pick your fillings. If you're lucky, you'll even get to see them flipping the malawach practically to the ceiling…look up and you'll see a few actually stuck up there.
Patata: Mahane Yehuda Market Hashaked 21 Shuk, Jerusalem
My mom's FAVORITE place to eat in the shuk! It might seem simple, just a baked potato, but they have so many toppings and you can pick what you want! You can put tortilla chips on your potato!
Cafe Lyon: Mahane Yehuda Market Jaffa St 119, Jerusalem
I had a traditional Israel breakfast at this cafe right outside of the Mahane Yehuda Market and everything was beautiful and delicious! Though I don't recommend filling up here and then going to the Shuk, I think if you're staying nearby, this is a wonderful place to have brunch.
Mojos: Queen Shlomziyon St 1, Jerusalem
2 words…MEAT PIZZA! I am still thinking about that pepperoni pizza with the perfect thin crust. What I appreciate is they don't put vegan cheese on all the pizzas, the other toppings stand out on their own. The kosher bacon is delicious too!
La Piedra: 1 Gershon Agron and 17 Daniel Yanovski, Jerusalem
Susie Fishbein's favorite pizza in Israel! La Piedra is the only Israeli shop to make it to the 50 Top Pizza list for Asia. Susie recommends the pizza with chili honey. I also love the mozzarella sticks, which are more like cheese-stuffed bread.
Katzefet: there are Katzefet ice cream shops all over Israel and I wanted to add this to the list because they have my moms favorite passion fruit sorbet. It's a perfect balance of sweet and tart. The crepes are also awesome!
Kadosh: Queen Shlomziyon St 6, Jerusalem,
The pastries are Kadosh are a work of art but I also recommend the Israeli breakfast. Delicious shakshuka! If you're in Israel around Chanukah time, get the donuts. Their flavors are so special and the dough is so light.
Yehuda Bakery/Gagou De Paris: King George 14 Jerusalem
I don't know why this bakery has two names but I would seriously eat at this bakery even if it had 10 names! If you see a line, it's worth waiting! The croissants filled with strawberries and cream are next level.
Thailandi Noodle Bar: Jaffa St 25, Jerusalem
My dad loves the pad thai at Thailandi and I think the kimchi is delicious. It's definitely fast food, big portions, and has so many layers of flavor, as Thai food should!
Tacos Luis: Queen Shlomziyon St 11, Jerusalem
There are almost no words for how good these tacos are! I feel like people walk right passed this restaurant without even realizing it's there because it's a literal "hole in the wall." So I'm gonna say it now: Do NOT miss Tacos Luis on your next trip!
Piccolino: Kikar Hamusica Yo'el Moshe Salomon St 12, Jerusalem
This Italian restaurant has amazing pasta dishes and the beet gnocchi is so creamy. Please don't skip on dessert and hopefully while you're there, there will be concerts and dancing in Kikar Hamusica. I loved the whole vibe!
Andalucia: Kikar Hamusica 12 Music Square, Jerusalem
This Spanish-inspired tapas restaurant has amazing cocktails and the fried potatoes are so good! I would love to go back and just order every appetizer on the menu.
Harvey's Burger Shack: Queen Shlomziyon St 1, Jerusalem
These burgers are stacked and make sure to get the onion rings!! I know people love Burger's Bar also but I say try Harvey's! There is also a Harvey's Smokehouse but I haven't tried that yet. My aunt who lives in Israel loves it.
Joy: Mamilla Mall, 13 Mamilla Rd, Jerusalem
My parents LOVE Joy and eat there every time they visit Israel. I have not been yet but since my parents love it so much, I wanted to put it on the list.
Luciana: Mamilla Mall, 8 Mamilla Rd, Jerusalem
This restaurant is HEAVY on the dairy and worth every bite! I still remember the chestnut gnocchi from years ago when I ate there with my family.
The Eucalyptus: Felt St 14, Jerusalem
If you're looking for a special dining experience in Jerusalem, THIS is definitely it! Paté macarons, fish falafel, veal sweetbreads. Chef and Owner Moshe Basson is well known for his regional cuisine, biblical ingredients, and the use of wild plants and herbs that he gathers himself on foraging expeditions in the Jerusalem hills.
Holy Cafe (Hurva Square): Tif'eret Israel St 2, Jerusalem
This restaurant is in the heart of the Jewish Quarter in Hurva Square and if you're looking for a sit-down dairy meal while you're touring the Old City or walking to the Kotel (Western Wall), this is a great option.
Derech Hagefen: Derech HaGefen 1, Beit Zayit
You definitely need a car to get to this hidden gem but it's worth it! The atmosphere is so relaxed and the dairy restaurant is actually in the middle of a garden nursery.
Dvora by Eyal Shani: Ben Yehuda St 87, Tel Aviv-Yafo
Hands down one of the best restaurant meals of my life. The roast beef carpaccio topped with tomato pulp, horseradish, and coarse salt was life changing. And if the lemon tart is on the menu, do yourself a favor and get it. Chef and Owner Eyal Shani is known for highlighting fresh seasonal ingredients and his love of tomatoes and green beans.
Pankina: J. L. Gordon St 39, Tel Aviv-Yafo
I don't often find cacio e pepe on a kosher menu and this was exceptional. This restaurant serves Italian dairy and the drinks are delicious! Try the Aperol Spritz.
---
Blogger Recommendations
Shushy Turin CookinginHeelss: Must must must stop at the "Boreka Lady" Giveret ha Boreka in the shuk, and then Angelica is amazing, so is Azura for really authentic food. If you're traveling to the North, you must go to Decks and get the foie gras and the lamb. its unlike anything you've had before.
Niki Weinstock: Lorenz & Mintz in Tel Aviv
Naomi Nachman: 02 restaurants at Inbal was amazing. I loved where we went to Gan Zipur in Gan Sucher. Also Orgado is opposite the shuk, and Decks in Tiveria.
JewishPrideAlways: My 2 recommendations are Jacko's Street (Jerusalem) and Whiskey Bar and Museum (Tel Aviv)
Anat Ishai ChallahMom: Abu Gosh (Yishpro near Modi'in) Michali's (Modi'in Macabbi Reut) Al ha Aish (Ligad Modi'in). Abu Gosh is the best schawarma in the country (I've tried all of them) and it's right beside the police station, so it's the safest Shawarma you'll have in the whole country because the place is swarmed with cops. Al ha Aish is a meat grill house. Michali's has the best signature salad with fried goat cheese and the best Israeli breakfast.
Michael HotJewishEnergy: One place I'd highly recommend in Israel is Azura in Jerusalem. Classic MENA spot with great kosher oxtail. I was blown away. I also recommend Etrog Man. I tried the classic Etrog juice and loved it! Both Azura and Etrog are in Mahane Yehuda. And the kosher McDonald's changed me. The Spicy McNuggets with curry sauce were my kosher fantasy.
Dani Klein YeahThatsKosher: Love dining at Mahane Yehudah in Jerusalem – there's so much going on and lots of great dining spots like:
FishenChips – fried fish & fries
Hatch – beer & bar food
Ishtabach – Kurdish-Syrian meat pastries
Crave – elevated street food
Power CoffeeWorks – Coffee tastings & affogato
Jacko's Street – upscale dinner spot
And so so many more places to taste and explore. You can spend 1-2 days just tasting your way through the shuk. Go at different times of day for different experiences – it's a market during the day and a club-like atmosphere at night.
---