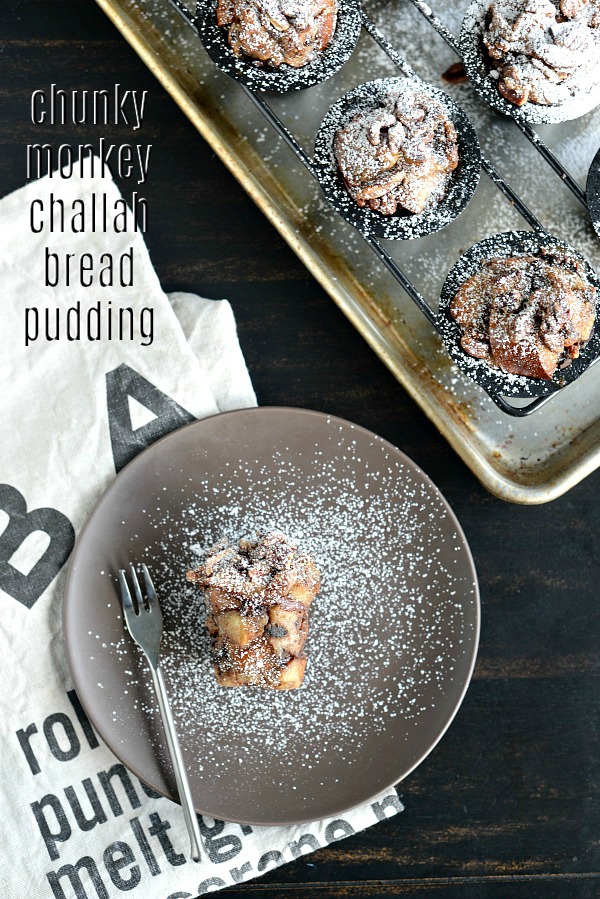 Bread pudding is my #1 answer every time we have leftover challah in the house. Yes, there is always leftover challah! I think I just serve too much of it every week so I save the extra slices in a ziploc bag for later. Maybe you use it for French toast or go for the obvious and make a sandwich but I love to turn leftovers into dessert whenever possible. And the coolest part is that you can make the bread pudding to freeze it for the next weekend. It's the gift that keeps on giving! I've made all sorts of bread puddings, including maple brown sugar, cinnamon bun, pumpkin spice and even a bread pudding made with donuts so I wanted to try something new. What happens when you have ripe bananas, chocolate chip challah and tons of pecans in the freezer? Chunky Monkey Challah Bread Pudding is born. Tradition chunky monkey is made with walnuts but I'm a much bigger fan of pecans so let's just go with it! A little creative license never hurt anyone, right??!
Powdered sugar makes everything better.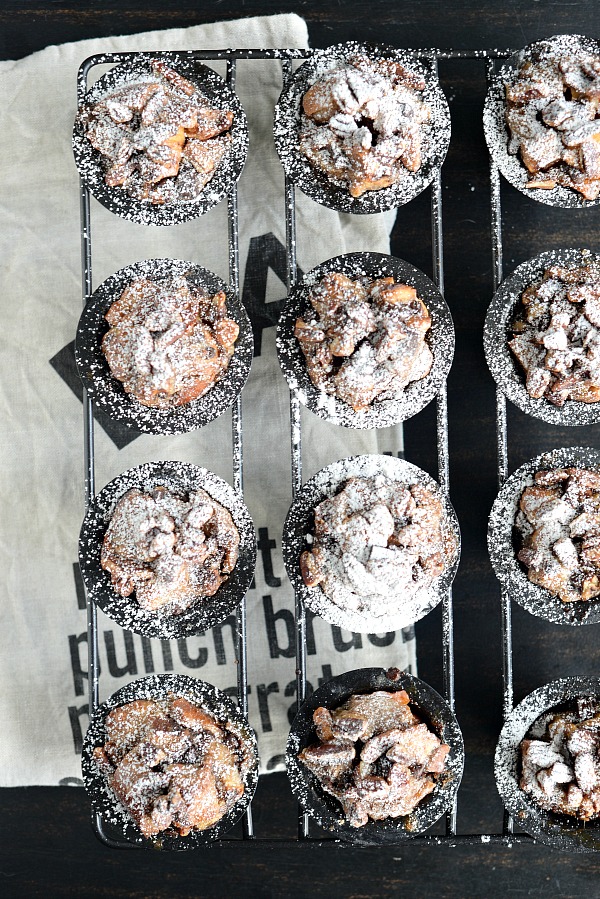 I used a popover pan to make bread pudding muffins but you can make this recipe in a casserole dish or traditional muffin pan also. I love when you can eat dessert with your hands.
Chunky Monkey Challah Bread Pudding
---
Ingredients
1 cup unsweetened almond milk (or soy milk)
3/4 cup canned coconut milk
1/2 cup brown sugar
2 eggs
1 cup smashed ripe bananas (around 3 bananas)
1 tsp vanilla extract
8 cups cubed day-old challah
1 cup semi-sweet chocolate chips
1 cup chopped pecans + extra for garnish
1/4 cup powdered sugar, for garnish
Instructions
Preheat oven to 350 degrees F. and grease a large casserole dish or a 12-cup muffin pan.
Over medium-low heat, warm the milk, coconut milk and brown sugar on the stove until the sugar has dissolved. This should only take around 2 minutes. Set aside to cool.
Smash the ripe bananas and whisk in the eggs and vanilla extract. When the milk mixture has cooled, whisk into the bananas then pour over the cubed challah in a large mixing bowl. Stir until all of the challah is soaked then set aside to absorb for 15 minutes.
Fill the casserole dish or muffin pans with the challah and make sure all remaining liquid is poured in evenly. Sprinkle with additional chopped pecans and bake for 30 minutes uncovered, until the tops are golden brown.
Sprinkle the bread pudding with powdered sugar and serve. If planning to freeze or reheat later, do not sprinkle with powdered sugar until re-heated.
7.8.1.2
263
https://melindastrauss.com/2018/08/14/chunky-monkey-challah-bread-pudding/