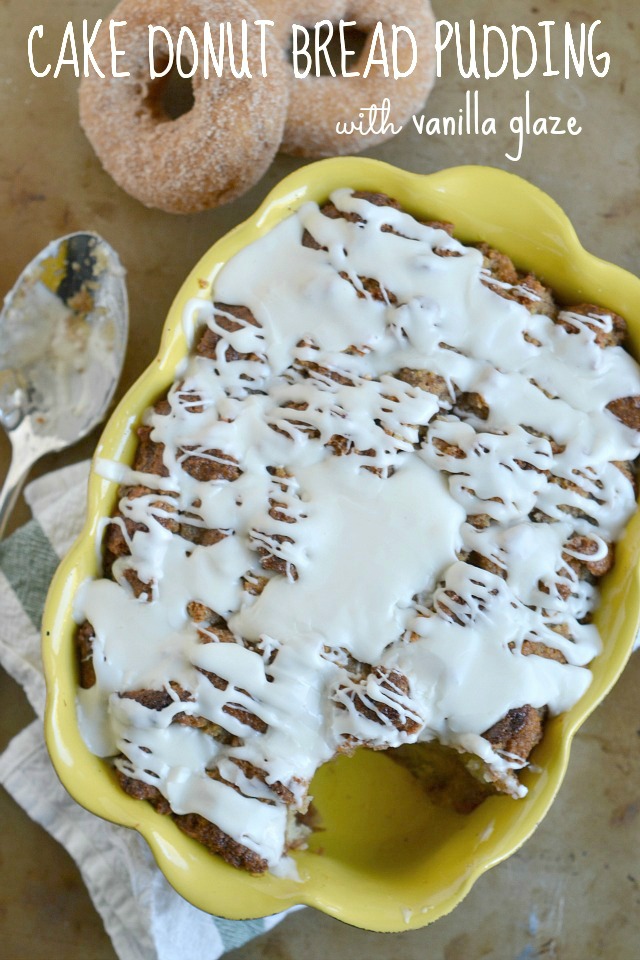 It's Chanukah time again and you know what that means, right??? Well, besides all of the latkes going viral on the internet right now, there's also some room for donuts! Last year, myself, Miriam from OvertimeCook, Chanie from Busy In Brooklyn, Amy from What Jew Wanna Eat and Sam from The Little Ferraro Kitchen threw a Virtual Chanukah Party and we are at it again this year. Instead of a full meal with an appetizer, main, side, dessert and a drink, we decided to make DONUTS instead! Lots and lots of donuts in all shapes and sizes!
Check out our menu and click on the links to find all of the recipes:

Kitchen Tested (that's me!): Cake Donut Bread Pudding with Vanilla Glaze
Busy in Brooklyn: Jelly Ring Donuts
Overtime Cook: Deep Fried Brownie Fritters
The Little Ferraro Kitchen: Savory Hatch Chile and Cheddar Donuts
What Jew Wanna Eat: Savory Sufganiyot with Chopped Liver Mousse & Manischewitz Glaze
Okay, so now down to the business of cake donut bread pudding! Who needs regular stale or dry bread when you can use old donuts instead??? And if you're wondering, YES, you can even use gluten free donuts for this recipe.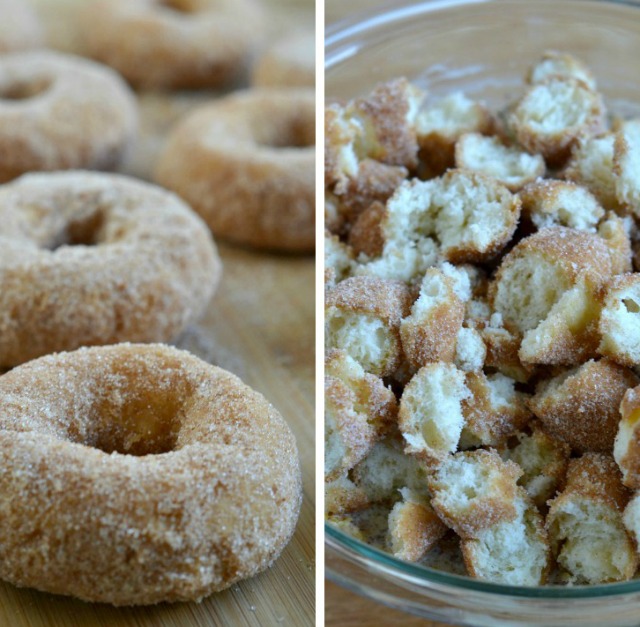 You don't have to make your own homemade donuts for this recipe! In fact, you are better off with store bought cake donuts because they aren't as moist and will seriously soak up that sweet custard without falling apart.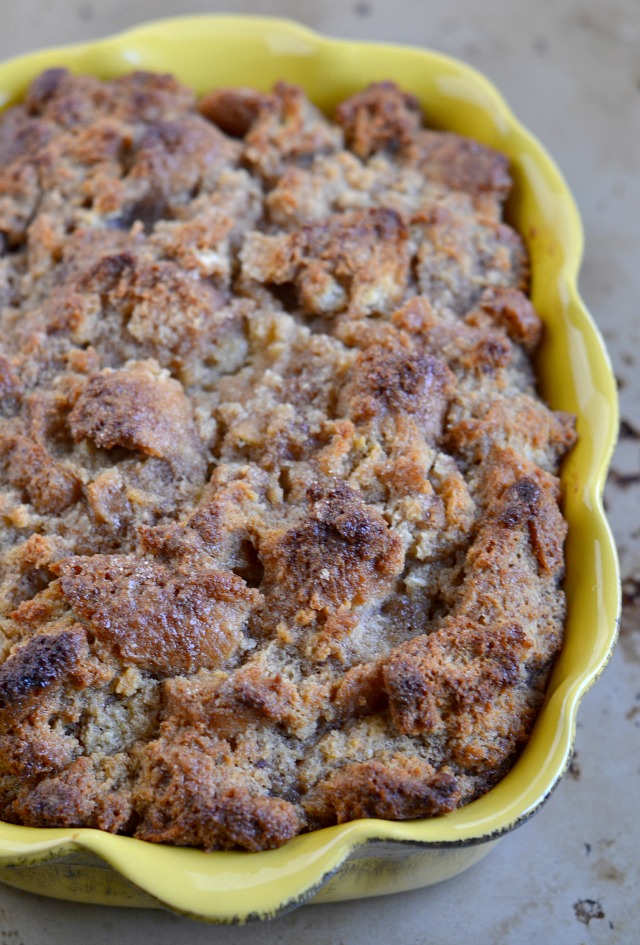 The inside of the cake donut bread pudding is soft and moist and the top is all crunchy and golden brown. I want to eat this up right out of the oven…but there's more!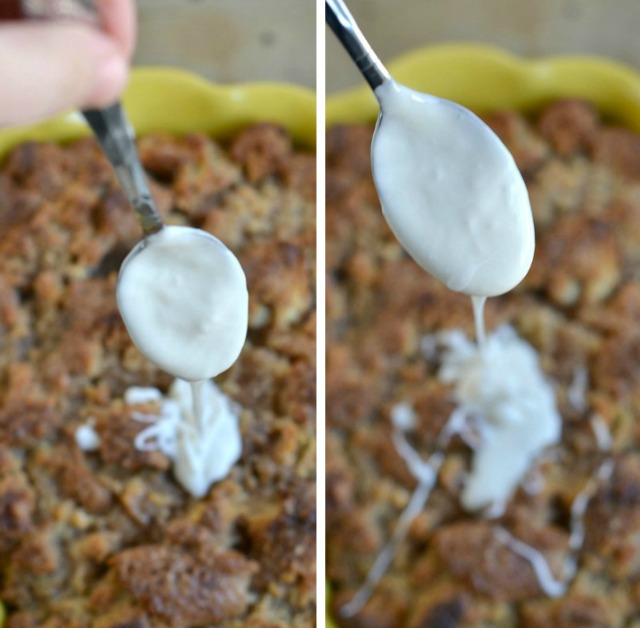 Then we drizzle! Lots and lots of vanilla donut glaze over the top. Can you see the cake donut bread pudding under there? No? I promise you it's there and it's ready for some love!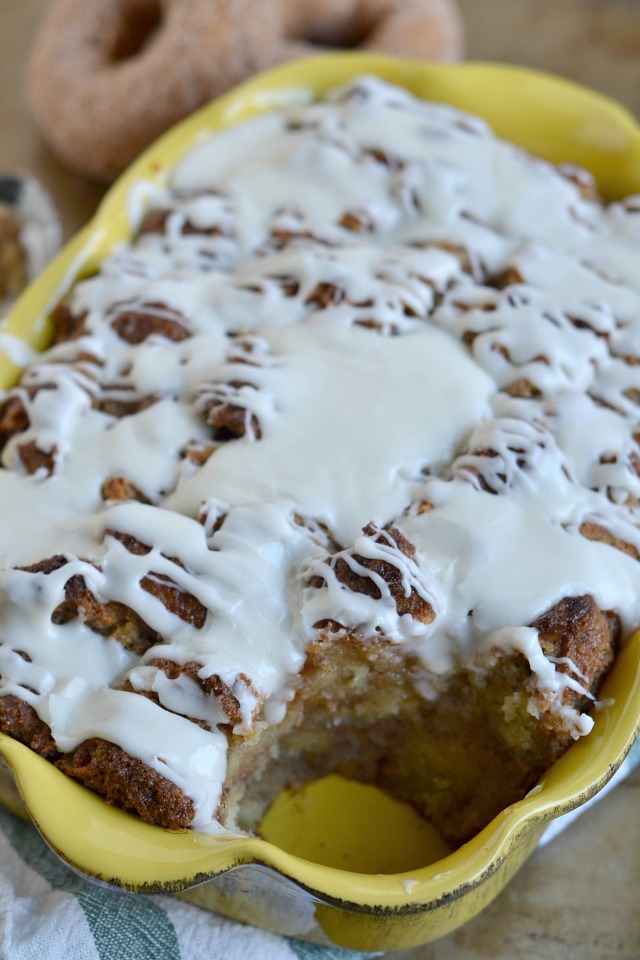 Cake Donut Bread Pudding with Vanilla Glaze
---
-This Cake Donut Bread Pudding can be made dairy with butter and heavy cream -If you can't find cinnamon sugar donuts, you can try other flavors like powdered sugar and even crumb topped. Yeast donuts are great too! The great thing about bread pudding is that you can adapt the flavors to what you love. You can even add raisins or chocolate chips to the batter. Have fun!
Ingredients
Cake Donut Bread Pudding
1/2 cup unsalted vegan butter, melted
1/2 cup brown sugar
3 eggs, lightly beaten
2 cups almond milk or rice milk
1 1/2 tsp ground cinnamon
1Tbsp vanilla extract
1/2 tsp salt
10-12 cinnamon sugar cake donuts (around 6 cups roughly chopped), can use gluten free donuts
Vanilla Donut Glaze:
1 cup powdered sugar
3 Tbsp almond milk or rice milk
1/2 tsp vanilla extract
Instructions
Preheat the oven to 350 degrees F. and grease a casserole dish with cooking spray. You can also use individual ramekins or a cupcake tin for individual cake donut bread pudding muffins.
In a large bowl, stir together the melted butter, brown sugar, eggs, milk, cinnamon, vanilla extract and salt. Add the chopped donuts to the bowl and lightly press the donuts so they are all covered in the liquid mixture. Soak the donuts for 15 minutes.
Pour the donut mixture into the casserole dish and bake for 50-60 minutes, until the top of the bread pudding is golden brown. If using individual ramekins or a cupcake tin, bake for 35-40 minutes. Set aside to cool for 30 minutes then prepare the icing.
Whisk together the powdered sugar, milk and vanilla extract then drizzle all over the bread pudding. Serve warm or room temperature. This recipe freezes very well and should be rewarmed after defrosted.
7.8.1.2
30
https://melindastrauss.com/2015/12/02/cake-donut-bread-pudding-with-vanilla-glaze/