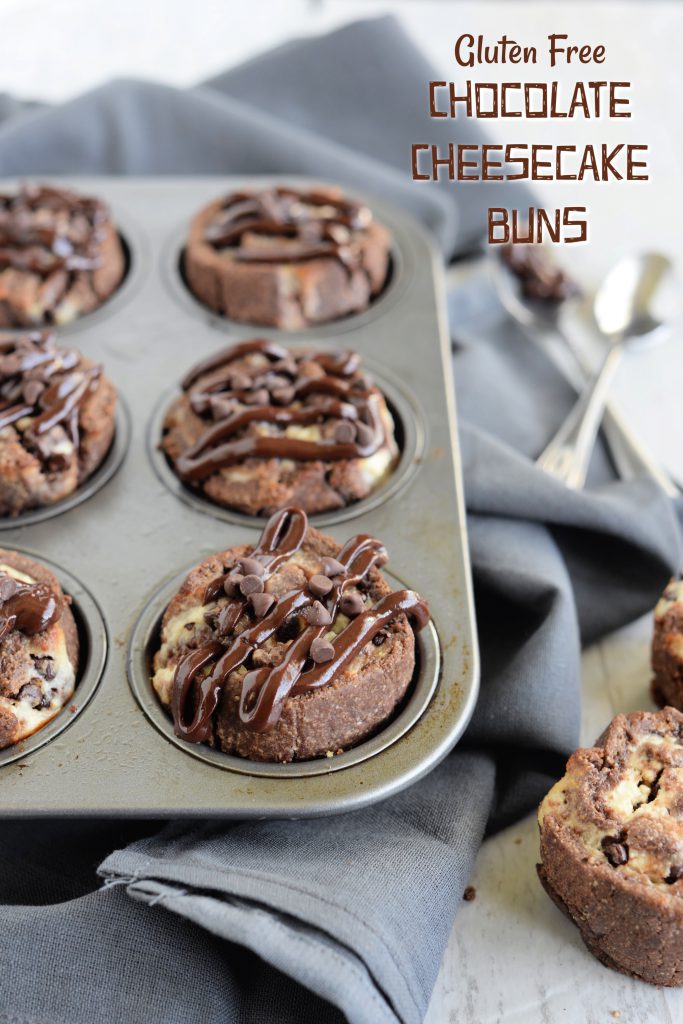 These buns!!! They are glorious!!! When I developed my gluten free cinnamon bun twist recipe years ago, I got tons of requests to make a chocolate version. I know how much you all love the original recipe (click HERE to find the cinnamon buns) so I adapted it to make this incredible chocolate dough and filled it with cheesecake and even more chocolate. Oh, and then I topped it with ganache. Makes perfect sense to me.
*A few notes: 1. you can use either pure maple syrup or honey to sweeten the dough and cheesecake filling. I haven't tried it with white sugar but I'm sure that will work also. 2. I have not tested this recipe with anything but almond flour. If you want to try a different gluten free flour, go for it and let me know how they come out! 3. The dough is sticky, even after it comes out of the fridge. But follow the directions on how to roll the buns and be okay with getting a little messy. I like to put a silicon baking mat on the counter while I work with any doughs for easy clean-up. The great thing is they will come out looking amazing no matter how they look going in the oven.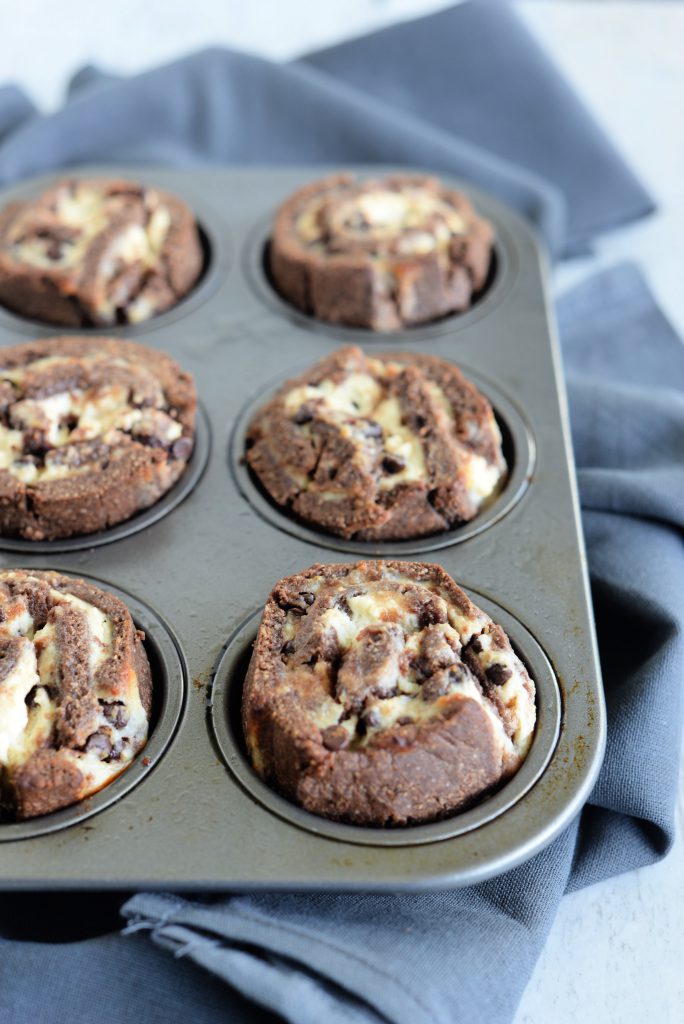 Gluten Free Chocolate Cheesecake Buns
---
Melinda Strauss of kitchen-tested.com
Yields 8-10 buns
Ingredients
Gluten Free Chocolate Dough
2 3/4 cups almond flour
1/4 cup unsweetened cocoa powder
1/2 tsp kosher salt
1/4 tsp baking soda
2 large eggs
1/4 cup neutral oil (coconut, vegetable)
1/4 cup pure maple syrup or honey
7.5 ounce package farmers cheese
1/4 cup light sour cream
1 egg white
2 Tbsp pure maple syrup or honey
1/2 tsp vanilla extract
1/4 tsp kosher salt
1/4-1/2 cup mini chocolate chips
1/2 cup chocolate chips
2 Tbsp light sour cream
Instructions
Preheat the oven to 350 degrees F. and grease a 12 cup muffin tin. You can also use muffin liners for easy clean-up.
In a mixing bowl, whisk together the almond flour, cocoa powder, salt and baking soda. Add the eggs, oil, and maple syrup/honey. Stir together with a spatula until a smooth sticky dough is formed. Refrigerate the dough for 30 minutes.
For the fillings, blend together the farmers cheese, sour cream, egg white, maple syrup/honey, vanilla, and kosher salt. You can mix by hand or use a food processor for a smooth filling.
Place the dough on a large piece of parchment paper then place another piece of parchment on top of the dough. This way you can roll out the dough without it sticking to the rolling pin. Roll out the dough into a large rectangle around 1/4 inch thick then remove the top layer of parchment.
Spread the cheesecake filling all over the dough then sprinkle with mini chocolate chips.
Carefully, using the bottom piece of parchment paper as a guide, roll up the dough from the wider side, keeping it tight as you roll. It's okay if there are some funny creases and rips in the dough. You can always pinch them back together. This part can get a little messy but you won't notice the mess once they bake. Keep the dough wrapped in the parchment paper and place in the freezer for 30 minutes-1 hour to set up. If you're in a rush, you can slice the buns right away but it will get very messy.
Using a very sharp knife, slice the buns and place them in a greased muffin tin. You should get 8-10 buns, or more if you make them tiny.
Bake the buns for 20-25 minutes, until the tops are set.
While the buns are cooling, warm the chocolate chips in a double boiler or for 1 minute in the microwave then whisk in the sour cream. Place in a piping or ziploc bag, cut off the tip, and drizzle over the cooled buns. Sprinkle with more chocolate chips!
Storage: I like to store these buns in the fridge in an airtight container so they stay fresh longer.
Notes
1. you can use either pure maple syrup or honey to sweeten the dough and cheesecake filling. I haven't tried it with white sugar but I'm sure that will work also. 2. I have not tested this recipe with anything but almond flour. If you want to try a different gluten free flour, go for it and let me know how they come out! 3. The dough is sticky, even after it comes out of the fridge. But follow the directions on how to roll the buns and be okay with getting a little messy. I like to put a silicon baking mat on the counter while I work with any doughs for easy clean-up. The great thing is they will come out looking amazing no matter how they look going in the oven. 
7.8.1.2
286
https://melindastrauss.com/2019/05/23/gluten-free-chocolate-cheesecake-buns/