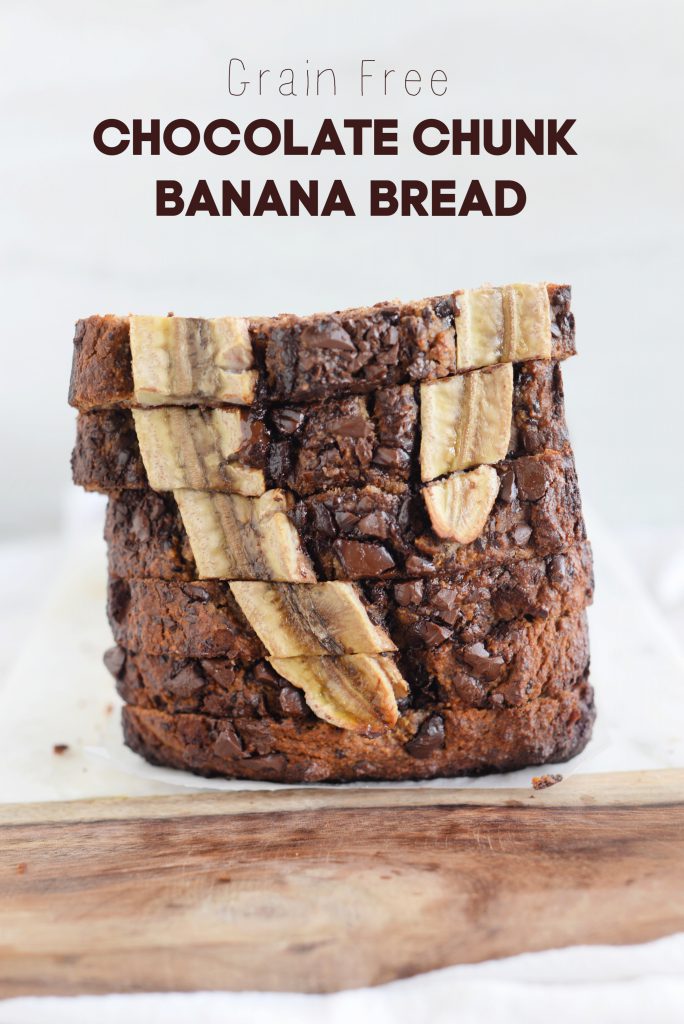 Let me start by saying that I've wanted to take this picture for a very long time! Yes, it was actually on my bucket list. Make banana bread topped with banana slices, and take a stacked picture. Dreams do come true!!! Now that I got that out of the way, I can tell you about this recipe and the GENIUS grain free flour that brought it all together. The woman behind this flour is Rorie Weisberg and she is one of the nicest people I know! Seriously. She genuinely cares about people and that is the reason she started her company, Full 'n Free. "Inspired by the transformations in my own health, I decided to share what I had learned with others…My goal? To educate woman on how to integrate a healthy "Full N Free" way of living into their lives to restore and maintain health, balance, and confidence." And boy is she making it happen! Rorie has created a line of dough mixes from oat dough and spelt to gluten free and grain free, which brings me to this recipe right here. Rorie's NEW grain free flour mix, made with almond flour, coconut flour, and arrowroot flour, is actually kosher for Passover and it is flying off the shelves! As I type up this post on April 5th, 2019, you can't even buy it on Amazon anymore!! If I could add a WOW emoji here, I would, because this mix is transforming lives. The flour can be used cup for cup in place of almond flour, which also means if you can't get your hands on Rorie's mix, you can still use almond flour to make this banana bread. But I'll tell you something…the Full 'n Free banana bread is better!
I made this banana bread recipe with chopped chocolate chunks instead of chocolate chips and you can clearly see why. I beg of you, please go buy a bar of chocolate and chop it up yourself. Chocolate chips are delicious but it's just not the same!!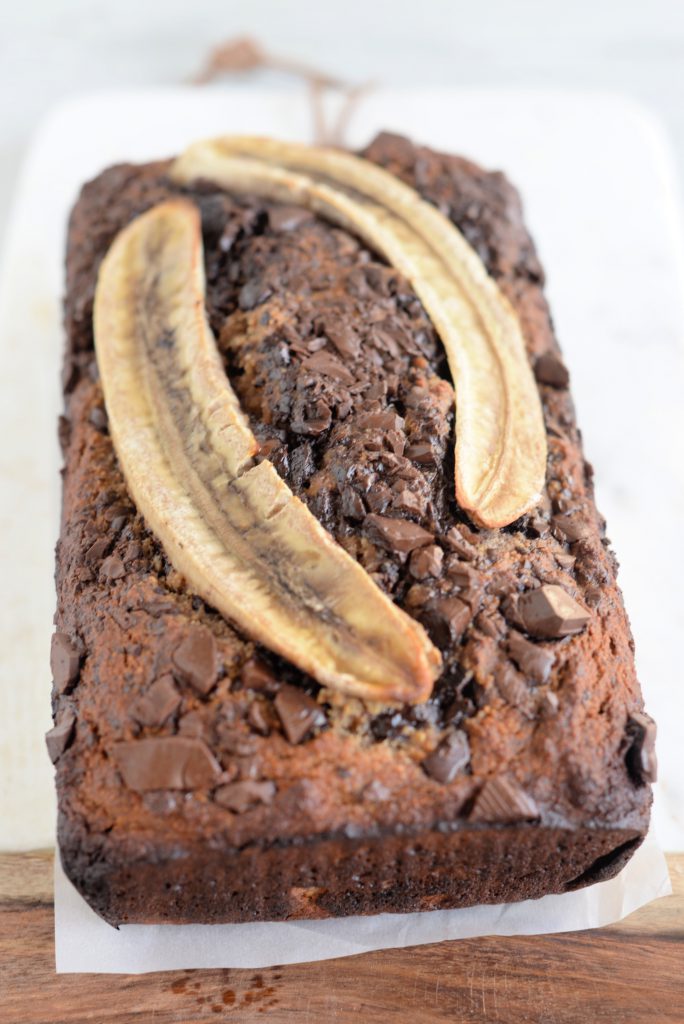 I mean…you're welcome! The banana on top is optional but WHY wouldn't you add this special touch?!? It's so freaking pretty.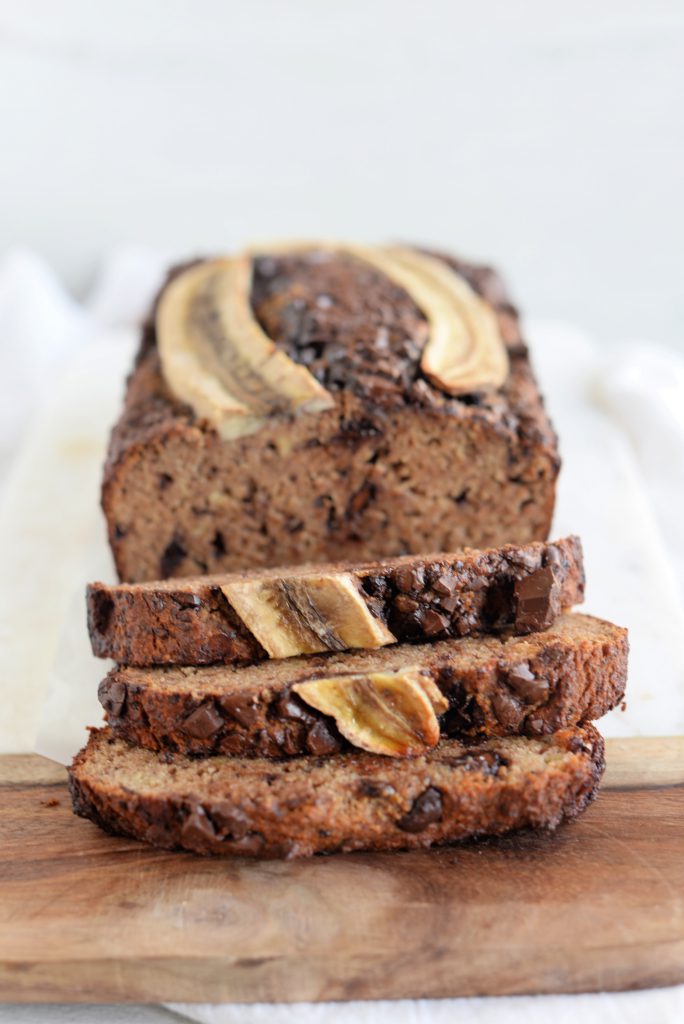 Grain Free Chocolate Chunk Banana Bread
---
kitchen-tested.com
Ingredients
3 ripe bananas (plus 1 for decoration)
3 large eggs
1/4 cup honey
1 Tbsp vanilla extract
1/2 Tbsp cinnamon
1 tsp baking powder
1/2 tsp kosher salt
3 cups grain free flour mix or almond flour
1/2 cup chopped chocolate chunks
Instructions
Preheat oven to 350 degrees f. and line a loaf pan with parchment paper, leaving some parchment hanging over the sides of the pan. Grease the parchment with cooking spray.
In a large mixing bowl, smash the ripe bananas and whisk in the eggs, honey, vanilla extract, and cinnamon. Add the baking powder, salt, and flour and stir until a thick batter is formed. Fold in most of the chocolate chunks, setting some aside to sprinkle on top.
Sprinkle the top with the chocolate chunks then slice a banana in half and place the two slices, flesh side up, on top of the batter and chocolate.
Bake uncovered for 40-45 minutes, until the cake has set. Set aside to cool slightly for 10 minutes then remove from pan using the parchment paper. Cool, slice, and enjoy!
7.8.1.2
283
https://melindastrauss.com/2019/04/06/grain-free-chocolate-chunk-banana-bread/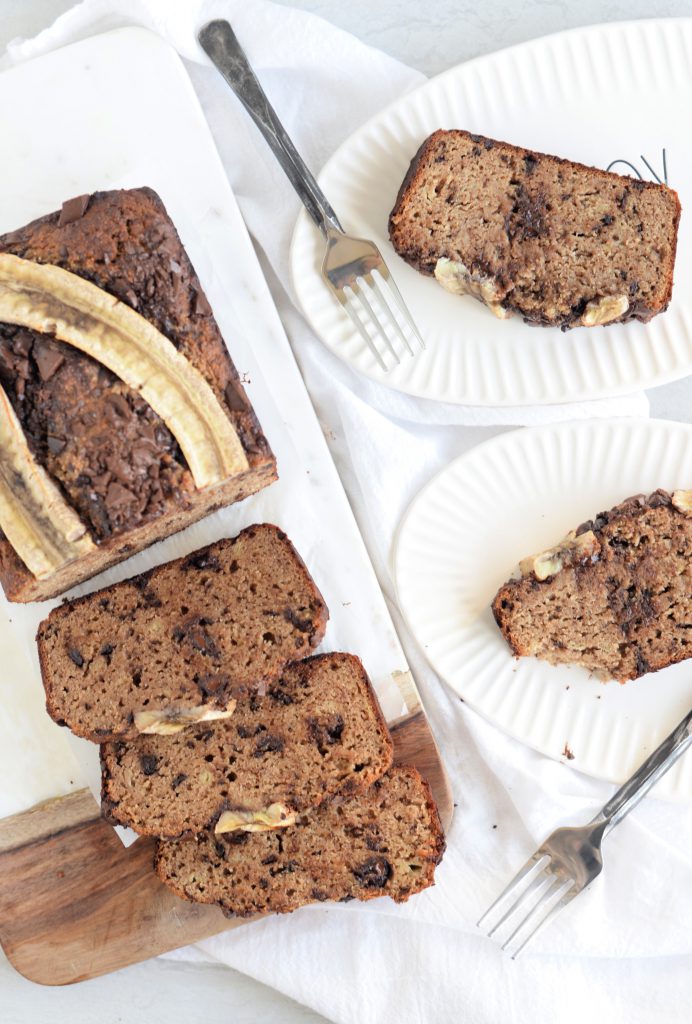 This recipe was created in partnership with Full 'n Free