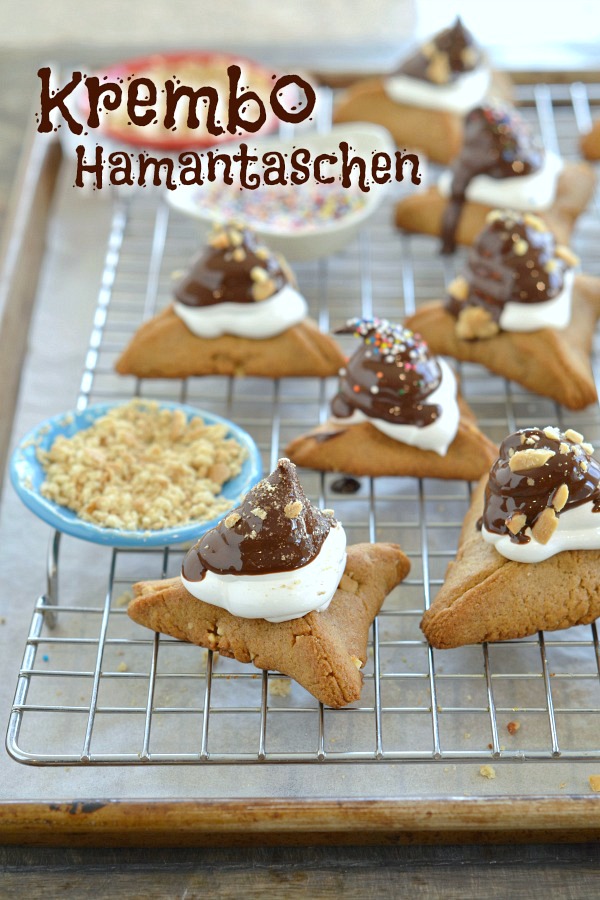 Somehow I went through my entire life without ever eating a krembo! What was I thinking?!? Chocolate coating, fluffy meringue filling, biscuit on the bottom. There is literally nothing wrong with this combo. When you unwrap a krembo, the most important question becomes how the heck do you eat this thing? Unless you have a really big mouth, it's practically impossible to take a bite of the whole krembo from top to bottom so do you start with the meringue? eat the cookie first? I still haven't picked a preference because I really just like to stuff the entire thing in my face and then go for a second one. I am not ashamed! And that brings me to these beautiful krembo-inspired hamantaschen. I used my homemade graham cracker recipe speckled with roasted peanuts for the biscuit, a glossy meringue for the filling and a bittersweet dark chocolate coating.  My krembo addiction has taken on a new life!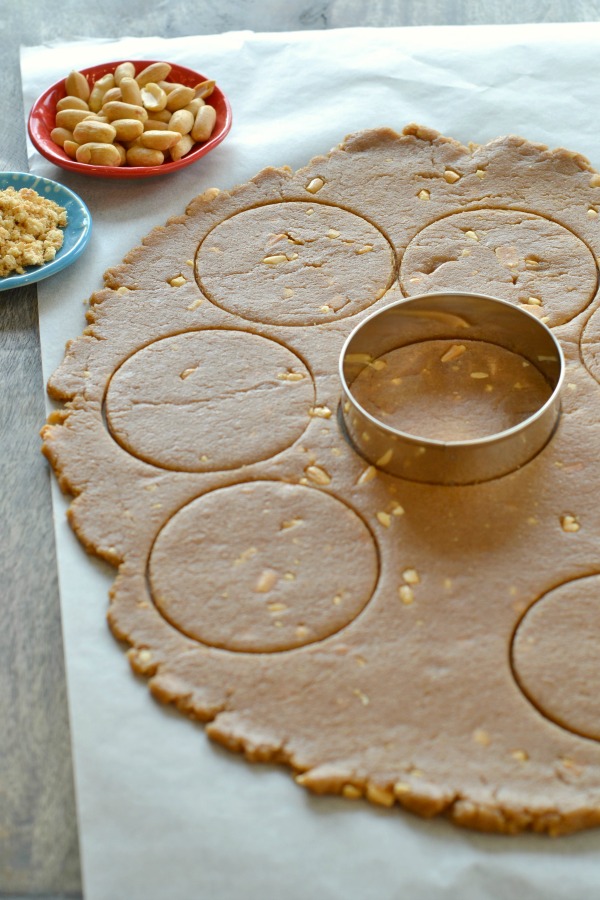 I love that the graham cracker dough has a mild cinnamon flavor and a great crunch from the peanuts. When I imagined eating a krembo (before this obsession began), I always thought the biscuit was crunchy but it's actually quite soft so I wanted my hamantaschen version to be just like that.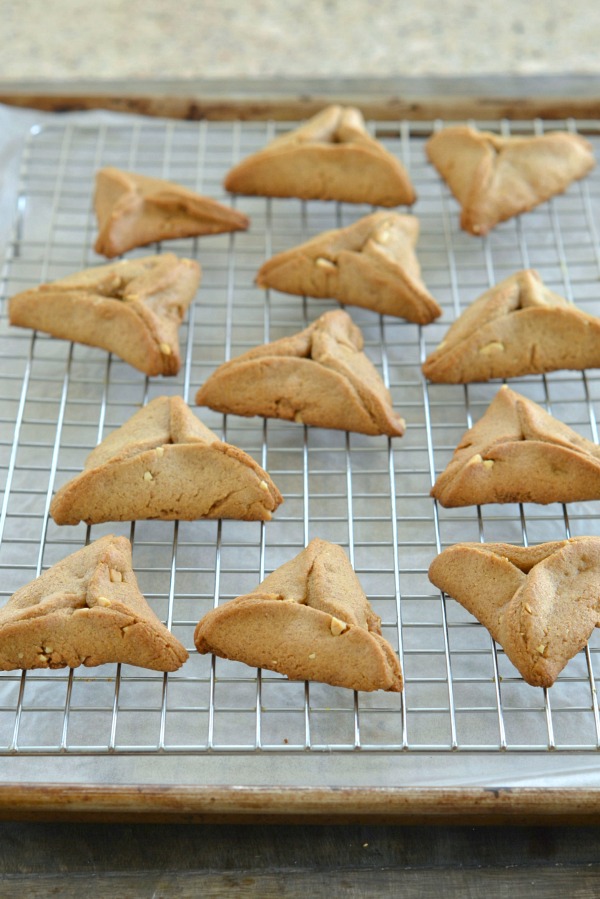 Another assumption I made before eating my first krembo was that the filling was marshmallow. I was SO WRONG! Obviously the filling in a packaged krembo is filled with preservatives but it's really a lovely meringue. Fluffy and light as air.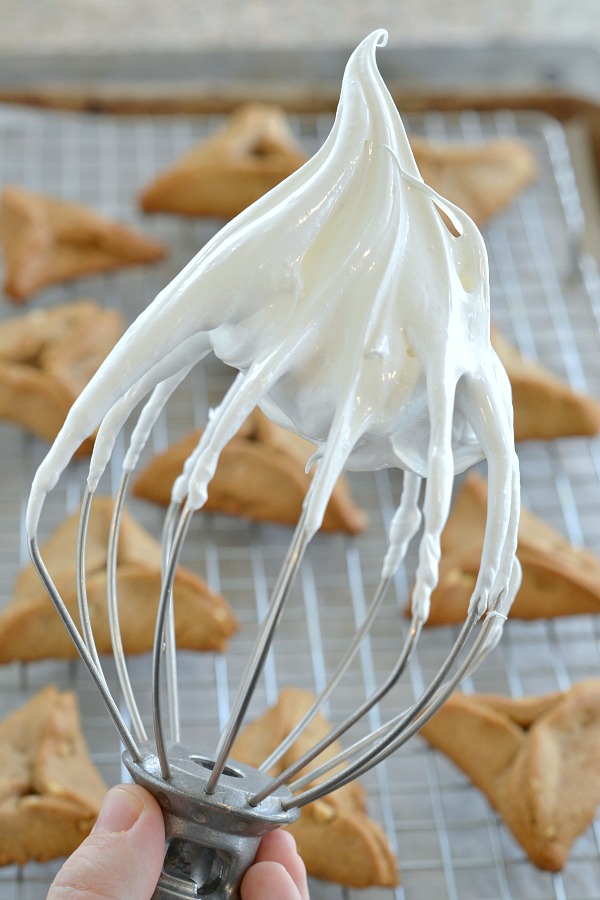 Since this meringue never gets cooked, I pasteurized the eggs by heating them over a double boiler to kill the bacteria. I love this method because uncooked meringue is just as delicious as baked meringues and I love to snack on any extra batter.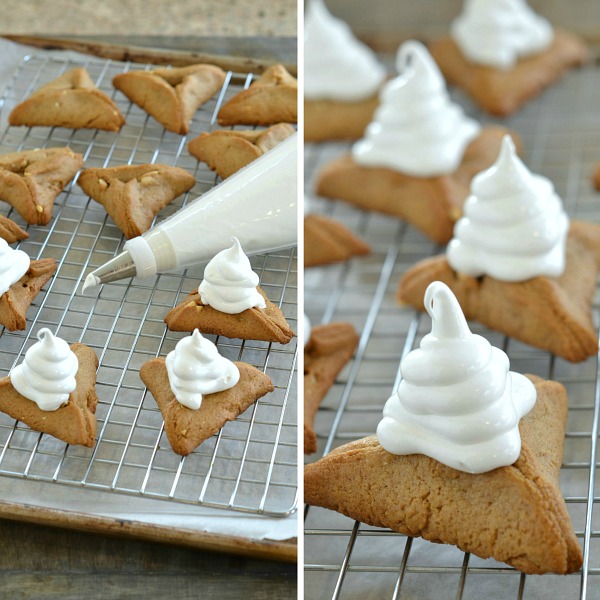 Just like a traditional krembo, I topped the unfilled hamantaschen cookies with the stiff meringue. Pipe the meringue as tall as you want! There are no limits.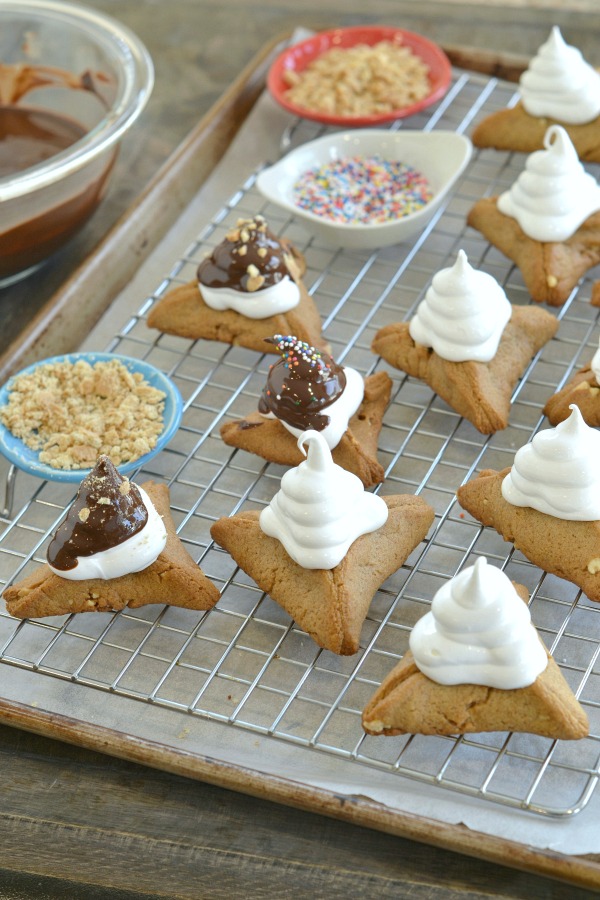 Krembo Hamantaschen
---
Yields 24 hamantaschen
Ingredients
Graham Cracker Hamantaschen Dough:
1 ½ cups all-purpose flour, plus more for working
1 ½ cup whole-wheat flour
1 tsp baking soda
1 tsp cinnamon
1/2 teaspoon salt
1 cup light brown sugar
½ cup oil
1/3 cup honey
1/4 cup almond milk (or soy milk)
1 egg
1/4 cup roasted unsalted peanuts, finely chopped (optional)
Meringue Filling:
3 egg whites
3/4 cup sugar
1/4 tsp lemon juice
Chocolate Coating:
1 cup chocolate chips
2 Tbsp vegetable or coconut oil
Instructions
In a food processor, combine flours, salt, baking soda, and cinnamon. In a separate bowl, whisk the brown sugar, oil, honey, almond milk and egg together. Then add the wet ingredients to the food processor and blend until a smooth and sticky dough is formed. Fold in the crushed peanuts then wrap and chill the dough in the refrigerator for at least 1 hour.
Preheat oven to 350 degrees and line two baking sheets with parchment paper.
Remove the dough from the refrigerator and leave on the counter until room temperature. This will make the dough easier to roll out and shape. Roll the dough out on a lightly floured surface to around 1/4 inch thick. Cut 3-4 inch circles and place them on the baking sheet. Pinch each circle into a triangle.
Bake 8-10 minutes, or until lightly browned and slightly firm to the touch. Transfer to a wire rack to cool completely.
Whisk together the egg whites, sugar and lemon juice and warm in a double boiler (a heat proof bowl set over a small pan of simmering water) until the sugar dissolves, around 5 minutes. Do not boil the egg white mixture. Pour into a stand mixer and beat on high until stiff peaks form, around 5 minutes.
Transfer the meringue to a piping bag with a round tip and pipe onto the cookies in a swirl, around 2 inches high, and freeze for 20 minutes.
While the meringue is in the freezer, melt the chocolate and oil over medium heat in a double boiler until chocolate is fully melted and shiny.
Dip the krembos into the chocolate (or pour chocolate on top) and sprinkle with chopped peanuts, crushed graham crackers and sprinkles. Set aside to harden.
Store in an airtight container in the refrigerator for 3-4 days.
7.8.1.2
47
https://melindastrauss.com/2017/02/23/krembo-hamantaschen/