Marshmallow fluff FROM SCRATCH. Graham crackers FROM SCRATCH. Chocolate not from scratch…but I did make a chocolate ganache so does that count? Not too long ago, I made homemade marshmallows for the first time with orange zest and cardamom and I realized how truly easy it is to make marshmallows. My marshmallows have no eggs or corn syrup so I thought, why not make marshmallow fluff using the same ingredients and see how that turns out?!? Fluff without eggs is hard to come by but now you can just make your own and it will keep well in the pantry for a few weeks. Not too shabby! So back to this post, homemade graham crackers have been on my to-do list for awhile and with my very own marshmallow fluff on hand, it just made perfect sense to make s'mores. Comfort food has never tasted so good!
Quick kosher note (also made this note in my homemade marshmallow post): the gelatin used for this recipe is fish gelatin. I could not find kosher gelatin in my local grocery stores so I bought this kosher Pure Fish Gelatin Powder by Modernist Pantry on Amazon. This post is not sponsored.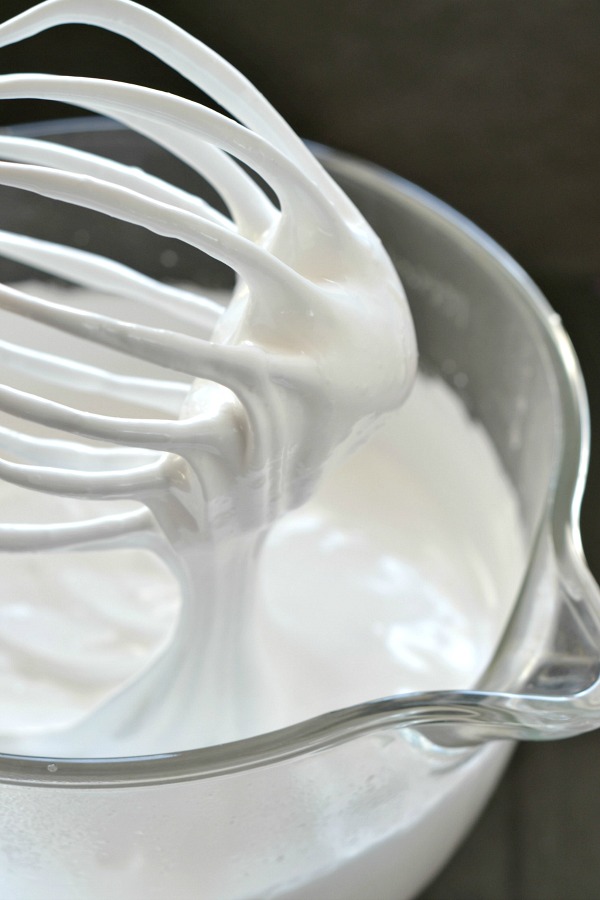 The process to make the fluff is exactly the same as making my marshmallows. Very few ingredients and very few steps…you just need a little bit of patience and a candy thermometer.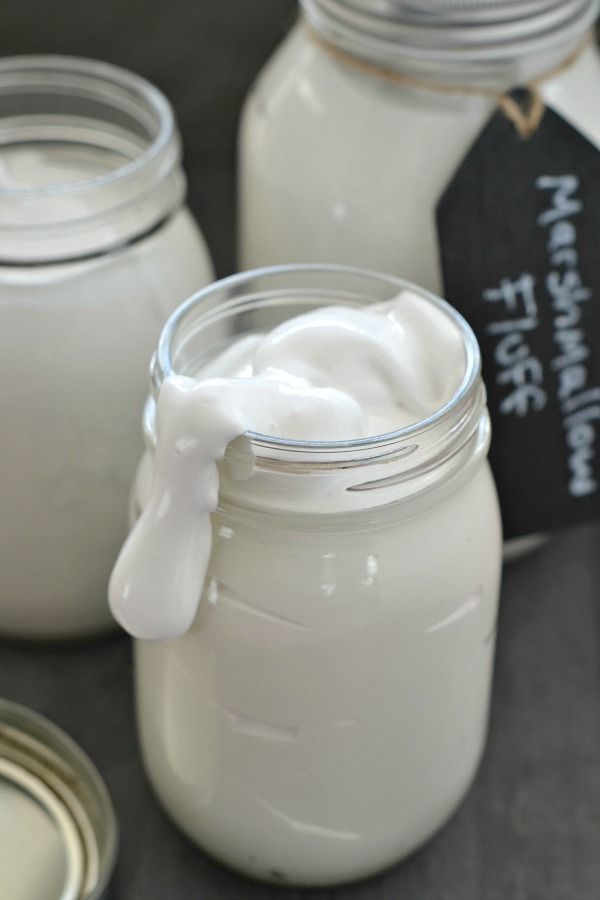 Um, yeah, this recipe makes a TON of fluff. But trust me, you are gonna want it all.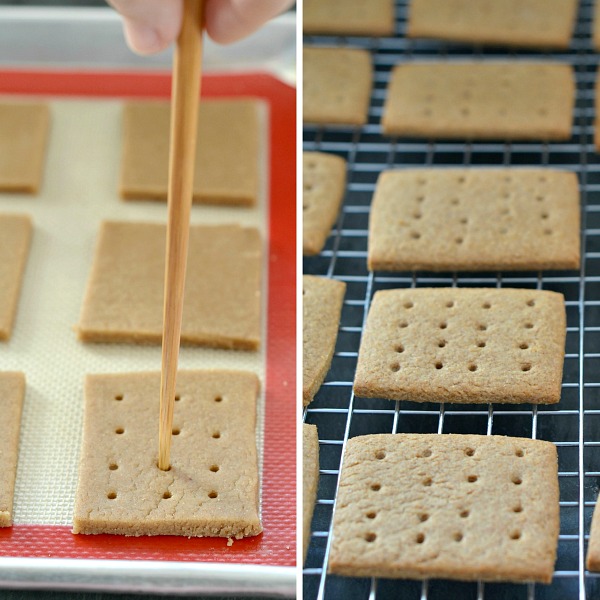 How cute are these graham crackers?!? Roll them as thin as you want and you can even cut them out with fun cookie cutters. Future project with my kids, for sure!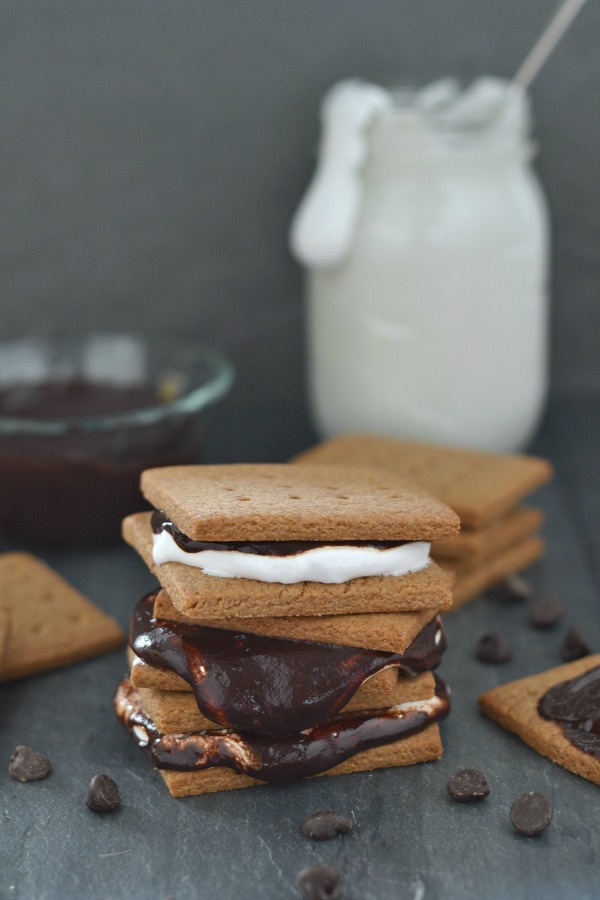 S'mores From Scratch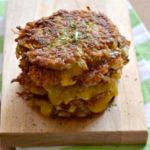 Scale
Ingredients
Homemade Marshmallow Fluff
1 Tbsp

unflavored gelatin powder +

1/4 cup

cold water

2 ½ cup

s sugar

3/4 cup

water

1/2 tsp

salt

1/2 tsp

vanilla extract or vanilla bean paste
Homemade Graham Crackers
1 ½ cup

s all-purpose flour, plus more for working

1 ½ cup

whole-wheat flour

1 tsp

baking soda

1 tsp

cinnamon

1/2 teaspoon

salt

1 cup

light brown sugar

½ cup

oil

⅓ cup

honey

¼ cup

almond milk (or soy milk)

1

egg
Chocolate Ganache
1 cup

semi-sweet chocolate chips

½ cup

dairy free whipping cream or canned coconut milk

¼ tsp

sea salt
Instructions
Homemade Marshmallow Fluff
Combine gelatin and cold water in the bowl of a stand mixer. Let stand while preparing the sugar syrup.
In a heavy saucepan, combine the sugar, water and salt. Bring to a boil and cook, stirring occasionally, until 240 degrees F. (soft ball stage). Remove from heat immediately.
Turn the mixer on low and slowly pour in the sugar syrup. Mix until combined then turn mixer to high and beat until thick and fluffy, around 12-15 minutes. Add the vanilla extract in the last minute of whisking. When finished, the marshmallow should look like soft-serve ice cream. Your marshmallow fluff is done!
*Store fluff for up to 2 weeks in the refrigerator in an airtight container.
Homemade Graham Crackers
In a food processor, combine flours, salt, baking soda, and cinnamon. In a separate bowl, whisk the brown sugar, oil, honey, almond milk and egg together. Then add the wet ingredients to the food processor and blend until a smooth and sticky dough is formed. Lay out a large piece of plastic wrap and turn the dough onto it. Pat into a rectangle form then wrap and chill in the refrigerator for 1 hour.
Preheat oven to 350 degrees and line two baking sheets with parchment paper.
Divide the dough in half and return one half to the refrigerator. You can also freeze the dough tightly wrapped for up to 3 months. Sprinkle all-purpose flour onto your work surface and roll the dough into a long rectangle around 1/8th inch thick. Trim the edges and cut the dough into even rectangles. You can even use a cookie cutter to make fun shapes. Place the dough on the baking sheets and form dots into the dough with a skewer or a fork to look like a store-bought graham cracker.
Bake 10-12 minutes, or until lightly browned and slightly firm to the touch. Transfer to a cooling rack. The graham crackers will continue to firm up on the cooling rack.
*Store in an airtight container at room temperature for up to 1 week. Freeze for up to 3 months.
Chocolate Ganache
Heat the whipping cream in a microwave safe bowl for 1 minute. Pour the cream over the chocolate chips and stir until smooth. Add sea salt and stir to combine.