I know, I know, it's not the prettiest Baked Alaska out there but it sure tastes goooood! Layers of chocolate-vanilla-coffee cake, cappuccino chocolate toffee crunch ice cream and sweet vanilla meringue toasted to perfection in a hot oven. Baked Alaska is actually a lot easier than you think if you just simplify the steps by using premade cake and ice cream but I, of course, had to challenge myself with this frozen treat. I love to freeze practically everything but I don't make a lot of homemade frozen desserts. So when the opportunity to join a kosher link-up with other kosher food bloggers arose (check out the link-up below this post), my mind started racing with frozen dessert ideas! Would I make popsicles, another homemade ice cream, maybe an ice box pie?!? But the one dessert I never thought I would try is Baked Alaska! I always thought it was too fancy and too difficult. So of course I HAD to make Baked Alaska. So typical. I can't wait for you to read through the recipes I put together to make this layered dessert and even if you don't want to make your own frozen Alaska, I hope you'll try the recipes on their own. And thanks to RealBeanz for sending me some of your incredible ice coffee drinks! Your iced cappuccino with coconut water inspired the flavor of my dessert. I just love that each RealBeanz flavor is made to fit a different mood and can help me "refresh", "relax", "energize" and more!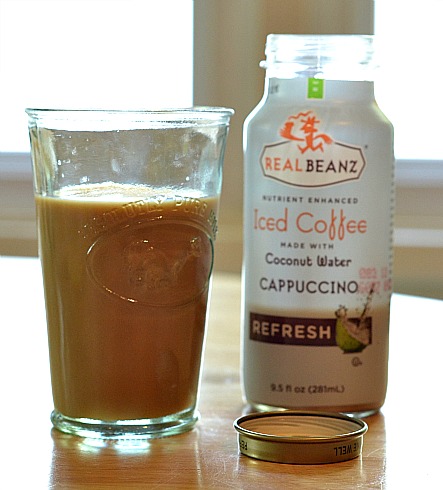 ICED CAPPUCCINO BAKED ALASKA
Chocolate-Vanilla-Coffee Cake 
slightly adapted from joythebaker.com   
2 cups all-purpose flour
1 teaspoon baking powder
1/2 teaspoon baking soda
1/4 teaspoon salt
1 1/2 sticks (3/4 cup) unsalted butter, softened
1 cup white sugar
2 large eggs
2 teaspoons vanilla extract
1 cup sour cream (can use non-dairy sour cream)
2 Tbsp cocoa powder dissolved in 2 Tbsp hot water
2 Tbsp instant coffee dissolved in 1 Tbsp hot water
Preheat the oven to 350 degrees F.  Prepare a sheet pan with cooking spray. Whisk together flour, baking powder, baking soda and salt in a bowl. Combine the butter and sugar in a large bowl and beat with an electric mixer at medium speed until pale and fluffy, around 2 minutes.  Add eggs one at a time, beating well after each addition, then beat in the vanilla.  Add the flour mixture alternately with the sour cream, beginning and ending with flour mixture and mixing until just incorporated. Transfer about one-third of the batter to a small bowl.  Add the instant coffee mixture and stir until combined.  Transfer 1/3 of the remaining vanilla batter to another small bowl and add the cocoa mixture and stir until combined.  Spoon all three batters into the sheet pan, alternating so each flavor is distributed through the pan. It doesn't have to be pretty, but you want to see the different colors. Bake for 25-30 minutes, until cake is golden. Cool for at least 30 minutes then flip on to a parchment lined cookie sheet. Cut out circles in whatever size you want and place in a container to freeze for at least 3 hours.
Cappuccino Chocolate Toffee Crunch Ice Cream
4-5 ounces dark chocolate, finely chopped
1 cup low fat half-and-half
½ cup white sugar
Pinch of salt
4 egg yolks
1 cup heavy cream
1 cup RealBeanz Iced Cappuccino
1 teaspoon vanilla extract
1 Heath Bar Crunch (chocolate covered toffee candy), broken up
Warm the half-and-half, sugar and salt in a medium pot. Separately, whisk together the egg yolks. Slowly pour the warm mixture into the egg yolks, whisking constantly so the yolks don't cook, then pour the warmed egg yolks back into the pan. Stir the mixture constantly over medium heat, scraping the bottom as you stir, until the mixture thickens and coats the spatula. Put the dark chocolate pieces in a large bowl and set a mesh strainer over the top. Pour the custard through the strainer then stir until the chocolate is melted.
Whisk in the heavy cream, then the iced cappuccino and vanilla. Stir until cool over an ice bath then chill in the refrigerator for at least 8 hours (or overnight) then make in your ice cream maker using the manufacturer's instructions. When the ice cream has a few minutes left in the ice cream maker, throw in the toffee bar. Pour the churned ice cream in to a container and freeze until solid.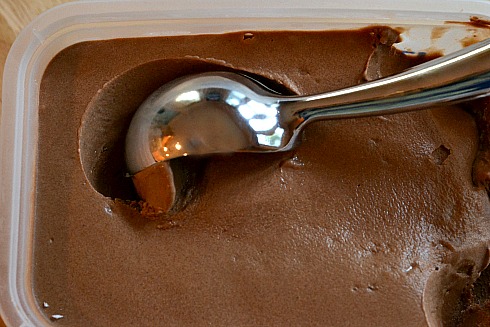 Once the ice cream is frozen, spoon out large scoops on to parchment paper and freeze for at least 30 minutes to make sure the ice cream is totally solid.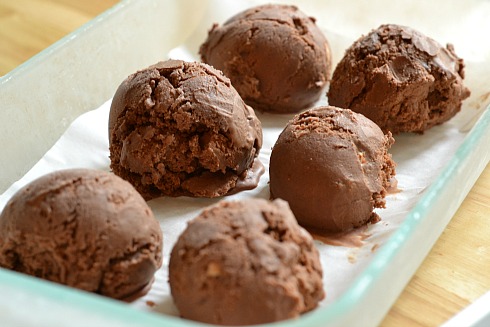 Take the cake and ice cream out of the freezer and place each ice cream scoop on top of a round cake. Place back in the freezer until the meringue is ready.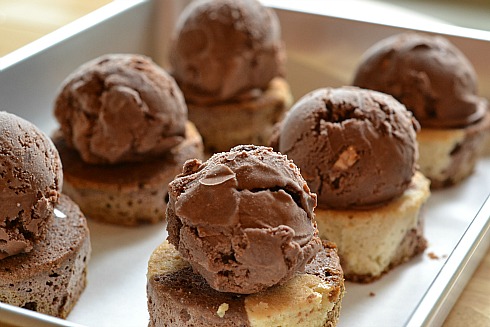 Vanilla Meringue
4 egg whites
1/2 cup sugar
1/2 tsp vanilla extract
1/4 tsp cream of tartar
Whisk together all of the ingredients in a heat-safe mixing bowl on top of a pot of boiling water (a double boiler) for three minutes. This process is so the meringue isn't grainy from the sugar. Pour the mixture in to an electric mixer and whisk until stiff peaks form, for around 5-7 minutes.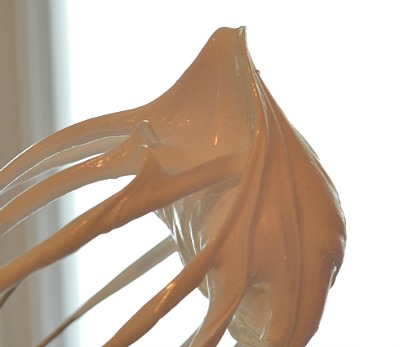 Transfer the meringue to a piping bag or plastic sandwich bag. Take the cake-ice cream stacks out of the freezer and cover with the meringue. You can use any fun design you want and even just be really messy about it. Try not to take too long with this part of the process so the ice cream doesn't begin to melt. I'll admit that I had that melting issue. I might even suggest taking one cake stack out of the freezer at a time so the others can stay cold. Freeze the meringue covered cake and ice cream for at least 30 minutes to solidify the meringue a bit.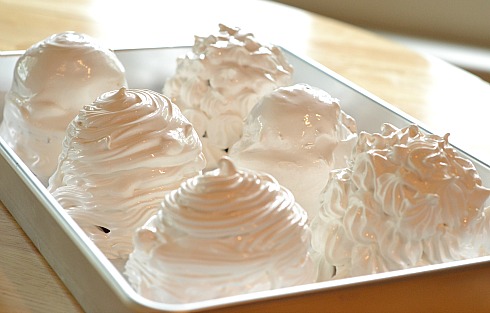 Heat the oven to 500 degrees F and toast the meringue for 2-3 minutes. Usually the ice cream should stay solid because they meringue encapsulates the cold but I had a few melting issues! I think my meringue wasn't covering the ice cream completely so please be careful with that! Also, I think my Baked Alaska stacks were in the oven for an extra minute of 2 and that can make all the difference! Just learn from my mistakes so you can make the perfect Baked Alaska!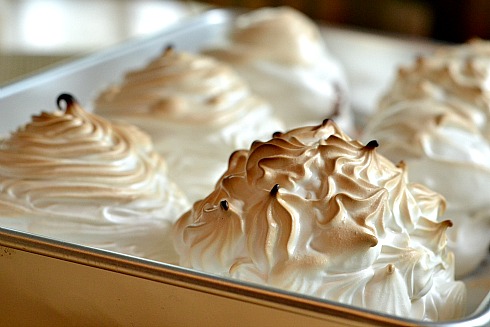 Even with the partly melted ice cream, I am obsessed with this dessert! The cake is so moist and flavorful on its own but adds so much punch to the super chocolaty and crunchy coffee ice cream. And who can say no to toasted meringue??? I mean really! That bit of heat from the meringue with the frozen iced coffee ice cream is absolute perfection. Serve with a glass of ice coffee for the ultimate frozen coffee treat!