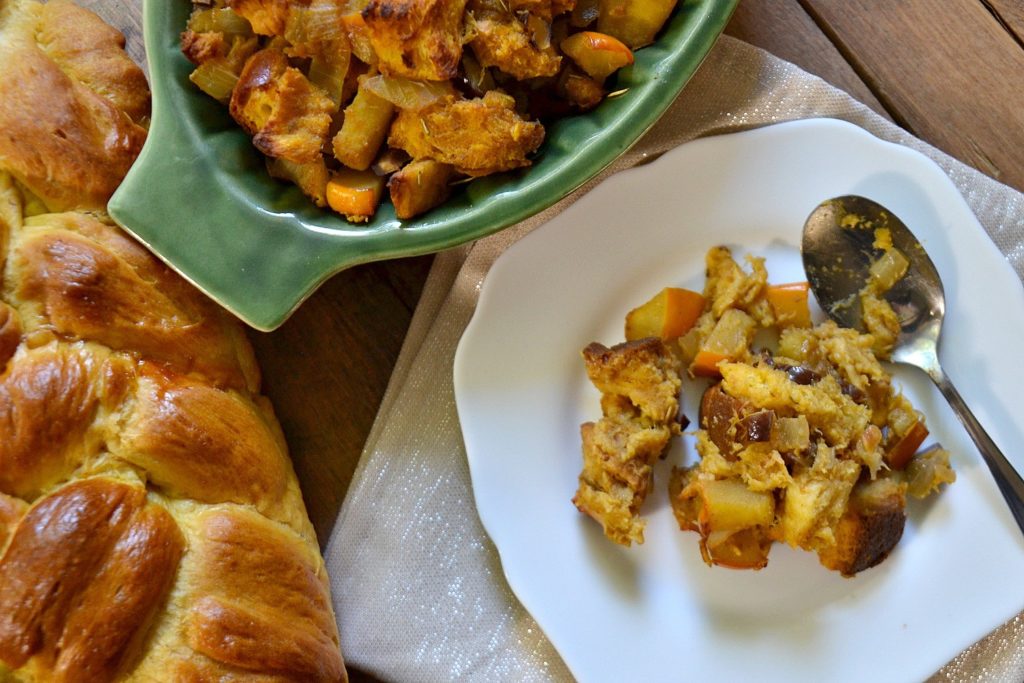 Preparing for Thanksgiving is something I think about year round and I realized I never actually shared this recipe on my own blog! Thank you to an Instagram follower for asking me to update my Modern Jewish Thanksgiving Menu and now this recipe is here!
Print
Pumpkin Challah Stuffing
8–10 cups cubed pumpkin challah
2 Tbsp extra virgin olive oil
1 large onion, chopped
2 garlic cloves, minced
1 cup cubed pumpkin (1 small pumpkin)
1 tsp lemon zest
1 tsp dried rosemary
1 tsp dried thyme
½ tsp dried sage
½ tsp salt
32 oz. vegetable stock
1 Tbsp honey
½ cup chopped roasted and peeled chestnuts
Instructions
Preheat oven to 375 degrees F. and prepare 1 large casserole dish with cooking spray or oil.
Place cubed pumpkin challah on baking sheet and toast for 15 minutes. Set aside to cool slightly.
In a large pot, heat the olive oil over medium-high heat, add the onions and garlic and saute for 5 minutes, until translucent and fragrant, stirring occasionally. Add the pumpkin, lemon zest, rosemary, thyme, sage and salt and saute for 5 minutes, stirring occasionally so the pumpkin doesn't burn. Add the stock and honey, reduce the heat to low and simmer the mixture for 15 minutes.
Pour the toasted challah into the pot and stir to saturate all of the bread. Transfer the challah mixture to the casserole dish and bake for 30 minutes, until the top of the stuffing is browning and crunchy.
You can make this stuffing in advance and freeze. To reheat, uncover the stuffing and warm in the oven until the top is crunchy again.