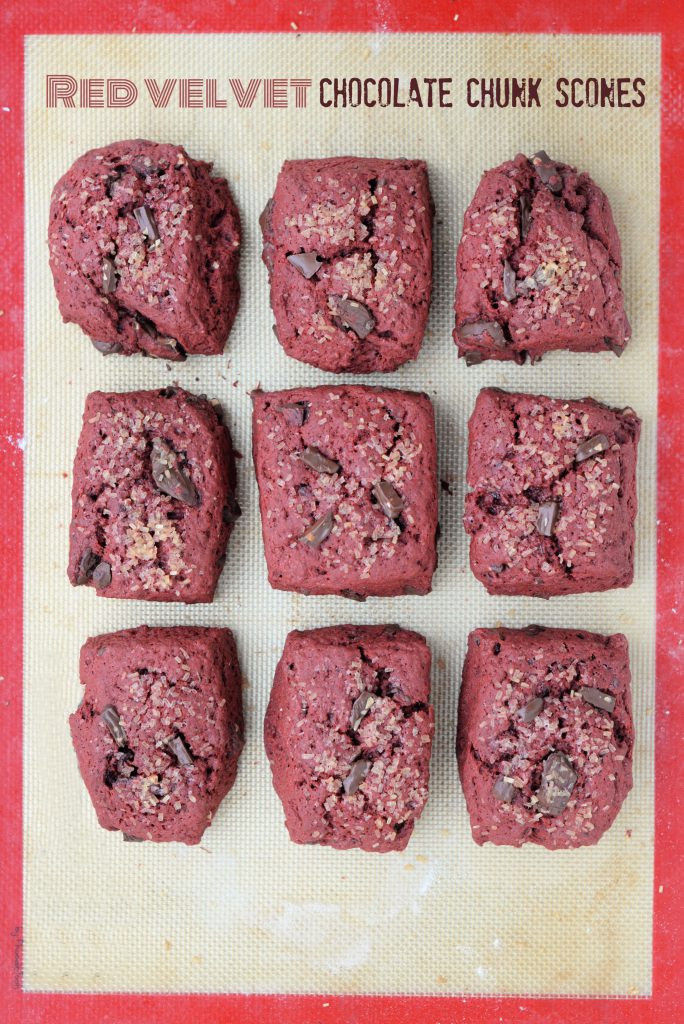 Holy red velvet, I'm celebrating 8 YEARS of food blogging!!! Yup, I said 8 years! That makes me very old in food blogging land (insert laughing emoji here). My official Blogiversary date is January 25th but I was too excited to wait so I'm sharing this recipe now. It has been my tradition since the first anniversary of my blog to bake something with red velvet so clearly I'm keeping the artificial red food coloring trend alive. This year I decided, with the help of some other awesome bloggers, to BRING BACK THE SCONE! I do have tons of scones on my blog (these cranberry scones are one of my fave) but I can tell you that people tend to go for cookies or cake and I just don't get it. If you've ever had a warm scone with layers of flakey buttery dough, you know why this "scone movement" is so important. If you can't decide what dessert to make this weekend, it's time to make scones!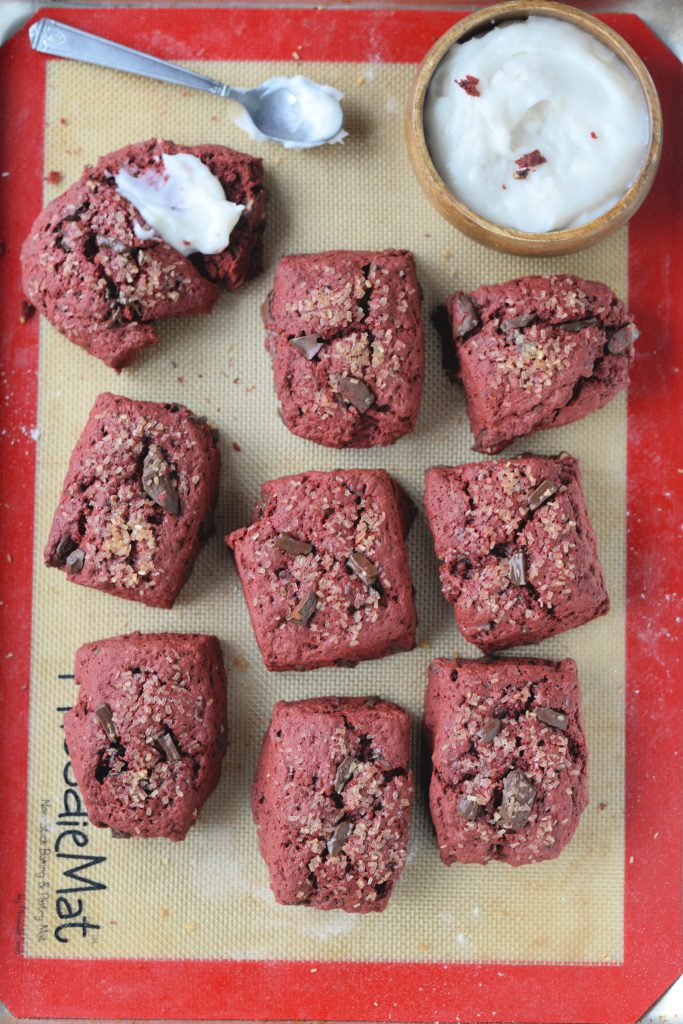 I mean, come on with these! That chocolate, that color, that height! Join the movement!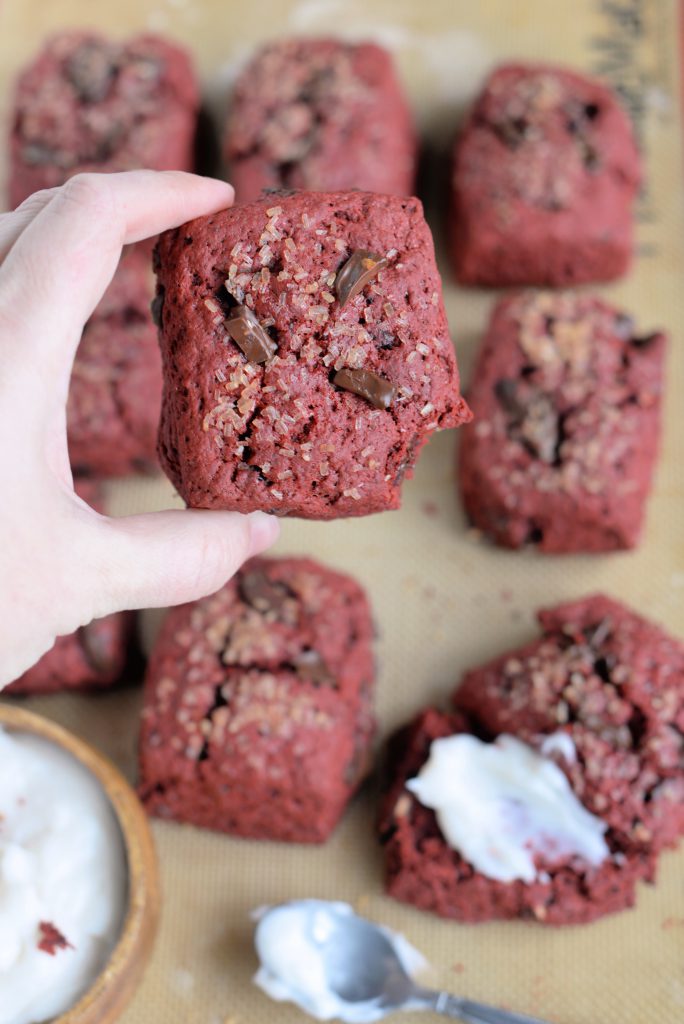 Red Velvet Chocolate Chunk Scones
---
kitchen-tested.com
Ingredients
2 cups all-purpose flour
1/2 cup sugar
1/4 cup unsweetened cocoa powder
2 tsp baking powder
1/2 tsp kosher salt
6 Tbsp butter, chilled and cubed (you cannot use oil for this but you can use vegan butter, such as Earth Balance)
3/4 cup heavy cream (or coconut milk)
1 tbsp lemon juice
1 tsp red food coloring (can use gel or liquid)
4 ounces chopped bittersweet chocolate
turbinado sugar, optional
1/2 cup cream cheese
1/4 cup powdered sugar
a splash of bourbon
Instructions
Preheat oven to 400 degrees f and line a baking sheet with parchment paper.
In a small bowl, whisk together the heavy cream, lemon juice, and food coloring and set it aside.
In a large mixing bowl, whisk together the flour, sugar, cocoa powder, baking powder and salt. Add the chilled butter and press into the flour mixture using a fork or a pastry cutter until pea-sized pieces of butter remain. Pour cream mixture in and stir with gloved hands until just blended. Don't over-mix the dough or the scone will be dense. If the dough isn't coming together fully, you can fold in a bit more heavy cream.
Turn out the dough onto a lightly flour surface and add the chocolate chunks. Knead a few times until the chocolate is well distributed.
Using a lightly floured rolling pin or your hands, roll the dough to around 3/4"-1" thick. Cut the dough in half and place one half of the day carefully on top of the other. Repeat the process of rolling out the dough into a rectangle. This will create extra layers of flakey dough. Cut the dough into 9 squares and place on the sheet pan.
Brush the tops with more heavy cream and sprinkle with turbinado sugar.
Bake the scones for 15-20 minutes, until tops are lightly browned and insides are fully baked. Enjoy warm or at room temperature.
To make the sweet cream cheese, whisk together the cream cheese, powdered sugar, and bourbon. Serve with the scones.
7.8.1.2
276
https://melindastrauss.com/2019/01/16/red-velvet-chocolate-chunk-scones/