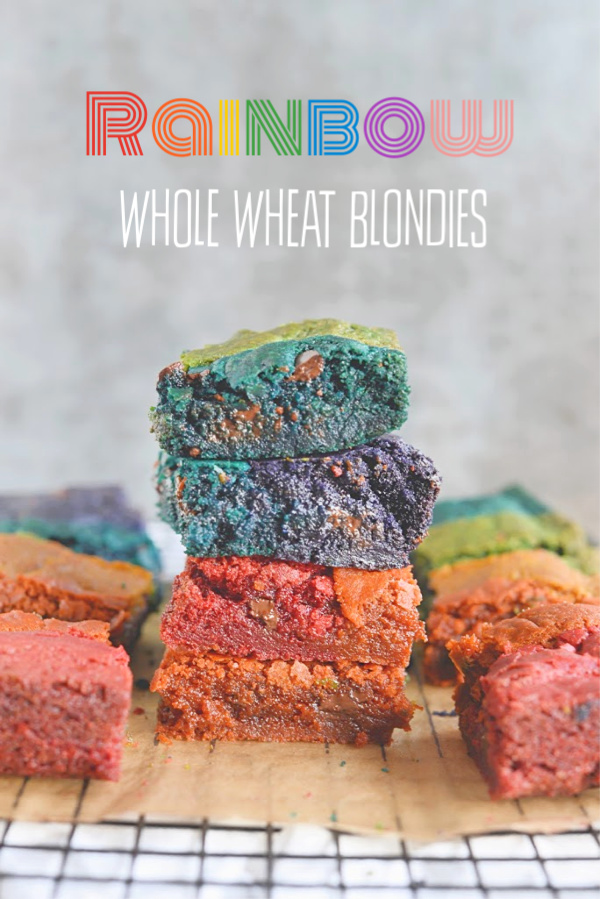 It's been too long since I made anything RAINBOW and I'm feeling pretty darn good! The first recipe that went viral on my blog was back in 2011 and it was my dairy free Rainbow Birthday Cake. I've loved all things rainbow ever since. And hey, we can't talk about rainbow without giving a shout out to my Rainbow Hamantaschen, which also went viral and are crazy popular every year for Purim. I am so grateful that people love rainbows as much as I do so let's keep 'em coming, shall we?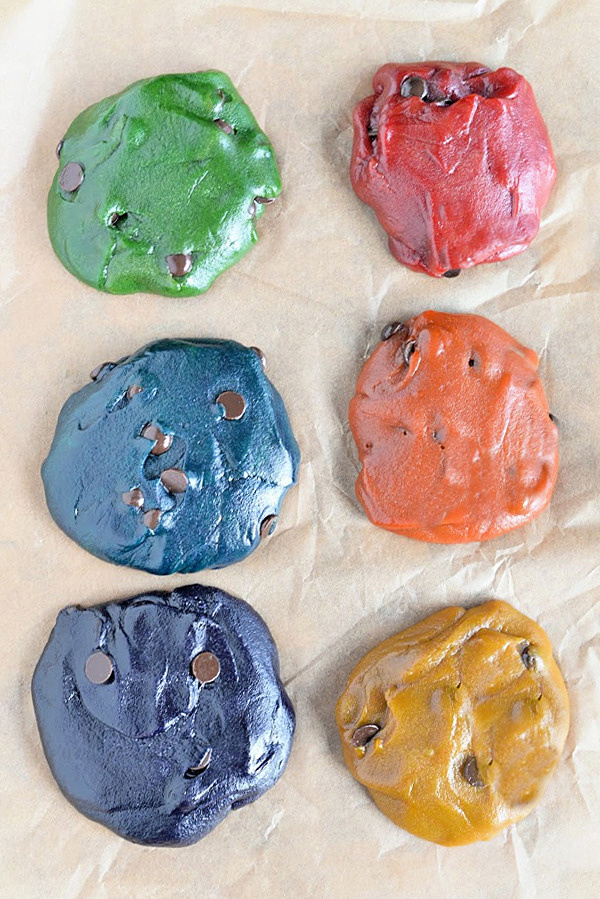 Let's talk about blondies. Not a brownie. Not a chocolate chip cookie. It's some kind of crazy hybrid that piles on the brown sugar, eliminates the cocoa powder and comes out so chewy and addictive. Add gel food coloring and everyone wins!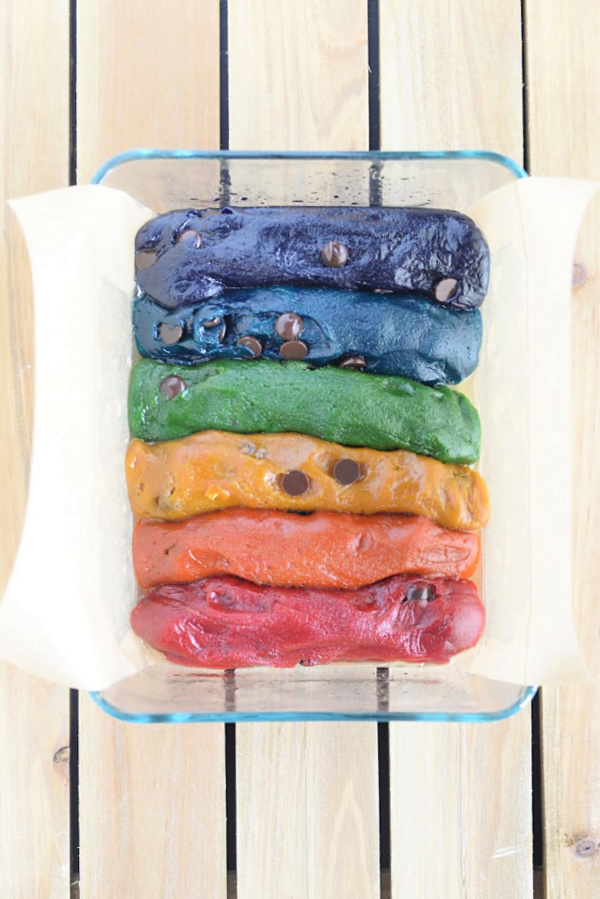 I love this batter because it's so fun to play with…but please wear GLOVES!!! Since I've never made blondies before (yup, that's right), I didn't even know what the batter SHOULD be like so I just made it up and it worked out better than expected. No stand mixer needed and easy to dye the different colors of the rainbow!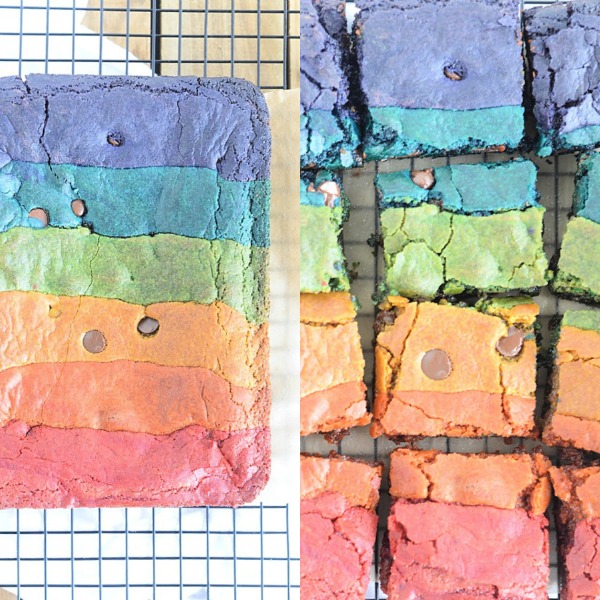 Seriously, when I say to wear gloves, I really mean it! If you want to take your chances and play with gel food coloring without the proper protection, go at your own risk! I'll know it was you who made the blondies because your hands will be rainbow colored and oh so pretty to look at for the next few days.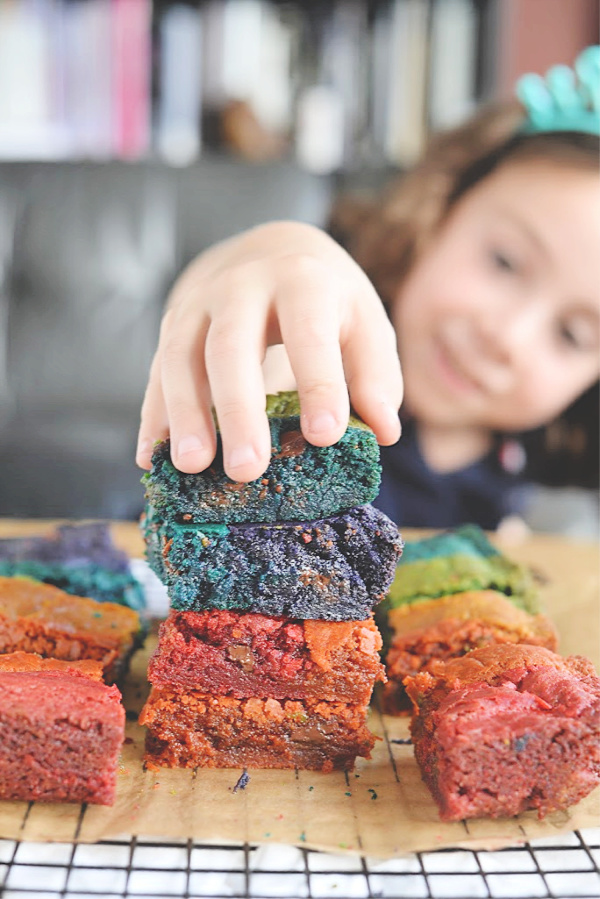 Rainbow Whole Wheat Blondies
---
kitchen-tested.com
Ingredients
1 1/2 cups white whole wheat flour
1 1/2 cups light brown sugar
1 1/2 tsp baking powder
1 tsp kosher salt
3/4 cup neutral oil
1 egg
2 Tbsp strong brewed coffee (2 Tbsp boiling water + 1 Tbsp ground coffee)
1 Tbsp vanilla extract
1/8 tsp each of red, orange, yellow, green, blue, purple gel food coloring
1/2 cup chocolate chips
Instructions
Preheat oven to 350 degrees f. and line a square baking dish with parchment paper. Grease both the dish and the parchment paper with cooking spray.
Whisk together the flour, brown sugar, baking powder and salt.
Separately, whisk together the oil, egg, coffee and vanilla.
With a spatula, combine the wet and dry mixes until a thick batter has formed. WEARING GLOVES, separate the batter into 6 small bowls (each bowl should have a heaping 1/4 cup of batter) and add the gel food colorings to each bowl. Mix the batter with the coloring to create the rainbow colors. Distribute the chocolate chips between each bowl and fold them in.
Quickly roll each ball of batter into a log and place side by side in the baking dish.
Bake 30-35 minutes, until the edges of the blondies are beginning to brown and a toothpick comes out of the center clean. Let cool at least 15 minutes before slicing.
Notes
When you remove the blondies from the oven, the center won't seem cooked through even though a toothpick comes out clean. The blondies will harden as they cool.
These blondies can be made without the food coloring and they will be just as delicious!
7.8.1.2
269
https://melindastrauss.com/2018/10/11/rainbow-whole-wheat-blondies/