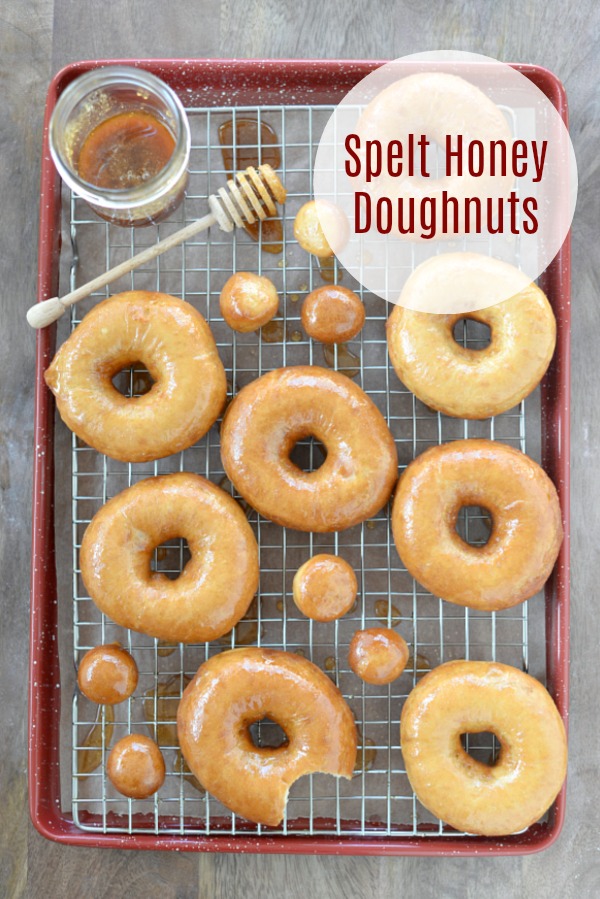 I've been talking about this donut for way too long and I'm so happy it's finally here. After 6 test batches and a whole lot of frozen donuts that I'll be turning into bread pudding, I'm so proud of this final Spelt Honey Doughnut recipe (you can print out at the bottom of this post). It's light, fluffy, has just a bit of chew and it tastes just so darn good. The honey in the dough gives it a touch of sweetness and the icing will take care of the rest. I made these doughnuts with a honey simple syrup but you can certainly use any topping you want so don't hold back!
So what's the deal with spelt flour, right? To put it simply, spelt can be used as a substitute for white and wheat flour when baking. Spelt does contain gluten so it's not gluten-free but many people say it is easier for their bodies to tolerate than wheat and other grains. Spelt flour is also richer in many nutrients and it generally not treated with chemicals and pesticides because it grows inside a thick husk. It's also important to note that there are different types of spelt and they react differently while baking; whole spelt and white spelt. Whole spelt is similar to whole wheat flour so it is heavier and also has a nutty flavor. White spelt has the bran and germ removed so it is lighter in texture and is a 1:1 substitute when a recipe calls for all-purpose flour.
Just look at that beautiful dough! I love the tiny specks of cinnamon and it's so easy to work with.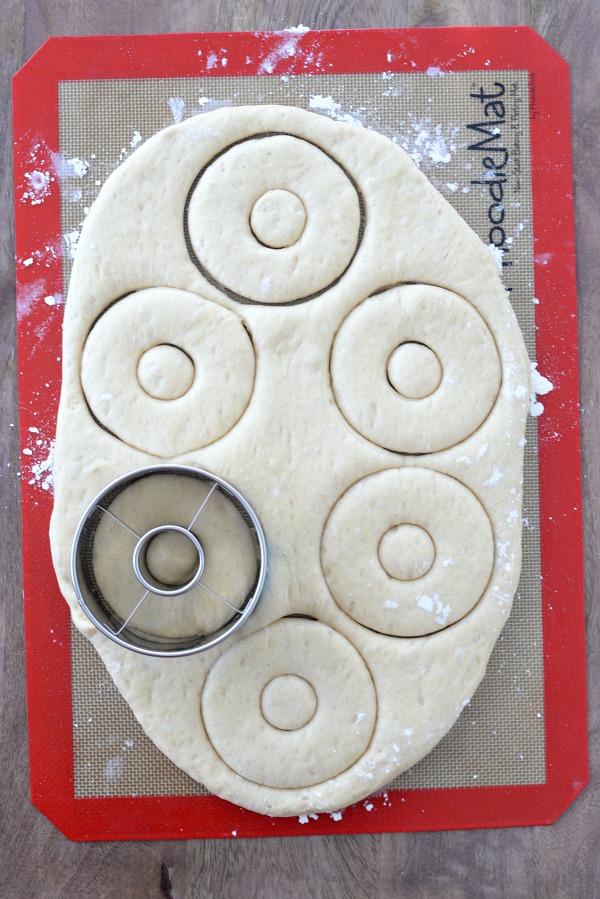 I used a doughnut cutter (available where cookie cutters are sold) but you can certainly use a cookie cutter or the top of a glass drinking cup.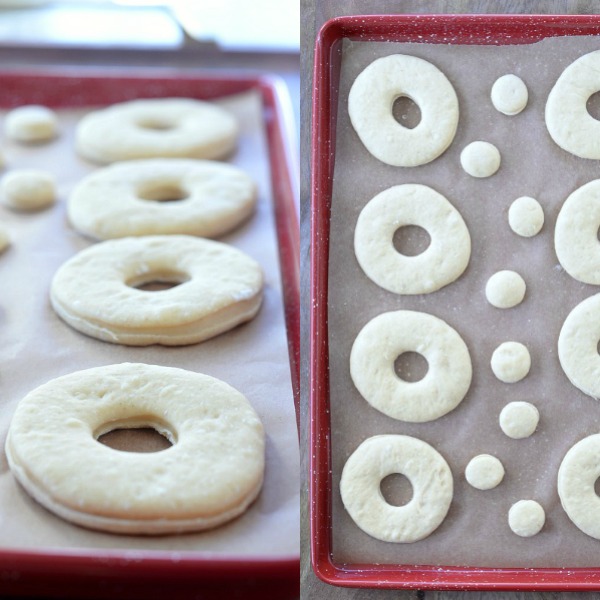 Make sure you let those doughnuts rise! Gotta get them light and fluffy.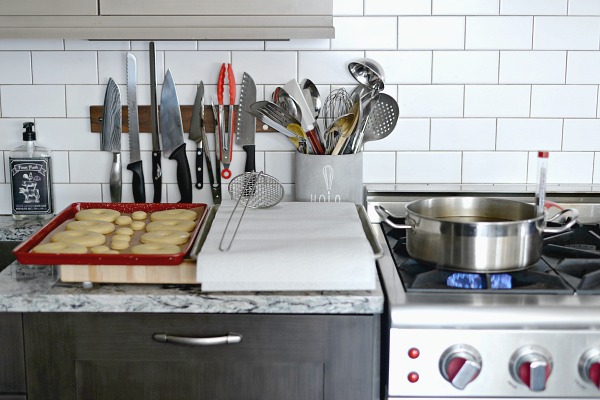 A few tips for frying doughnuts.
Make sure you have everything ready when the oil is hot; risen dough, wire rack lined with paper towels, slotted spoon. And use a thermometer to keep your oil at an even temperature. I like to fry doughnuts at 375 degrees F.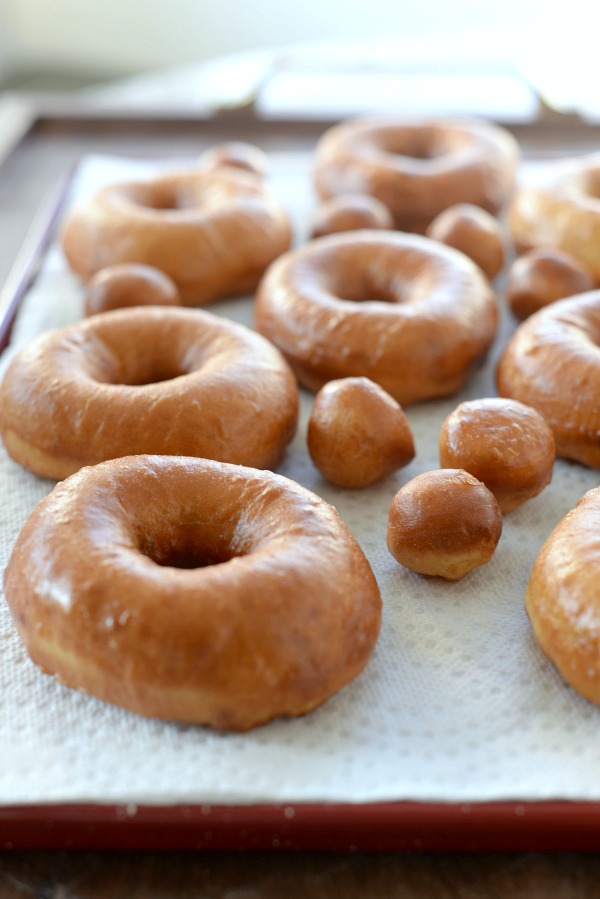 So fluffy! Not oily. Begging for an icing. I made a simple syrup with honey and water then dipped the doughnuts on both sides and placed them on the wire cooling rack to set.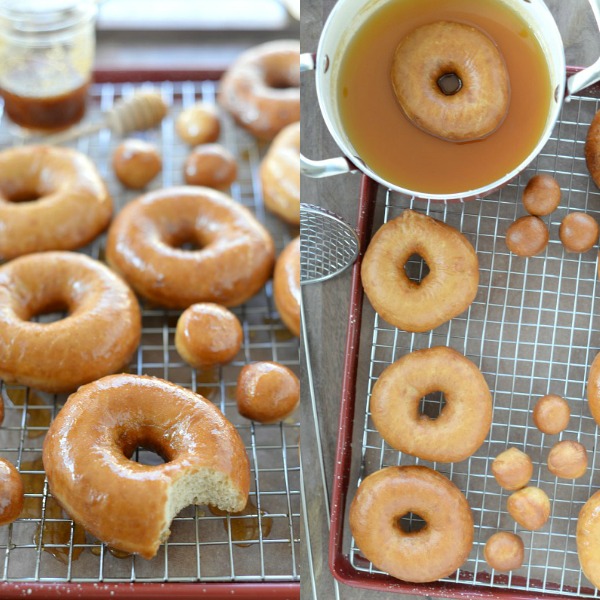 Print
Spelt Honey Doughnuts
Spelt Honey Doughnut
1 1/2 cups

warm water

1/4 cup

honey

4 tsp

active dry yeast

2

egg yolks

1 tsp

vanilla extract

5 cups

white spelt flour

1 tsp

salt

1/2 tsp

cinnamon

2 quarts

neutral oil, for frying
Honey Simple Syrup
Instructions
In the bowl of a stand mixer, combine the warm water, honey and yeast. Let stand for 5 minutes while the yeast creates a foam on top of the water. Add the egg yolks and vanilla and mix together with the paddle attachment.
Separately, whisk together the flour, salt and cinnamon then slowly add the dry mixture to the mixer and beat on low until everything is combined.
Change to the dough hook and knead on medium speed for 5 minutes, until the dough is smooth and a bit sticky. Place the dough in a greased bowl, cover with plastic wrap or a clean towel and allow to rise for 1 hour in a warm spot.
When the dough has doubled in size, transfer to a clean surface lightly dusted with more spelt flour. Roll the dough out to 1/4 inch thick and cut circles with a doughnut or cookie cutter, or you can use the top of a glass drinking cup. You can re-roll any scraps and cut more circles one more time before the dough gets too tough so try to cut as many doughnuts out of the first batch. Place the cut out doughnuts (and holes) on a parchment lined baking sheet and allow to rise 30 more minutes before frying.
To fry, heat the oil (canola and vegetable are fine) in a heavy bottom pot with a thermometer attached to keep track of the temperature. You want the oil to be between 370 and 375 degrees F. Have a wire cooling rack lined with paper towels and a slotted spoon ready next to the pot.
Start by frying one doughnut for around 1 minute on each side to make sure the oil is at the right temperature and then continue to fry 3-4 doughnuts at a time, based on the size of the pot. You don't want to overcrowd the pot or the oil temperature will drop and you will end up with oily doughnuts. Remove all doughnuts with the slotted spoon and place on the paper towels to drain.
While the doughnuts are cooling, combine the honey and water in a small saucepan and bring to a simmer, whisking occasionally. Simmer the honey simple syrup for 10 minutes, until it has thickened into a syrup. Allow to cool slightly before dipping the doughnuts on both sides and placing them on a wire rack to set.
Leftover doughnuts (if there are any) can be stored for one day in a plastic storage bag but will definitely not taste as good the next day. Doughnuts are always best fresh!