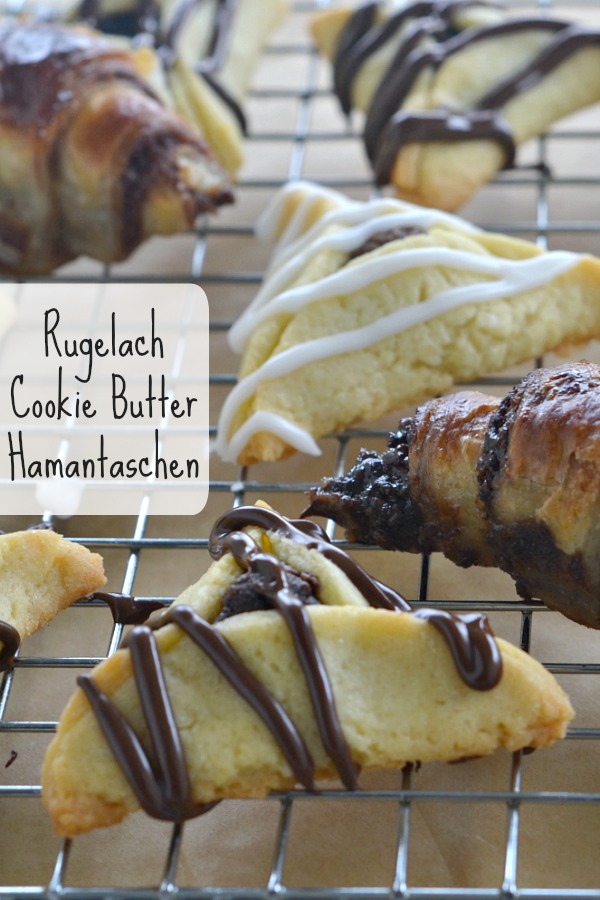 If you've ever been to Israel, or if you know anyone that has ever asked you "do you want me to bring anything back from Israel?", then I assume you know about Marzipan rugelach. No, the rugelach are not made with marzipan…it's the name of the world famous bakery in Jerusalem. There is literally nothing like these gooey rugelach and when I found out that I could now get them in the US without having to beg someone to bring them home from Israel, I was over the moon. If I could do flips, I would! These insanely delicious chocolate and cinnamon rugelach are actually made in Israel and shipped frozen to the US so we are getting the real deal here. But really, this post is all about hamantaschen so let's get down to it. Since the Marzipan rugelach are so soft and rich, I thought they would make a really fun cookie butter and boy was I right! You don't even need to add anything else to the food processor. Just blend the rugelach and use as a filling with my easy hamantaschen dough.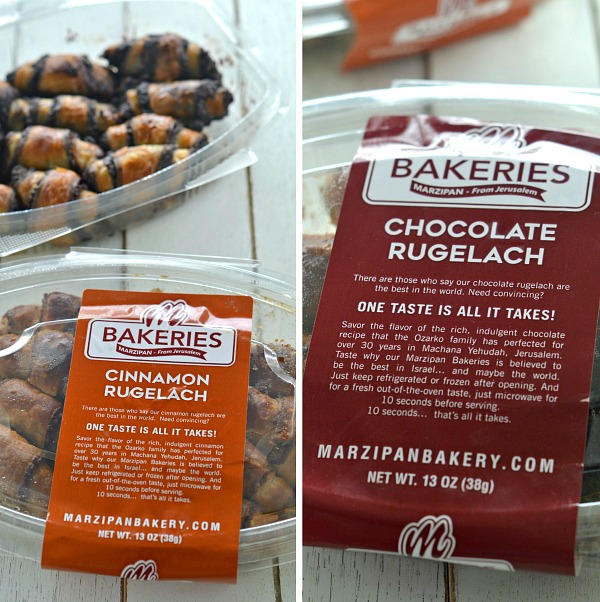 I know it seems crazy to blend these beautiful rugelach but hello!!! Rugelach Cookie Butter!!!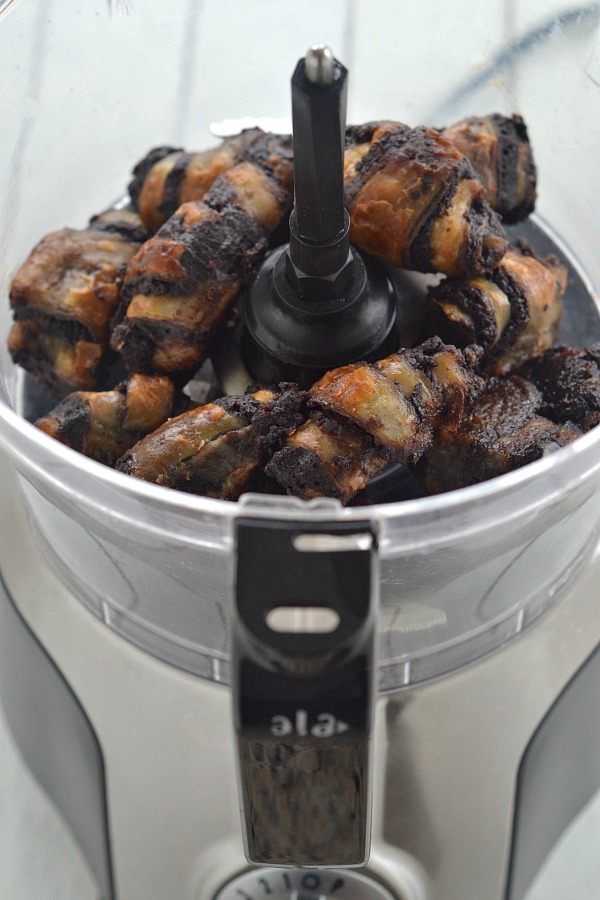 Just think of the possibilities for this rugelach cookie butter; babka filling, swirled into ice cream, spread on toast…comment below with more ideas!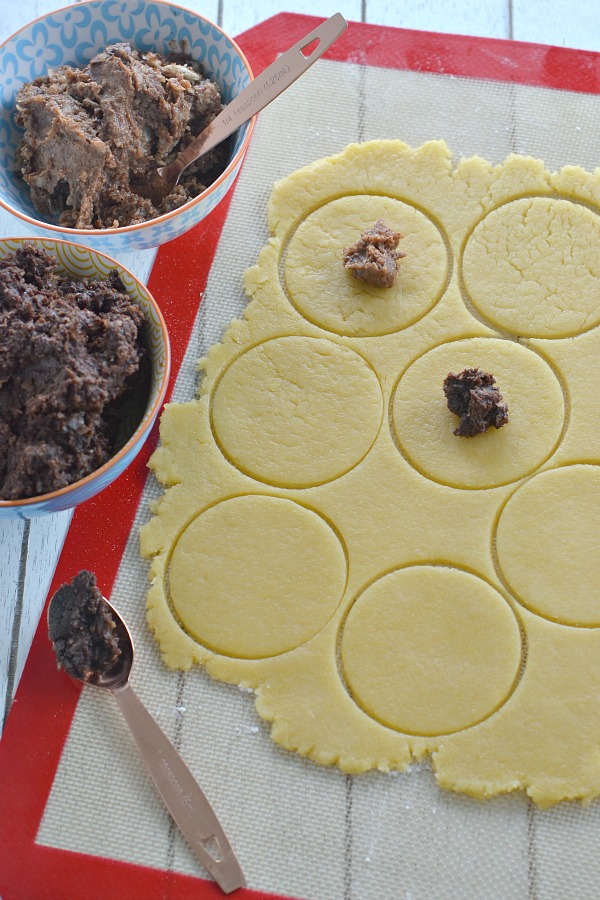 Man, I love this dough. One bowl. One spoon. No mixer and no chill time.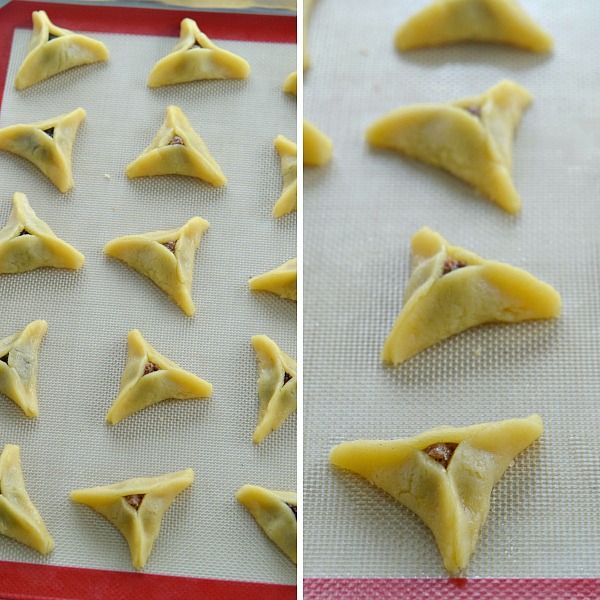 And yes, they all stayed closed!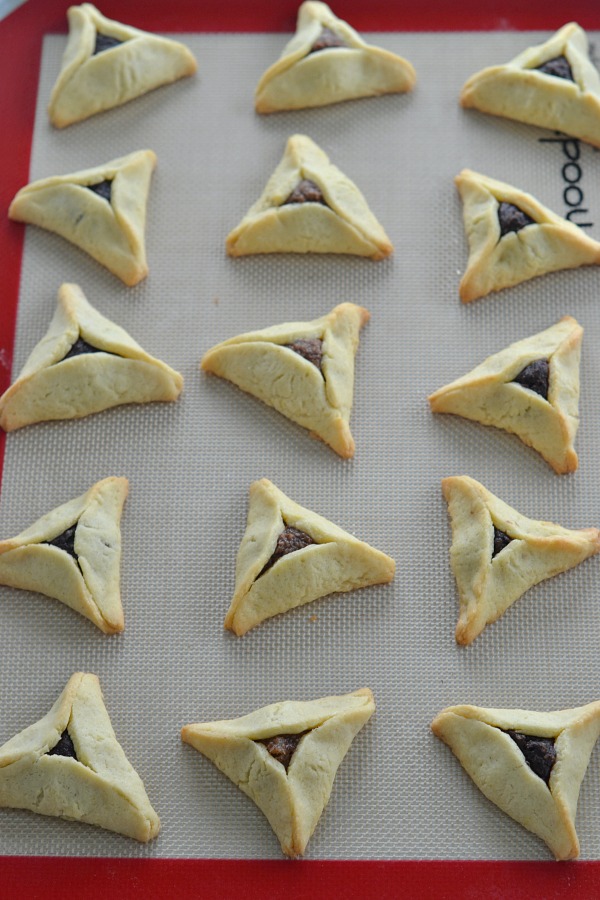 I drizzled the chocolate rugelach cookie butter hamantaschen with melted chocolate and the cinnamon rugelach cookie butter hamantaschen with powdered sugar icing. My sister-in-law told me that the cinnamon hamantaschen taste like Cinnamon Toast Crunch. How awesome is that?!?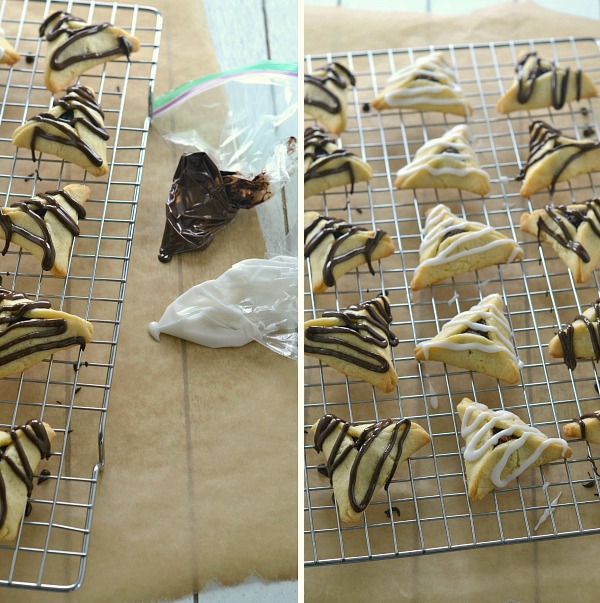 Okay, I recommend buying two boxes of each rugelach flavor. One for the filling and one to snack on while you bake. If you're curious which one is my favorite…I vote for cinnamon!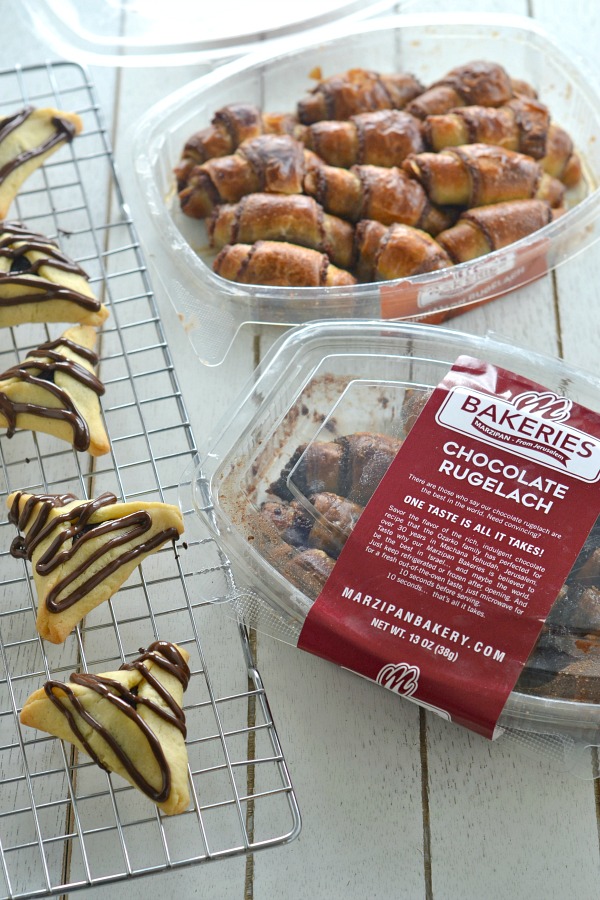 Rugelach Cookie Butter Hamantaschen
---
Recipe by Melinda Strauss, Kitchen-Tested.com
Ingredients
Easy Hamantaschen Dough:
2 eggs
½ cup oil
½ cup sugar
½ tsp vanilla extract
2 cups all-purpose flour
½ tsp baking powder
¼ tsp kosher salt
Filling:
1 package Marzipan Chocolate Rugelach
1 package Marzipan Cinnamon Rugelach
Toppings:
1/2 cup chocolate chips, melted (add a bit of oil to smooth out)
1/2 cup powdered sugar + 1-2 tsp water
Instructions
Instruction:
Mix together the egg, oil, sugar and vanilla extract. Add the flour, baking powder and salt and stir until a smooth dough is formed.
Roll out the dough to around ¼ inch thick then cut circles using a cookie cutter or a glass cup.
In a food processor, blend the chocolate rugelach until a thick filling has been formed. Clean out the food processor and repeat process with the cinnamon rugelach.
Place a teaspoon of either the chocolate or cinnamon filling in the center of the circles and pinch closed to form a triangle.
Bake 350 for 15 minutes. Transfer hamantaschen to a wire rack to cool completely.
Drizzle the chocolate rugelach cookie butter hamantaschen with the melted chocolate and the cinnamon rugelach cookie butter hamantaschen with the powdered sugar icing.
7.8.1.2
40
https://melindastrauss.com/2017/03/08/rugelach-cookie-butter-hamantaschen/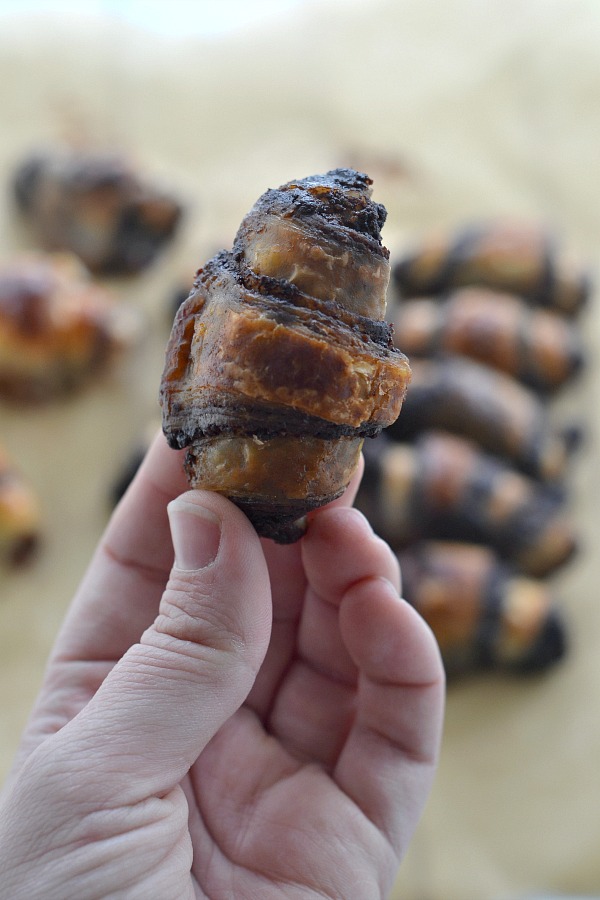 Thank you to Marzipan Bakery for sponsoring this post!