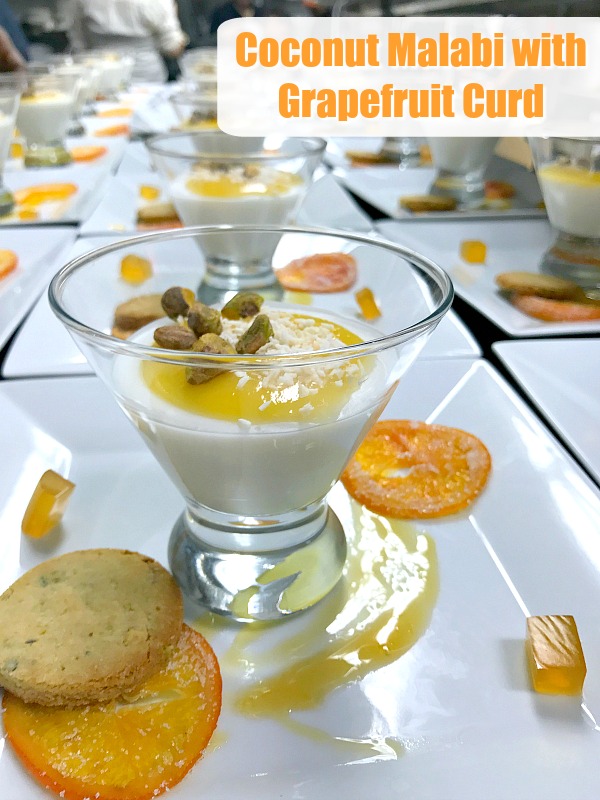 Unless you've been living under a rock, you definitely know all about my pop-up dinner collaboration with Chef Bryan Gryka, Executive Chef at Milt's BBQ for the Perplexed in Chicago, and Chef Albert Bijou, manager at Courtside Grill in Long Island. The short story is that Bryan and Albert decided together that Bryan would be doing a pop-up dinner at Courtside on February 1st, the day before his pop-up at Eden Wok in NYC. When I heard all about their collaboration, I offered to help out in some way and they shocked me by actually asking ME to make dessert! I don't know how you would feel but when two amazing chefs asked this lil' ole blogger to be a part of their pop-up, I was beyond honored. The truth is that there are many chefs out there who tell me I'm not a chef because I didn't go to culinary school and there are others that just see me as a food blogger. And you know what??? That's okay! Because this experience has taught me that I have to believe in myself and my own talent to make it happen. Did putting on my new chefs coat turn me into a chef? I don't know. Did serving dessert for 65+ people at a pop-up dinner turn me into a chef? I don't know again! All I know is that I had the time of my life and I am ready to do it again. 6 years of food blogging has made me realize that I have an incredibly strong passion for desserts and I want to keep building from here. Yes, I am actually considering pastry school because I know there is so much I want/need to learn so if any of you have any recommendations in Brooklyn or Long Island, comment below!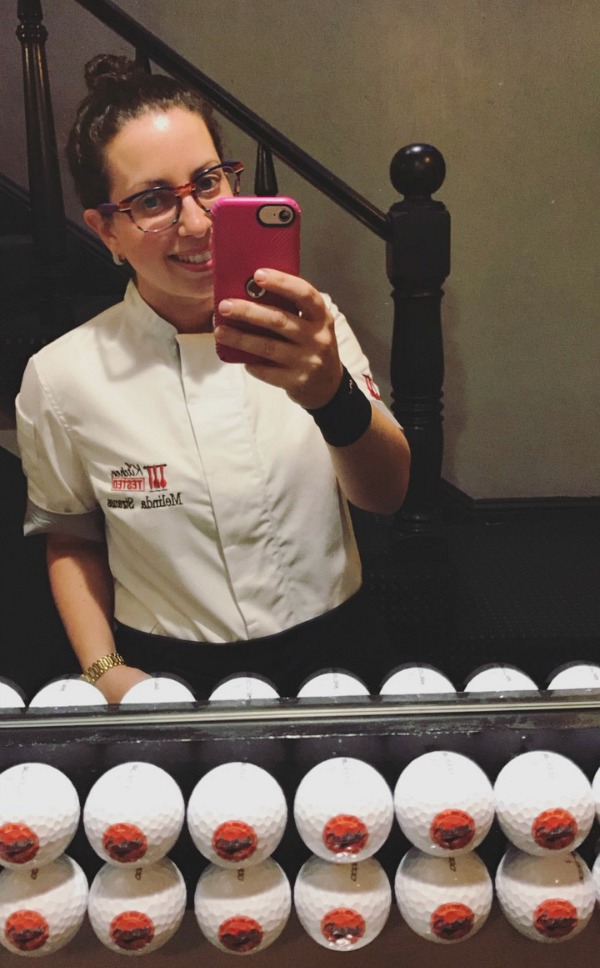 Now let's talk about dessert! I prepared a coconut malabi (recipe below), which is a Mediterranean pudding traditionally flavored with rosewater or orange blossom syrup. I topped the malabi with a butter-free grapefruit curd, toasted coconut and cardamom toasted pistachios. I decorated the plate with candied oranges, grapefruit gummy candies (both recipes below) and a pistachio shortbread cookie. I am still on cloud nine and I am loving all of the positive feedback!!!! So yeah, you can keep it coming. I love the compliments!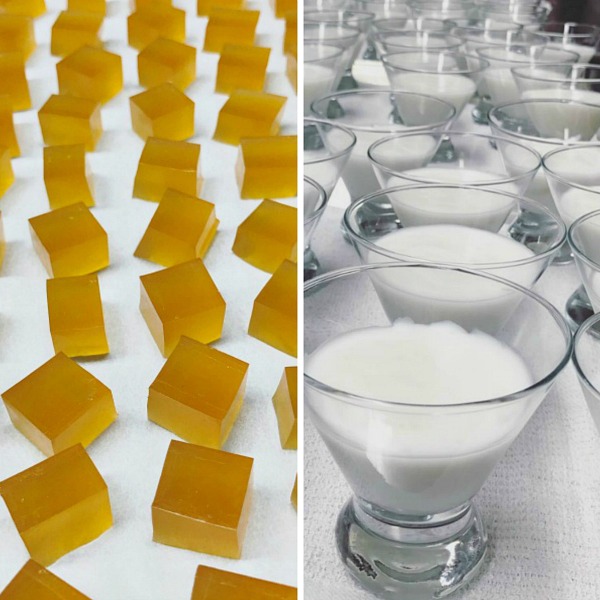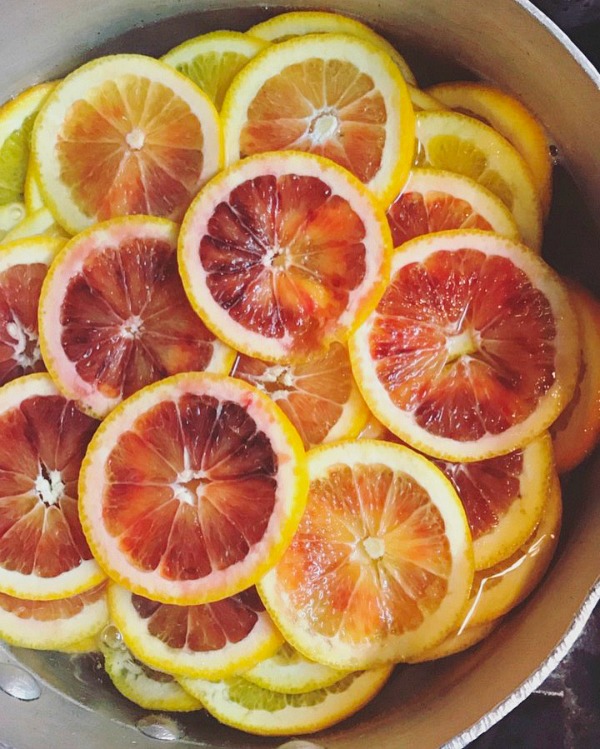 I based my dessert on the menu developed by Bryan and Albert. Albert served a tuna and yellowtail poke with grilled pineapple to begin the meal. Bryan killed it with a creamy wild mushroom soup, mustard green and citrus salad with house cured kosher bacon and smoked pepitas, smoked duck pancakes (my favorite) and braised lamb shoulder stew. I decided to end the meal with a citrus inspired dessert that I felt would compliment their dishes. I definitely nailed it!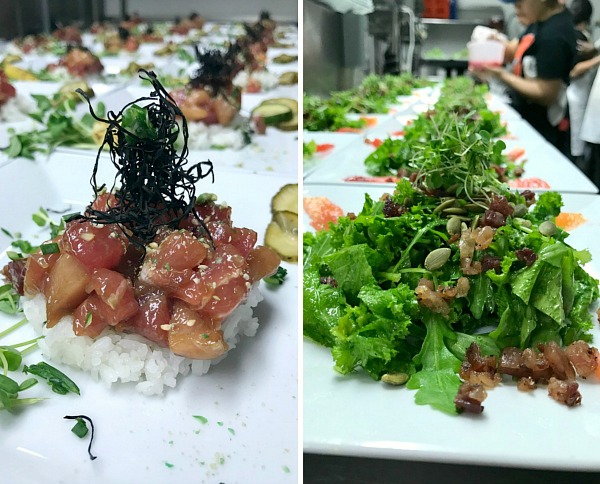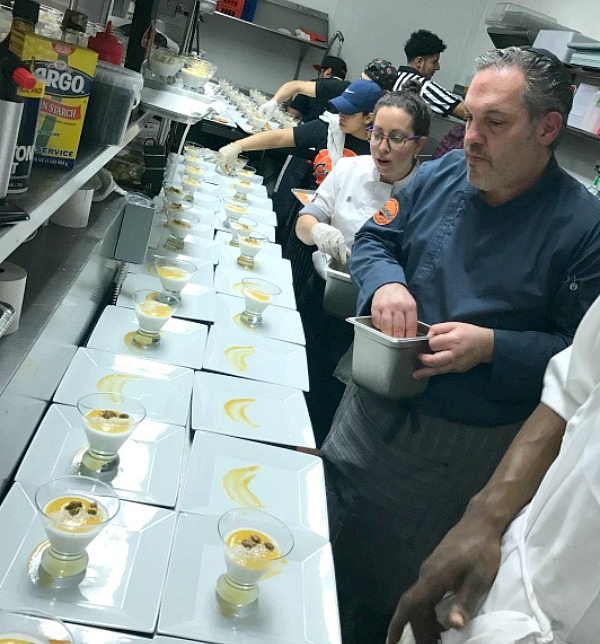 Print
Coconut Malabi with Grapefruit Curd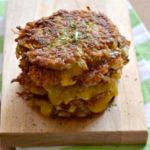 Scale
Ingredients
Coconut Malabi
2

14-ounce cans (

4 cup

s) full fat coconut milk

1 cup

sugar

3 Tbsp

corn starch +

3 Tbsp

water

1/4 cup

orange blossom syrup (can also use rosewater)*recipe below
pinch of salt
Orange Blossom Syrup
1

bottle orange blossom water

1 cup

sugar
Grapefruit Curd
1 cup

fresh grapefruit juice

3/4 cup

sugar

2

whole eggs

2

egg yolks

2 Tbsp

grapefruit zest
pinch of salt
Instructions
Orange Blossom Syrup
Whisk together orange blossom water and sugar in a small saucepan, bring mixture to a simmer over medium-low heat and reduce until a thick syrup is formed. The texture should be thinner than honey.
Coconut Malabi
Whisk together the coconut milk and sugar in a medium pot and bring to a light boil over medium heat.
Separately, whisk together the corn starch and water then slowly pour into the boiling coconut milk, whisking continuously. Continue whisking the malabi until thick, around 5 minutes.
Remove the malabi from the stove and add a pinch of salt and the orange blossom syrup. If you only want a hint of orange blossom, you can add just a few tablespoons.
Spoon the malabi into individual cups and set aside to cool completely before placing in the refrigerator. The malabi will continue to set into a pudding consistency.
Grapefruit Curd
Whisk together the grapefruit juice and sugar in a small saucepan over low heat to dissolve the sugar. Remove the pan from the heat and cool slightly.
Whisk together the eggs and egg yolks then slowly add to the grapefruit juice mixture, whisking continuously or the eggs will curdle.
Cook the curd, whisking continuously, over low heat until thick and bubbly.
Pour the curd through a fine mesh sieve into a bowl or container and place a piece of plastic wrap directly on top of the surface of the curd. Then cover the container and refrigerate the curd until ready to use.
Assembly
Spoon some grapefruit curd on top of each cup of malabi then sprinkle with toasted shredded coconut and toasted unsalted pistachios.
Print
Grapefruit Gummy Candy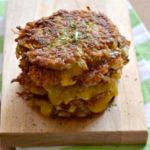 Scale
Ingredients
1/2 cup

fresh grapefruit juice

1/3 cup

honey

3 Tbsp

cointreau

1 Tbsp

lemon juice

2 Tbsp

gelatin powder
Instructions
Whisk together the grapefruit juice, honey, cointreau and lemon juice in a pot. Sprinkle with the gelatin powder and set aside for 15 minutes to bloom.
Heat the mixture over medium-low heat, whisking continuously for 4-5 minutes. Do not bring to a boil.
Pour the mixture through a fine mesh sieve into a 8×4 or 9×5 loaf pan (no need for parchment paper) and chill around 45 minutes, until firm.
Run a small offset spatula or knife around sides of pan to loosen the candy then gently peel away candy from bottom of the pan. Cut into small cubes or punch out into desired shapes with small cookie cutters. Once you cut the slices, they need to stay separate from each other or they will melt back together.
Print
Candied Oranges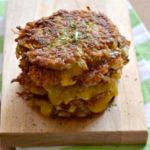 Scale
Ingredients
4

–

5

oranges

4 cup

s water

4 cup

s sugar
Instructions
Whisk the water and sugar in a medium pot and bring to a simmer over medium-low heat. Whisk occasionally and make sure all sugar has dissolved.
Slice oranges thinly, discarding the edges. Add the oranges to the pot and simmer for at least 1 hour, until the peels are translucent. Make sure the water doesn't come to a full boil or the oranges will begin to disintegrate.
Carefully remove the oranges with a slotted spoon and place on a wire cooling rack. Set the oranges aside to dry for at least 12 hours.
You can eat the oranges just like this or dip both sides in sugar. Store in an airtight container at room temperature for 3-4 days.
BIG shout out to Bryan and Albert for making me feel right at home in the kitchen. You gave me the confidence (and the liquid courage) I needed to succeed and I had such a blast working with you both. I hope we get the chance to do this again.