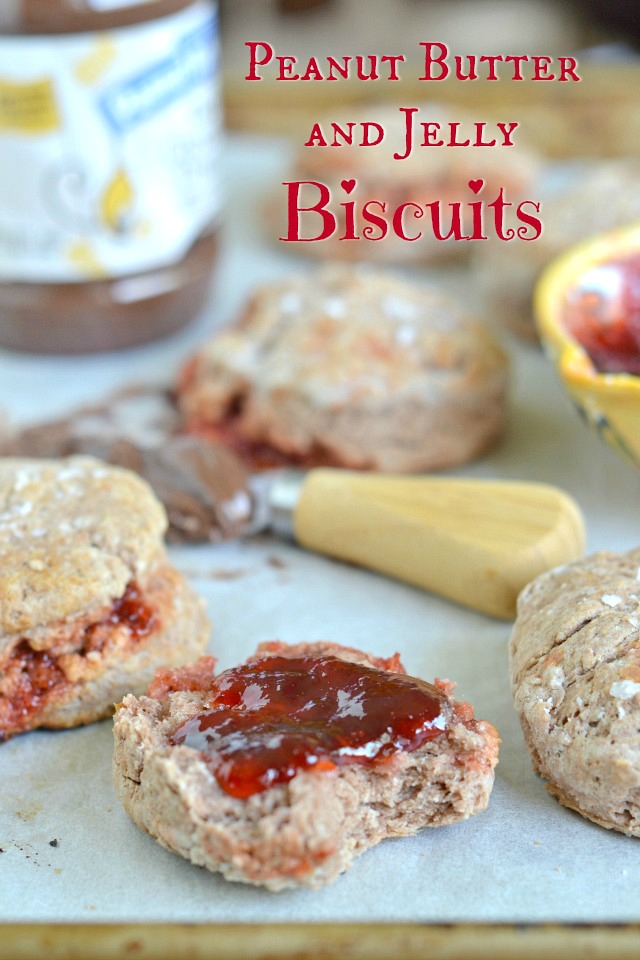 Yeah, this actually happened. And it's not just a beautiful flakey biscuit with peanut butter and jelly smeared on. Oh no! THIS biscuit has peanut butter and jelly IN the dough itself. The rest is history! You can use any flavor peanut butter you want or go classic with some plain creamy peanut butter. My favorite is chocolate peanut butter so of course I had to use it. And just like you can use any peanut butter, you can also use any jelly you want. Strawberry, blackberry, raspberry, lingonberry…anything that ends in berry. Just do me a favorite and treat your biscuit dough very very gently. A flakey biscuit should be kneaded as little as humanly possible and it only take 5 minutes to prep. Why don't I eat more biscuits???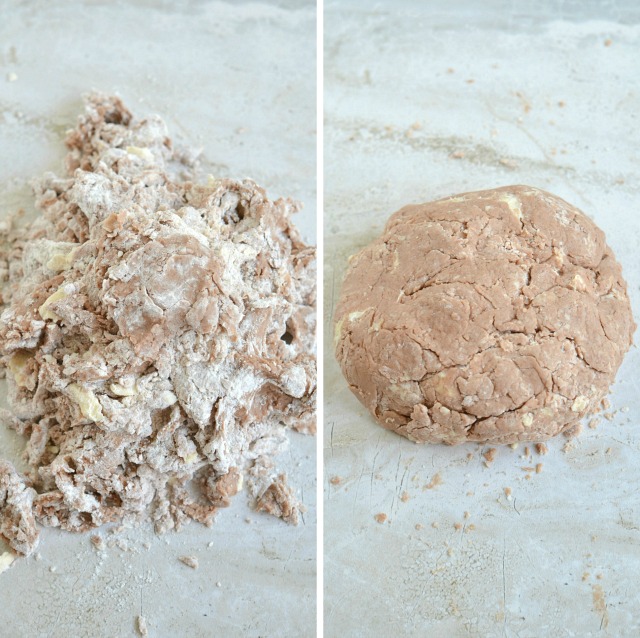 See what I mean about being gentle with your dough. You actually want it to be crumbly and delicate.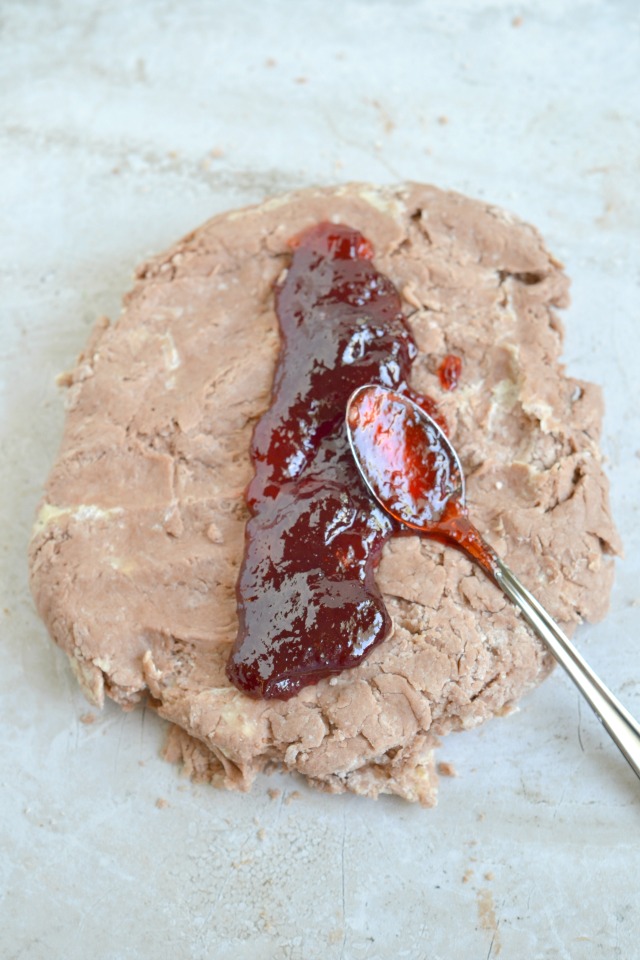 I feel like Joey on Friends licking up the last of the jam. Remember Monica's "Jam Plan"??? Just give me a spoon and a jarful of jam or jelly and leave me alone.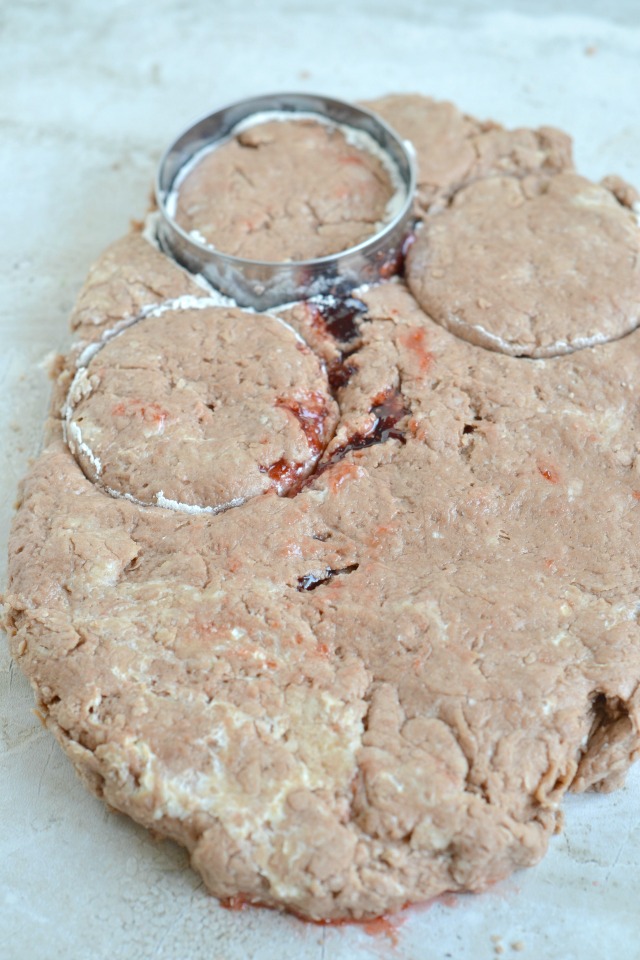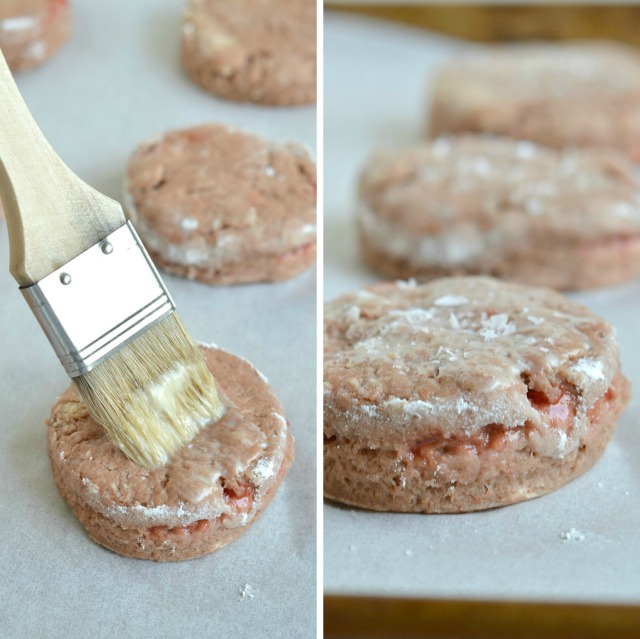 I sprinkled my biscuits with coarse sea salt because peanut butter + jelly + salt = YES!!!!!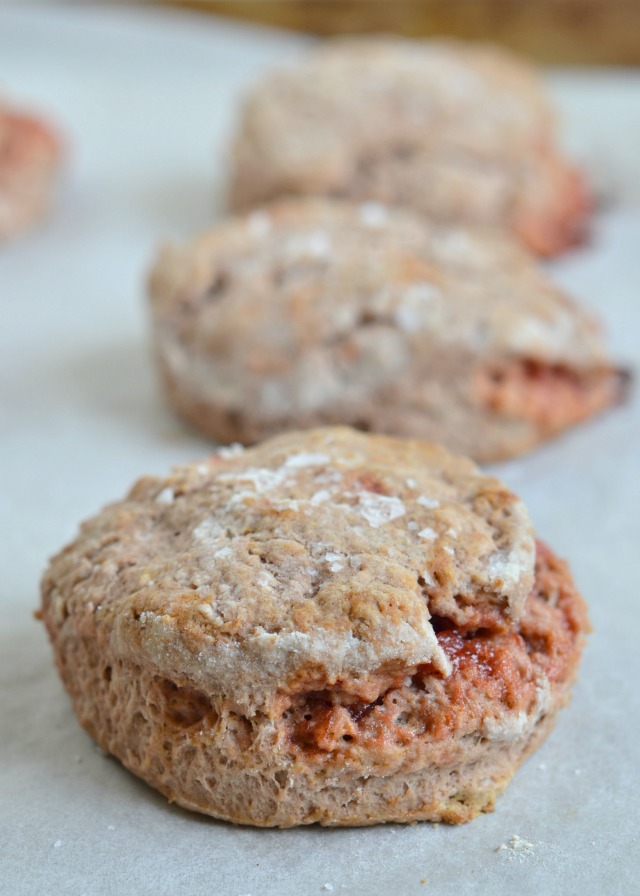 Peanut Butter and Jelly Biscuits
---
Ingredients
2 cups all-purpose flour
1 Tbsp baking powder
1 tsp salt
1/4 tsp baking soda
3 Tbsp cold unsalted butter (or solid coconut oil)
1 cup canned coconut milk
1/4 cup creamy peanut butter
1 Tbsp sugar
1/4 cup strawberry jelly
1 Tbsp melted unsalted butter (or melted coconut oil)
1 tsp course sea salt
Instructions
Preheat oven to 425 degrees F. and line a baking sheet with parchment paper.
In a mixing bowl, combine the flour, baking powder, salt and baking soda. Using a fork, press the cold butter or coconut oil into the flour mixture until it is the texture of coarse crumbs. You want to see small pieces of butter in the flour.
Separately, whisk together the coconut milk, peanut butter and sugar. Make a well in the center of the flour mixture and pour in the wet mixture. Using your fork, gently combine the wet with the dry until it begins to combine but still crumbly.
Pour the crumbly dough onto a lightly floured surface and gently knead the dough together into a ball. You want to work with this dough as little as possible so the baked biscuits are light and flakey.
Press the dough lightly into a circle around 1 inch thick and spread the strawberry jelly all over the dough, leaving a 1/2 inch around the edges clean. Fold the dough in half, trapping the jelly in the center, and gently press down the dough again to around 1 inch thick again.
Dip a 2-3 inch round cookie cutter into flour then gently into the dough. Transfer the cut biscuits to the baking sheet. You can also cut the biscuits into triangles with a knife dipped in flour. Press together unused dough and repeat cutting procedure.
Brush the melted butter or coconut oil on top of the biscuits and sprinkle with coarse sea salt.
Bake for 12-14 minutes, until the biscuits are golden brown.
Serve warm or room temperature with more peanut butter and strawberry jelly.
7.8.1.2
43
https://melindastrauss.com/2016/05/12/peanut-butter-and-jelly-biscuits/