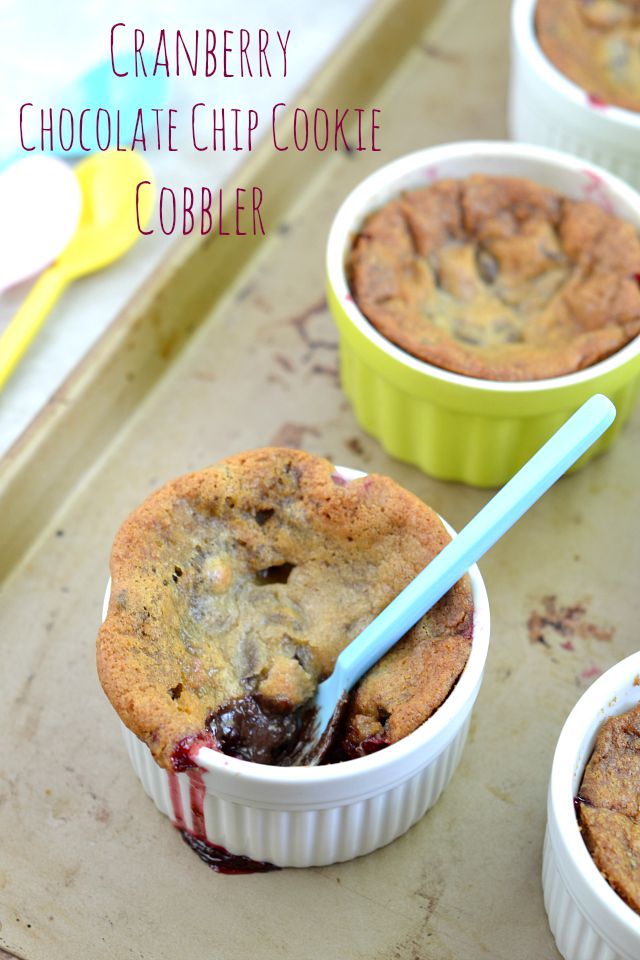 When an oooey gooey chocolate chip cookie tops a sweet and tart cranberry filling, you know you did something right. I mean, who needs traditional cobbler these days, right?!? I'm toppin' mine with warm cookies and it's EVERYTHING! The combination of cranberries and chocolate makes me want to take a nice long nap and so I will. Nighty night!
You can use your favorite chocolate chip cookie recipe for this cobbler and I've included the classic cookie recipe that I make almost every weekend for my kids. You can even add cocoa powder or white chocolate and dried cranberries to mix things up. Go nuts!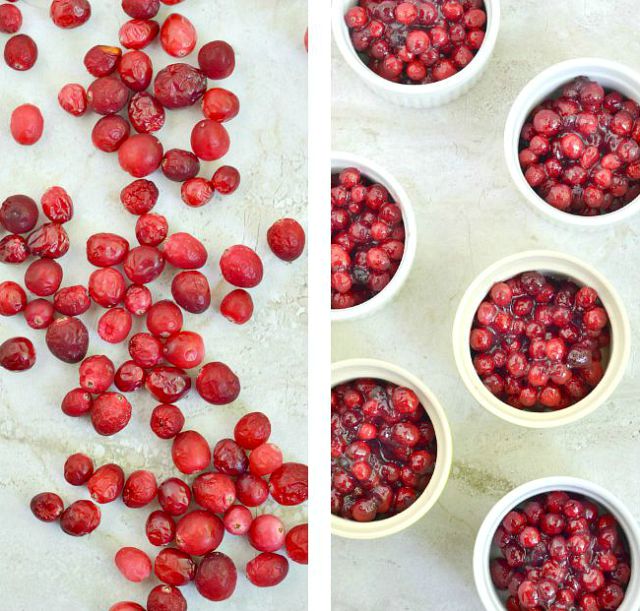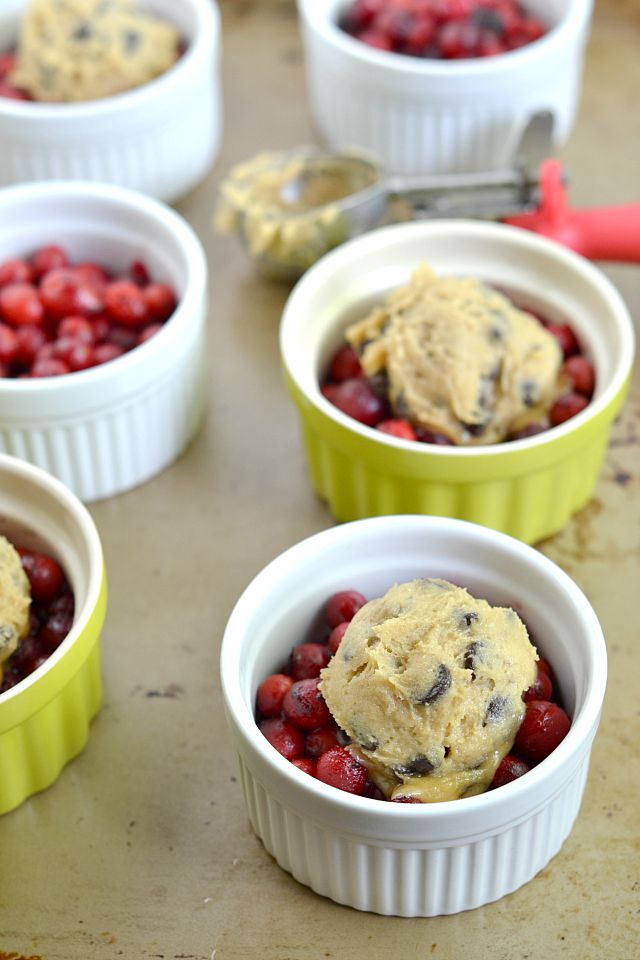 Cranberries for miles! Use fresh or frozen. No prob.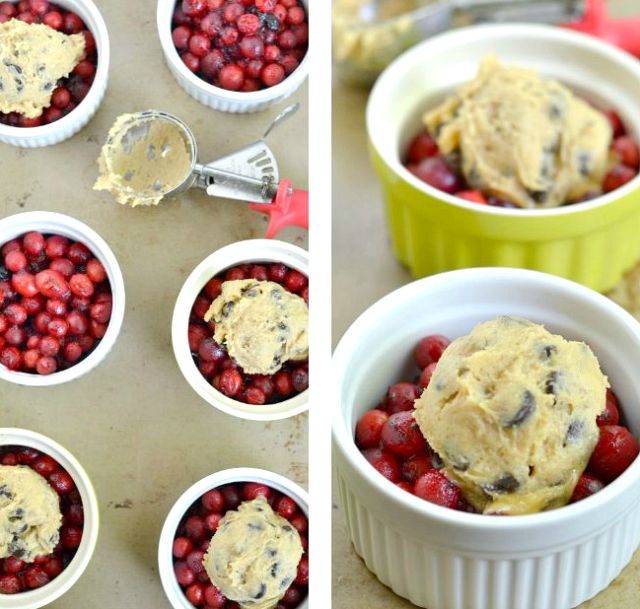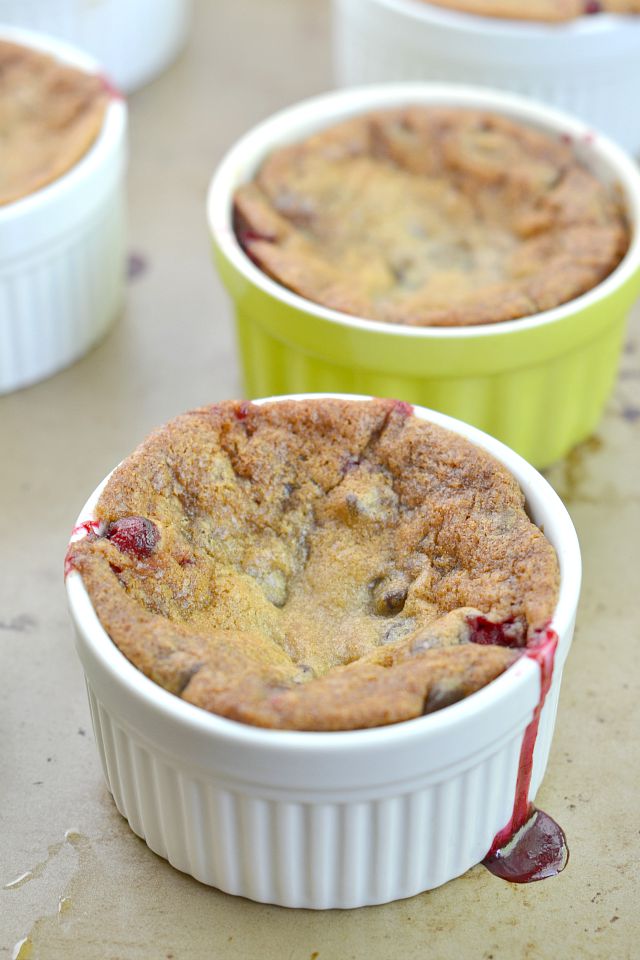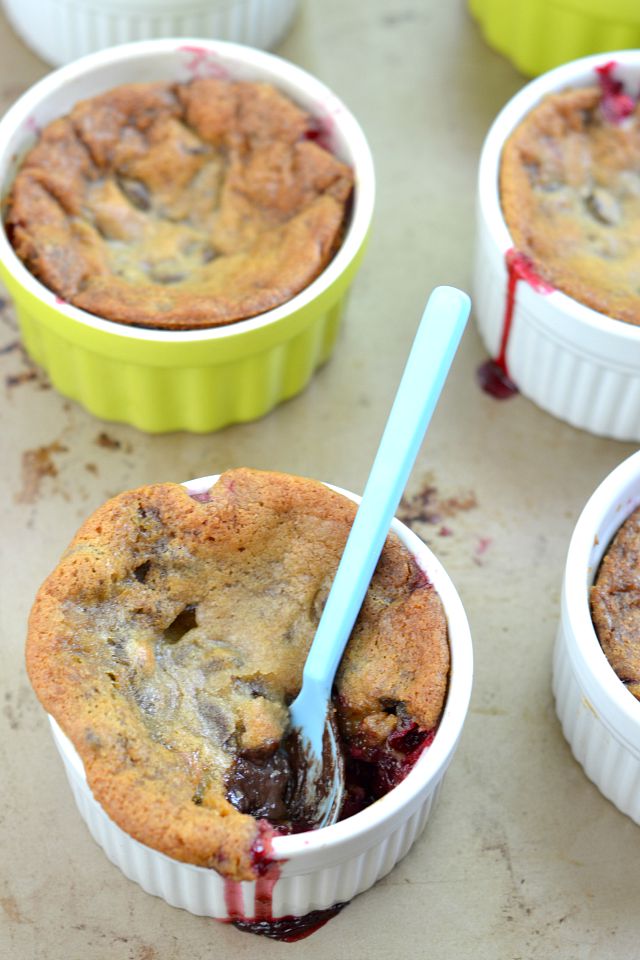 Cranberry Chocolate Chip Cookie Cobbler
---
Ingredients
Cranberry Cobbler Filling
24 oz. fresh or frozen cranberries
1 cup mixed better fruit preserve (strawberry and raspberry are great options)
2 Tbsp corn starch
2 Tbsp fresh lemon juice
2 tsp vanilla extract
Chocolate Chip Cookie Topping (you can use your favorite chocolate chip cookie recipe for this cobbler)
1 cup vegetable shortening (can substitute unsalted butter or margarine)
1 cup light brown sugar
½ cup sugar
1 tsp vanilla extract
2 eggs
1 tsp salt
1 tsp baking soda
2 cups + 4 Tbsp all-purpose flour
12 oz (one bag) chocolate chips
Instructions
Cranberry Cobbler Filling
Preheat the oven to 425 degrees F. and coat a 9 inch round baking dish or 12 individual baking cups with cooking spray.
Combine the cranberries, fruit preserve, corn starch, lemon juice and vanilla extract in a mixing bowl.
Spoon the filling into the baking dish or evenly between the 12 baking cups and place on a baking pan so it's easier to transfer. Bake the filling for 10 minutes.
Chocolate Chip Cookie Topping
While the filling bakes, mix together the chocolate chip cookie dough for the cobbler topping.
With a paddle attachment in a stand mixer, mixed the shortening, sugars and vanilla until creamy and fluffy, around 3 minutes. By beating the mixture for a few minutes, you are ensuring a light and chewy cookie!
Add the eggs and mix well. Add the salt and baking soda and mix again.
Add the flour 1 cup at a time and mix until no flour could be seen in the mixture, around 1 minute. Add the chocolate chips and stir to combine.
Remove the cobbler filling from the oven and lower the oven temperature to 350 degrees F.
Using an ice cream scoop, scoop around 2 tablespoons of batter at a time on top of the cobbler. If you end up with extra cookie dough, you can freeze the raw dough or bake up extra cookies for a snack!
Bake the cobbler for 20-25 minutes, until the cookie topping is golden brown but still a bit gooey in the center. Serve warm or room temperature. Enjoy!
*If you are baking regular cookies with the batter, bake for 10-12 minutes, until lightly golden brown. Let the cookies sit for a few minutes on the baking sheet then move to a cooling rack.
7.8.1.2
20
https://melindastrauss.com/2015/09/24/cranberry-chocolate-chip-cookie-cobbler/