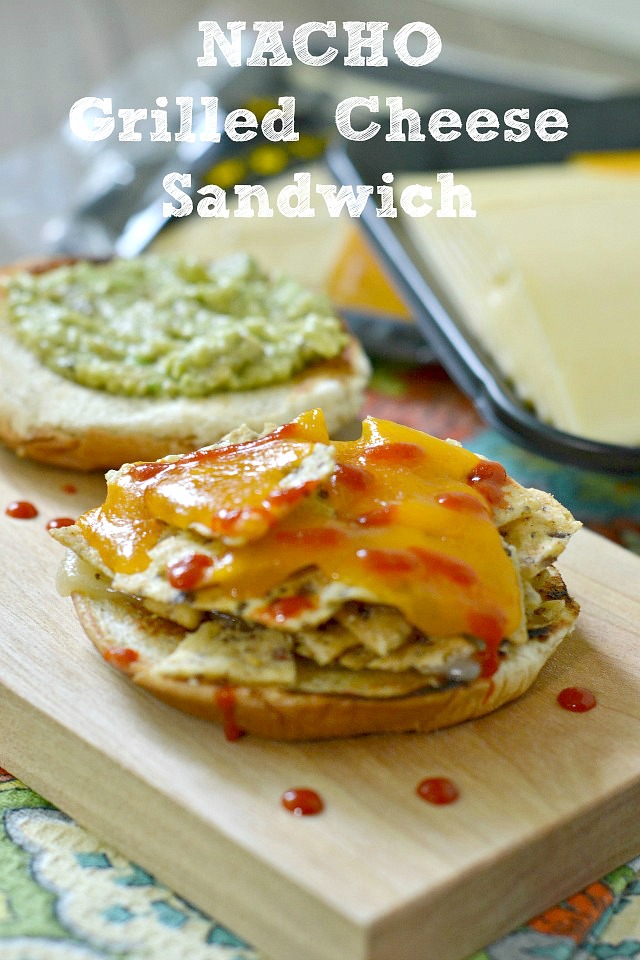 I think I've gone crazy! I topped butter toasted burger buns with nachos and guacamole and it was goooooood! I mean, it was better than I actually thought it would be. I really thought I would take one bite, maybe two, and then move on but then I ate an entire sandwich and started a second one before I remembered that I am on a diet (as usual). I mean, it's buttery, crunchy, salty, sweet, spicy, creamy…should I go on?!? Stop thinking about it so much and go make this sandwich!!!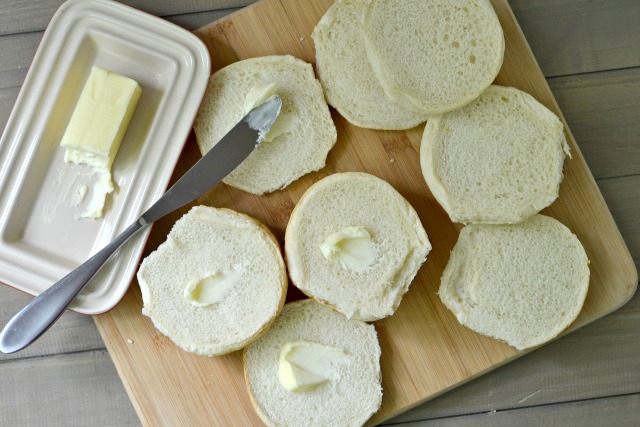 Two types of Les Petites Fermieres cheese. Spicy tortilla chips. All on a soft burger bun toasted with butter on BOTH SIDES!!!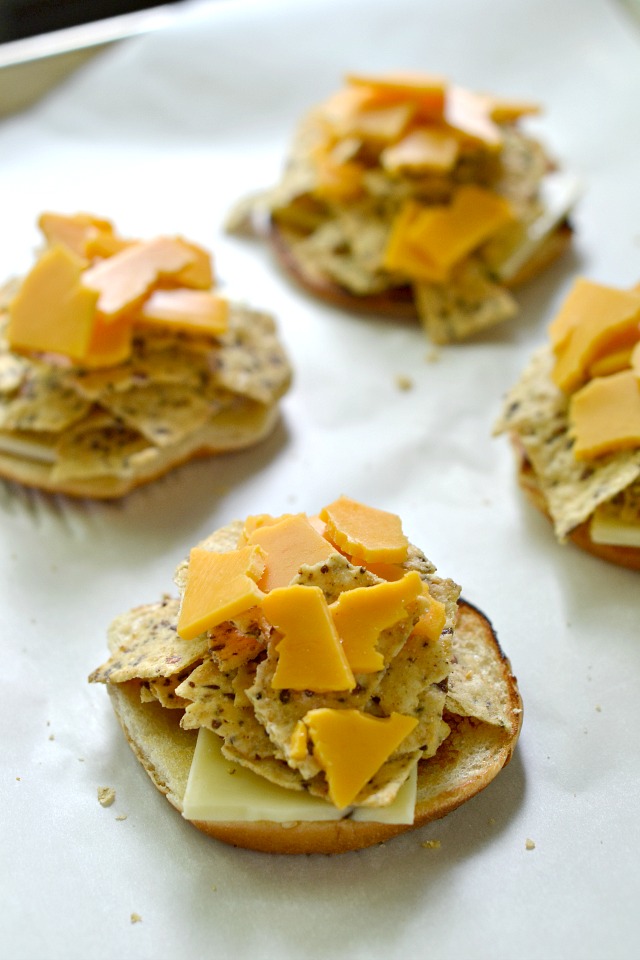 Is there anything in this world better than nachos?!?! Okay, maybe macaroni and cheese but that's really all I can think of…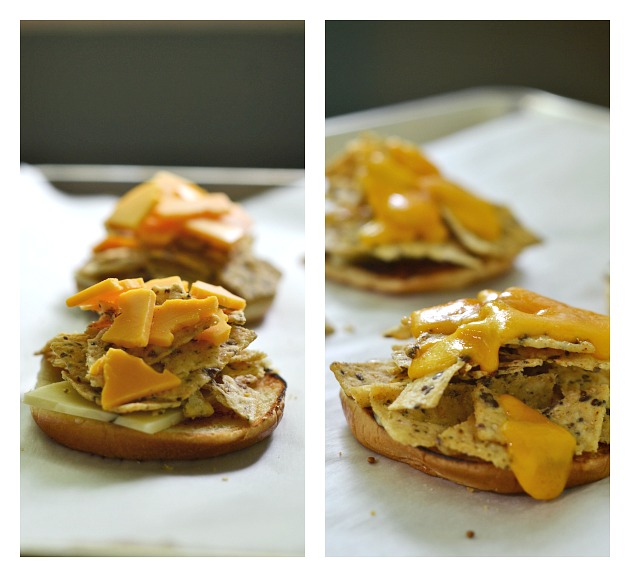 Then it all gets topped with creamy guacamole and spicy Sriracha. So many textures. So many flavors!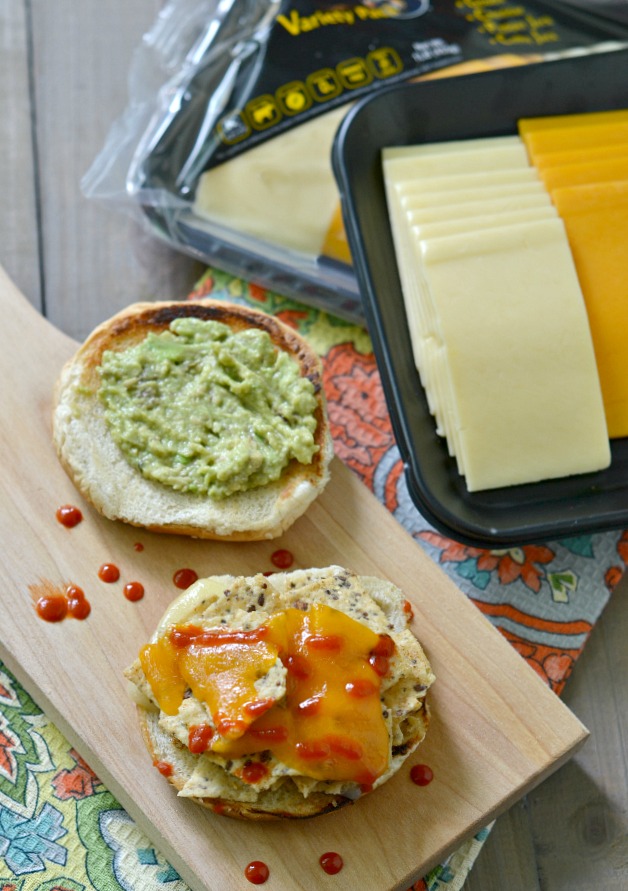 Oh my…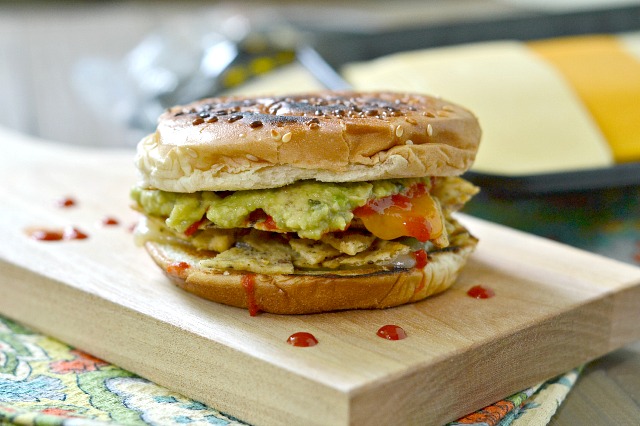 Nacho Grilled Cheese Sandwich
---
Ingredients
4 burger buns
2-3 Tbsp unsalted butter, room temperature
4 slices Les Petites Fermieres pepper jack cheese
4 slices Les Petites Fermieres cheddar cheese
2 cups tortilla chips (any flavor you want)
1 avocado
1 tsp lemon juice
pinch of salt
1-2 tsp Sriracha (or any hot sauce of your choice), optional
Instructions
Preheat the oven to 350 degrees F., line a baking sheet with parchment paper and set it aside.
Warm a grill pan or heavy bottom pan over medium-high heat. Spread the butter on the tops, bottoms and insides of each burger bun then place as many buns as you can fit in the pan. Heat for 1 minute, until beginning to brown then flip and toast the other side. Repeat this process until all burger buns are toasted.
Place the bottom slices of each bun on the baking sheet. Top with the pepper jack cheese then top each bun with 1/2 cup of the tortilla chips then the cheddar cheese. Bake the open-face nacho sandwiches for 5-7 minutes, until the cheese is melted and the chips are warm.
While the sandwiches are in the oven, make a quick guacamole by smashing the avocado with lemon juice and salt. When the sandwiches come out of the oven, dollop some of the guacamole on top of the chips and melted cheddar, drizzle on some Sriracha then top with the other toasted burger bun.
Slightly smash down the top of the sandwich to bring all of the textures together and eat it up!
7.8.1.2
5
https://melindastrauss.com/2015/06/03/nacho-grilled-cheese-sandwich/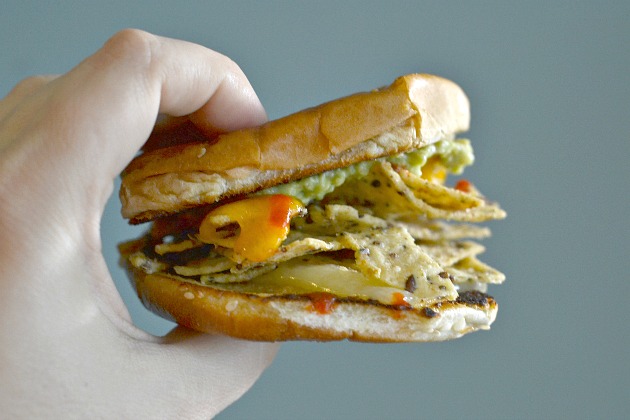 This post was sponsored by Les Petites Fermieres. Follow them on Facebook, Twitter and Instagram.