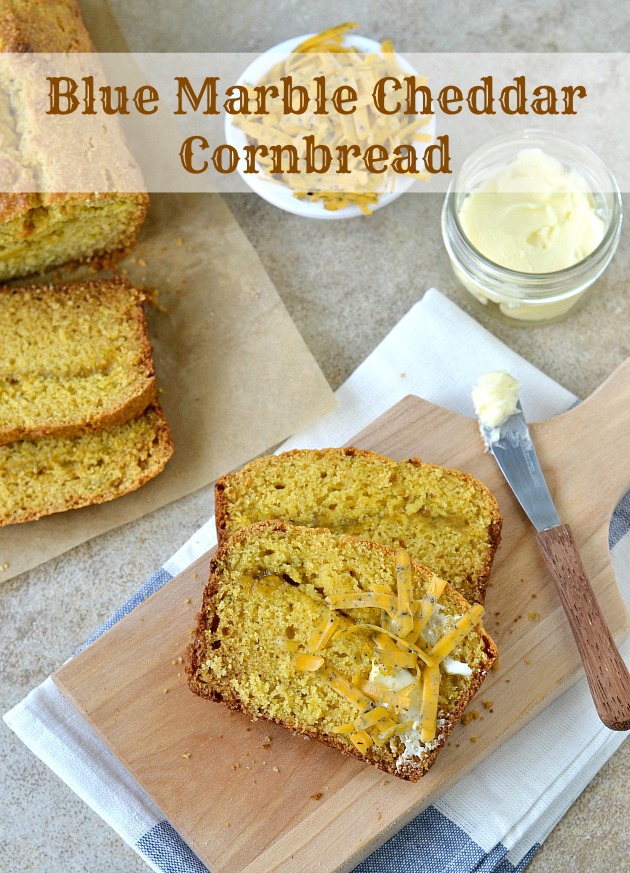 I don't bake with dairy often but when I do, I go all out! Butter, sour cream and lots of cheese…lots and lots of cheese. And the cheese of the day is definitely this Blue Marble Cheese from Sincerely, Brigitte because it inspired the best cornbread I have ever made. I'm being totally serious about this and not modest at all. This cornbread is glorious! And hey, if you don't like blue cheese, you can just use a regular shredded cheddar but I'm telling you, the blue cheese changes everything. The ripeness of the blue cheese doesn't overwhelm the cornbread because it's marbled with rich cheddar so it just adds a delicious balance of flavor and creaminess to a typically flakey texture. Oh, and did I mention that I put a few slices of the Sincerely, Brigitte Blue Marble right in the center of the batter?? Yup, it's like a cornbread sandwich.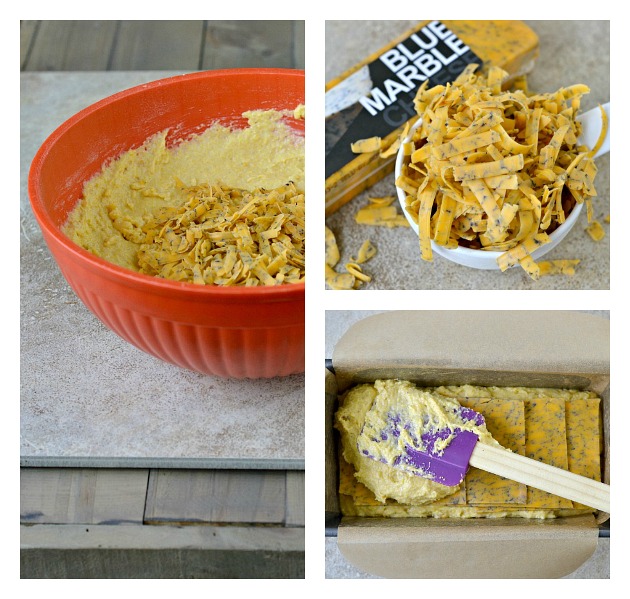 Do we need to talk about this beautiful golden brown color?!?! I seriously can't say enough about how amazing this cornbread is! What's not to like??? I'm going crazy with punctuations because I'm so excited!!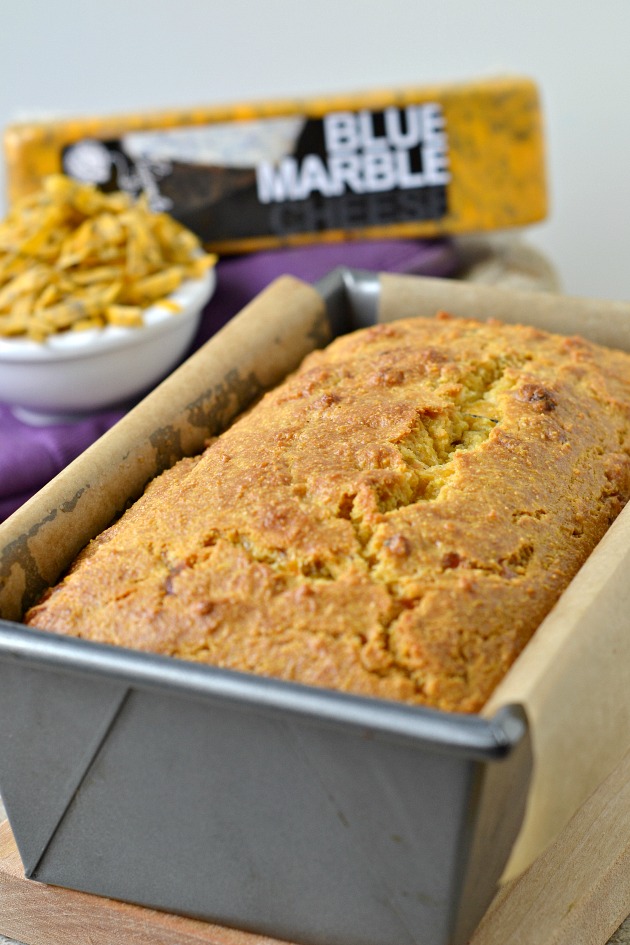 Like I said…cornbread sandwich…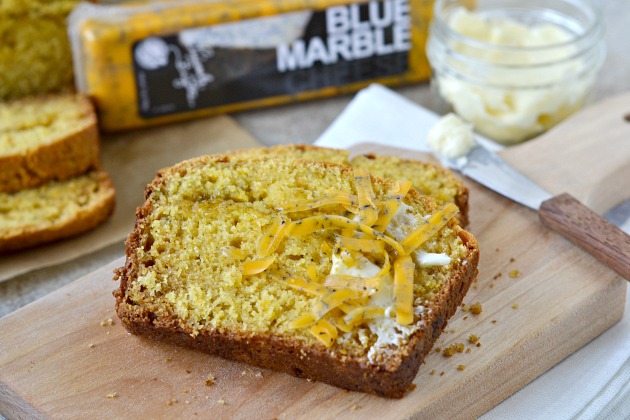 Blue Marble Cheddar Cornbread
---
kitchen-tested.com
Yields 1 loaf pan
10 minPrep Time
35 minCook Time
45 minTotal Time
Ingredients
1 1/2 cups cornmeal
1 cup all-purpose flour
1 tsp baking soda
1 tsp salt
1 cup sour cream
2 eggs
1/4 cup butter, melted
1/4 cup honey
1/2 cup Sincerely, Brigitte Blue Marble Cheese, shredded
4-5 slices Sincerely, Brigitte Blue Marble Cheese, optional
Instructions
Preheat the oven the 350 degrees F., line a loaf pan (any size around 4x9 inch) with parchment paper and spray it with cooking spray.
In a mixing bowl, whisk together the dry ingredients: cornmeal, flour, baking soda and salt. In a separate mixing bowl, blend the wet ingredients: sour cream, eggs, butter and honey. Whisk the dry ingredients into the wet ingredients then fold in the shredded Blue Marble Cheese. If you don't like blue cheese, you can use cheddar as well.
Pour half of the cornbread batter into the loaf pan then layer 3-4 slices of Blue Marble Cheese and top with the remaining batter.
Bake for 34-40 minutes, until the top of the cornbread is golden brown and a toothpick inserted in the center comes out clean.
7.8.1.2
261
https://melindastrauss.com/2015/05/05/blue-marble-cheddar-cornbread/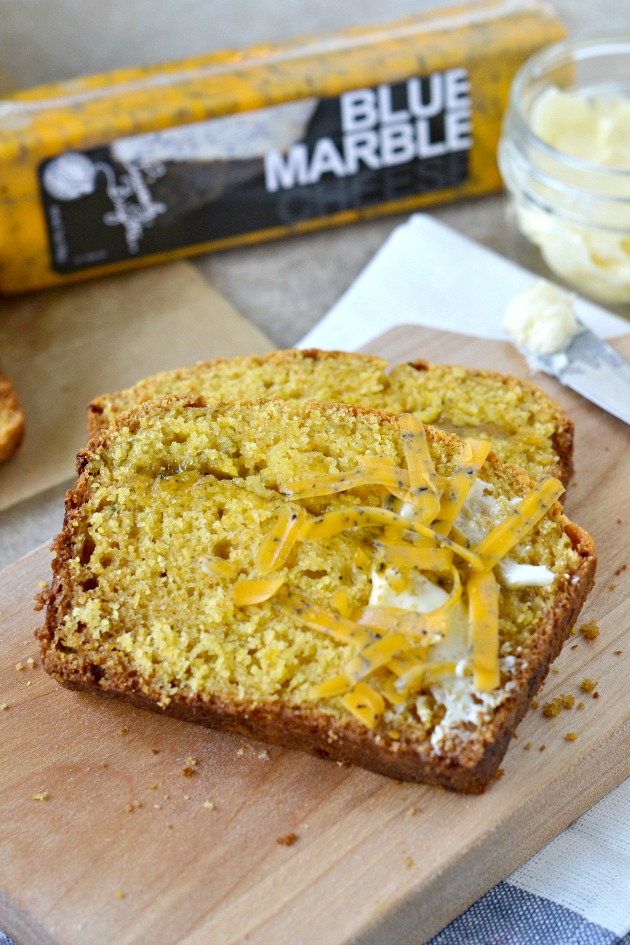 This post was sponsored by Sincerely, Brigitte. Follow them on Facebook, Twitter and Instagram.