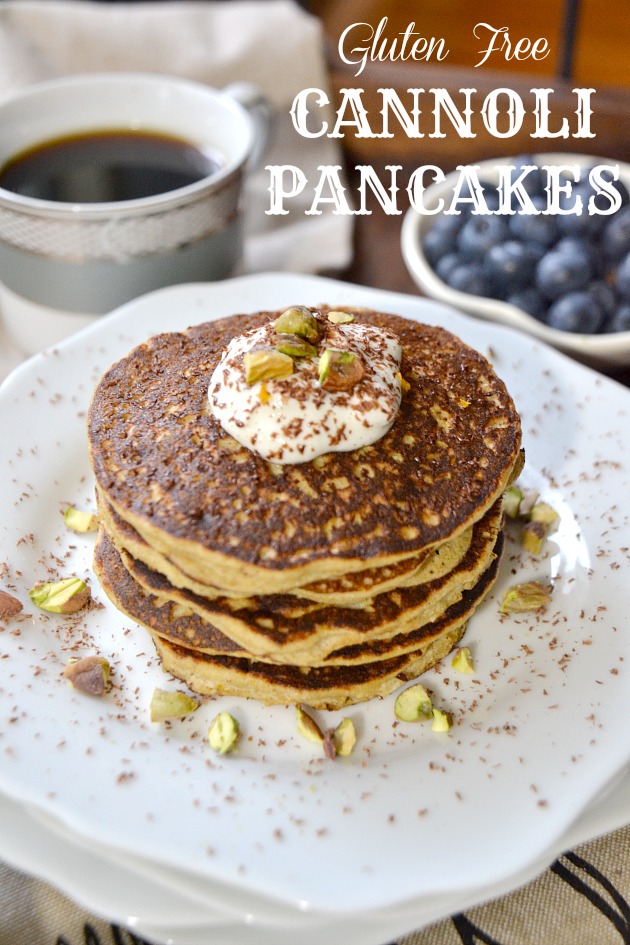 YES! You can eat these sweet Cannoli Pancakes and still feel like you ate something healthy. I'm serious! I'm on a diet right now called the 21 Day Fix, which is all about portion control, eating clean and working out every day. I finally decided that I should get rid of the baby weight…4 and a 1/2 years after my daughter was born. In 21 days, I've lost 4 pounds and 8 1/4 inches and I am still going strong! And since you were wondering, yes, these pancakes are 21 Day Fix friendly, gluten free, naturally sweetened and oh so delicious! Okay, now I want to stop typing up this recipe so I can go make another batch! If you've never had a cannoli before (and if you haven't, I recommend going out to get one now), it's a traditional Italian dessert with a crispy tube shell filled with sweet ricotta cream and often contains nuts, citrus, chocolate and blueberries. This fried dessert is far from healthy but my pancake version, which has many of the traditional flavors of the cannoli, will give you the treat you crave without the fat. And hey, it's okay to have a cannoli or two in moderation but right now, I'm sticking to this version. This mixture of ricotta cheese, orange zest, cinnamon and cardamom reminds me of the cannoli filling and the chopped pistachios, shaved chocolate and whipped cream (or coconut whipped cream) take it over the top!
By whipping the egg whites separately then folding them in, you get a light and fluffy pancake that will rival any traditional pancake. No one will know these are "healthy" pancakes.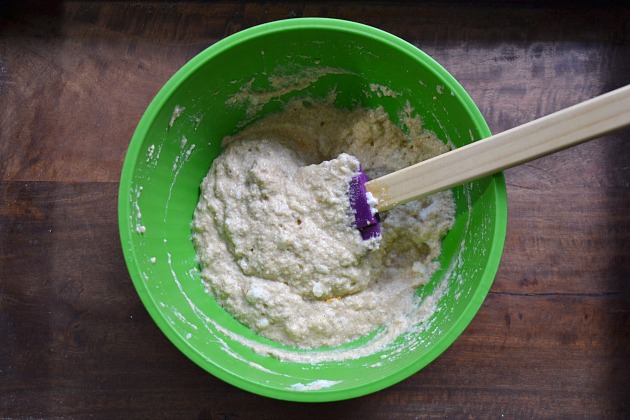 After cooking your pancakes on a griddle or non-stick skillet, it's time for the toppings! And don't forget your coffee. Let's take this seriously, people!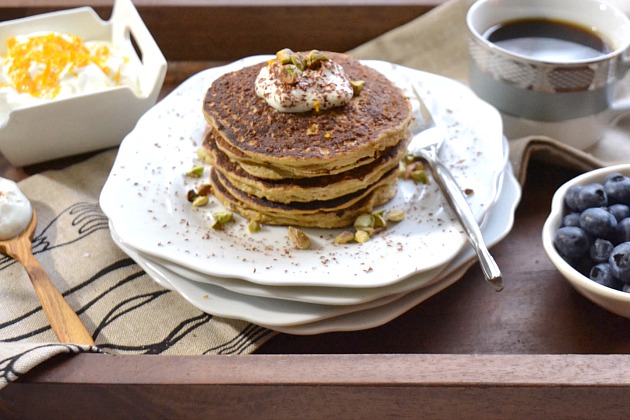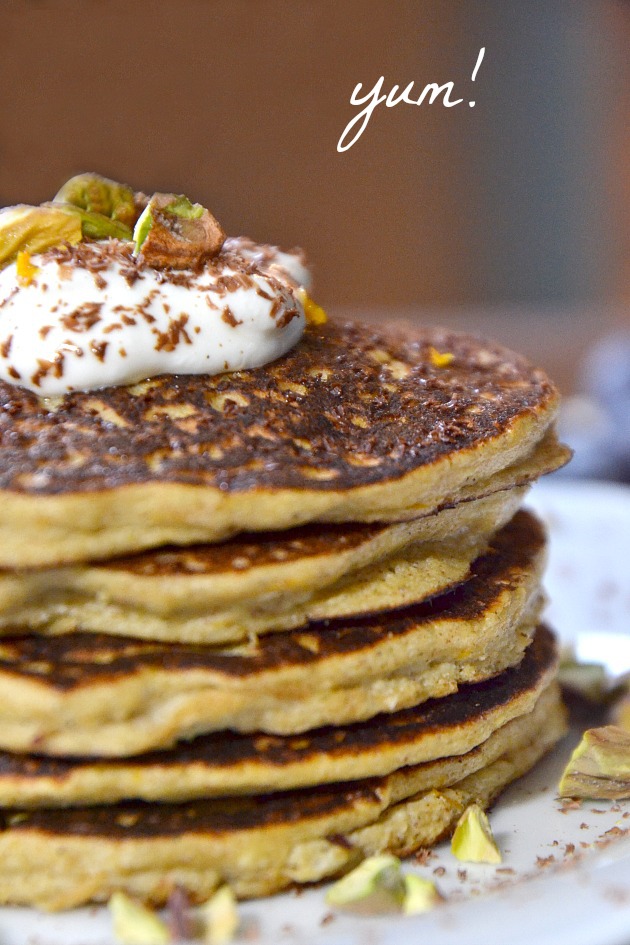 Oh, you want a bite? Well, this batch is all mine!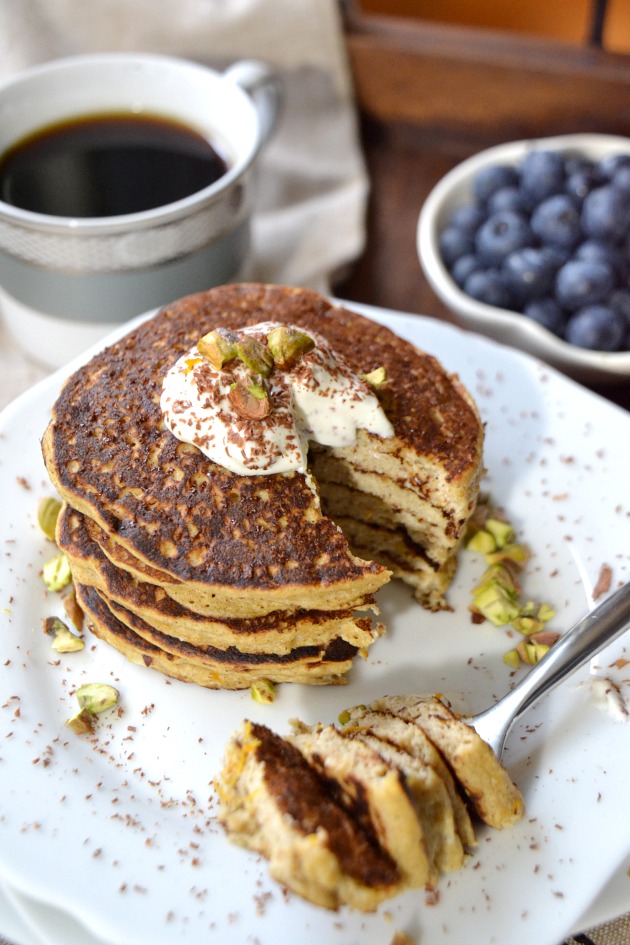 Gluten Free Cannoli Pancakes
---
kitchen-tested.com
Yields 4-6 pancakes
Ingredients
Ricotta Pancakes
2 eggs, whites and yolks separated
1/2 cup whole milk ricotta cheese
2 Tbsp oat flour
1 tsp coconut sugar (optional, can also use pure maple syrup)
1 tsp vanilla extract
1 tsp baking powder
1 tsp orange zest
1/2 tsp cinnamon
1/2 tsp cardamom (optional, if not using- add 1 tsp cinnamon)
Toppings
whipped cream
chocolate chips or shavings
chopped pistachios
fresh blueberries
Instructions
Whisk the egg whites in a stand mixer or with a hand blender until stiff peaks form and the whites are fluffy, around 2 minutes on medium-high.
Separately, whisk together the ricotta cheese, egg yolks, oat flour, coconut sugar (or pure maple syrup), vanilla extract, baking powder, orange zest, cinnamon and cardamom.
Take a scoop of the egg whites and fold lightly into the ricotta mixture with a silicon spatula. Then fold in the rest of the egg whites, being careful not to over-whip the mixture so the whites stay light and fluffy.
Heat a non-stick griddle or non-stick skillet over medium heat until hot.
Scoop a 2-3 tablespoons (up to 1/4 cup) of the batter onto the griddle for each pancake and flatten it a bit with the back of a spoon. I suggest doing one first to test the heat on your griddle so you don't burn all of your pancakes.
Cook until bubbles begin to form on the top of the pancake and the bottom is beginning to brown, around 2 minutes, then flip with a spatula and cook for another 1-2 minutes on the other side. These pancakes are very fluffy so be careful when you flip them. Transfer each pancake to a plate to cool slightly and continue until all pancakes are cooked.
Pile the pancakes on your plate and top with whipped cream, chocolate chips or chocolate shavings, chopped pistachios and blueberries. The sky's the limit on your toppings!
7.8.1.2
77
https://melindastrauss.com/2014/12/23/gluten-free-cannoli-pancakes/