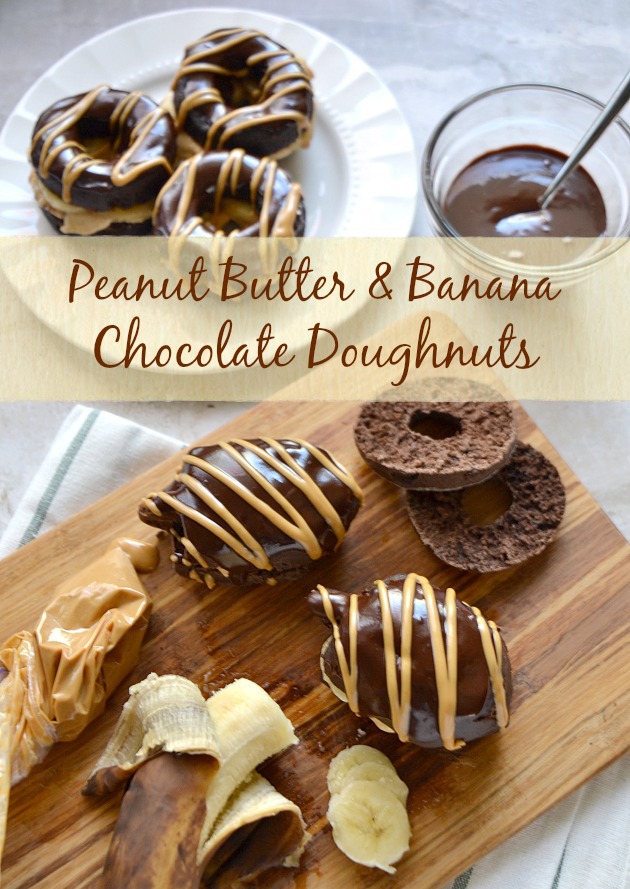 Yeah, I know, you can say it. These doughnuts look goooooood! A fried rich chocolate doughnut (yes, you can bake these doughnuts also), peanut butter marshmallow filling, ripe bananas and lots of chocolate and peanut butter on top. With all that chocolate in every bite of these dairy free doughnuts (did I mention that they are dairy free?), I needed to use the right product that would give me a ton of sweetness, a little bit of bitterness and a beautiful silky sheen. Since Trader Joes Chocolate Chips became dairy, I've struggled with finding the right brand to use for melting AND for snacking. Enjoy Life Chocolate Chips are great but they are also very expensive. So when I was grocery shopping recently and saw an adorable red bag of chips that I'd never seen before, I threw a bag in my cart and took them home to try. Well, let's just say that I ate the whole bag of chocolate chips and didn't even get a chance to bake with them! This new brand, called California Gourmet, peaked my interest and thankfully became a sponsor at the third annual Kosher Food Bloggers Conference that I run every year. Swag, baby!!! Over 60 conference attendees, including kosher bloggers, brands and speakers, got a chance to try California Gourmet Chocolate and I suggest you go out and get some too. Their product has a higher cocoa content than most dairy free and vegan chocolate chips (45%) and they are now available in over 70 stores across America, including Pomegranate, KRM, Moisha's, Gourmet Glatt, Season's, Kosher Konnection, Evergreen, Riverdale Kosher Market and more!
So now let's get down to the business of these insanely yummy chocolate doughnuts! I make a new doughnut recipe on my blog for Chanukah every year, including these Apricot-Plum Baked Doughnuts and Pumpkin Birmuelos, but I've never tried a chocolate dough. So in the spirit of my blog being all about testing new recipes and pushing myself to think outside the box, I made a fluffy and almost-cakey chocolate doughnut using melted chocolate right in the dough! Like I said, chocolate in every bite! The banana actually helps cut the sweetness (I know that sounds strange since bananas are sweet) but it really works! Just try it…or come on over and I'll make you some.
I love the rising process…and I love punching down the dough!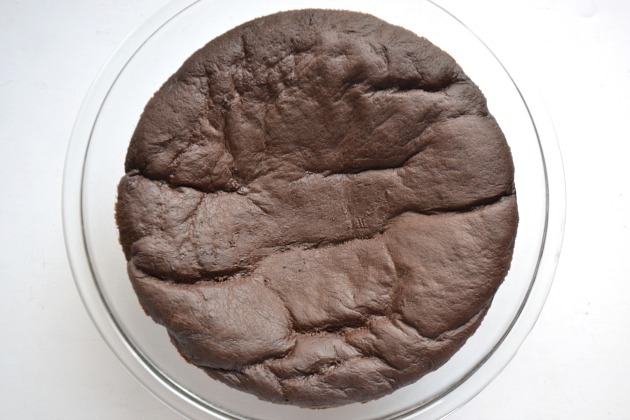 Since the dough has chocolate and molasses, the doughnuts will keep their shape while frying because of their density. This is a fluffy doughnut but it also has a cake-like quality that I love.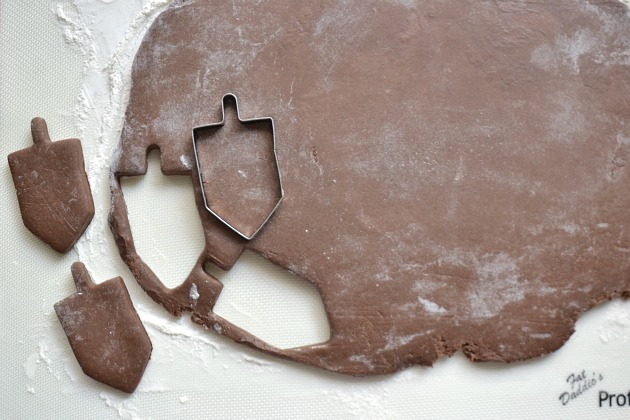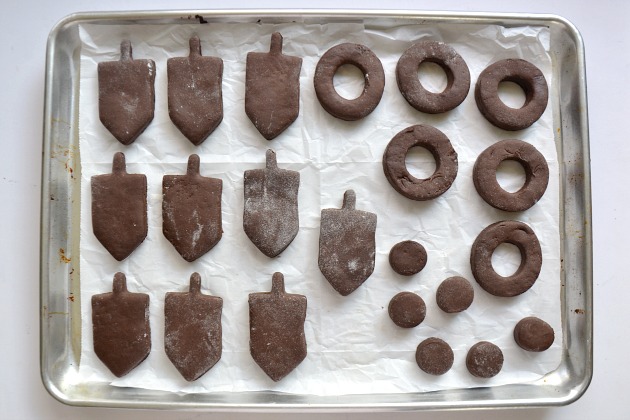 Remember to keep your oil at 350 degrees F or at least keep it close to that temperature. If it gets too hot, your doughnuts will bake too quickly on the outside and the inside will be raw. If the oil is too cold, the doughnuts won't cook fast enough and they will soak up too much oil. Yuck!
I had some scraps at the end (you can see them on the left side) so I fried those too. I may have even filled one with a chocolate sandwich cookie…
I whipped up the peanut butter marshmallow fluff and sliced some ripe bananas for the doughnut filling. Yes, we are eating chocolate doughnut sandwiches!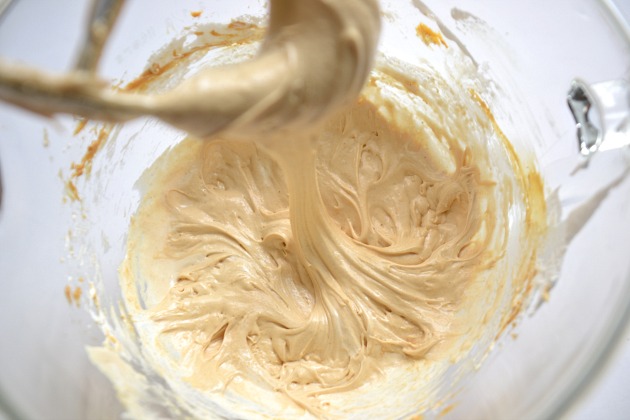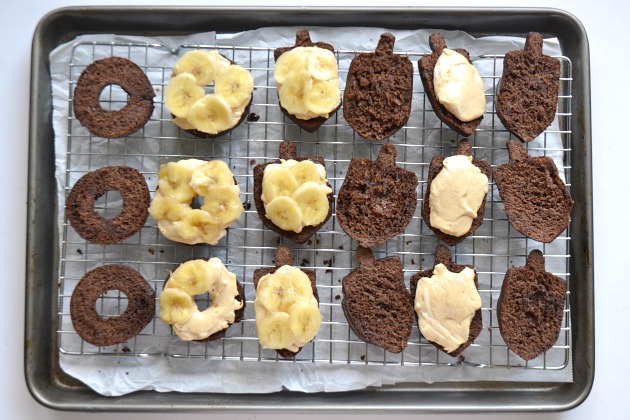 Then comes my favorite part. Pouring the chocolate glaze right over the doughnuts then drizzling them with a peanut butter glaze. How cute are those dreidels?!?!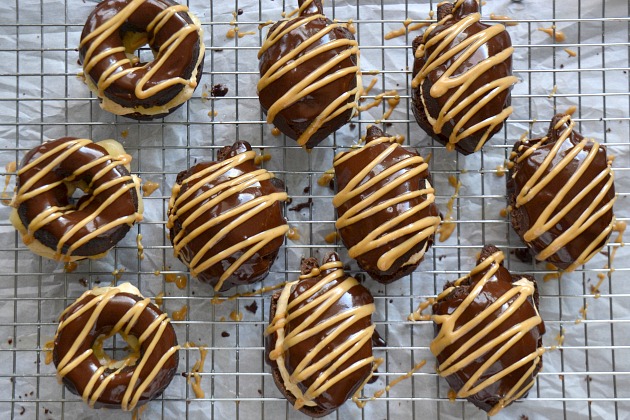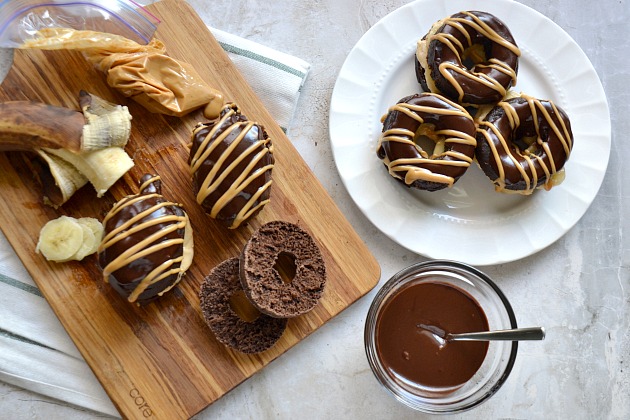 When it comes to fried doughnuts, I think it's always best to make them fresh. You can prepare all of the fillings and toppings ahead of time then fry when you are ready to eat. You can make these a day ahead of time but they will become a bit more dense as they sit at room temperature.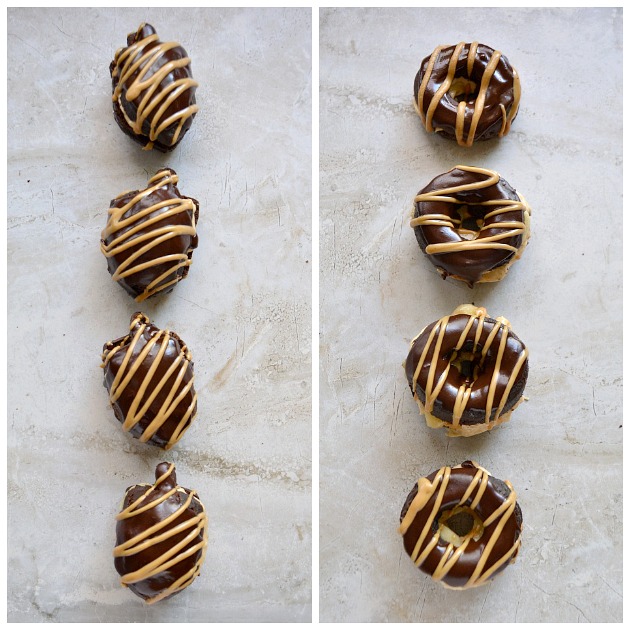 "Oh dreidel, dreidel, dreidel, I made you out of peanut butter and banana chocolate doughnuts…."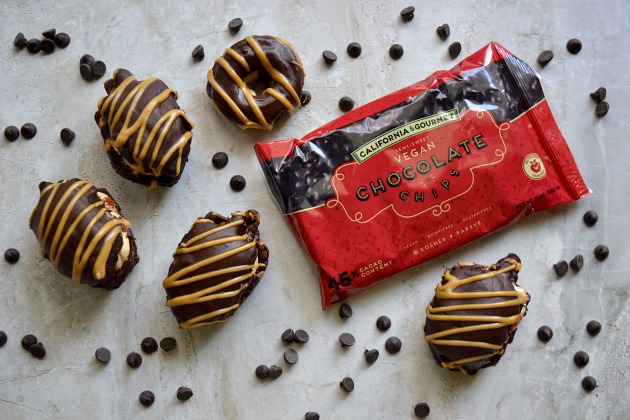 Peanut Butter & Banana Chocolate Doughnuts
---
kitchen-tested.com
Ingredients
Chocolate Doughnuts
1.5 cups (14 oz. can) coconut milk (or soy milk)
1/3 cup vegan butter
1/3 cup warm water
4.5 tsp (2 packets) active dry yeast
2 eggs
1/4 cup molasses
1/2 cup sugar
1/4 cup California Gourmet chocolate chips, melted
4.5 cups all-purpose flour
1/2 cup cocoa powder
1/2 tsp salt
5-6 cups vegetable oil, for frying
Peanut Butter Fluff Filling
16 oz. container marshmallow fluff
1/2 cup creamy peanut butter
Banana Filling
1-2 ripe bananas, sliced thinly
Chocolate Glaze
1/2 cup California Gourmet chocolate chips
1/2 cup canned coconut milk
Peanut Butter Drizzle
2 Tbsp creamy peanut butter
1/2 tsp coconut oil or vegetable oil
Instructions
Chocolate Doughnuts
Warm the coconut milk in a small saucepan over low heat. Add the shortening or margarine and melt completely. Cool the mixture to lukewarm.
Separately, place the yeast in a bowl and pour the warm water over the top. Stir once and leave the yeast to rise for 5 minutes. There should be a layer of foam on top of the water if your yeast is rising correctly. If the yeast doesn't rise, throw it away and start over. Make sure your water isn't too cold or too hot.
In a stand mixer, combine the warm coconut milk mixture with the yeast and stir. Add the eggs, molasses, sugar and melted chocolate chips (melt in a glass bowl in microwave for 1 minute and stir). Mix with the paddle attachment until combined.
Add half of the flour and the cocoa powder and mix on low until combined then beat on medium for 1 minute. Add the remaining flour and beat until well combined.
Switch to the dough hook on your stand mixer and knead the dough on medium speed for 3-4 minutes, until the dough begins to separate from the sides of the bowl.
Spray a large bowl with cooking spray or rub with a bit of vegetable oil then slide the dough right into the bowl. Cover the dough with a towel and place in a warm dark place (like your microwave or an oven...just don't turn on the oven!).
The dough should rise for 1 hour, then punch down the dough, cover with the towel again and let rise for 1 more hour.
Line a baking sheet with parchment paper. Remove the dough from the bowl and roll it out to 1/2 inch thick on a lightly floured surface. Make sure to flour your rolling pin also so it doesn't stick.
Cut whatever shapes you want from the dough, including circles, dreidels for Chanukah, triangles, etc. and place the dough on the parchment lined baking sheet. Cover the doughnuts with a towel and set aside to rise for 30 minutes.
While the doughnuts are rising again, heat the vegetable oil over medium-high heat in a wide pot to 350 degrees F. If you have a cooking thermometer, you are in good shape since it's important to keep the oil at 350 degrees F. so the doughnuts don't burn or get spongy with oil!
When the oil is ready, carefully place 4-5 doughnuts at a time into the hot oil and let it rise to the top. Cook for 2 minutes then flip with chopsticks or a wooden spoon and cook again for 2 minutes. Remove the cooked doughnuts with a slotted spoon and place them on a baking sheet lined with paper towels. Continue this process until all of your doughnuts are cooked. Transfer the doughnuts to a cooling rack so the bottoms don't get mushy.
*Alternately, after the doughnuts have risen, bake them at 375 degrees F. for 12-15 minutes.
Fillings and Toppings
While the doughnuts are cooling a bit, prepare the fillings:
-For the peanut butter fluff, scoop the marshmallow fluff and peanut butter into a bowl. Spray a spatula with cooking spray and stir the fluff and pb until combined. Add more peanut butter for a strong flavor. You can also mix the fluff and peanut butter in a stand mixer until combined.
-Slice the bananas and set aside.
-For the chocolate glaze, combine the chocolate chips and coconut milk in a glass bowl and microwave for 1 minute. Stir until smooth.
-For the peanut butter drizzle, combine the peanut butter and vegetable oil in a glass bowl and microwave for 30 seconds. Stir until smooth.
Assembly
Slice open the chocolate doughnuts, spread peanut butter fluff on the bottom piece and top with ripe bananas. Place the top of the doughnut over the bananas and pour the chocolate glaze over the whole doughnut. Drizzle with the peanut butter glaze. Devour!
*these doughnuts are best fresh but can be made 1 day ahead. Doughnuts can be refrigerated but will become dense over time.
7.8.1.2
244
https://melindastrauss.com/2014/12/09/peanut-butter-banana-chocolate-doughnuts/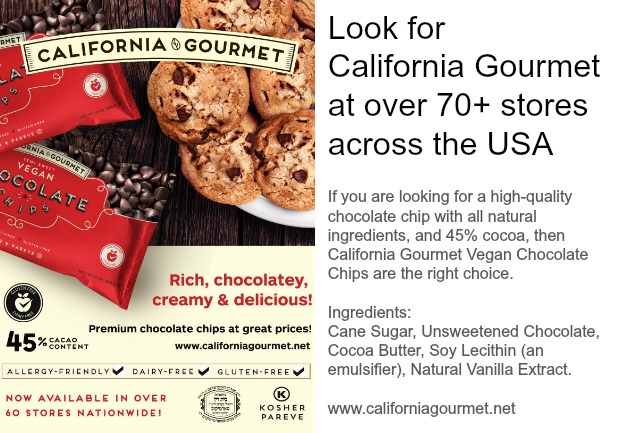 This post was sponsored by California Gourmet