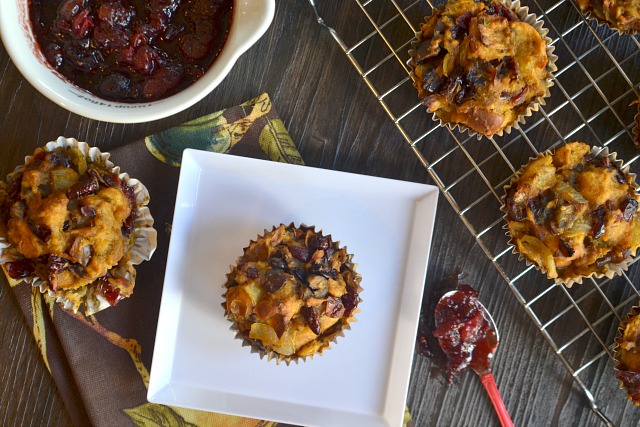 **UPDATE: THIS COOKBOOK GIVEAWAY IS OVER BUT SCROLL DOWN FOR THE CRANBERRY CHESTNUT CHALLAH STUFFING MUFFIN RECIPE!**
Boy, do I have a special post for you today! Not only do I have an incredible cookbook to give away, but I also got permission from the author to share one of my favorite recipes from the book. So let's get started…Known as the "Jewish Rachael Ray", Jamie Geller has just come out with her third (yup, I said third!) cookbook and this one will make you feel like you're actually inside Jamie's world with her family and friends. The pages of her latest cookbook, Joy of Kosher: Fast, Fresh Family Recipes are filled with beautiful photos of her family and she introduces each recipe with a funny or inspiring story. And for the bride who used to know nothing about cooking, Jamie has definitely progressed to a new level with her kitchen techniques. In Joy of Kosher: Fast, Fresh Family Recipes, she still gives us tons of simple recipes but also takes it to the next level by making a "dressed up" version for the more advanced or aspiring cook. Most of the cookbooks on my shelves are just filled with recipes but Jamie's book reads more like a memoir. And hey, it never hurts that you can drool over her amazing recipes and gorgeous pictures along the way!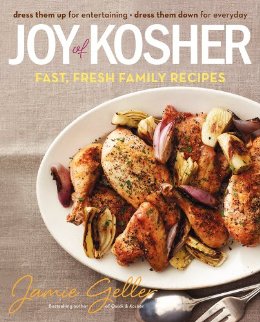 So now for the giveaway! One lucky winner will receive a copy of Jamie Geller's "Joy of Kosher" Cookbook. You can enter the giveaway by following the directions below. The winner will be announced on Monday, November 18th. Good luck! 
If you just can't wait for the giveaway to be over and you want to buy Joy of Kosher: Fast, Fresh Family Recipes now, click HERE.
Jamie was also very generous and gave me permission to post one of her favorite recipes right here on Kitchen Tested. I decided to take it one step further and actually MAKE and adapt that recipe so I could tell you all how good it really is and to show you how you can turn a cookbook recipe in to your own unique creation. Jamie's Cranberry Chestnut Challah Stuffing has only 10 minutes of prep time but tastes like you've been working on it for hours! As I mentioned, Jamie wrote a fun story to go along with each recipe and here's her intro to this sweet and savory stuffing:
In the dead of winter, my folks would drive us up to New York City from Philly. We'd catch a few Broadway shows and shop like crazy. We snacked on little bags of hot roasted chestnuts bought from a street vendor wearing fingerless gloves. The aroma of fresh roasted chestnuts in winter in my New York. So when I noticed bagged roasted and shelled chestnuts in a store recently – wham! I instantly saw Tim Square . . . snow . . . funny gloves. There was no snow and no hot aroma when I opened the bag but once baked in the oven with my stuffing, they were divine.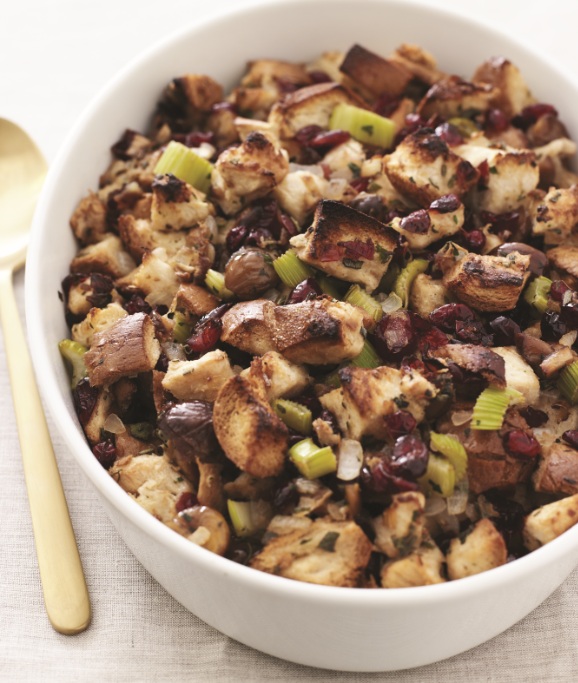 So how did I make this recipe my own? Besides making this stuffing in muffin tins for individualized stuffing portions, I also left out the celery (I really don't like celery in my stuffing), used vegetable broth to make the stuffing parve and used dried herbs since I didn't have any fresh herbs in the house.
Quick Tips from Jamie:
You can find bags of roasted and peeled chestnuts in the snack aisle at the supermarket. This recipe doesn't require day-old or stale bread, although it's a great use for any leftovers on hand. Challah, hot dog and hamburger buns, even sandwich bread – use it all out, mix 'n' match it, cube it, and make stuffing.
To accompany the stuffing muffins, I threw together a sweet and tart cranberry fig sauce that I've actually been snacking on with a spoon while writing this post.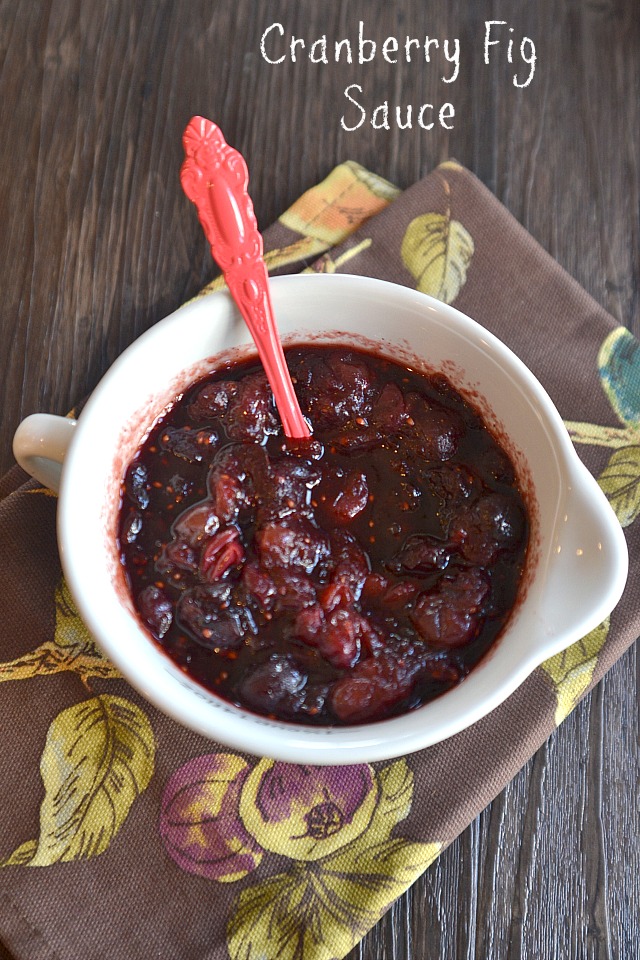 Cranberry Chestnut Challah Stuffing Muffins Cranberry Fig Sauce
---
kitchen-tested.com, adapted from Joy of Kosher Cookbook kitchen-tested.com
Ingredients
1 Tbsp olive oil
1 large onion, coarsely chopped
1 cup roasted and peeled chestnuts, coarsely chopped
1 cup dried cranberries
1 Tbsp dried sage
2 Tbsp dried parsley
8 cups ½-inch cubes challah
2 cups vegetable stock
1 teaspoon kosher salt
1 teaspoon freshly ground black pepper
2 1/2 cups fig juice (can replace with cranberry juice)
1/2 cup light brown sugar
1 Tbsp pure maple syrup
1/2 tsp ground cinnamon
1/4 tsp ground Chinese 5 Spice (can replace with All Spice)
1/2 cup dried cranberries
12 oz. fresh or frozen cranberries, defrosted
Instructions
Heat the oven to 400°F.
Prepare 12 muffin cups with cooking spray or cupcake liners and set aside.
Heat the olive oil in a large sauté pan over medium-high heat. Sauté the onions until softened and the onion is translucent, 5 to 8 minutes. Add the chestnuts, cranberries, sage, and parsley and cook 2 minutes more. Stir in the challah, vegetable broth, salt, and pepper. Remove from the heat.
Using a 1/4 measuring cup or ice cream scoop, spoon the stuffing mixture in to the muffin cups and bake uncovered for 45 minutes, until lightly browned.
Whisk together the fig juice, brown sugar, maple syrup, cinnamon and Chinese 5 Spice in a medium pot and bring to a boil over medium-high heat.
Add the dried cranberries, stir and boil 2 minutes.
Add the fresh or defrosted cranberries, stir and lower the heat to medium-low.
Simmer the sauce for 20-30 minutes, until the cranberries have popped and the sauce is thick. You can press on the fresh cranberries with the back of a spoon to help them pop faster.
Serve at room temperature.
7.8.1.2
191
https://melindastrauss.com/2013/11/11/cranberry-chestnut-challah-stuffing-muffins-and-a-cookbook-giveaway/