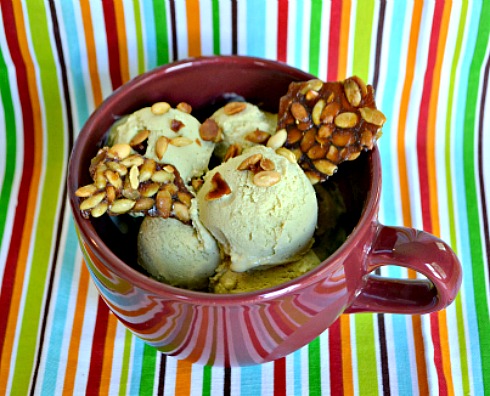 I love health food stores! I love to walk through the aisles, read the nutrition facts on totally random items and I especially love when I find something that I didn't even know existed. On my most recent health food shopping excursion on the Upper West Side in Manhattan, I was shopping for healthy cookies and non-dairy cheese when I came across cold-pressed and unrefined organic oils that I had never seen before. Besides the usual olive oil, the flavors that really caught my eye were the almond oil and pumpkin oil. How cool does that sound?!? And boom, they are kosher! I snatched up both, trying to ignore the high price tag, and I knew I would be trying the pumpkin oil first. Yup, I like to pretend that Thanksgiving is year round. And with Shavuot, the Jewish holiday celebrating the receiving of the Ten Commandments, just around the corner, I just wanted to make something very very dairy! It's a tradition on Shavuot to eat dairy food (check out some of the many reasons here), rather than the usual meat we eat on Shabbat, so I like to take full advantage of all the heavy cream and cheese I can get my hands on. Yeah, I am definitely going to gain a few pounds over the weekend! To liven things up a bit, I was lucky enough to make both the ice cream and brittle with three high school seniors whose work study program allowed them to actually cook and bake. How cool!!! I hope they weren't too scared when they walked in the door and found out that they would be making pumpkin oil ice cream and pumpkin seed brittle. But my kitchen is not your average kitchen…so thanks to Daniella, Reva and Tess for helping me experiment with some new recipes, and for teaching me a few new things along the way!
Pumpkin Oil Ice Cream
2 cups low fat or fat free half-and-half
5 egg yolks
1/3 cup sugar
1/2Â  tsp cinnamon
1/2Â  tsp nutmeg
pinch of sea salt
1 cup heavy cream
1/3 cup pumpkin oil
Pumpkin Seed Brittle
1/4 cup salted butter
1/2 tsp cinnamon
1/2 cup packed light brown sugar
1/4 cup honey
1 cup shelled toasted pumpkin seeds
pinch of sea salt
I started with the ice cream custard, which would need some time to cool before going in the ice cream maker. I warmed the half-and-half in a saucepan over medium heat until it bubbled around the edges. Separately, Reva whisked together the egg yolks, sugar, cinnamon, nutmeg and salt.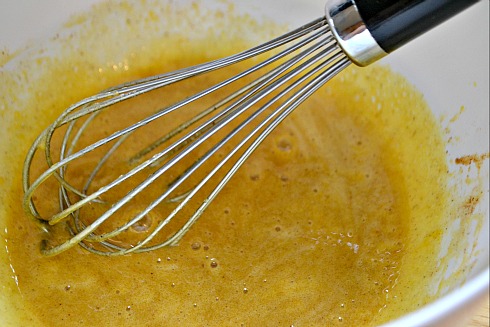 I tempered the yolks by slowly ladling about half the warm half-and-half into the egg yolks while Tess was constantly whisking, then I pour the warmed egg yolks into the saucepan. Tess stirred the mixture constantly over medium heat with a wooden spoon, scraping the bottom as she stir, until the mixture thickened and coated the back of the spoon.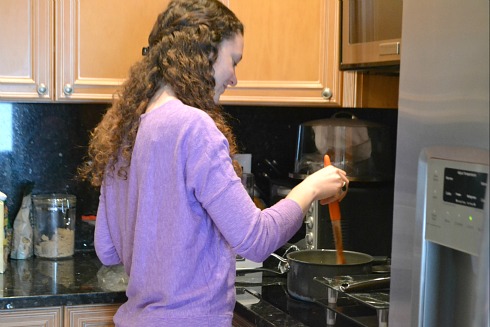 I poured in the cream then poured the mixture through a mesh strainer into a clean bowl. Tess whisked the pumpkin oil into the custard until it was well blended. Check out the color of that pumpkin oil. Very green!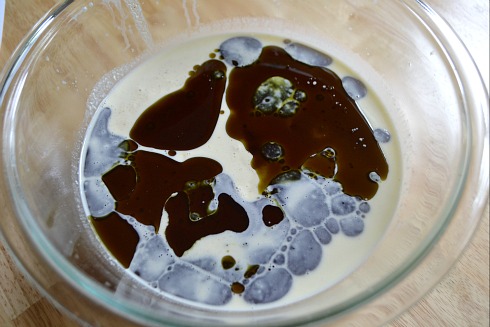 We cool the custard to room temperature over an ice bath. Originally, the ice bath contained just water and ice but Daniella suggested pouring out the water and adding tons of salt to the ice. Lots of chemistry involved there, but what we did figure out is that the salt keep the ice hard longer, which would make the custard cool down faster. Well, it worked! Daniella whisked the mixture every few minutes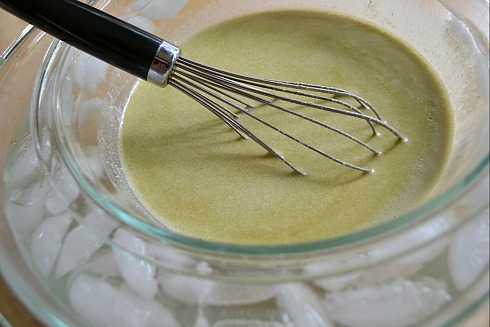 If you have time, you can just chill the custard thoroughly in the refrigerator (overnight, if possible). But with the ice bath and constant whisking, we were able to cool down the custard quick enough to make the ice cream after only an hour or so. In the meantime, we worked on the brittle. Well, really, I worked on the brittle because I was afraid that one of the girls would get burned from the hot sugar and it would be all my fault! But you won't believe how easy this brittle is! I melted the butter and cinnamon in a small saucepan over medium heat.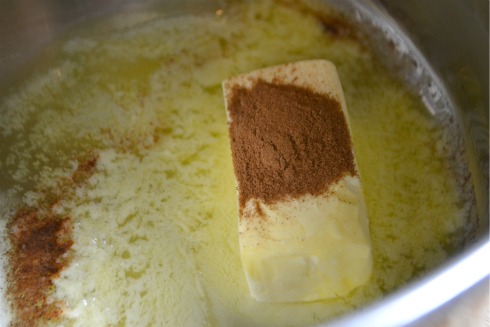 I stirred in the brown sugar and honey then I brought it to a boil, without stirring, until the mixture was a dark amber and the candy thermometer reached 280 degrees F.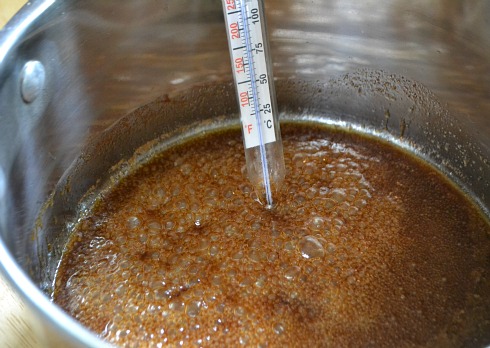 I stirred in the pumpkin seeds and salt and cooked until 300 degrees F, around 2 minutes.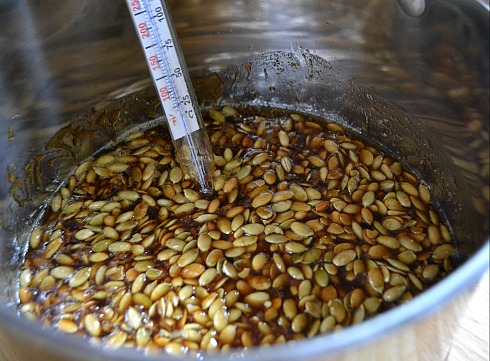 I carefully pour the mixture on to a parchment lined baking sheet, spreading in to a thin layer with an oiled spatula and let it cool completely. Please be so careful since the mixture is extremely hot! After around 10 minutes, the brittle was cool enough to handle and the girls jumped right in! They peel the brittle away from the parchment paper and broke it in to pieces. We couldn't stop eating it! Sweet, salty, crunchy and just super yummy. Brought me back to my childhood crunching on my moms homemade peanut brittle.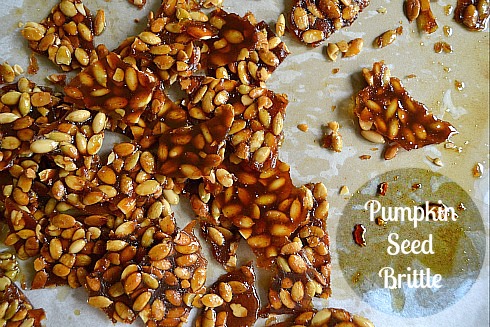 When the ice cream custard was extremely cold, Daniella poured it in to my ice cream maker and we followed the manufacturer's directions.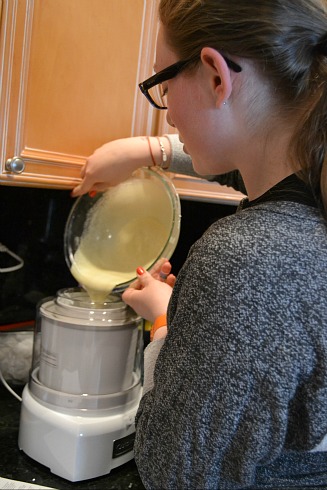 After around 25 minutes in the ice cream maker, I poured the frozen custard in to a plastic container and froze the mixture overnight for a harder ice cream. Okay, maybe we all tried the soft ice cream first! Very "pumpkiny"! Should it have shocked me that pumpkin oil would taste like pure pumpkin?? Silly Melinda. The next day, I took the ice cream out of the freezer and scooped some out to taste again.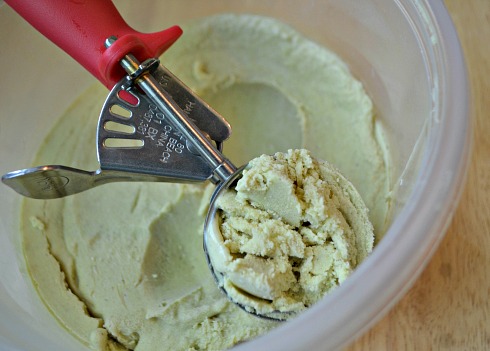 I sprinkled on some of the sweet and crunchy pumpkin seed brittle and enjoyed a bowl of creamy and even a little savory pumpkin oil ice cream. So unique and so delicious. You can make this ice cream with any flavor oil you have in your home. I can't wait to experiment with new flavors.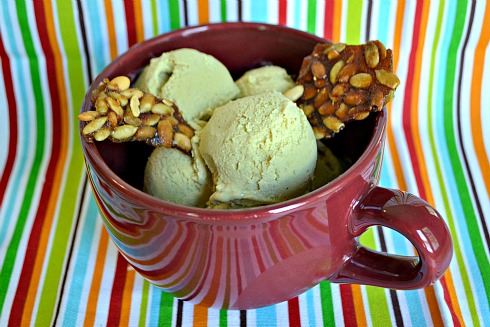 Thanks again to Daniella, Reva and Tess for a fun day in my kitchen!