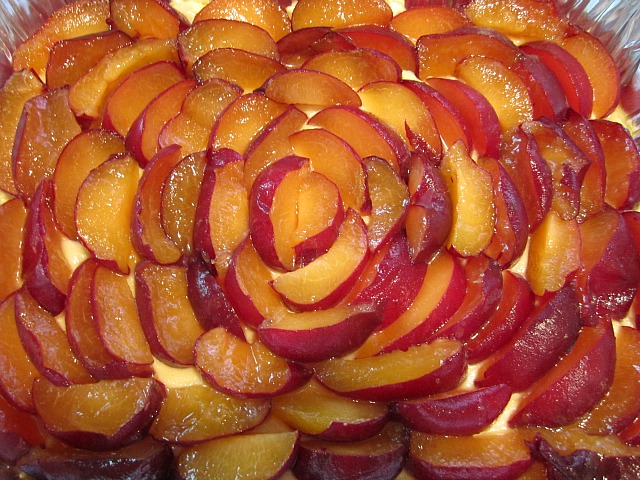 So what is Zwetschgenkuchen? And how do you pronounce it? I never say it right, but I guess you would say tsvetch-gen-kuchen. If you really can't say it, just call it a plum cake, or a plum kuchen. Basically, it is the #1 dish that my father-in-law asks me to bake for him when I come over. Everyone else is allowed to have some…if they can get to it before it's all eaten up! It is a traditional German plum cake that Justin's family grew up eating and it makes me feel so happy to make it for them now. I may not be German, but I have mentioned before that I married in to a very traditional Jewish-German family with a lot of wonderful traditions, and eating is one of them! I have made this cake so many times before, but now I have the opportunity to share it with everyone and I am so excited to give you this recipe. I encourage you to try it for your family!
Zwetschgenkuchen
1/2 cup margarine, room temperature
1/2 cup sugar
2 eggs
1 cup flour
1 Tbsp baking powder
1/2 tsp salt
1/2 tsp almond extract (I use Disaronno)
a large bag of purple Italian plums, cut in to wedges
1/2 cup sugar
1 tsp cinnamon
This is such a simple recipe and the flavor is huge! I started by mixing the margarine and 1/2 cup of sugar. I added the eggs and mixed again. Separately, I mixed together the flour, baking powder, salt and Disaronno.
I then added the flour mixture to the margarine mixture.
I prepared a pan with cooking spray and poured the thick batter in. I spread it out to make it even. I think you can really use any size pan, to be honest. The larger the pan, the thinner the cake will be. I prefer a thinner cake so I went with a larger pan. You do what you think will taste the best for you.
I sat down at the kitchen table and began cutting the plums. This can take a few minutes since you first have to remove the put, but it is so worth it! Normally, Justin and I cut the plums together and it's actually a lot of fun. Justin doesn't usually do much in the kitchen besides help me with making eggs and washing dishes, which I have no complaints about, but it is nice to see him get hands-on with the food once in a while.
This is where you can have a lot of fun and even get the kids involved! I layered the plum wedges on top of the batter in a pretty pattern. You can use whatever pattern you want, or no pattern at all. I then mixed together the sugar and cinnamon and sprinkled it over the plums.
I baked the cake at 375 degrees for 45 minutes and it was ready to eat!
I actually prefer the kuchen room temperature, but it is delicious however you want to eat it! See, I told you. It is so simple to make. You can try other fruits as well, although I don't know what you would call them in German.

Zwetschgenkuchen (Plum Cake)
---
Ingredients
Cake Batter
1/2 cup margarine, room temperature
1/2 cup sugar
2 eggs
1/2 tsp almond extract (or Disaronno)
1 cup flour
1 Tbsp baking powder
1/2 tsp salt
Apple Topping
12 small Italian plums
1/2 cup sugar
1 tsp cinnamon
Instructions
Preheat the oven to 375 degrees F and prepare a pan with cooking spray or oil.
In a stand mixer with the paddle attachment, mix together the margarine and sugar. Add the eggs and almond extract and mix again.
Separately, combine the flour, baking powder and salt. Slowly add the flour mixture to the batter and mix on medium speed until combined.
Pour the batter into the prepared tart pan and spread it out with a spatula until even. The batter is sticky so spraying the spatula with cooking spray will help move the batter around the pan.
Slice the plums into thin wedges and layer them on top of the batter.
Stir together the sugar and cinnamon and pour it over the plums.
Place the tart pan on a baking sheet (in case any batter spills over while it bakes) and bake for 45 minutes, until the top is browning and the cake is cooked through.
7.8.1.2
56
https://melindastrauss.com/2011/06/09/zwetschgenkuchen-plum-cake/