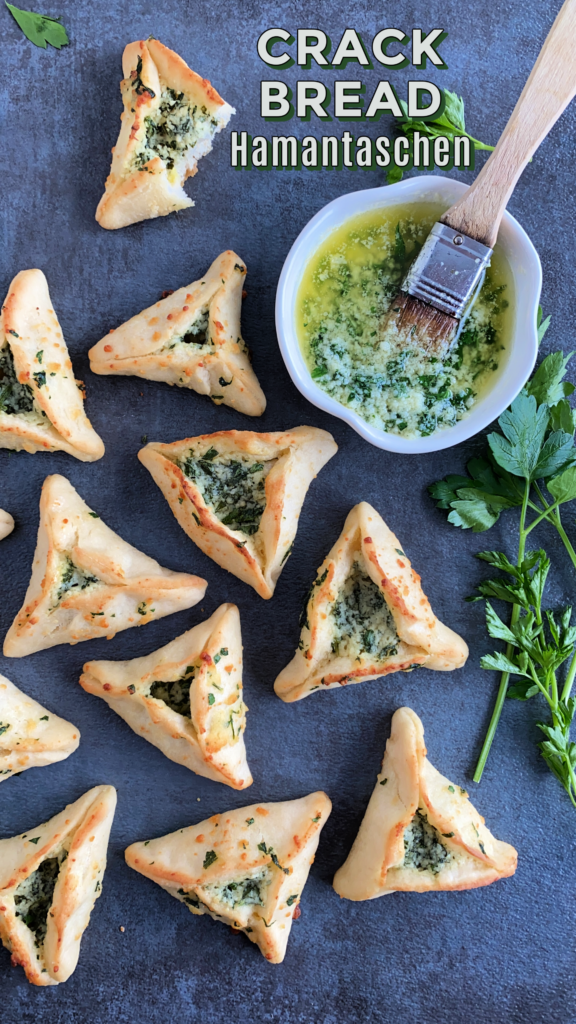 Unless you've been living under a rock, you know how in love I am with Tiktok and this recipe is a very obvious reason why. An amazing creator named Erica shared her recipe for "Crack Bread", which is basically garlic bread on steroids, and she inspired these hamantaschen! Erica's username is @cookiterica and she shares the most delicious looking food and has so much fun doing it. When I saw her Crack Bread, I immediately saved it because I KNEW I would be making it into a hamantaschen for Purim and here we are! Super easy homemade dough (you can also use store bought pizza dough) with a VERY buttery parmesan filling. You know you want these!
Print
Crack Bread (Garlic Bread) Hamantaschen
You can also use store-bought pizza dough 
Author:
Yield:

16 hamantaschen
Dough:
3/4 cup warm water
1/2 Tbsp (1 packet) instant yeast
1/2 Tbsp sugar
1 1/2 – 2 cups all-purpose flour
1/2 tsp kosher salt
Garlic Bread Filling:
1 stick (4 oz) butter, softened
1/2 cup grated Parmesan
4 cloves minced garlic
1/2 cup chopped fresh parsley
1 egg yolk
Instructions
In a mixing bowl, combine the yeast and sugar then pour the warm water over the top. Set aside for 5 minutes to active the yeast (bubbles should form on the top).
Add in the flour, starting with 1 1/2 cups, and salt and mix by hand (you can also use a stand mixer for this). Knead 3-5 minutes. The dough should be soft and a bit sticky. In warmer weather, you might need more flour but don't use more than 2 cups.
Set dough aside for 10 minutes.
Make filling: mix butter, parmesan, garlic, and parsley
Preheat oven to 400 degrees F. and line a baking sheet with parchment paper.
Roll out the dough on a lightly floured counter to 1/4 inch thick. Cut out circles with a cookie cutter or top of a drinking glass. Transfer circles to the parchment paper.
Fill each piece of dough with 1 tsp of the butter mixture, brush the edges with egg yolk, and pinch the corners to create a triangle.
Melt remaining filling and brush on the tops and edges of the dough.
Bake for 10-12 minutes, until the tops are golden brown and the filling is set. Eat up!