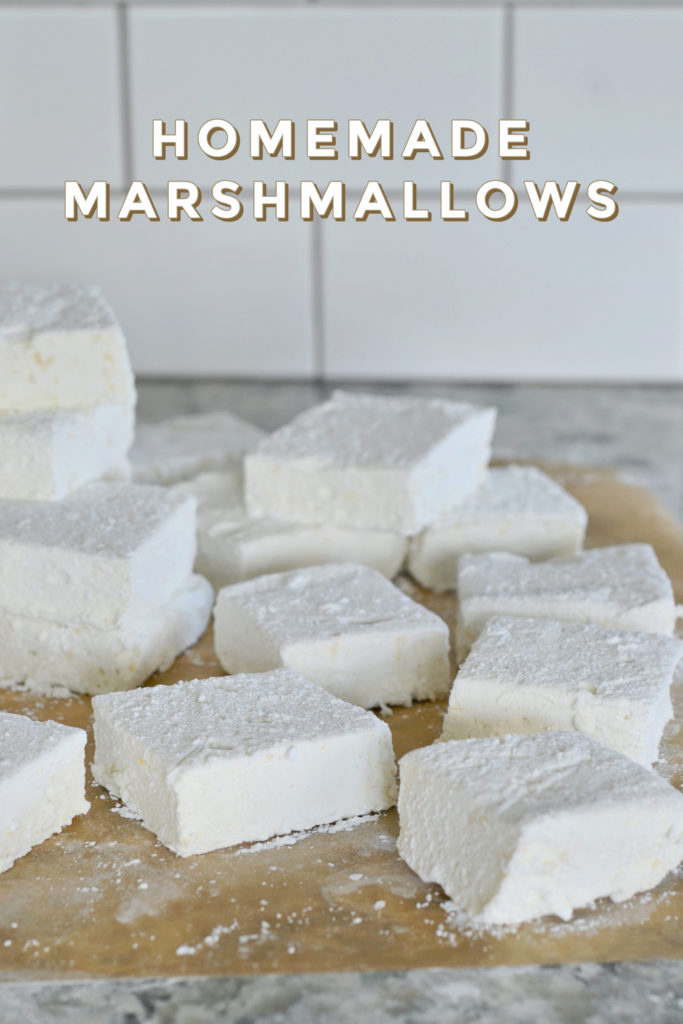 These marshmallows are VERY special! Unlike most recipes, these contain no eggs whites and no corn syrup. I'm really proud of this recipe and I hope you love it as much as I do! PS. these are amazing with mint extract and add some crushed candy canes right into the fluff! Or top with melted chocolate!
Print
Homemade Marshmallows
2 Tbsp unflavored gelatin powder + 1/2 cup cold water
2 cup sugar
1/2 cup water
1/2 tsp salt
1/2 tsp vanilla extract
1 cup confectioners sugar
Instructions
Combine gelatin and cold water in the bowl of a stand mixer. Let stand while preparing the sugar syrup for the gelatin to bloom.
In a pot, combine the sugar, water, and salt. Warm the sugar over medium heat, stirring occasionally, until 240 degrees F. (soft ball stage). Remove from heat immediately.
Turn the mixer on low and slowly pour in the sugar syrup. Mix until combined then turn mixer to high and beat until thick and fluffy, around 12-15 minutes. Add the vanilla extract in the last minute of whisking. When finished, the marshmallow should look like soft-serve ice cream.
Lightly grease a 9×13 dish, line with parchment paper and sprinkle with sifted powdered sugar. Pour the marshmallow mixture into the prepared pan, spreading evenly with a lightly oiled spatula. Smooth it out and sprinkle with more sifted powdered sugar.
Allow marshmallows to sit at room temperature for at least 6-12 hours.
To slice the marshmallows, turn the pan onto a confectioners sugar dusted counter and the marshmallows will fall right out. Cut with a sharp knife dusted with more confectioners sugar. Once cut, lightly dust each marshmallow with more confectioners sugar. You can also cut the marshmallows with cookie cutters. Store up to 3 weeks in an airtight container at room temperature.