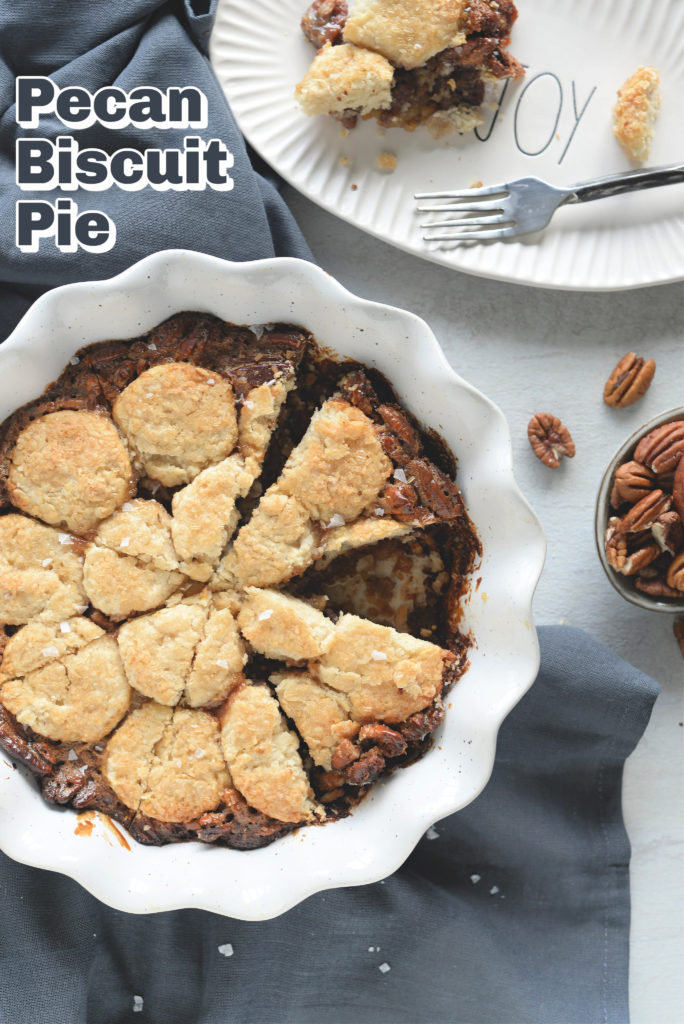 This pecan pie is beyond indulgent! Instead of a crust underneath, why not top the pecan pie with easy homemade biscuits instead??? I love recipes that don't need a stand mixer and this one can be made with just two bowls and a whisk.
Print
Pecan Biscuit Pie
Pecan Pie Filling:
2 cups raw pecans
3 eggs
1/2 cup corn syrup
1/2 cup sugar
2 Tbsp oil or melted vegan butter
1 tsp vanilla extract
1/4 tsp kosher salt
Biscuit Dough:
1 cup all-purpose flour
1 Tbsp sugar
1/2 Tbsp baking powder
1/2 tsp kosher salt
3 Tbsp vegan butter, chilled
1/3 cup non-dairy milk (rice, coconut, almond) + extra to brush on the biscuits
2-3 Tbsp demerara or turbinado sugar (coarse sugar)
Instructions
Preheat oven to 350°f
Whisk together the eggs, corn syrup, sugar, oil, vanilla, and salt. Mix in the pecans and pour into a round pie dish.
Separately, whisk together the flour, sugar, baking powder, and salt. Add the chilled butter and press with a fork into the dough. Add the milk and lightly stir until a dough is formed. Transfer dough to a lightly floured surface and press into a 1 inch thick circle. Using a 2-inch round cookie cutter, cut out circles and place them on top of the pecan filling until there is no more dough left.
Brush a little extra milk on top of each biscuit and sprinkle with coarse sugar.
Bake for 45 minutes. Cool completely before slicing.
Sprinkle with a little extra coarse salt before serving, for decoration and to cut the sweetness.
---