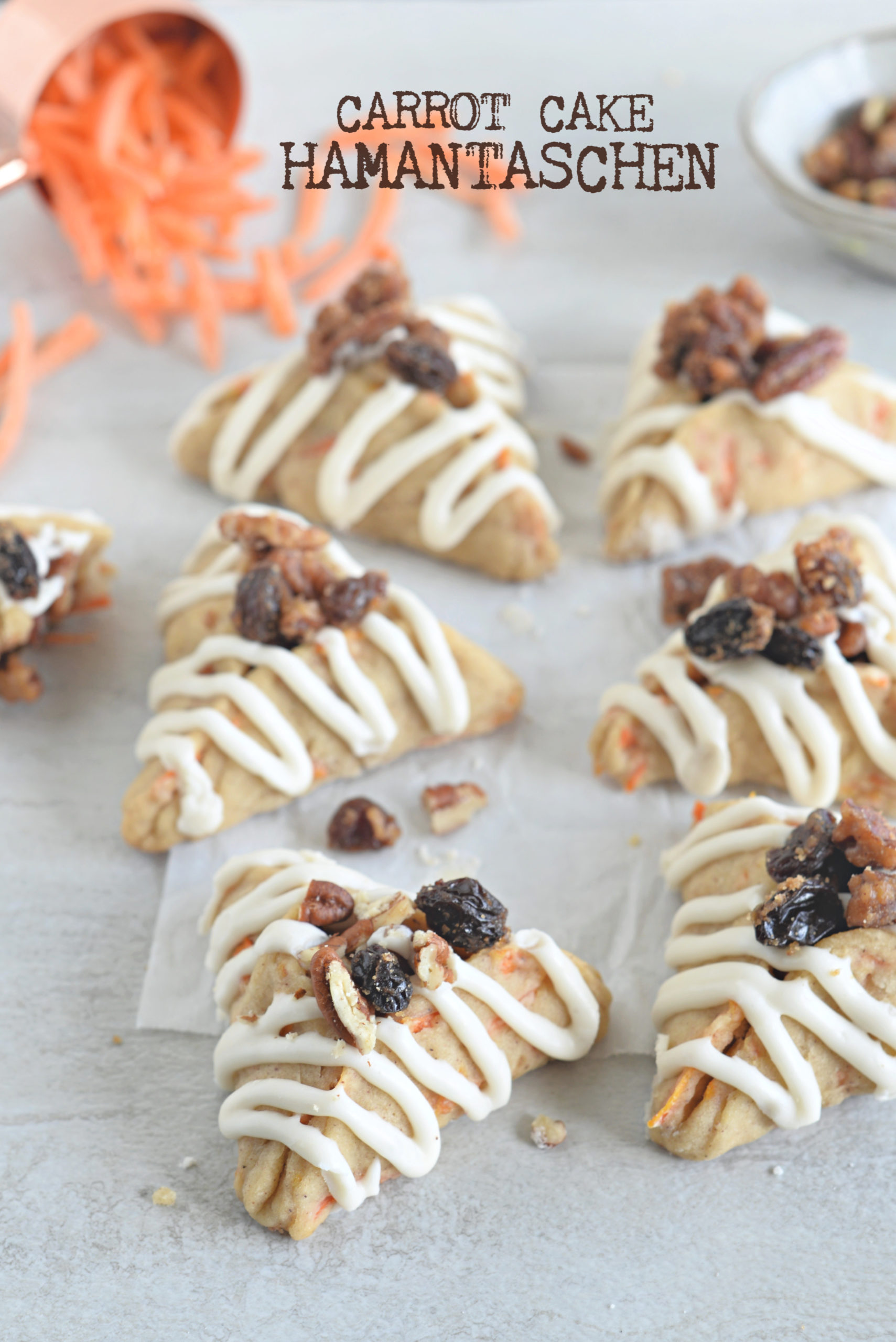 Yeah, these are as legit as they look!! Shredded carrots and spices like cinnamon and nutmeg in the dough, homemade pecan bourbon raisin filling, topped with cream cheese frosting that basically tastes like cheesecake. I left out the coconut because I'm the only one in my house who actually likes coconut…so totally top these bad boys with toasted coconut if you're in the mood.
Carrot Cake Hamantaschen
---
Melinda Strauss of kitchen-tested.com
Yields 24 hamantaschen
Ingredients
2 eggs
½ cup oil
½ cup sugar
½ tsp vanilla extract
2 cups all-purpose flour
½ tsp baking powder
1/2 tsp cinnamon
1/4 tsp ground nutmeg
1/4 tsp ground cloves
¼ tsp kosher salt
2 cups grated carrots (can use store bought shredded carrots)
Pecan Bourbon Raisin Filling
1 cup chopped pecans
1/2 cup raisins (optional if you're Danielle Renov and hate raisins)
1/4 cup brown sugar
1/4 cup bourbon
1/4 tsp cinnamon
sprinkle of kosher salt
1 1/2 cup powdered sugar
1/2 cup whipped cream cheese
1 Tbsp water
1/2 tsp vanilla extract
Instructions
Pecan Bourbon Raisin Filling
Start with the filling so it has a little time to cool. In a saucepan, combine the pecans, raisins, brown sugar, bourbon, cinnamon, and salt. Simmer for 15 minutes, stirring occasionally so the bottom doesn't burn. When the bourbon has cooked down, the filling is ready.
Preheat oven to 350 degrees f. and line two baking sheets with parchment paper.
Mix together the egg, oil, sugar and vanilla extract. Add the flour, baking powder, cinnamon, nutmeg, cloves, and salt and stir until a smooth dough is formed. Add the carrots and mix until combined.
Roll out the dough to around ¼ inch thick. Cut circles using a cookie cutter or a glass cup.
Place 1 teaspoon of the pecan filling in the center of the circles and pinch closed to form a triangle.
Bake the hamantaschen for 12-14 minutes. Transfer to a wire rack to cool completely before icing.
Whisk all ingredients together. If too thin, add a few additional tablespoons of powdered sugar. If too thick, add a bit more water. Transfer icing to a piping bag or a ziploc bag, cut off the tip, and drizzle the icing over the cooled hamantaschen. Top with extra pecan filling.
7.8.1.2
295
https://melindastrauss.com/2020/02/19/carrot-cake-hamantaschen/