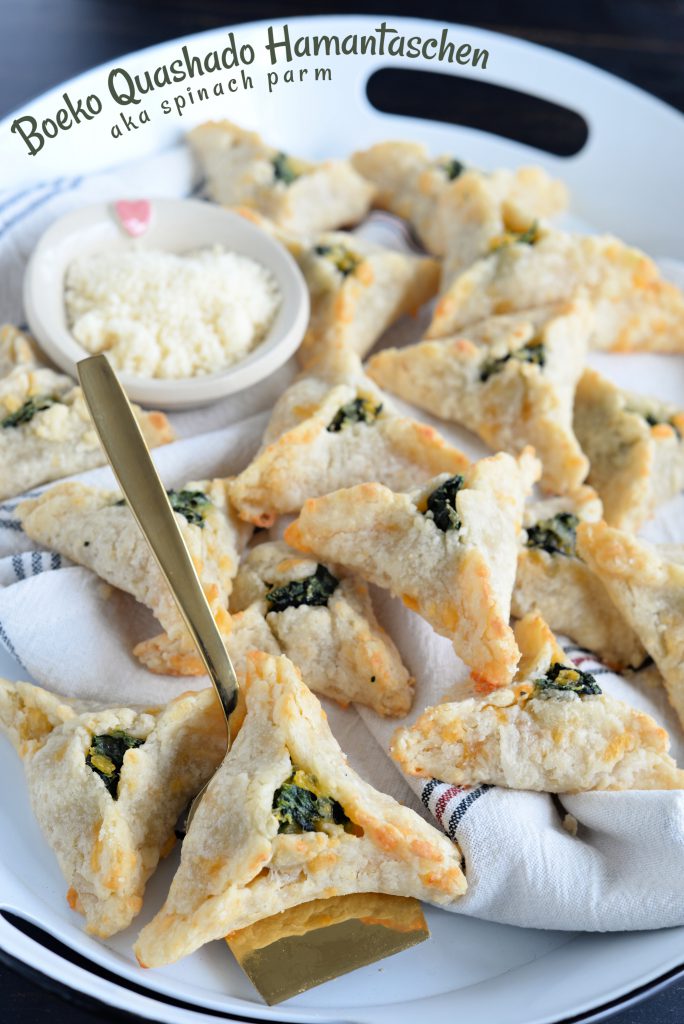 Yes, I know, I need to explain the name of these hamantaschen because these words might be very new to most of you. I mean, you don't all know what Boekos (bo-ee-ko) and Quashado (qua-ja-doo) are??? So here's the story: I grew up in Seattle, Washington and I am as Ashkenazic as it gets. My family comes from Poland, Russia, Hungary, and Israel, and my great-grandfather settled in Seattle in 1906. But some of my closest friends growing up came from Greece. I read online that the first Sephardic immigrants to Seattle came from Marmara, an island in present-day Turkey, and Rhodes, an island that is now part of Greece. I love a good history lesson and I feel so compelled to share this because it makes my heart happy! To quote historylink.org, "the first Sephardic Jews to settle in Washington, part of the second wave of Sephardic immigration to America at the start of the twentieth century, were two young men, Solomon Calvo (1879-1964) and Jacob (Jack) Policar (d. 1961), "who arrived almost by chance" (Family of Strangers, 60). They had been invited by a non-Jewish Greek friend who spoke of the economic opportunities in Seattle. Calvo and Policar came from the island of Marmara, then part of the Ottoman Empire. Upon arrival in Seattle, unable to speak English "and eager to find other Jews, they stood on the waterfront street near a second-hand store saying 'Yahudi, Yahudi' ('Jew, Jew')" (Family of Strangers, 60). A 13-year-old boy named Jacob Kaplan took them to Rabbi Hirsch Genss (1855-1928), who wrote to the Jewish community of New York to seek confirmation that they were, indeed, Jewish. Satisfied with the response and armed with the new knowledge of their Sephardic heritage, Rabbi Genss introduced Calvo and Policar to members of the Orthodox congregation. Their friend David Levy joined them in the fall of 1903, announcing that the Puget Sound air "was just like Marmara" (Family of Strangers, 61). In 1904, they befriended Nissim Alhadeff, who founded a Sephardic community from the island of Rhodes in Seattle, and the Alhadeffs "soon constituted the largest family unit" of Sephardim in Seattle (Family of Strangers, 63)."
So about these hamantaschen, right??? Boekos and qushado are both recipes that have been passed down generation after generation to the sephardic families I grew up with, which meant I got to eat them every time I went to visit their homes (which was A LOT)! Let's just say Denah and I had sleepovers almost every weekend and there were ALWAYS boekos in her freezer to snack on. What's a boeko? It's a super-cheesy parmesan cookie. It's flakey and buttery, almost like a short bread. And quashado is basically a spinach quiche with tons of cheese. You sensing a theme here?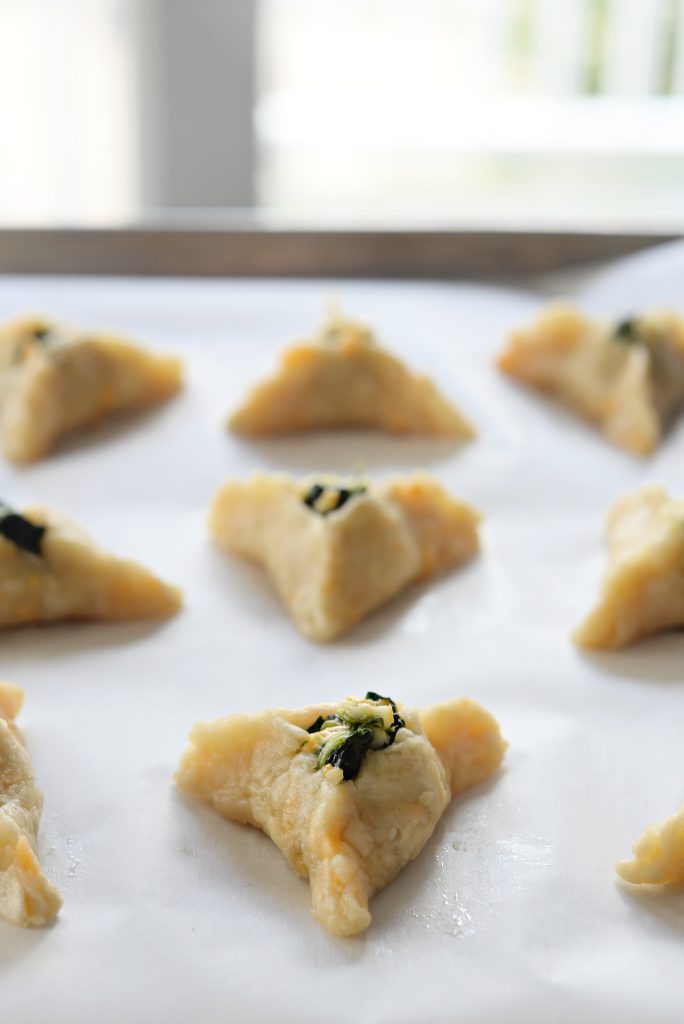 Boeko Quashado Hamantaschen (aka spinach parm)
---
kitchen-tested.com
Yields around 30 hamantaschen
Ingredients
1 cup oil (neutral oil like vegetable or canola)
1/2 cup grated parmesan
1/4 cup shredded mozzarella
1/4 cup shredded cheddar
3 cups all-purpose flour
Quashado (spinach) Filling
4 cups frozen spinach, thawed and squeezed dry
2 eggs
1 cup shredded cheese (any cheese you want)
1/4 cup parmesan
1 tsp kosher salt
Instructions
Mix together the oil, parmesan, shredded cheese, and flour until a smooth dough is formed.
Separately, make the filling by combining the spinach, eggs, shredded cheese, parmesan, and salt.
Roll out the dough to around ¼ inch thick then cut circles using a cookie cutter or the top of glass cup. Place 1 teaspoon of the spinach filling in the center of the circles and pinch closed to form a triangle.
Bake 375 for for 8-10 minutes. Serve warm or room temperature.
Notes
these hamantaschen freeze really well and are SO GOOD right out of the oven!
7.8.1.2
280
https://melindastrauss.com/2019/03/06/boeko-quashado-hamantaschen-aka-spinach-parm/