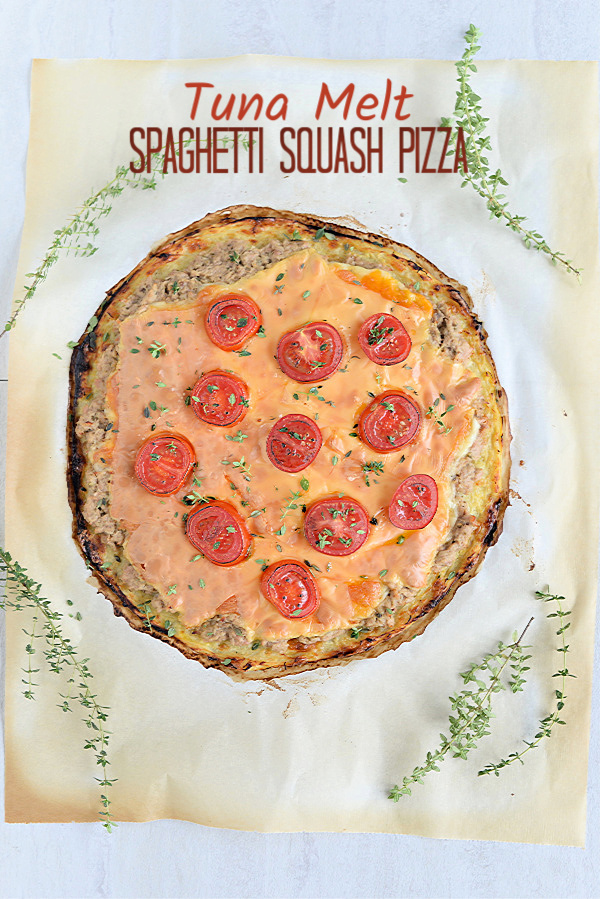 You know when you have a great recipe idea and then you forget about it for months?!?!? Well the list keeps getting bigger and bigger but I am so excited to finally make this one happen. I am working on some serious calendar blocking right now, which means organizing my days better and getting more done with the 24 hours that I have. While I focus on my health coaching career and helping others with their own physical, mental and financial stability, I want to make sure my blog doesn't fall behind. Here's the plan: block out time each day for my blog, cook more on Instagram, and spend more time developing recipes for all of you! I have a few other surprises up my sleeve but I'm still working on them so I'll let you know…here's a hint: sign up for my newsletter for updates! It's as simple as going to my homepage, on the right side you will find the button to add your email address, and click submit. Done!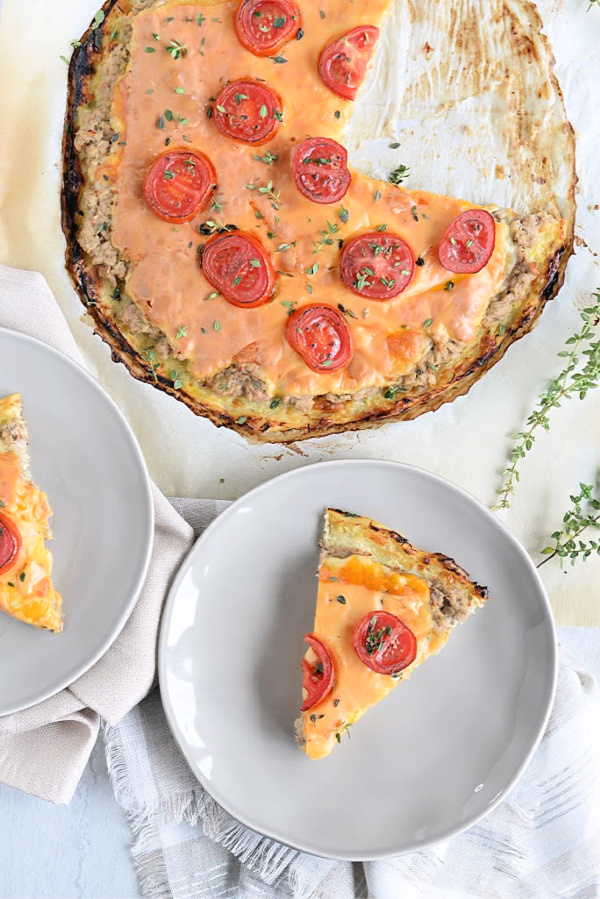 Now let's talk about this Tuna Melt Spaghetti Squash Pizza! I am a huge fan of this spaghetti squash pizza for so many reasons.
As a type 1 diabetic, I love anything that has less carbohydrates but still tastes amazing. Pizza is not exactly my friend, even the "low carb" ones with a thinner crust. So pizza crusts made from vegetables like spaghetti squash and zucchini noodles get a vote from me!
I love how spaghetti squash is so neutral. It's mildly sweet and almost flavorless (in my personal opinion) so it lends itself well to toppings like tomato sauce and cheese, meatballs, and of course, tuna!
Tuna melts are comfort food for me! When I was a kid, I loved making tuna melts in the sandwich maker and this brings me right back…just a lot healthier.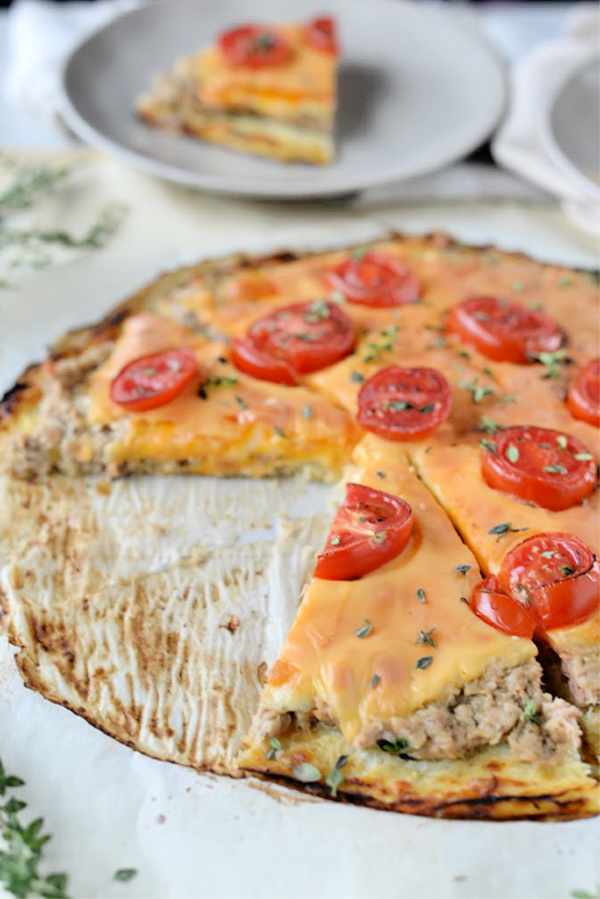 Tuna Melt Spaghetti Squash Pizza
---
kitchen-tested.com
Ingredients
Spaghetti Squash Pizza
1 medium spaghetti squash (3 cups cooked)
1 large egg
1/2 cup shredded mozzarella
1/2 tsp kosher salt
Tuna Melt Topping
5 ounce can tuna
1/4 cup mayonnaise
1 tsp oregano
1/4 tsp salt
1-2 Tbsp pesto, optional
cheese topping; 1 cup shredded cheese of choice or 8-10 slices American cheese
Extra toppings
sliced tomatoes
sautéed mushrooms
bell peppers
cooked spinach
Instructions
Preheat oven to 400 degrees F. and line a baking sheet with parchment paper.
Combine the cooked spaghetti squash, egg, mozzarella, and salt. Shape the dough into a crust on the baking sheet and bake for 15 minutes, until the crust is firm and beginning to brown around the edges.
Combine the tuna, mayonnaise, oregano, salt and pesto. Top the cooked crust with the tuna mixture then top with cheese. You can also add whatever vegetables you want! Return the pizza to the oven and cook for an additional 10 minutes, until the cheese is melted. Top with fresh oregano and serve.
7.8.1.2
267
https://melindastrauss.com/2018/09/26/tuna-melt-spaghetti-squash-pizza/