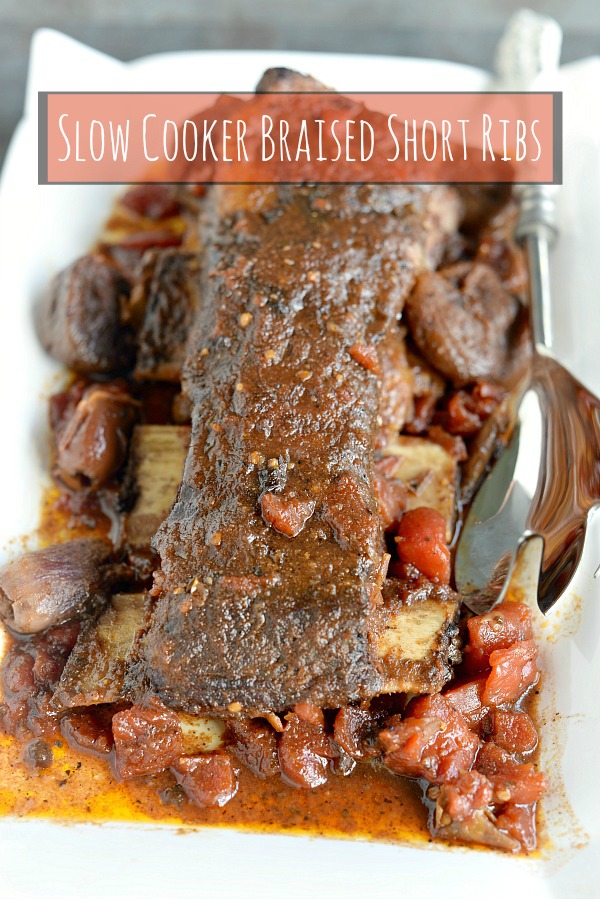 I really don't use my slow cooker often enough. With all of the new kitchen appliances like the insant-pot and sous vide machine, it's easy to forget the tried and true appliances that never fail us. My slow cooker has made some pretty amazing recipes for me in the past, including Spinach Meatballs and Spaghetti Squash, Brown Sugar "Candy" Chicken, and even falafel! Well now it's making me some tender short ribs and this is probably one of the easiest recipes ever! I'm using my Texas-Style Dry Rub, which I'm now calling "Kitchen Tested House Seasoning" because I use it on everything, and a simple blend of canned diced tomatoes, balsamic vinegar, fresh garlic, and pure maple syrup. I added some dried dates and figs to the pool for a little extra natural sweetness too! Scroll down to the bottom for the cutest shot of my photo shoot helper in action. I love getting my kids involved but to be totally transparent, sometimes they are just NOT in the mood! Thank goodness Zach was all in for this one…for about 20 seconds. Holding a spoon is hard, people!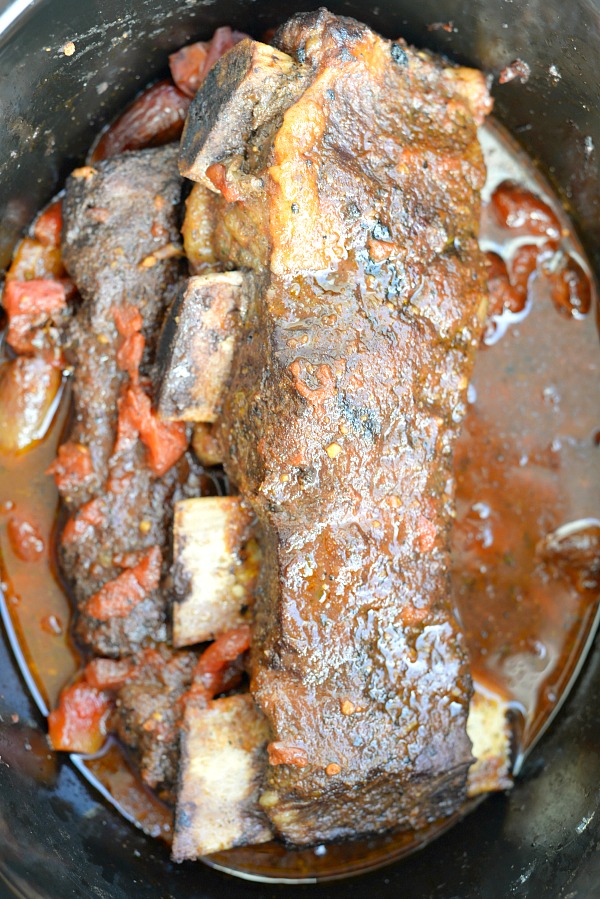 Seriously, how good to these ribs look???? The flavor combo and textures are so on point and the tomato gravy is probably worth taking a bath in. I would definitely double or triple the recipe to braise a pot roast too!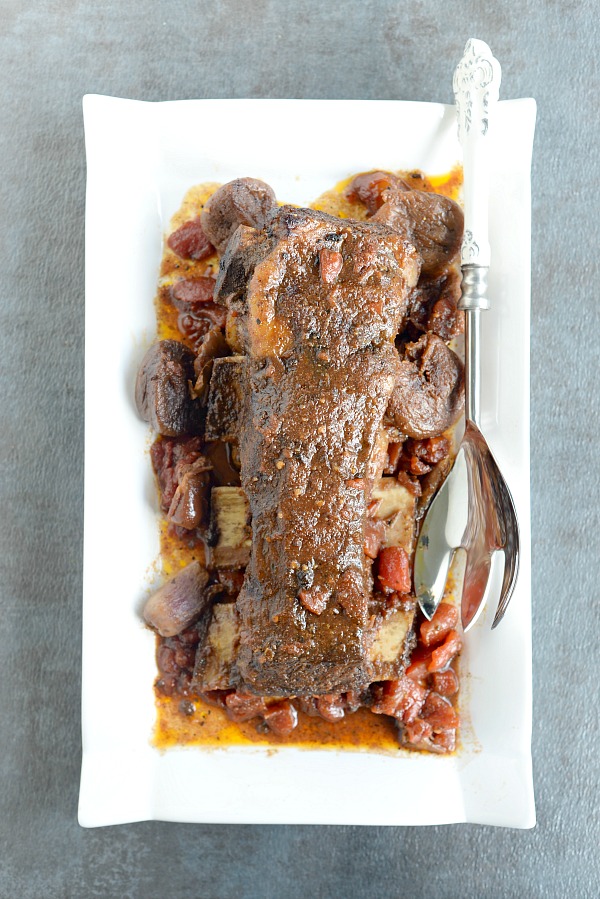 Slow Cooker Braised Short Ribs
---
kitchen-tested.com
Ingredients
2-3 lbs. bone-in short ribs (or flanken)
1/4 cup Kitchen Tested House Seasoning *recipe below
1 Tbsp neutral oil (vegetable, coconut, avocado)
15 ounce can diced tomatoes
1/4 cup balsamic vinegar
4 cloves garlic, minced
2 Tbsp pure maple syrup
6 dried dates
6 dried figs
Kitchen Tested House Seasoning
1 Tbsp kosher salt
2 tsp garlic powder
2 tsp ground instant coffee
1 tsp chili powder
1 tsp paprika
1/2 tsp cumin
1/2 tsp oregano
1/2 tsp cinnamon
1/2 tsp black pepper
Instructions
Mix together the House Seasoning ingredients in a small bowl. Double or triple the recipe and save some for later because you're going to want to use this seasoning on everything!
Pat dry the short ribs with a paper towel then coat with the house seasoning on all sides.
Heat the neutral oil in a cast iron skillet or heavy saute pan over medium-high heat then brown the short ribs on both sides, around 2-3 minutes per side. Place the short ribs in a slow cooker.
Combine the canned diced tomatoes, balsamic vinegar, garlic, and pure maple syrup and pour over the short ribs. Sprinkle the dates and figs around the edges and cover the slow cooker. Cook on low for 6-8 hours, until the short ribs are tender.
7.8.1.2
266
https://melindastrauss.com/2018/09/17/slow-cooker-braised-short-ribs/