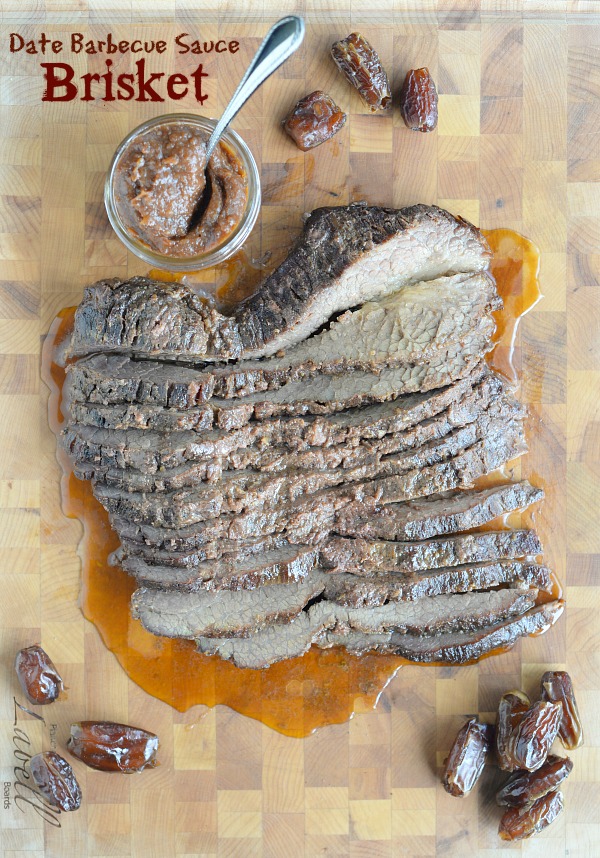 I am so blessed to have an ongoing partnership with Grow & Behold. I've been working with them for many years (see Tongue Bulgogi and the Kosher BLT as examples) and I truly believe in their mission. Pasture raised animals, no hormones or antibiotics, respect for the land and farmers, and a commitment to the highest quality kosher products. And let me tell you, the taste says it all! Happy animals taste better, don't they?!? And this brisket G&B sent me is at the top of it's game. Naf and Anna Hanau, owners and two of the nicest people you will ever meet in your life, work so hard to bring us great meat but they also put together tons of recipes, menus, and educational articles just to make life a little easier for us. So before you make this incredible Date Barbecue Sauce Brisket, check out their latest post ALL ABOUT BRISKET: https://blog.growandbehold.com/how-to-cook-beef-brisket-recipes-like-a-kosher-chef-or-pitmaster/. What is brisket, what are the different cuts of brisket, how do you cook brisket, a whole bunch of recipes, and a list of general beef brisket cooking tips. Every detail right there for you! To sweeten the deal, Grow and Behold is running an Early Bird Sale before Rosh Hashanah so click HERE to place your holiday order, or any order!
Okay, so now on this brisket and this easy sticky barbecue sauce. All you need are a food processor and a roasting pan (hooray for no extra dishes) and I'm just going to tell you now that you should definitely double the barbecue sauce recipe! Half for the brisket and the other half to go on chicken, salmon, turkey or whatever else you can think of! It's just THAT good! This brisket is one of those 'set it and forget it' low and slow moments that makes life so much easier and I want to give a shout out to Chef Bryan Gryka and B-sh for helping me out with the temp and time. 3 hours at 300 degree F with an internal temp of 190 degrees F and a beautiful piece of Grow & Behold brisket is ready to pull out of the oven. If you don't own a meat thermometer, it's time to get your hands on one. You don't have to worry about drying out your brisket anymore! Oh, and please don't slice the brisket if you plan to freeze it or reheat it later. PLEASE! Wait until you're ready to serve the meat and then you can slice it.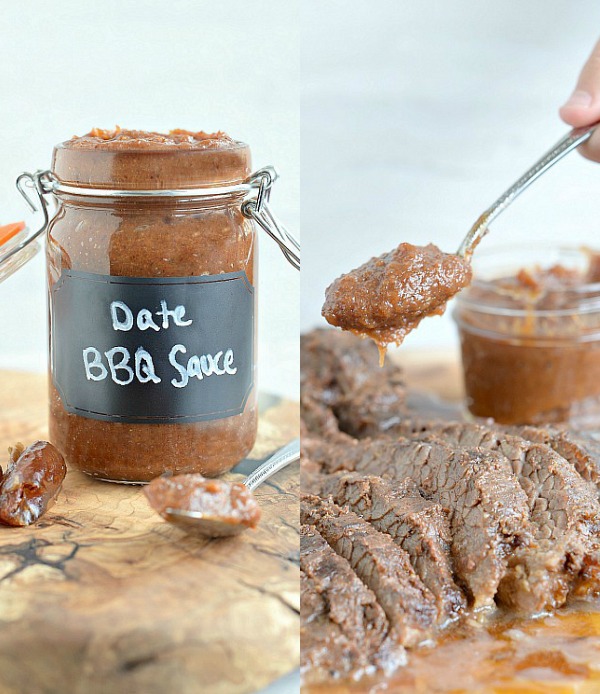 Date Barbecue Sauce Brisket
---
kitchen-tested.com
Ingredients
3-5 pound brisket
Date Barbecue Sauce
2 cups pitted dates (10 oz), soaked in hot water for 30 minutes and drained
1/4 cup balsamic vinegar
2 Tbsp tomato paste
1 Tbsp dijon mustard
1 tsp kosher salt
1 tsp chili powder
1/2 tsp garlic powder
1/2 tsp black pepper
Instructions
Preheat oven to 300 degrees F. and place brisket in a large oven-safe roasting pan.
In a food processor, blend the soaked dates, balsamic vinegar, tomato paste, dijon mustard, kosher salt, chili powder, garlic powder and black pepper until a thick paste has formed. Spoon the date mixture all over both sides of the brisket. Make sure the brisket is fat side up before baking. The fat will keep the brisket moist and add tons of flavor.
Cover the roasting pan with parchment paper then cover with foil and wrap tightly. Bake for 3-4 hours, until the brisket is fork tender and the internal temperature is 190 degrees F. Remove from the oven and allow to rest for 30 minutes before slicing. Serve with the sauce in the bottom of the pan.
If you're making the brisket in advance, do not slice before reheating. Leave the brisket whole with the date barbecue sauce and slice before serving.
7.8.1.2
264
https://melindastrauss.com/2018/08/22/date-barbecue-sauce-brisket/