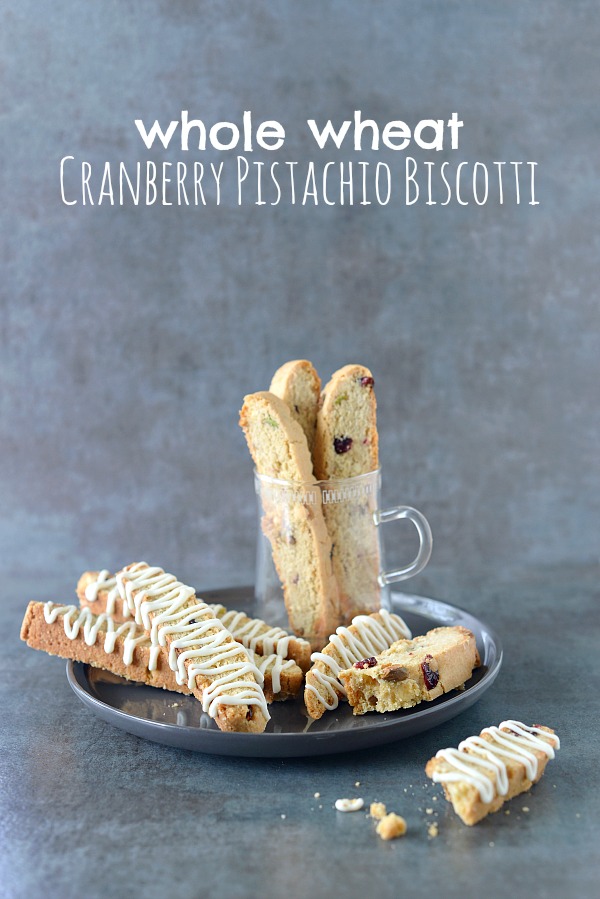 I've been sitting on this recipe for over a year now for no good reason! Yup, it's been chillin on a pad of paper that I am so thankful I didn't throw out while spring cleaning. I really have no excuse for why I haven't shared it with you…I just completely forgot about it! But it's time. It's time I share these whole wheat biscotti because they are so dang good! I believe that biscotti should be full of different textures and flavors and this recipes fulfills them all; crunchy, chewy, soft, salty, and sweet. You've got dried cranberries, pistachios, and white chocolate all wrapped up in (what I think is) a really great biscotti. I'll just tell you all now that I like my biscotti crunchy around the edges with just a little bit of soft in the center. I really can't stand a biscotti that hurts the roof of my mouth when I bite into it. It's a cookie, people!!! You should be able to bite into it without pain. I think I've said my peace.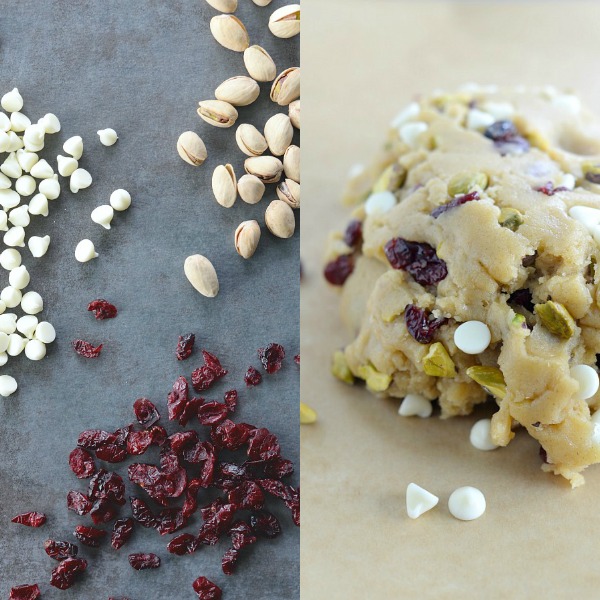 One really great thing about biscotti is that there is no scooping involved. Just take that entire ball of dough and shape it however you want on a baking sheet. You can make your biscotti short and chunky or go with the long and thin version.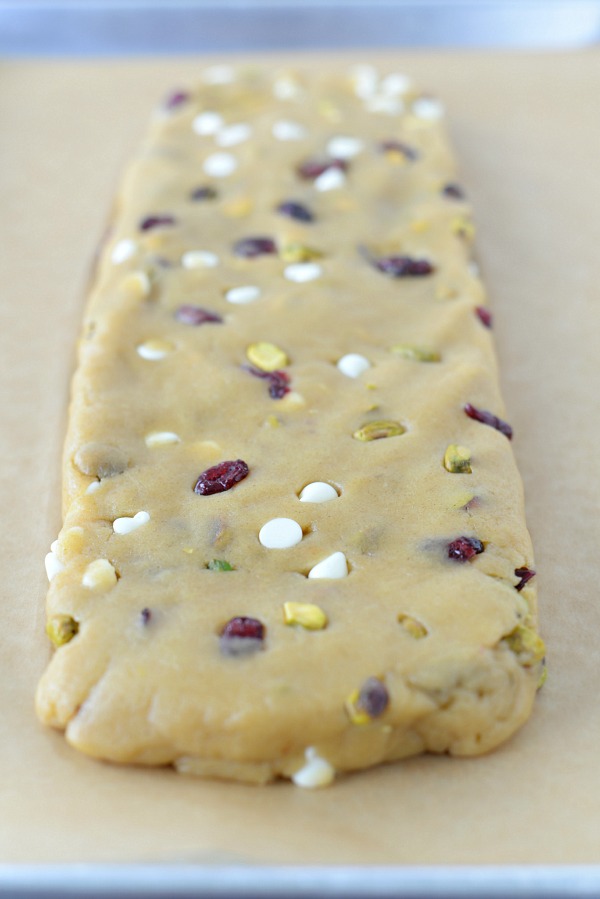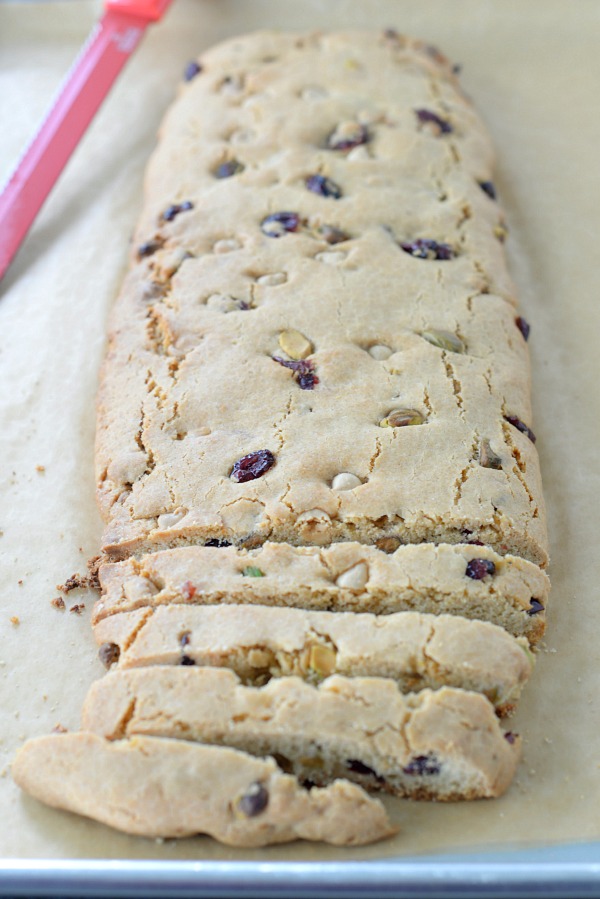 Normally biscotti are sliced and then rebaked for that super crunchy texture but I decided not to bake them again because, as I said above, I like my biscotti just a bit soft in the center. If you want to go crunchier, just put those bad boys back in the oven for 5-10 minutes and they will dry out the way you want.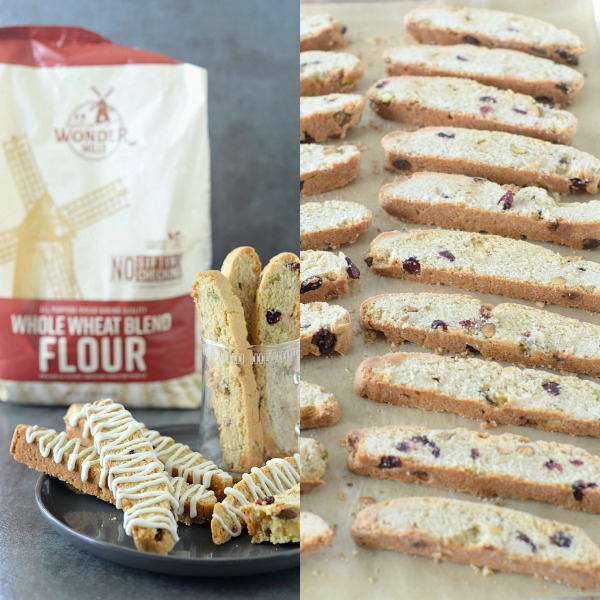 I am so excited about this opportunity to work with Wonder Mills flour! Their flours are pre-sifted and it makes a HUGE difference in the final results of your baked goods, especially with a denser flour like whole wheat. This Whole Wheat Blend Flour is 75% whole wheat flour and 25% wheat flour, which makes for a lovely nutty flavor without being too heavy or "whole wheaty." You can use the whole wheat blend 1:1 with all-purpose flour, which makes it so easy to adapt your favorite recipes.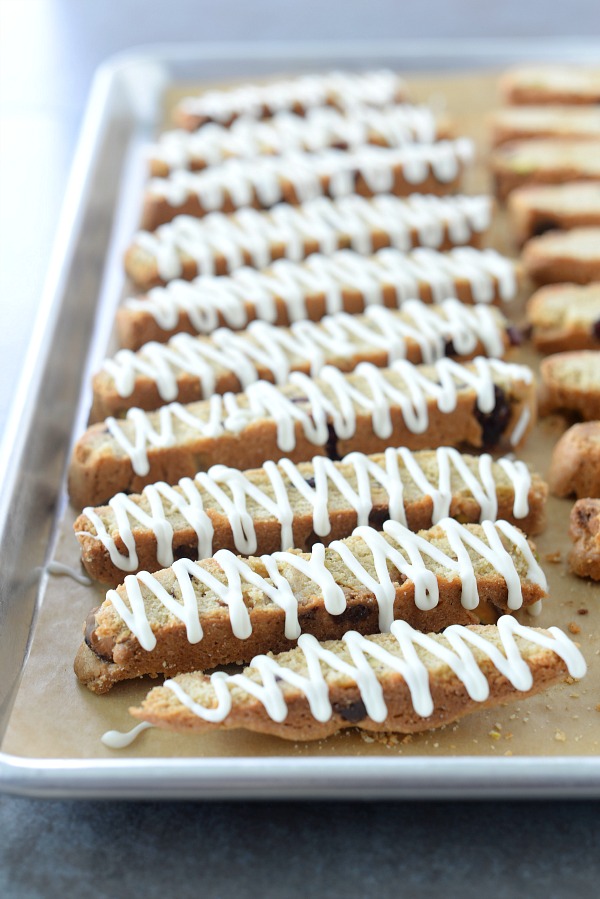 Print
Whole Wheat Cranberry Pistachio Biscotti
2 cups

Wonder Mills Whole Wheat Blend Flour

1 1/2 tsp

baking powder

1/2 tsp

salt

3/4 cup

sugar

1/2 cup

vegetable oil (or coconut oil)

1 tsp

vanilla extract

2

eggs

1/4 cup

chopped unsalted pistachios

1/4 cup

dried cranberries

1/4 cup

white chocolate chips
Garnish
1 cup

white chocolate chips
Instructions
Preheat oven to 350 degrees F. and line a baking sheet with parchment paper.
Whisk together flour, baking powder and salt and set aside.
Separately, whisk together sugar, oil, vanilla and eggs. Add the flour mixture to the sugar mixture and fold together until a thick dough is formed. Set the dough aside for 15 minutes.
Stir in the pistachios, cranberries and white chocolate chips. You may have to use your hands for this sine the dough is very thick.
Transfer the dough to the baking sheet and form into a 12 inch by 4-5 inch log. Bake for 30 minutes.
Cool for 10 minutes then slice the biscotti into 1/2 inch slices using a serrated knife. If you want your biscotti even more crunchy, place them on their side on the baking sheet and bake for an additional 10 minutes.
Cool the cookies completely then you can drizzle with melted white chocolate. You can top the biscotti with more pistachios and dried cranberries, add some toasted coconut, dark chocolate…have fun with the toppings!
This post is sponsored by Wonder Mills.
Thank you for this opportunity to share the brands I love with all of you!