Got my creative juices flowing this year when my son came home from his great-aunts house talking about how he had the best baked apples ever! Sure, I will definitely get her recipe, especially because I know she doesn't pour sugar on everything and that always makes me happy…but I started thinking about how fun it would be to combine baked apples and hamantaschen. Yup, it always comes back to hamantaschen, doesn't it?!? Originally I was going to saute apples in traditional 'baked apple' spices, use it as a filling in an oat dough and call it a day. And YES, that does sound awesome but I wanted to have just a wee bit more fun than that. Instead, what if I make a hamantaschen that mimics the oat crumb topping that I love on baked apples and actually put it on an apple to bake??? Would the hamantaschen dry out? Would the baked apple be soft enough? Only way to find out was to give it a shot and after a few failed attempts, I finally got exactly what I was looking for. A warm, soft and cinnamony (is that a word?) baked apple with a crunchy oat topping and all the cuteness of a hamantaschen to go with it. I love that you can serve these for dessert on Purim and it's such a fun way to celebrate this festive and totally entertaining holiday!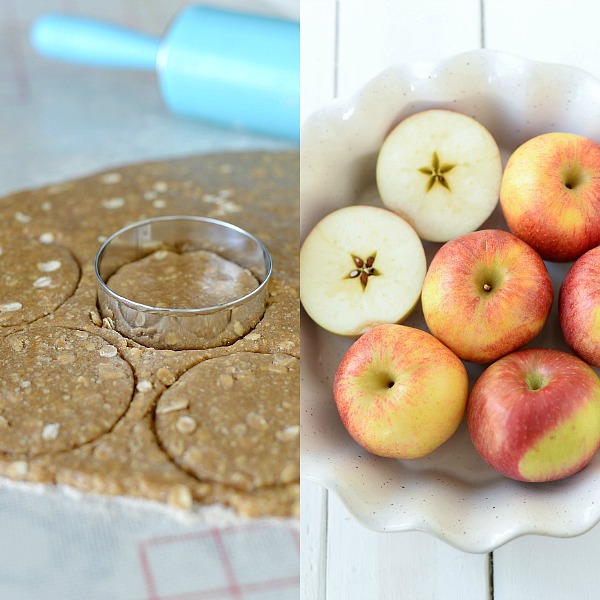 The oat flecks in the dough really let everyone know what you're eating! They add great texture too.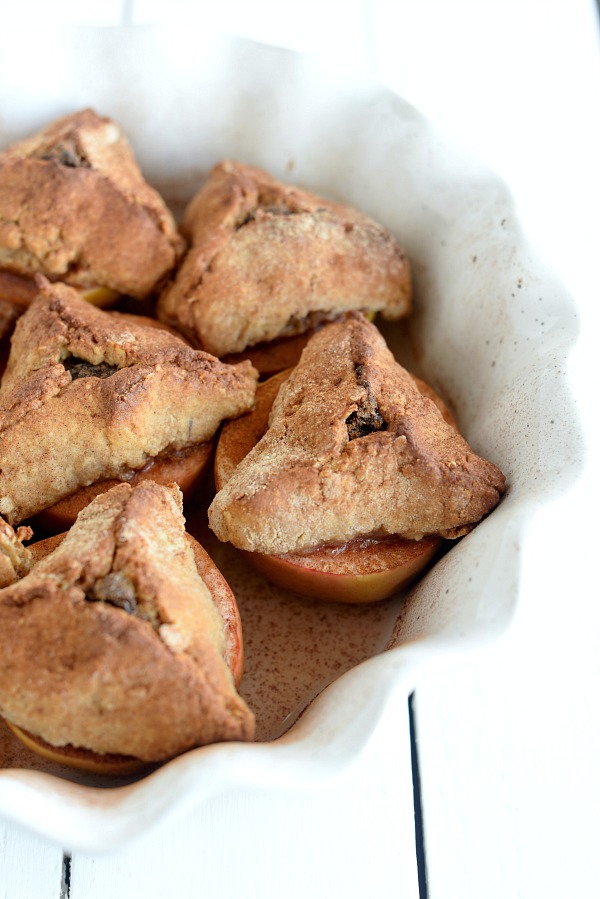 Need a spoon? I can help with that.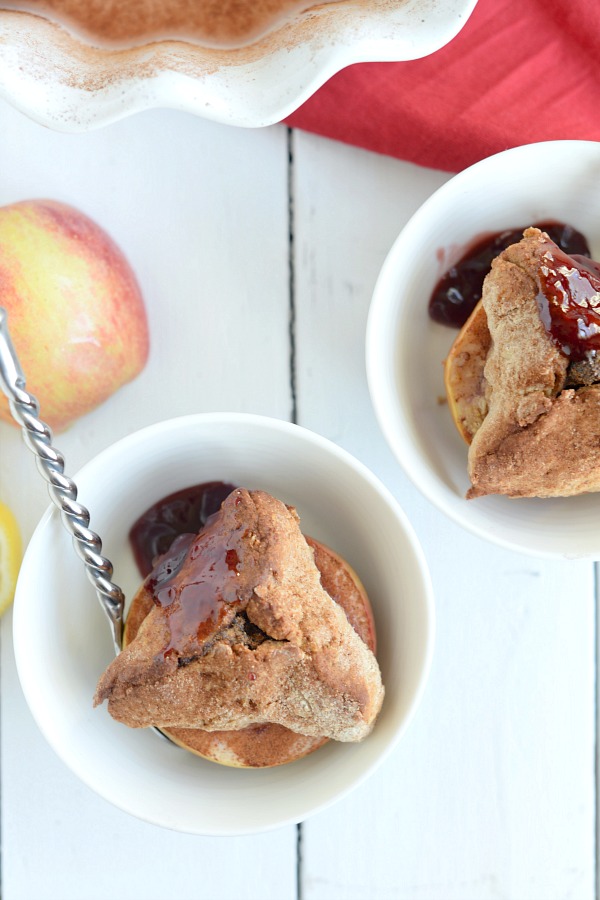 I poured extra warm jam all over the hamantaschen because you can never have enough jam in your life. Oooh, and top these baked apples with vanilla bean ice cream or whipped cream and just a dash of cinnamon! Yup, that sounds awesome.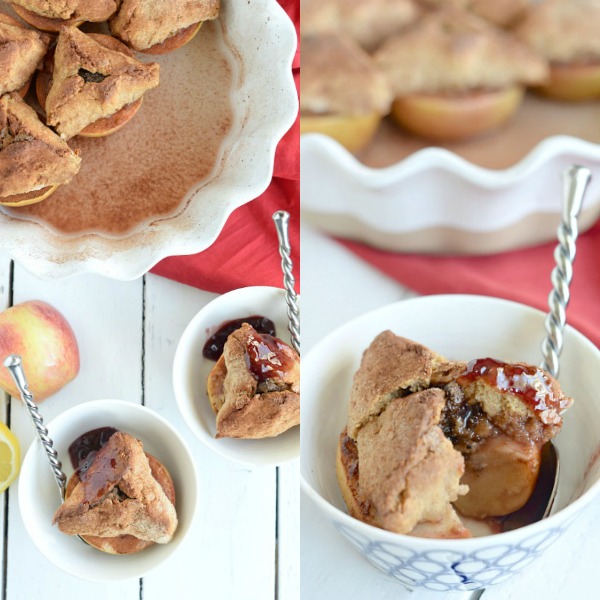 Baked Apple and Oat Hamantaschen
Oat Hamantaschen
2

eggs

1/2 cup

oil

1/2 cup

honey

1/2 tsp

vanilla extract

1 1/2 cups

white whole wheat flour

3/4 cup

oat flour (make your own by grinding old-fashioned oats in a food processor)

1/2 cup

old-fashioned oats

1 tsp

baking powder

1 tsp

cinnamon

1/4 tsp

salt
Filling
1 cup

raisins

1/2 tsp

cinnamon

2 Tbsp

boiling water
Baked Apples
3

–

4

gala apples

1/2 cup

seedless jam
sprinkle of cinnamon

1

lemon
Instructions
In a mixing bowl, whisk together the eggs, oil, honey and vanilla. Add the white whole wheat flour, oat flour, whole oats, baking powder, cinnamon and salt and stir until a sticky dough has formed.
Wrap the dough in plastic wrap and refrigerate 1 hour.
Preheat the oven to 350 degrees and prepare a 9 inch round baking dish with a 1/2 cup of water. You can also use a larger dish and make more apples, of course.
To make the filling, add the raisins, cinnamon and hot water to a food processor and blend until thick.
Remove the dough from the fridge and place on a floured surface. Roll out to 1/4 inch thick and cut out 3 inch circles with a cookie cutter or the top of a drinking glass. Fill each circle of dough with a heaping 1/2 tsp of the raisin filling and shape into triangles, pinching the edges shut.
Gather any remaining dough, roll out again and repeat this process until you have no more dough left. This dough is very forgiving so you can make tons of hamantaschen with it!
The apples are the last step since you don't want them to brown. Slice each apple in half and remove the core with a spoon. Rub the inside of the apple with a halved lemon. This will keep the apple fresh and adds great flavor too. Place the halved apples in the baking dish and fill the cavities with seedless jam. Sprinkle the apples with cinnamon then top each one with a prepared oat hamantaschen. You will probably have extra hamantaschen so you can either prepare more apples or baking them separately (baking instructions below) to have some hamantaschen to snack on.
Bake uncovered for 30-40 minutes. If you see that the hamantaschen are getting too dark and you want to bake the apples longer (this will really be based on the size of the apples you use), lower the temperature to 325 and continue baking.
Top the warm apples and hamantaschen with more jam, ice cream, whipped cream, whatever you want! You definitely want to serve these warm.
Notes
If you want to make the hamantaschen without the apples, bake for 10 minutes at 350 on a parchment lined baking sheet.
You can even save these baked apples in your fridge for a few days and they reheat so well. The flavor will only get better with time.