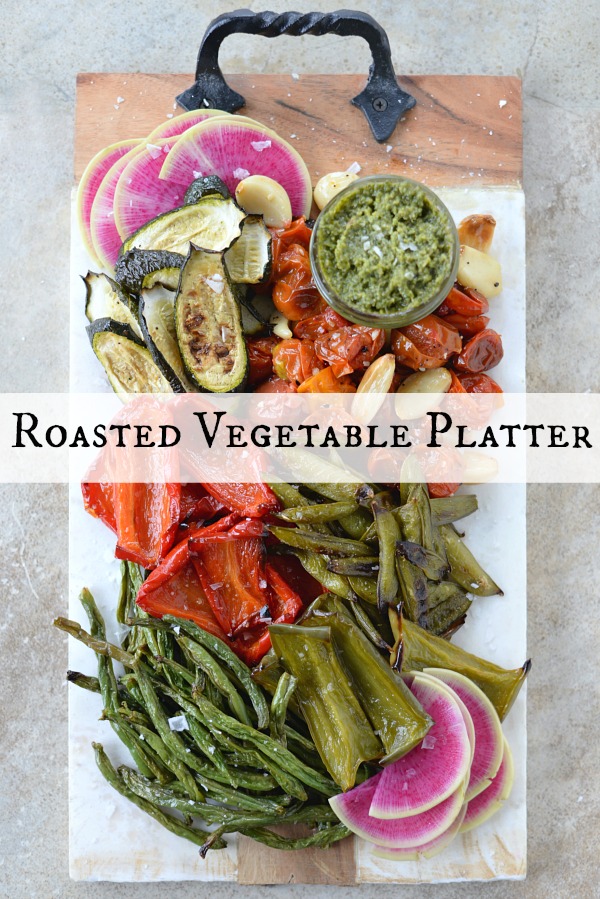 It's always an honor to be a part of recipe round-ups with friends and fellow bloggers but there is something REALLY special about this specific blog post. As my life gets busier and busier with great things (family, travel, health coaching, photo shoots, sponsorships, mentorships), I have a new and very deep appreciation for Shabbat, the Jewish day of rest. I'm going to be totally honest — I used to dread Shabbat. It is such a long day with no technology and worrying about what I was going to do with my kids used to really stressed me out. I love to entertain friends and family for Shabbat meals so that was never an issue for me but what about all of those hours of downtime?!? I could go on and on about the build-up in my head every weekend that would make me crazy. Well I can say, thank goodness, that I have changed my view on this very special day and I actually see it as a privilege now. Every weekend, I get to turn my phone off. Shut off social media, shut out any outside influence and just be with my family. We play games, read books, host friends, make playdates and sometimes even nap! I can think of no better word than GRATEFUL. Yes, I am finally grateful for Shabbat and look forward to it every week.
So that brings us back to this blog post. Sina Mizrahi from gatheratable.com wrote the most beautiful article about Shabbat, with pictures and recipes that will blow you away, and she invited a group of food bloggers to be a part of a Virtual Shabbat Potluck today. In her words "I would love for you to join this and I think that it will be powerful to collectively celebrate the most important day of the week through food, which is also such an important aspect of the day." I mean, what more can I even add to that?!? Sina- thank you inspiring us and including us in something that is so special for you! Scroll to the bottom of this post to see what the other bloggers are bringing to our potluck.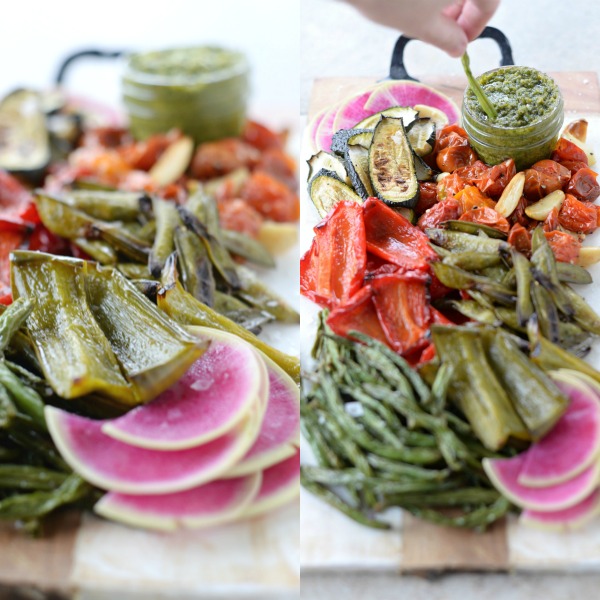 When I was deciding what to make for our Virtual Shabbat Potluck, I wanted to share a recipe for something that I make every weekend and actually get really excited to eat. And I mean, without fail, every single weekend! If you follow me on Instagram (I hope you all do), you probably already know my love for roasted vegetables so it should come as no surprise that my contribution to our potluck is roasted veggies. Yup! These humble roasted veggies shine with their simplicity. Serve them warm or room temperature, along side spatchcocked chicken or a roast, on a beautiful platter with fresh veggies for added crunch, with dips like homemade pesto and hummus, and always make extra so you can repurpose them all week long. My favorite leftover recipe is definitely my Green Bean Shakshuka! And let me tell you, the recipe for these roasted vegetables doesn't get any easier. I set my oven to 375 degrees F., line a ton of baking sheets with parchment paper and start adding the veggies to each sheet. TIP: Make sure you don't overcrowd the pans or the veggies will steam instead of roast. Then I add olive oil or avocado oil, salt, pepper and whatever spices I'm in the mood for (hello everything spice mix!) and cook the veggies to my liking, which is usually at least 30 minutes. Some exceptions to that rule: I like to cook asparagus for 15 minutes and the cherry tomatoes and fresh garlic cook for closer to an hour.
Roasted Vegetable Platter
Your Platter Can Include Any Veggies You Want
Green Beans
Bell Peppers
Sugar Snap Peas
Cherry Tomatoes
Whole Fresh Garlic Cloves
Zucchini
Asparagus
Shallots
Mushrooms
Eggplant
And Any Toppings You Want
Olive Oil and/or Avocado Oil
Salt
Pepper
Garlic
Paprika
Cumin
Hawaij
Thyme
Everything Spice Mix
Instructions
Preheat oven to 375 degrees F. and line as many baking sheets as you own with parchment paper.
Add each vegetable to a baking sheet and make sure not to overcrowd the pan or the vegetables will steam instead of roast. Drizzle some oil and sprinkle with salt, pepper and any spices that you like.
Roast the vegetables for 30 minutes then check on them to see if they are cooked to your liking. Most of my vegetables cook for minimum 30 minutes, with the exception of asparagus, which only cooks for 15 minutes. I roast cherry tomatoes and fresh garlic for closer to an hour, until golden brown.
Serve the vegetable warm or room temperature and sprinkle with flakey sea salt once plated.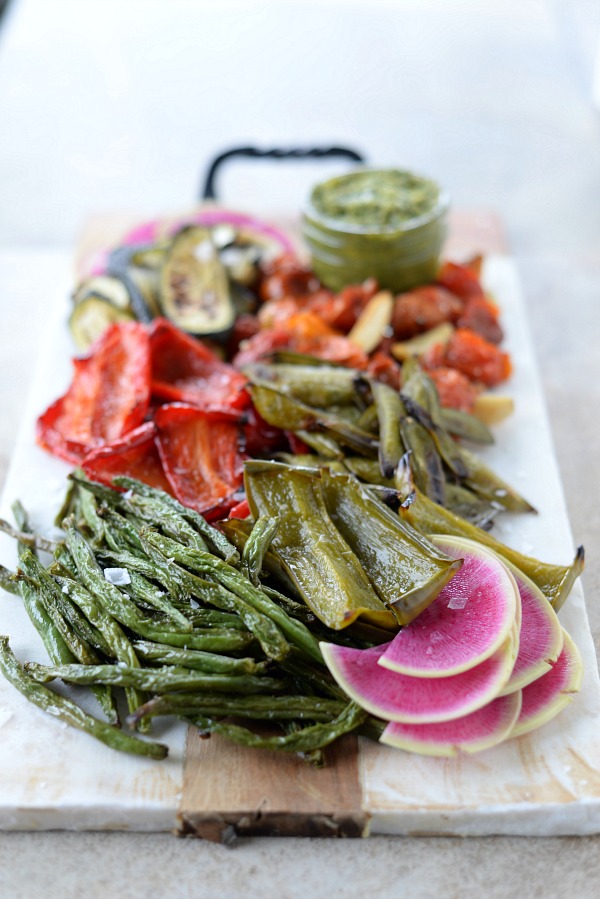 Meanwhile, check out what the other bloggers are sharing for our Virtual Shabbat Potluck!
Which Egg Wash Produces the Shiniest Challah from Between Carpools
How to Hack a Challah from Cooking In Heelss
Roasted Eggplant Salad from Spice and Zest
Salatim from The Katamon Kitchen
Red Snapper with Charred Potatoes, Tomatoes and Lemons from The Sugar Box
T'bit: Iraqi Slow Cooked Chicken and Brown Rice from Gather A Table
Orange White Wine Moroccan Braised Lamb from Peas Love & Carrots
Chocolate Peanut Butter Cups from Beth Warren
Sticky Pecan Challah Hamantaschen from Jamie Geller
Funfetti Rice Krispie Bites from Busy in Brooklyn