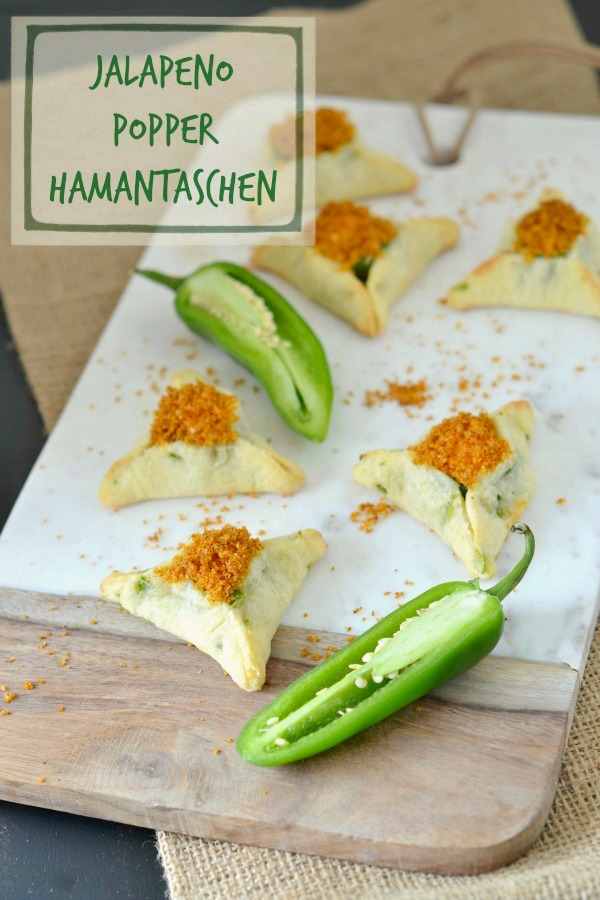 Hamantaschen season has officially begun!!! I'm sure I've mentioned it before but I seriously have a list of hamantaschen ideas that I update year round as ideas pop into my head. So when the time finally comes and Purim is a month(ish) away, I'm like a kid in a candy store. A sweet and savory, absolutely abstract and totally crazy candy store. Let's see…we've seen rainbow hamantaschen, samoa hamantaschen, oatmeal raisin hamantaschen and the list goes on and on and on. But the ideas just keeping and I've got a good one for you today. If you've ever had a jalapeno popper, you know it's all about that bread crumb crunch on the outside and the creamy cheese filling. You get all of that in these hamantaschen with a jalapeno speckled cream cheese dough filled with a ring of jalapeno, cream cheese and cheddar. Top the whole thing off with bread crumbs and you've got a jalapeno popper in every bite!
 All those pieces of jalapeno in every bite! You can use as much or as little as you want, of course, but I say go for it. The cream cheese balances the heat of the jalapeno so the dough is easy to eat. If you want extra spice, keep the seeds in the jalapeno.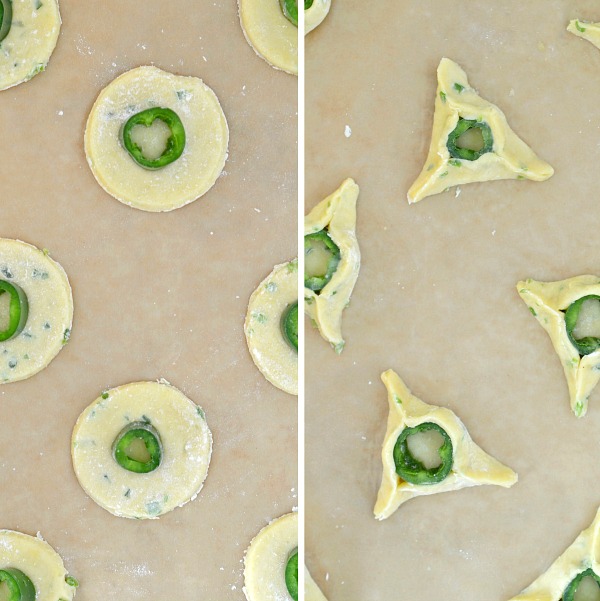 How fun is this???? There an actual stuffed jalapeno inside of your hamantaschen. Yeah, I'm kinda proud of myself for this one.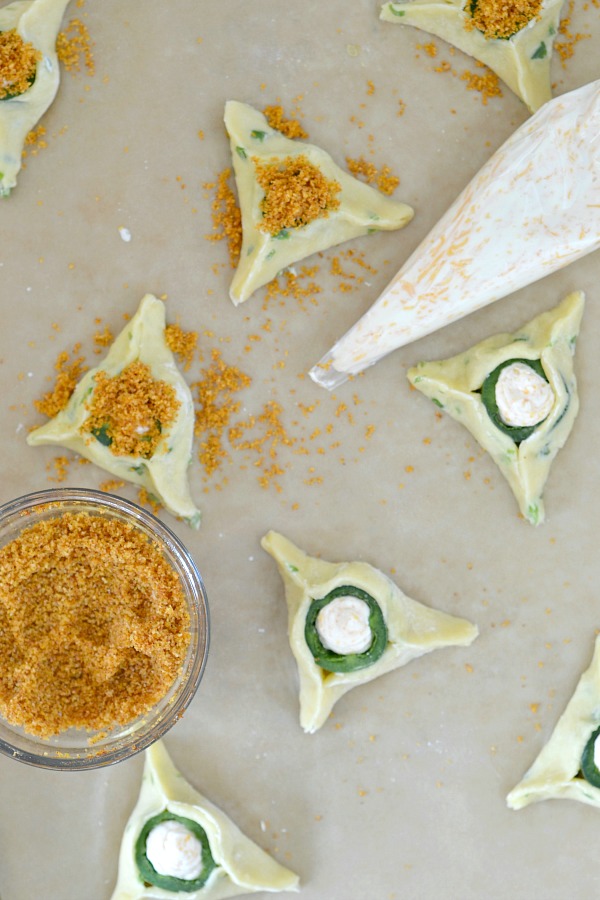 Gotta have that bread crumb crunch on top. These hamantaschen aren't the same without it.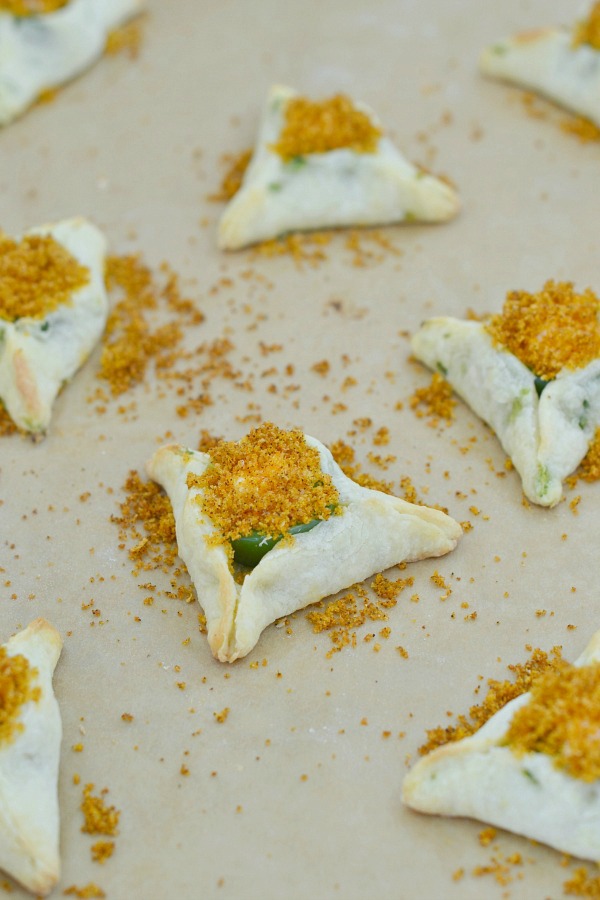 I love how you can really see the jalapeno pieces in the dough. You just can't miss 'em!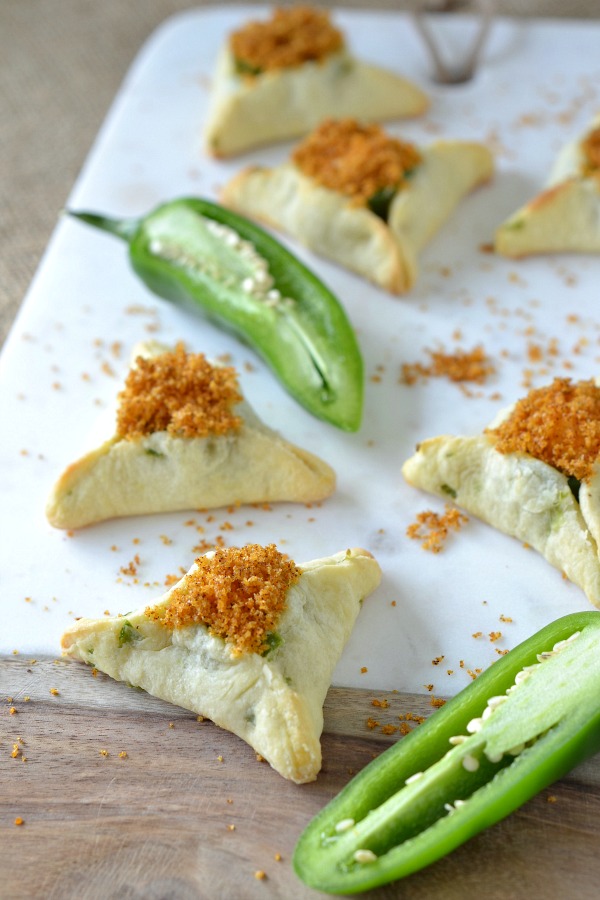 Print
Jalapeno Popper Hamantaschen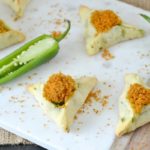 Scale
Ingredients
Cream Cheese Jalapeno Dough
1/2 cup

cream cheese, room temperature

1/2 cup

unsalted butter, room temperature

2 cup

s all-purpose flour

2 Tbsp

sugar

1/2 tsp

salt

1

egg

1

–

2

Tbsp chopped jalapeno
Filling
4

–

5

large jalapenos

1/2 cup

cream cheese, room temperature

1/2 cup

shredded cheddar cheese
Bread Crumb Topping
1/2 cup

plain bread crumbs

1/2 tsp

paprika

1/4 tsp

garlic powder

1/4 tsp

salt

2 tsp

extra virgin olive oil
Instructions
Cream Cheese Jalapeno Dough
In a large mixing bowl, whisk the cream cheese and butter until fluffy. Add the flour, sugar and salt and stir until combine. Add the egg and combine until a dough has formed. Wrap dough in plastic wrap and refrigerate at least 2 hours, preferably overnight.
When ready to bake the hamantaschen, preheat the oven to 375 degrees F. and line two baking sheets with parchment paper.
Sprinkle flour on your work surface and roll out the dough to around 1/8 inch thick. Cut 2-3 inch rounds with a cookie cutter or the top of a glass cup. Place the rounds on the baking sheets. Roll out the scraps and continue cutting out rounds of dough.
Filling and Topping
Slice the jalapenos into one-inch rounds and remove the seeds.
In a a small mixing bowl, blend together the cream cheese and cheddar cheese and transfer it to a piping bag or large ziploc bag. Cut off the tip of the bag.
Separately, stir together the bread crumbs, paprika, garlic powder, salt and olive oil.
Assembly
Press a sliced jalapeno into the center of each dough round. Brush the edges of the dough with water or a whisked egg (both will help the dough stick together) and press the dough together to create a triangle. Fill the jalapeno with the cream cheese/cheddar mixture then sprinkle with the bread crumbs.
Bake the hamantaschen for 10-12 minutes, until the edges of the dough are beginning to brown.
Eat hot or at room temperature. Really, there is no wrong way to eat these jalapeno popper hamantaschen. Store in an airtight container in the refrigerator for 3-4 days or freeze for up to 3 months.