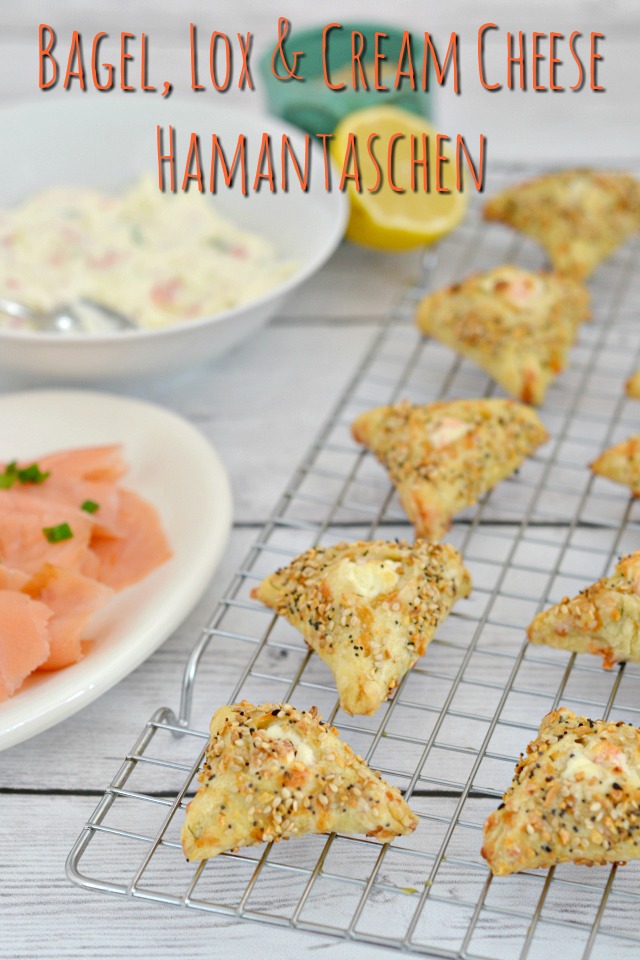 Not much of an explanation even needed for these beauties! The hashtag #jewfood just got taken to a whole new level. The flakey dough, which is studded with Les Petites Fermieres dill flavored havarti, creates a cheesy crust that is out of this world. The creamy filling mimics a traditional bagel with whipped cream cheese, lox and chives. And while everything bagels might not be your thing, they certainly are mine! Why choose a favorite topping when I can just get them all at once, right?!? Trust me, you want to make these. And then you want to turn them into a sandwich because hamantaschen should always be turned into a sandwich!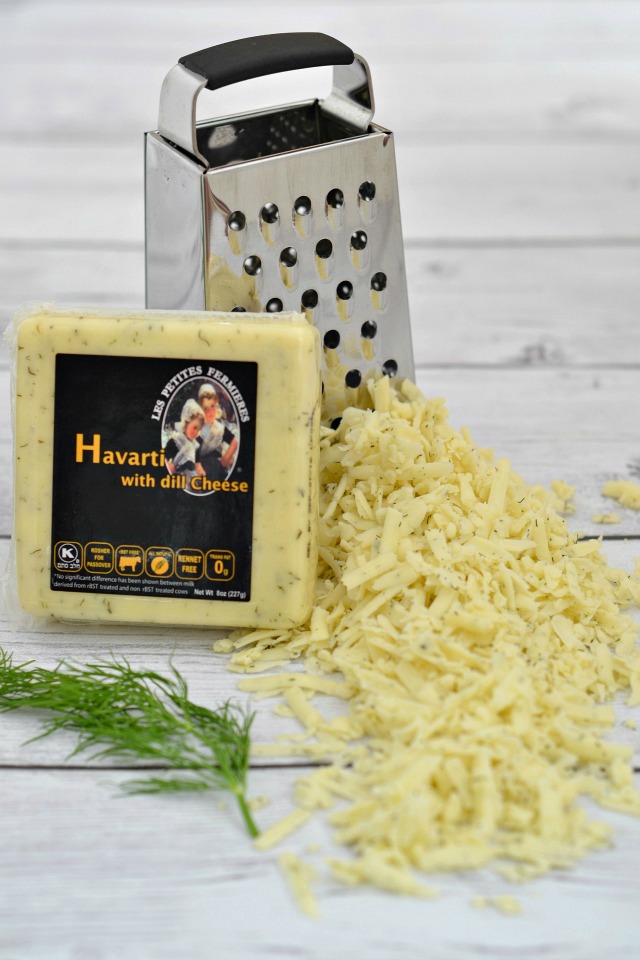 Just look at all that dill running through the havarti cheese and all around that flakey dough!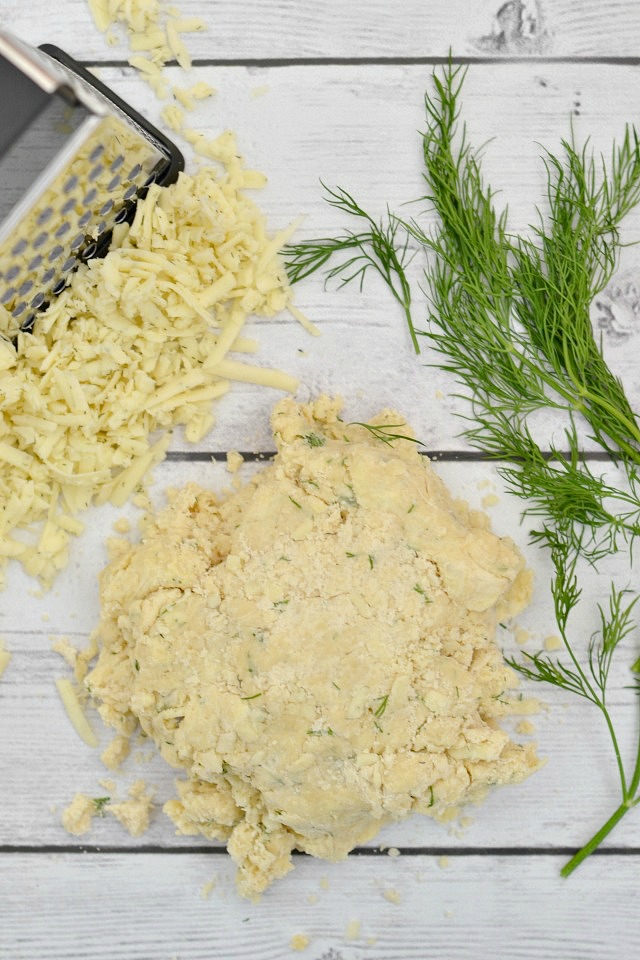 Since the cream cheese filling has no eggs, you can basically just eat it on any bagel but you might as well put it in a hamantsachen instead…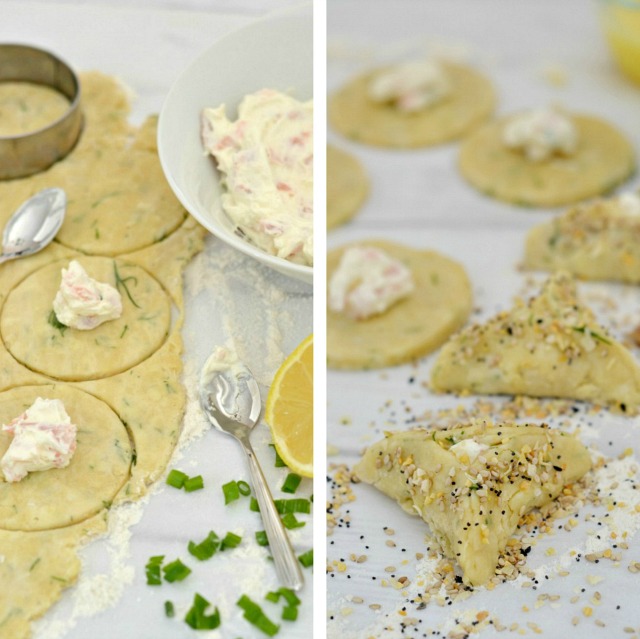 Everything Spice and everything nice!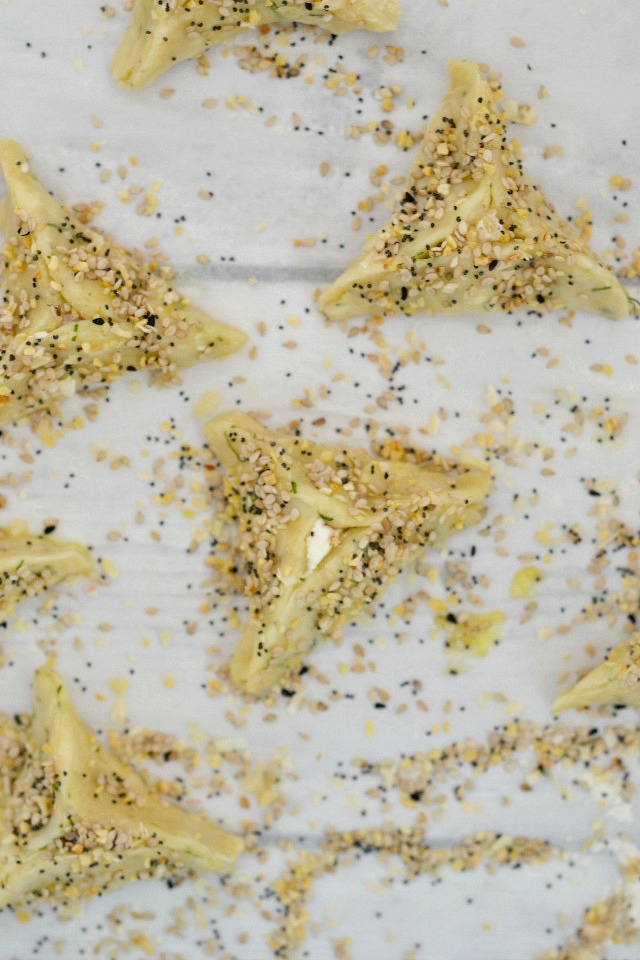 I'll admit that I ate these right out of the oven. I love a hot toasted bagel with lox and cream cheese but if you like it cold, eat it cold. No wrong way to eat these hamantaschen!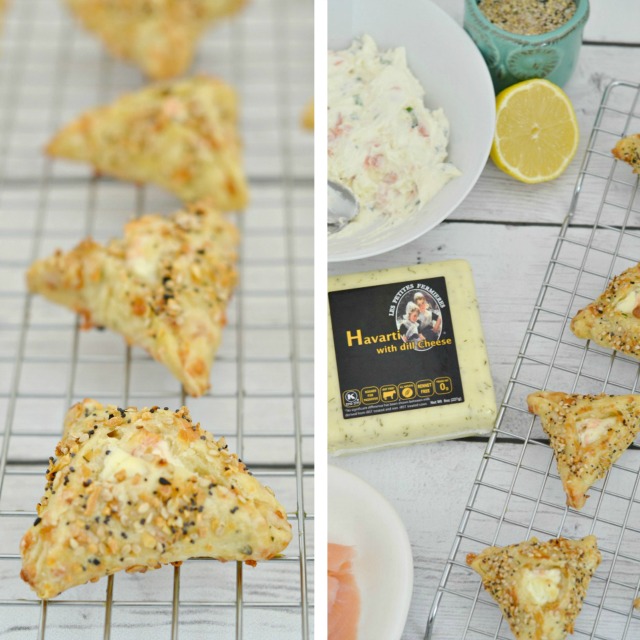 Bagel, Lox & Cream Cheese Hamantaschen

Ingredients
Dill Havarti Dough
2 1/2 cups all purpose flour
1 tsp salt
1 cup (2 sticks) cold unsalted butter, cubed
1 cup shredded Les Petites Fermieres Havarti with Dill Cheese
1 Tbsp fresh chopped dill
1/3 cup ice water
Lox and Cream Cheese Filling
1 cup whipped cream cheese
1/4 cup chopped lox
1 Tbsp chopped fresh chives
2 tsp lemon juice
1/4 tsp salt
Topping
1/2 cup Everything Spice mix
1 egg + 1 tsp water, whisked
Instructions
In a mixing bowl, combine the flour and salt. Add the cold butter and combine with a fork until the texture of coarse sand. Gently fold in the havarti cheese and dill then add the ice water, 1 Tbsp at a time, until the dough comes together. Don't overmix. Wrap the dough in plastic wrap and refrigerate for at least 30 minutes and up to 3 days. This dough can be frozen for up to 3 months.
When ready to make the hamantaschen, preheat the oven to 375 degrees F. and line a baking sheet with parchment paper.
Roll the dough out on a lightly floured surface to around 1/4 inch thick. Cut 3 inch circles and place them on the baking sheet.
To make the filling, fold together the cream cheese, lox, chives, lemon juice and salt. Spoon 1/2 teaspoon of filling into the center of each dough round then fold into a triangle, pinching the ends tightly.
Brush the tops of the hamantaschen with the egg wash then sprinkle heavily with the Everything Spice mix.
Bake for 20-25 minutes, until the cheese in the dough is beginning to brown. Enjoy these hamantaschen hot or cold.