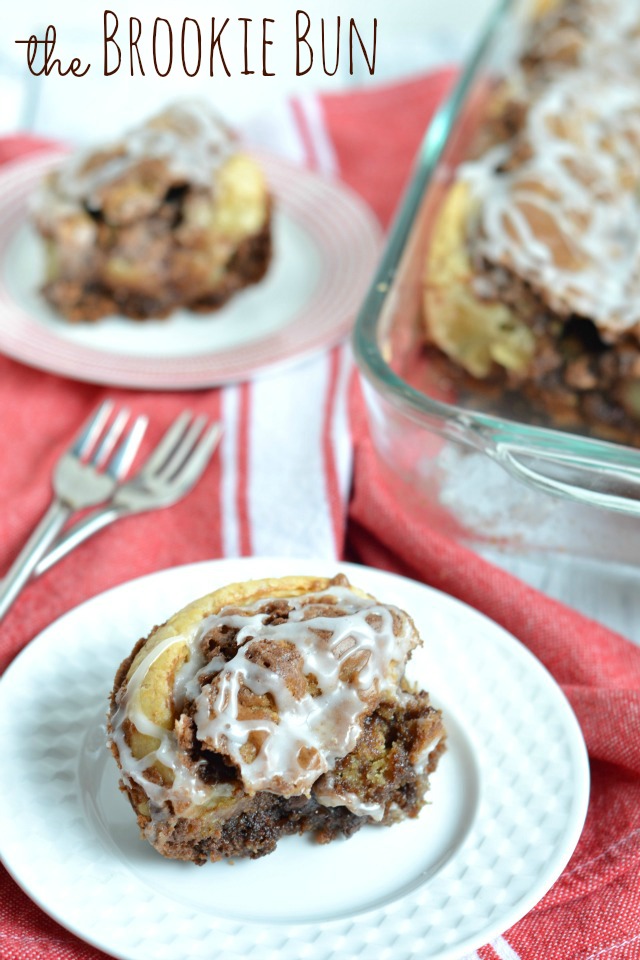 I am so in love! Not just because I combined a brownie, a chocolate chip cookie and a sweet bun into absolutely gooey deliciousness but because of the reaction that I'm getting from all of you. My favorite so far is my friend Aura calling these "Brookie Monkey Baby Puppies" and I am still laughing at that one!! I also have to give a shout out to @esthercstern and @markfamily on Instagram for helping me come up with the great name for this recipe. I was back and forth between Brookie Bun, Brookie Roll and Better Than Sex Brownie Buns. I think I chose the right name! I mean, what could be wrong with this equation? Brownie + Chocolate Chip Cookie + Puff Pastry = Brookie Bun. It's math so it must be true. Really, just print out this recipe and get to it because you don't want to miss out on this crazy good dessert mash-up!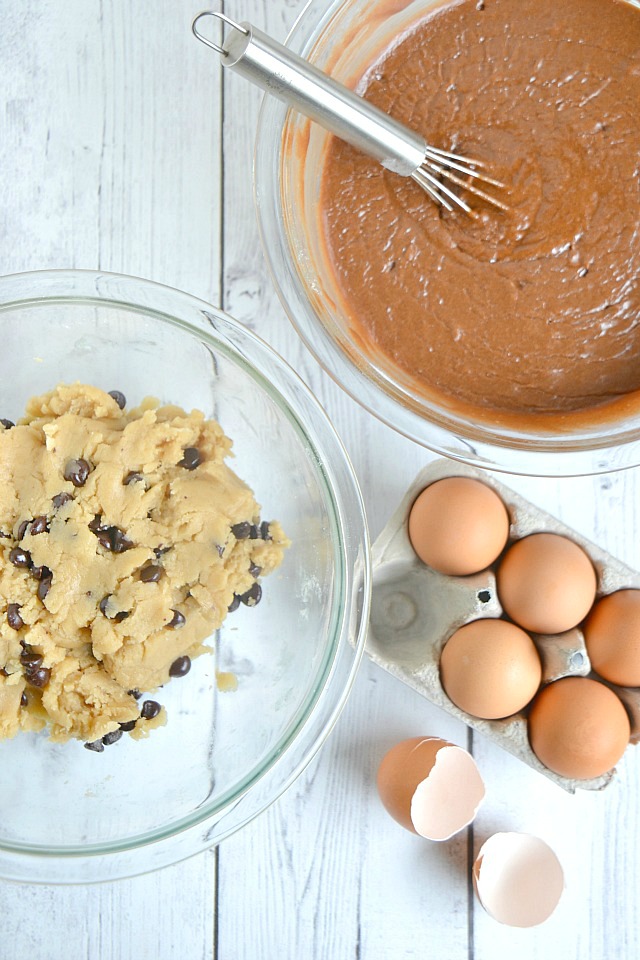 I love these easy brownie and chocolate chip cookie recipes because you don't need a stand mixer. Just a few mixing bowls, a whisk and some measuring cups.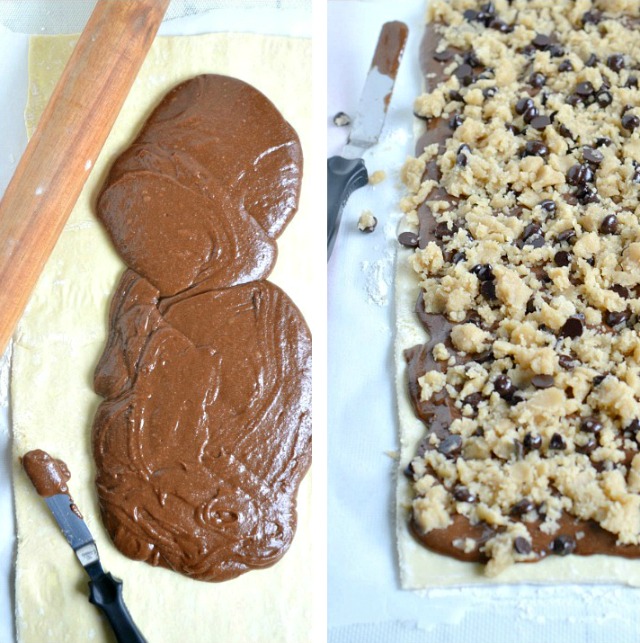 Layers and layers of happiness!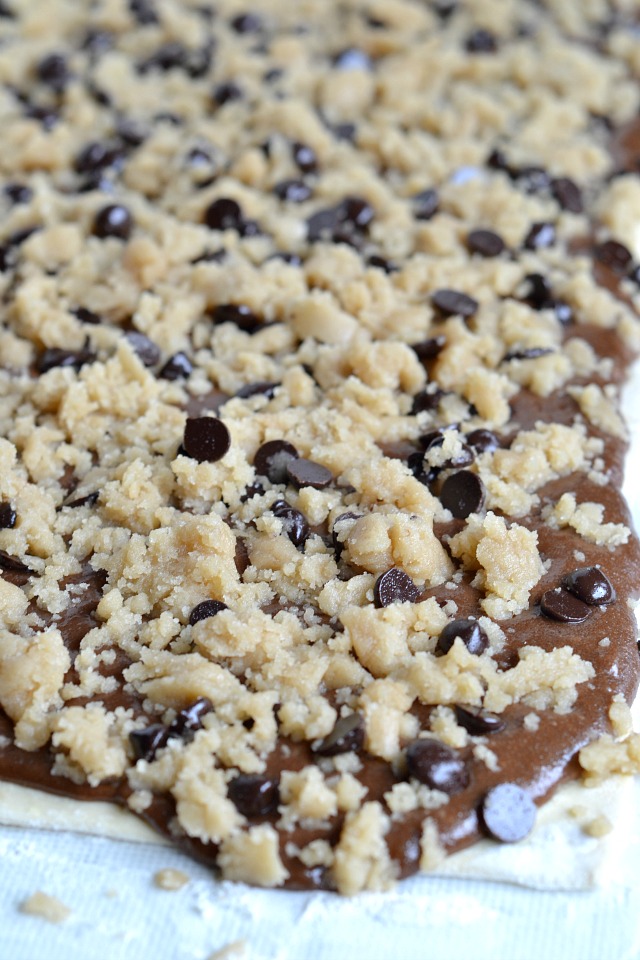 This is how we roll…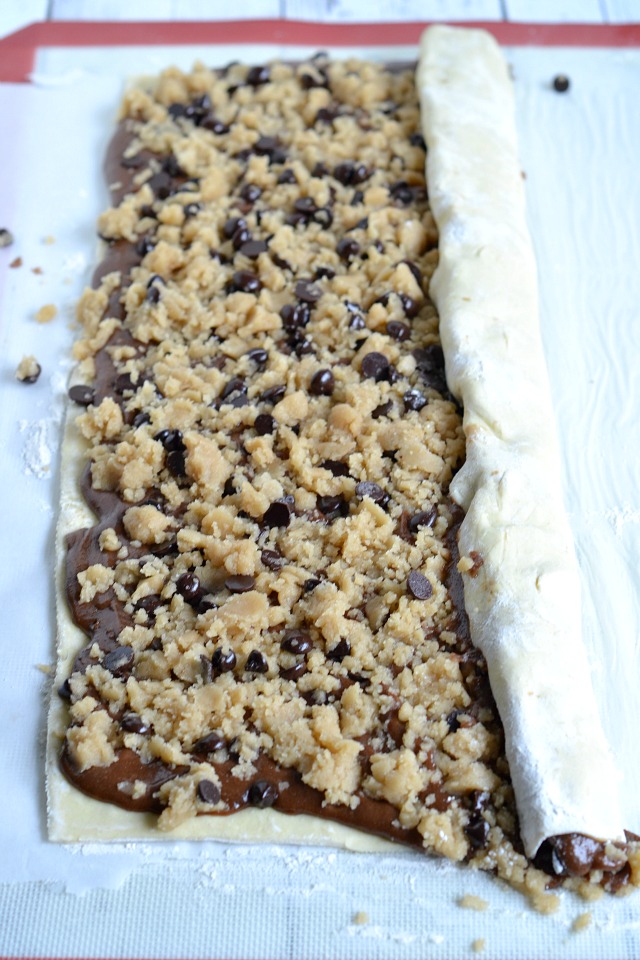 I said this was a little messy, right? Be prepared to lick all of that extra batter off of your fingers.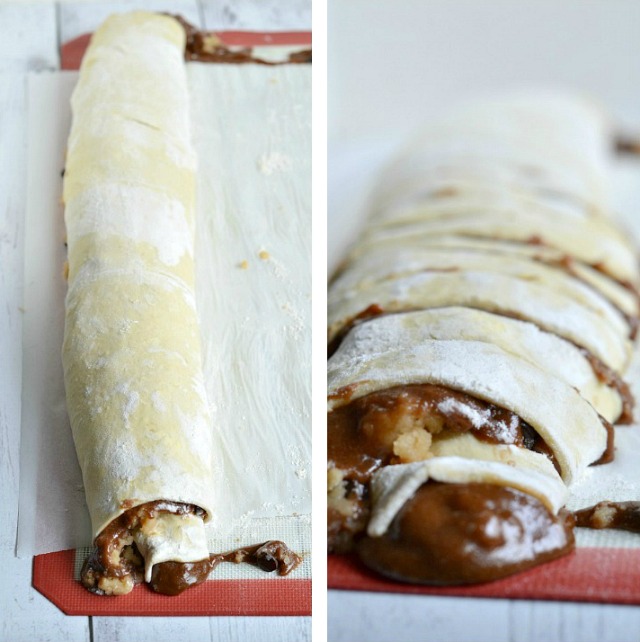 Brownie and cookie dough everywhere!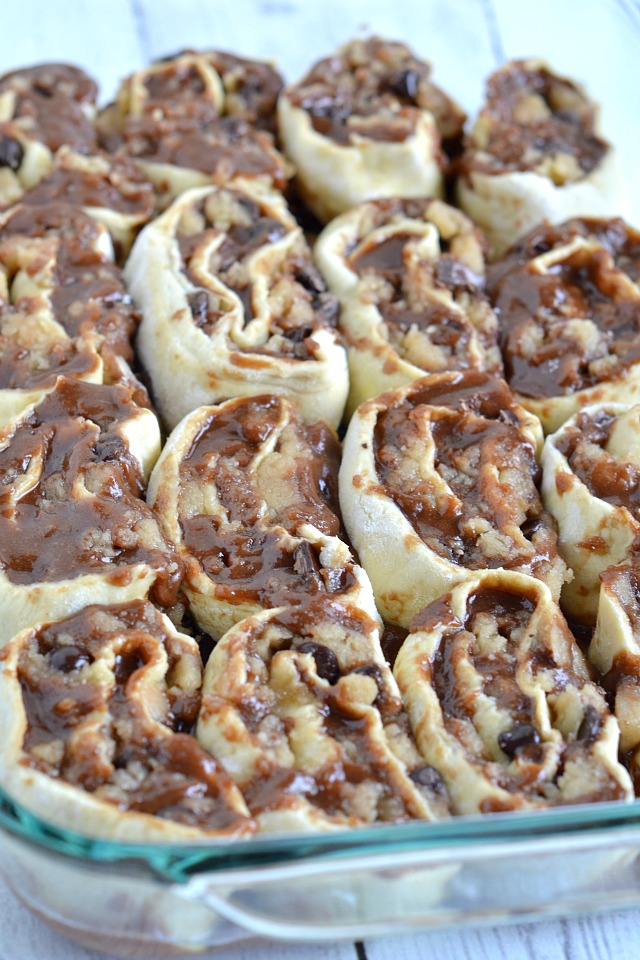 You can hardly see the brookie buns under all that icing but I promise they are just waiting to be devoured.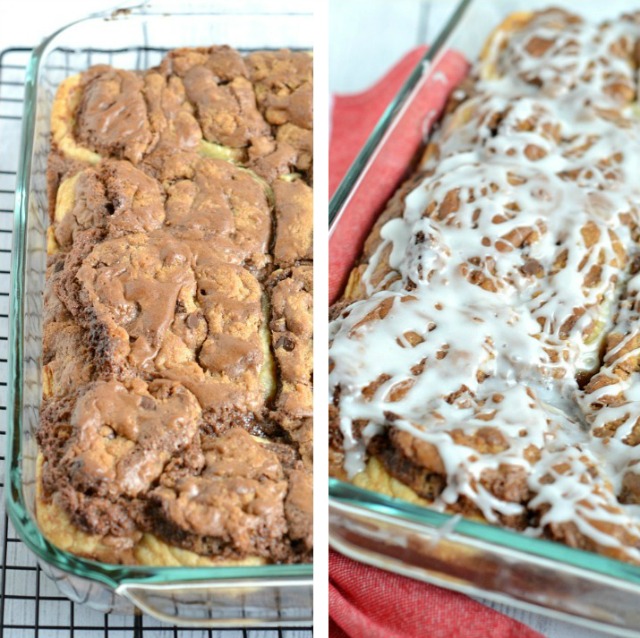 Print
Brookie Buns
2

sheets puff pastry, thawed
Brownie Batter
1 cup

all-purpose flour

1/4 tsp

baking soda

1/4 tsp

kosher salt

1 cup

vegetable oil

1/2 cup

semi sweet chocolate chips

2 cups

sugar

1 tsp

vanilla extract

3

eggs
Chocolate Chip Cookie Batter
1 1/2 cups

all-purpose flour

1/2 tsp

baking soda

1/2 tsp

kosher salt

1/2 cup

vegetable oil

1/2 cup

sugar

1/2 cup

brown sugar

1

egg

1 tsp

vanilla extract

1 cup

semi sweet chocolate chips
Glaze
1 cup

powdered sugar

2 Tbsp

almond milk or soy milk
Instructions
Preheat oven to 375 degrees F. and grease a large rectangle baking dish (9″x13″) with cooking spray.
Brownie Batter
In a mixing bowl, whisk together the flour, baking soda and salt. In a microwave safe bowl, combine the oil and chocolate chips and microwave for 1 minute. Stir until the chocolate melts and is combined with the oil then whisk in the sugar and vanilla extract. Slowly whisk in the eggs, one at a time, until combined. Add the wet ingredients to the dry ingredients and whisk until smooth.
Chocolate Chip Cookie Dough
In a mixing bowl, whisk together the flour, baking soda and salt. Separately combine the oil, sugar, brown sugar, egg and vanilla extract. Fold the wet ingredients into the dry ingredients until the batter is thick then stir in the chocolate chips.
Assembly
On a lightly floured surface, unfold both sheets of puff pastry and place them side by side. Attach the two sheets together by pressing the ends together then roll out the long combined puff pastry sheet to flatten and smooth out.
Spread the brownie batter all over the surface of the puff pastry then sprinkle the chocolate chip cookie dough on top of the brownie batter. Carefully roll the pastry lengthwise into a log, just like a cinnamon bun. This process is messy so be prepared to lick your fingers.
Using a sharp knife, cut the log into 16 slices, each around 1 1/2 inches thick. Place the buns in the baking dish then bake for 1 hour, until the puff pastry is fully baked.
While the brookie buns are cooling, whisk together the powdered sugar and milk then drizzle the icing all over the top of the buns. You can never have enough icing!