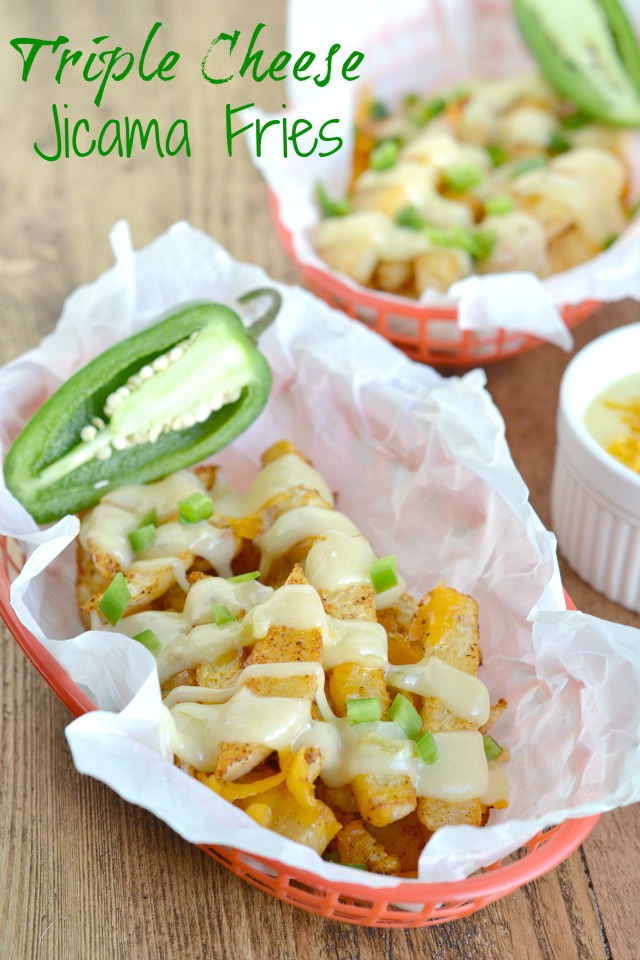 I love French fries in all shapes and colors, including pommes frites, spicy fries, sweet potato fries, crunchy fries, mushy fries (yes, I like mushy fries) and today we are trying out jicama fries! Below is what jicama looks like. I'll admit that I had to google it the first time I purchased jicama because I had no idea what to look for. The skin is not edible so you can peel it with a standard potato peeler or slice away with a sharp knife. Then just slice into strips or spiralize and you don't even need to cook it. Crunchy, fresh and delicious. While jicama is great raw, let me tell you something…cooking it up with spices and topping with tons of cheese is where it's at! And not just any cheese! Les Petite Fermieres sharp cheddar, fontina and pepper jack. Such a great combo but you can use your faves. Go nuts!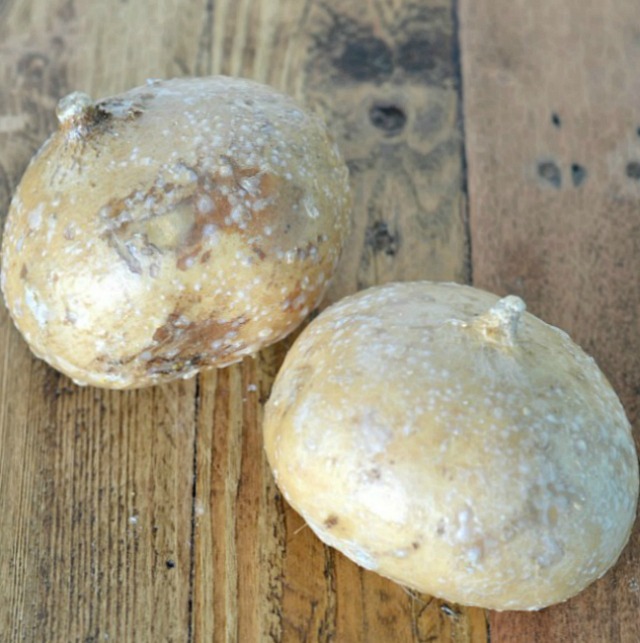 Don't these jicama fries look like potatoes???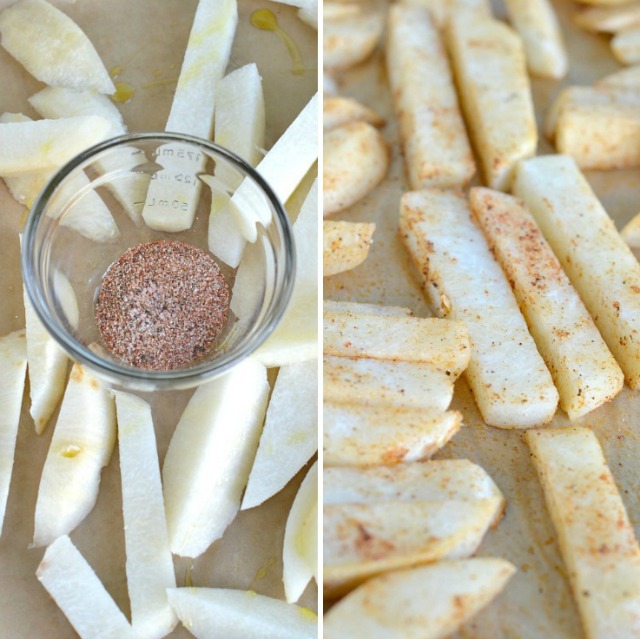 You can use any combo of cheese but I love the creaminess of fontina, the spicy edge of pepper jack and the sharp bite of cheddar.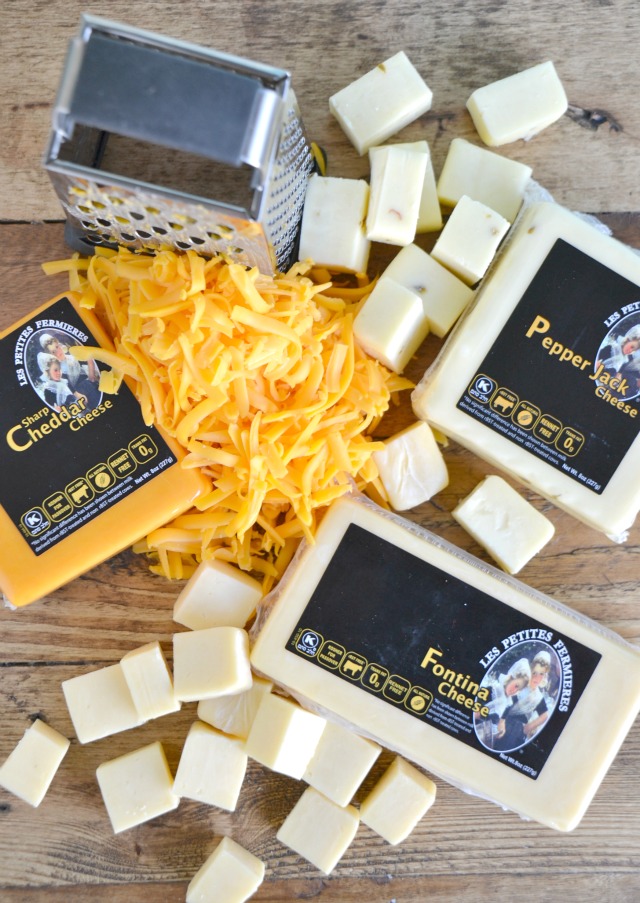 These jicama fries are great simply roasted with spices and even better with melted sharp cheddar…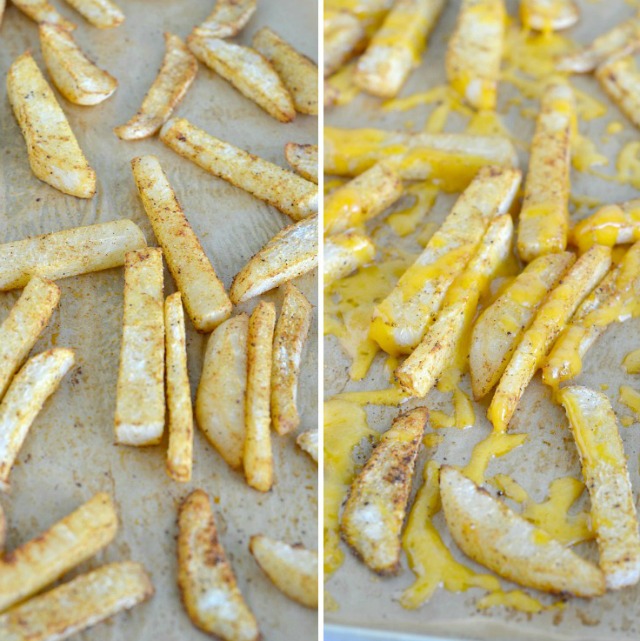 But really, it's all about that spicy cheese sauce poured right over the top.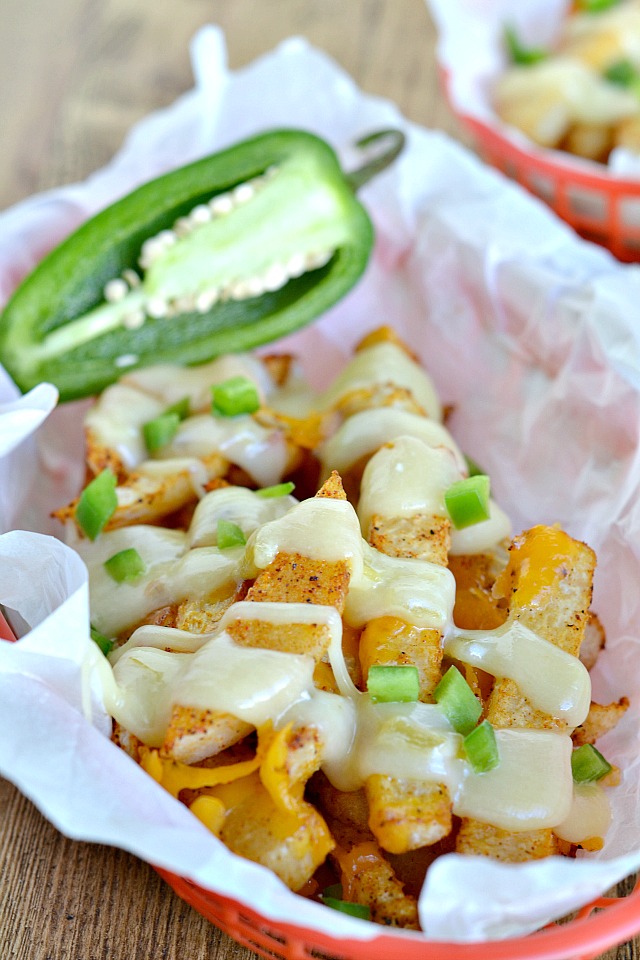 Triple Cheese Jicama Fries
---
Ingredients
Jicama Fries
2 large jicama, peeled and sliced into strips
2 tsp extra virgin olive oil
1/2 tsp kosher salt
1/2 tsp garlic powder
1/4 tsp paprika
1/4 tsp chili powder
1/4 tsp black pepper
1/2 cup shredded sharp cheddar cheese
Green Chili Cheese Sauce
1/2 cup cubed pepper jack cheese
1/2 cup cubed fontina cheese
2 Tbsp canned green chilies
3 Tbsp milk
1/4 tsp salt
Instructions
Preheat oven to 400 degrees F. and line a baking sheet with parchment paper.
Place jicama on baking sheet, drizzle with olive oil and sprinkle with salt, garlic powder, paprika, chili powder and pepper. Stir together the jicama with the spices until completely coated then cook for 40-45 minutes, flipping after 20 minutes.
Remove the jicama from the oven, sprinkle with shredded sharp cheddar cheese and cook for 5 more minutes so the cheese can melt.
In a microwave safe bowl, combine the pepper jack, fontina, green chilies, milk and salt and microwave for 1 minute. Stir the cheese sauce together until all of the cheese has melted then pour over the jicama fries.
Optional toppings: jalapeno, lime zest, salsa, even more cheese!
7.8.1.2
39
https://melindastrauss.com/2016/01/20/triple-cheese-jicama-fries/