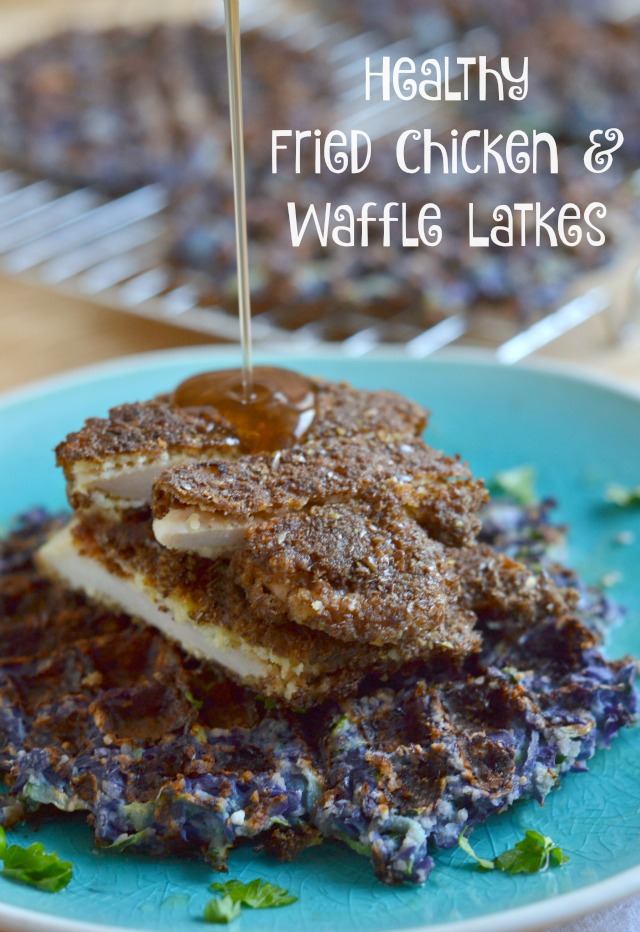 So my husband came home with a very specific request the other day…"Can you make me chicken fried latkes, Mel?" After I gave him a lesson on chicken fried steak and how that wouldn't work with a latke unless I fry a latke, bread it like schnitzel and fry it (that just doesn't sound right to me but I might have to try it someday), he then asked for fried chicken and latkes. I had big plans to go all out and fry Southern-style chicken AND fry classic potato latkes but since we are trying to be very healthy right now and I am actually on a new health plan that is working (12 pounds down!!!), I thought it would be fun to challenge myself to make a healthy version for dinner. Yes, frying can be healthy when it's done right and THIS fried chicken is done right! I breaded thin chicken cutlets in almond flour and ground flax seeds then pan fried in a little bit of oil to cook through. You can certainly bake the cutlets but what would "fried chicken" be if I didn't fry it, right?? And then we have to get to the latkes…those beautiful healthy latkes. No oil today, people! Just zucchini and purple cabbage cooked to crunchy perfection in a waffle iron.
Did I mention that I brined the chicken in apple cider (thanks for the idea, Chanie!) for 1 hour before breading and frying? You just can't dry out that chicken and just look at that crust! Flax seeds are where it's at!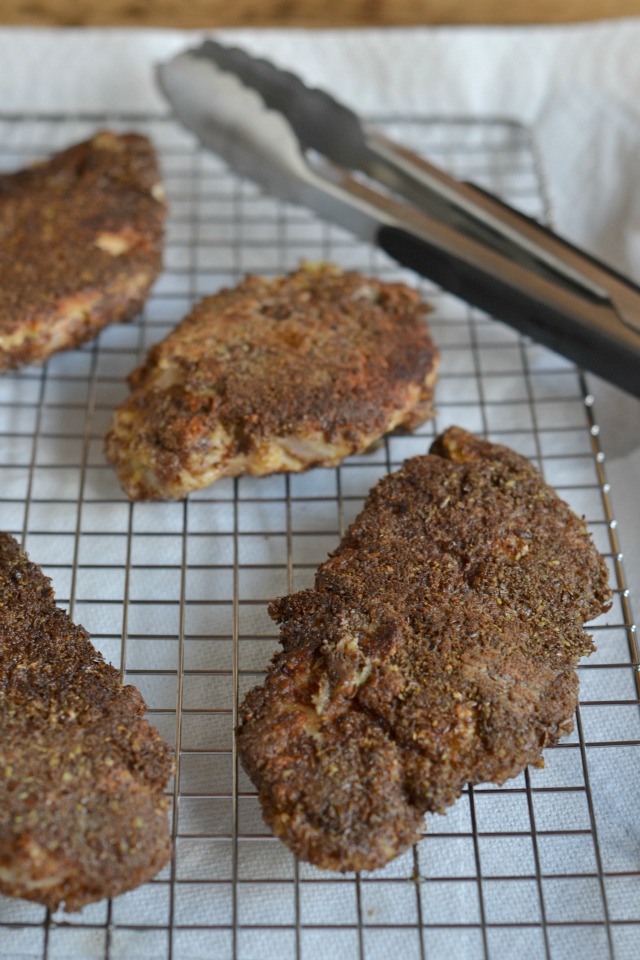 And seriously, do we even need to talk about that color! Purple cabbage adds so much texture and visual appeal to these latkes. I can't even take it! Oh gosh, if you're wondering why I'm stirring the latke mixture in a pot, just know that it was the closest thing to me while I was working around my kitchen and it's nice and big. No cooking on the stove! Just a fancy mixing bowl today.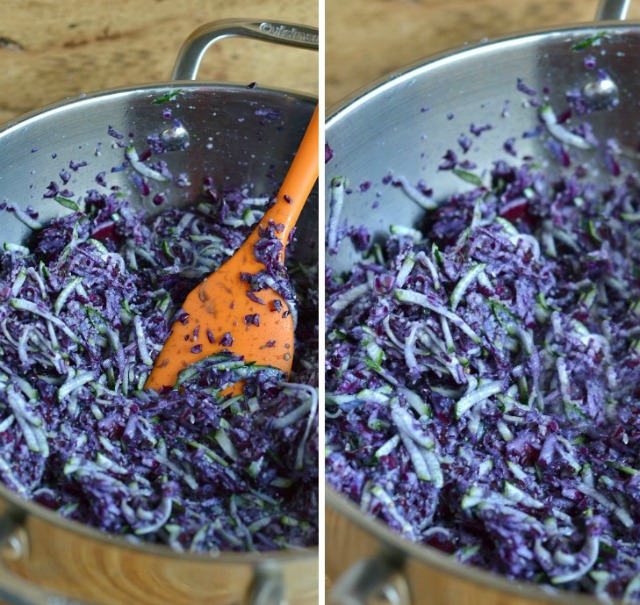 Purple latkes. Yup.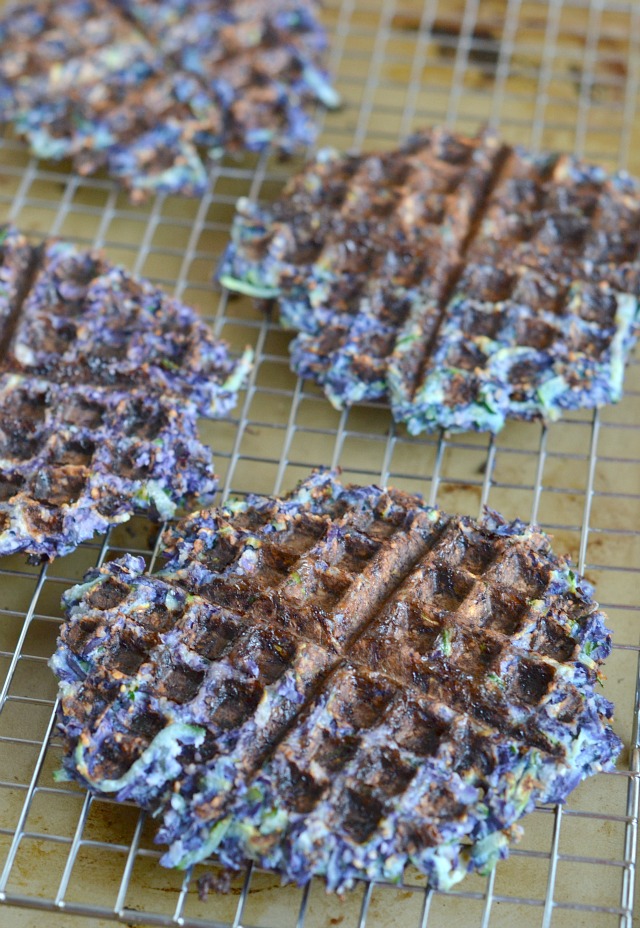 Now it's chicken and waffles time…zucchini and purple cabbage waffle latkes topped with fried flax-crusted chicken cutlets and maybe some sweet pure maple syrup. All chicken and waffles need maple syrup. It's a rule.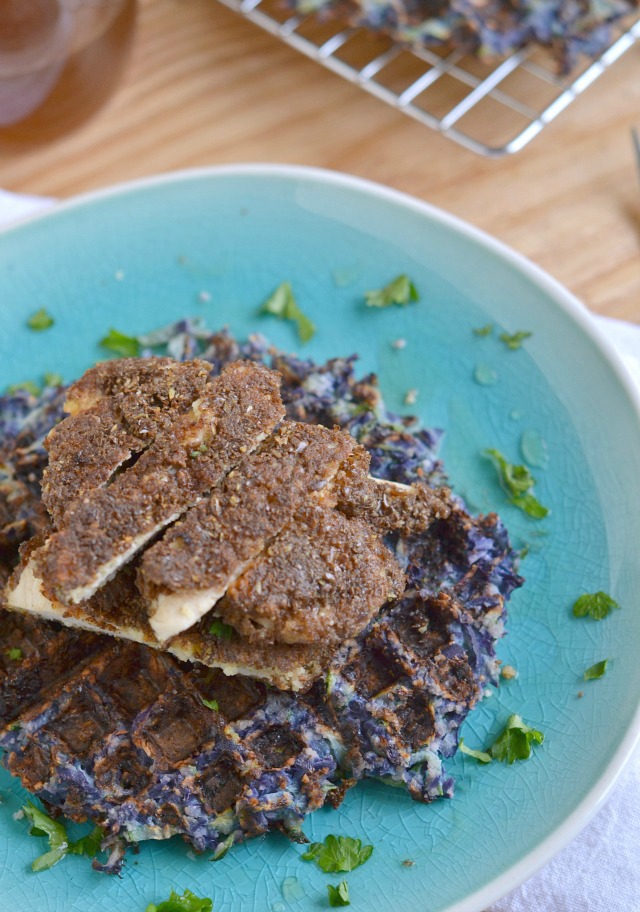 Healthy Fried Chicken & Waffle Latkes
---
Ingredients
Healthy Flax-Fried Chicken
1 lb. thin chicken breast cutlets (5-6 pieces)
1 cup apple cider
3 Tbsp kosher salt
2 eggs
1 cup almond flour
2 cups ground flax seed
1 tsp cayenne pepper
1/2 tsp salt
1/4 tsp pepper
1/4 cup oil
Zucchini and Purple Cabbage Waffle Latkes
2 medium zucchinis, shredded
2 cups shredded purple cabbage
4 eggs
3/4 cup almond flour
1 tsp kosher salt
1 tsp garlic powder
1/2 tsp cayenne pepper
1/4 tsp pepper
pure maple syrup, optional topping
Instructions
Healthy Flax-Fried Chicken
Whisk together cider and salt until salt dissolves. Pour the cider brine over the chicken pieces in small pan, cover and soak 1 hour in the refrigerator. Chicken should be completely submerged in brine.
Set up the dipping station: 1 wide shallow bowl with almond flour, 1 wide shallow bowl with whisked eggs and 1 wide shallow bowl with flax seeds whisked with cayenne pepper, salt and pepper.
Remove each cutlet from the apple cider brine, dip into the almond flour to coat completely, then egg mixture then dredge in flax mixture, patting it on with your fingers.
Heat 2 tablespoons of oil in a large nonstick skillet over medium-high heat. Cook 2 cutlets until golden brown and cooked through, about 3 minutes per side. Transfer to cooling rack lined with paper towels to soak up any excess oil. Repeat this process until all cutlets are cooked, adding additional oil to the pan as needed.
Keep the cooked chicken in a 200 degree F. oven until ready to serve. Remove paper towels from the baking sheet before placing in the oven.
Zucchini and Purple Cabbage Waffle Latkes
Preheat your waffle iron while preparing the latke batter.
Squeeze the shredded zucchini in a kitchen towel to remove any excess water. Stir the zucchini together with the purple cabbage, eggs, almond flour, salt, garlic powder, cayenne and pepper.
When the waffle iron is ready, grease it well with cooking spray. Scoop 1 cup of the latke batter in a measuring cup, press down to remove any liquid then place the batter carefully in the waffle iron. Press down on the top to close and cook the latkes for 4-5 minutes, until golden brown and easy to remove from the waffle iron. If you open the waffle iron and the latke is still sticking to the top, close and keep cooking. When it's ready, it will come out on it's own with a little nudging around the edges. Repeat with the remaining batter, greasing with cooking spray between each batch.
Serve waffle latkes topped with healthy fried chicken and a drizzle of pure maple syrup.
7.8.1.2
31
https://melindastrauss.com/2015/12/09/healthy-fried-chicken-waffle-latkes/