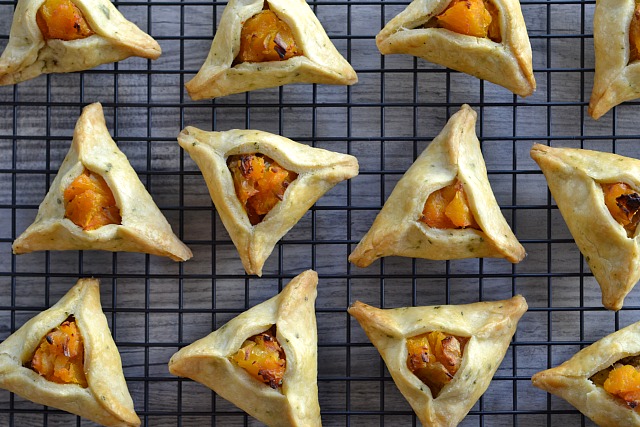 Happy Thanksgiving…I mean, Happy Purim!!! Two of my favorite holidays have come together to create this unique Thanksgiving Hamantaschen. Layers of sautéed ground turkey and roasted squash stuffed in a rich savory dough flecked with fresh sage. It seriously doesn't get any better for me. And I highly recommend making extra filling so you can eat the leftovers all week long.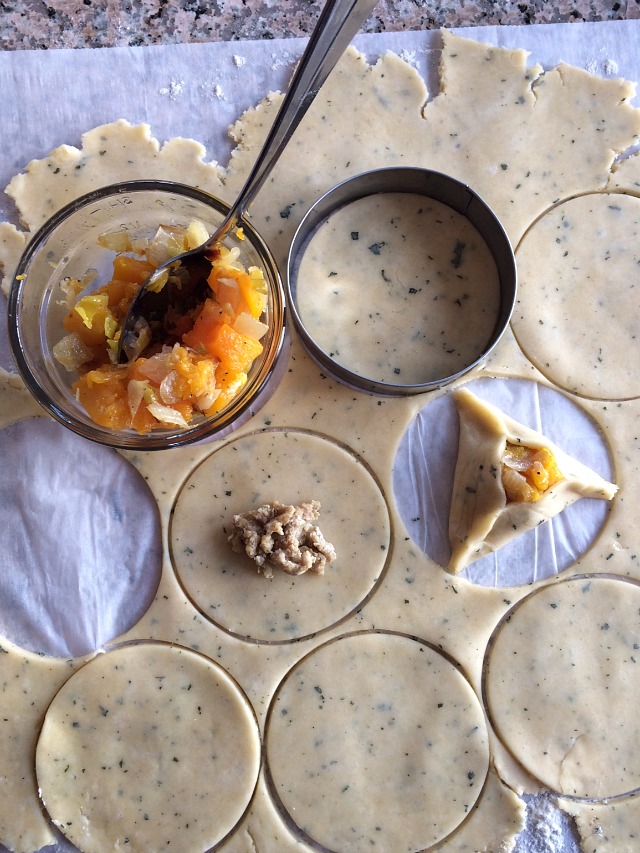 Thanksgiving Hamantaschen
---
kitchen-tested.com
Ingredients
1 ¼ cup all-purpose flour
1 teaspoon fresh sage, chopped
½ teaspoon kosher salt
¼ teaspoon garlic powder
4 tablespoons (½ stick) vegan butter, diced
4 tablespoons vegetable shortening, diced
3 to 4 tablespoons ice water
1 egg + 1 teaspoon water, whisked together
1 pound butternut squash, diced
1 leek, diced (white part only)
1 small onion, diced
2 garlic cloves, minced
2 tablespoons extra virgin olive oil
½ teaspoon kosher salt
¼ teaspoon freshly ground black pepper
½ pound raw ground turkey
1 tablespoon extra virgin olive oil
1 teaspoon dried ground thyme
½ teaspoon cumin
½ teaspoon garlic powder
Kosher salt
Freshly ground black pepper
Garnish: cranberry sauce
Instructions
Sage Hamantaschen Dough
1. In a medium bowl, combine the all-purpose flour, garlic powder, salt, and fresh sage.
2. Add cubed margarine and vegetable shortening to flour mixture; mix with a pastry cutter or fork until it resembles coarse sand.
3. One tablespoon at a time, add ice water and mix with your hands. When dough forms a ball, stop adding water.
4. Wrap dough in plastic wrap; refrigerate for 30 minutes or more. Dough can be refrigerated for up to three days, or can be frozen for later use.
Roasted Butternut Squash
1. Preheat oven to 400°F. Line a baking sheet with parchment paper.
2. Combine squash, leeks, onions, garlic, salt, pepper, and extra virgin olive oil; spread out on the baking sheet in one layer.
3. Bake 45 minutes at 400°F, until squash begins to brown on top. Set aside to cool.
Sautéed Ground Turkey
1. In a skillet, heat extra virgin olive oil over medium-high heat. Add ground turkey; cook 5 to 8 minutes, until cooked through.
2. Add thyme, cumin, garlic powder, salt, and pepper to turkey; stir to combine. Cook 2 more minutes, then remove from heat.
Assemble Hamantaschen
1. Preheat oven to 375°F. Line a baking sheet with parchment paper.
2. Remove dough from fridge, let sit for 30 minutes on counter to warm up.
3. Dust a flat surface with all-purpose flour; roll out dough to ¼ inch thickness.
4. With any size cookie cutter, cut circles from dough; place on the parchment paper.
5. Spoon one teaspoon of ground turkey into center of each circle of dough; top turkey with one teaspoon roasted squash.
6. Pinch together edges of dough to form triangle; brush dough with egg wash.
7. Bake hamantaschen for 30 minutes, until dough is golden on top.
8. Allow hamantaschen to cool briefly. Serve with cranberry sauce.
7.8.1.2
279
https://melindastrauss.com/2014/02/27/thanksgiving-hamantaschen/