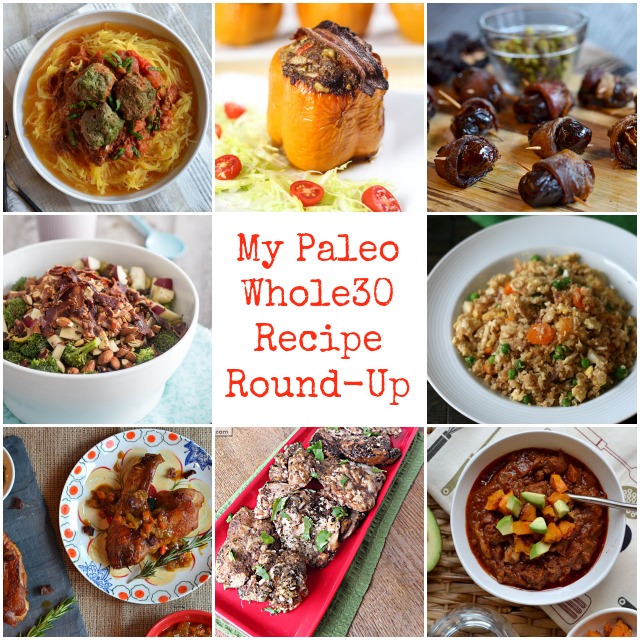 If I've learned anything from 30 strict days of no sugar, no dairy, no soy, no beans, no artificial ingredients, no processed food and no peanut butter, it's that every person choosing to go on the Paleo Whole30 Challenge has a completely different experience and I'm excited to share my first Whole30 with everyone here! I know, I know, it seems insane, right?!? How could someone with a food blog all about experimenting with new recipes and ingredients go on a 30 day strict diet challenge? Well, I treated these 30 days like a new experiment and I was able to develop tons of exciting new recipes that were complaint with Whole30 but still flavorful, unique and delicious. In fact, I would say that these new recipes have become some of my most popular on Kitchen Tested.
I won't go in to too many details about the Paleo Whole30 Challenge here since the best information you can get is directly on the Whole30 website, including the official "Can I Have" Guide and the detailed day-to-day Whole30 Timeline. But I will say that while it seems like the list of "can't haves" is very long, the list if "can haves" is just as incredible. It's all about eating clean unprocessed foods and no added sugar whatsoever, not even from honey or pure maple syrup. You want a snack? Have some roasted veggies, unsalted nuts or a fruit. I only wish I had taken some before and after pictures of the way I look but let me tell you, I am definitely not bloated anymore. I mean, I am seriously never bloated anymore! I still can't believe it. I've always been one of those people that said "I feel like crap. It must have been something I ate" but I never even thought that if I just removed those foods from my diet, I would actually feel better. Seems so simple but who doesn't love eating those foods that make you bloated and sluggish?!? That food is delicious! But the amazing thing is sometimes when you remove those foods from your diet, you may not even crave them anymore. That's the experience I've had with most of the foods that I eliminated. What did I miss? Chocolate! Definitely chocolate. And maybe diet soda. Oh, and gum.
Here are some yummy recipes (yup, some of them are my own) that got me through 30 days of strict healthy eating:
Broccoli Apple and Almond Salad from The Healthy Foodie (I am in love with this website)
Meatloaf Stuffed Bell Peppers from The Healthy Foodie
Salsa Verde Chicken from This American Bite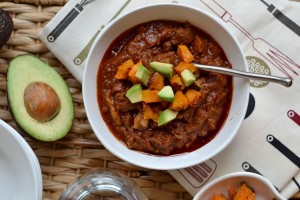 No-Bean Chili with Roasted Butternut Squash from Kitchen Tested (yup, that's me)
Cauliflower Fried Rice from Family Fresh Meals
Crockpot Balsamic Chicken from Sugar Free Mom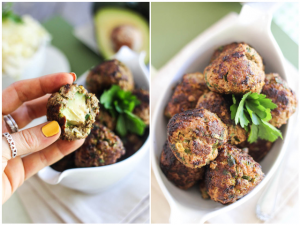 Avocado Stuffed Meatballs from The Healthy Foodie
Slow Cooker Spinach Meatballs and Spaghetti Squash from Kitchen Tested
Homemade Mayonnaise from The Healthy Foodie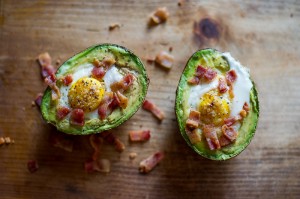 Baked Eggs in Avocado with (kosher) Bacon from White on Rice Couple
Herb Braised Turkey Wings from Kitchen Tested
Baked Cinnamon Apples from Make With Your Hands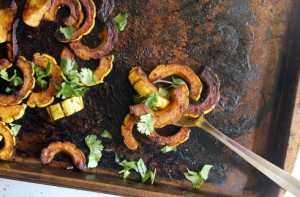 Chipotle Lime Roasted Squash from Cranking Kitchen
Beef and Pumpkin Stew from Meatified
 Lamb Bacon Wrapped Dates from Kitchen Tested
 For more recipes that inspire me, check out my Paleo/Gluten Free/Vegan Pinterest board!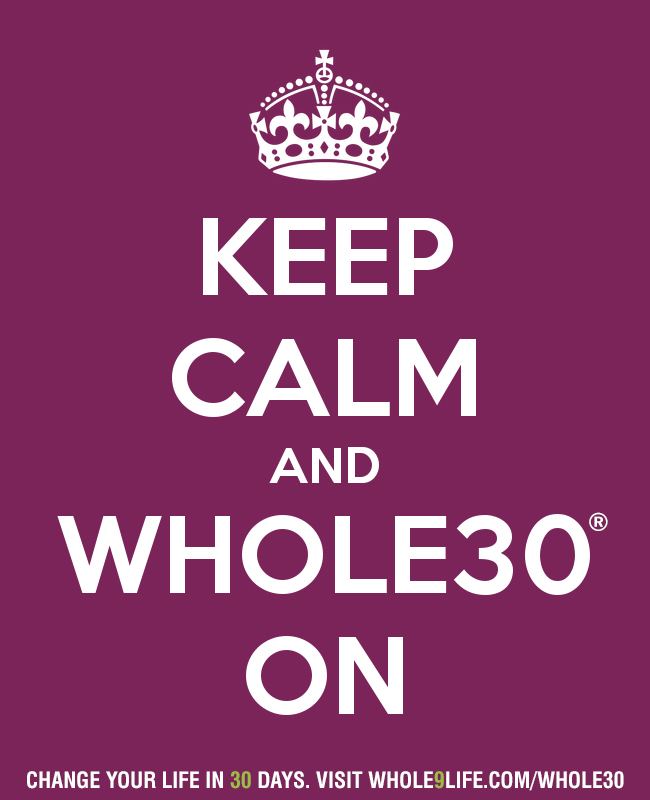 On the day I finished my Whole30, I posted in my Facebook Paleo groups about my experience and I'm excited to share it with you here:
Okay, my first Whole30 is officially over! Final results: I lost 6 pounds and I have no idea how many inches because I forgot to measure myself. But I will say that looking in the mirror, I thought I had lost more weight but I've heard you can lose more inches than weight at the beginning. I am VERY happy with the results so far. I decided that I am going to continue eating Paleo because I want to lose more weight. I am not going to eat strict Whole30 anymore but I'm going to try to stay as close to it as possible. I'm going to add a few small things back to my diet and eat them at a minimum (Paleo desserts like coconut ice cream and cookies, chocolate and possibly dairy) but overall, I'm just going to keep sticking with this.
Some things I learned from this Whole30:
1. I DO have self-control. In fact, I have a lot of self control!!! I think the worst thing I did on this Whole30 was use canned coconut milk, which has an additive in it. I never thought I could stop myself from eating the foods I crave but it was easier than I thought.
2. You CAN live without your favorite foods. And after living without them for 30 days, you might not even want them anymore. I thought I would be craving parmesan and my coffee creamer but I don't even think about them anymore!
3. You really need to read labels. This is a big one! Even some of my spices have brown sugar in them, which drives me crazy, but it's true. And I was drinking a certain herbal tea for the first few weeks then looked at the label and saw that it has soy lecithin in it. Even kosher balsamic vinegar has some additives, which is very annoying. So make sure to read labels very carefully.
4. I shouldn't eat peanut butter anymore. I know, this one sounds crazy! But let's start with the fact that your average peanut butter (Skippy, Jif) has so many insane ingredients that I can't even pronounce and while you think you are eating well because you are eating peanut butter, it turns out that not all peanut butters are created equally. Even Peanut Butter & Co., which is "all natural" still has some crap in it. Oh man, and then the craziest part is that I learned about this bacteria that grows on peanuts and even after grinding it, that bacteria is still there. Still reading up on it but for now, peanuts are out. What's in are almond butter and cashew butter, either made fresh at home or my local grocery store (Food Town) has a nut grinder.
5. Write down what you eat when you are on a strict diet. It will help you when you are trying to figure out what foods work for you and others you should stay away from. It even helped me as a diary so I could write how I was feeling each day, especially at the beginning when I felt like crap.
6. I can go to a movie and not eat popcorn  This is a simple one. I LOVE movie theater popcorn but I can survive without it.
7. If you are doing your Whole30 to lose weight, eating avocados all day is not a good idea. The concept behind this is that Paleo is really all about eating good fats and not counting calories but if you know you want to lose weight, you have to learn how to control your eating habit as well. So eat an avocado. Use lost of olive oil. But when you need a snack, grab veggies first and not a second avocado. I know some people disagree with that one but that's how I feel about my weight loss.
8. And the last thing I'll list (I can go on forever) is that fruit is fine but it isn't always your friend. You should be eating 2-3 fruits a day, at most! And for me, as a type 1 diabetic, staying away from fruits like mangos, pineapple and oranges is key because those fruits have so much sugar and make my sugar spike. They just aren't worth the amount of insulin I have to take. I will eat a few dates once in a while but I try to stick to 1 or 2 because they are literally natures candy.
Okay, that's it! I hope I've been able to help some of you on Whole30 with this list and I am always available to chat about my experience and to support you with yours! I definitely plan to do another Whole30 in a few months but I am definitely still in it right now. Just eating a Paleo cookie or some red velvet ice cream once in a while…