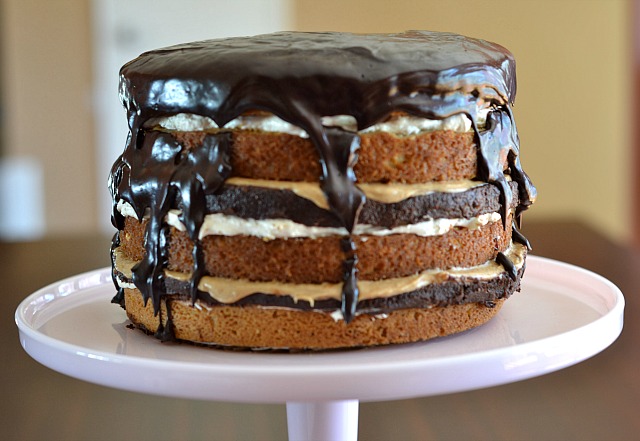 What better way to spend my 30th birthday (on May 3rd) than with the most perfect cake in the universe?!? Layer after layer of cake, frosting and ganache meld together into one super-large bite of s'mores awesomeness. Let's start from the beginning…I eat a s'more almost every day. Graham cracker, marshmallow fluff and chocolate, melted in the microwave for 15 seconds to delicious perfection. Don't believe me? Just try it for yourself! So when I started thinking about what kind of cake I wanted to make for my big birthday this year, I knew I had to do something huge. Two years ago I made the infamous Rainbow Layer Cake and last year, I made a boozy Pink Champagne Ombre Cake. So this year would have to be even bigger and maybe even taller. With a combination of my own recipes and some incredible recipes that I found online, I made this ultimate s'mores cake. I even made it non-dairy so I could eat it any time and after any meal (it's a kosher thing- can't eat dairy after a meat meal). Let's get started!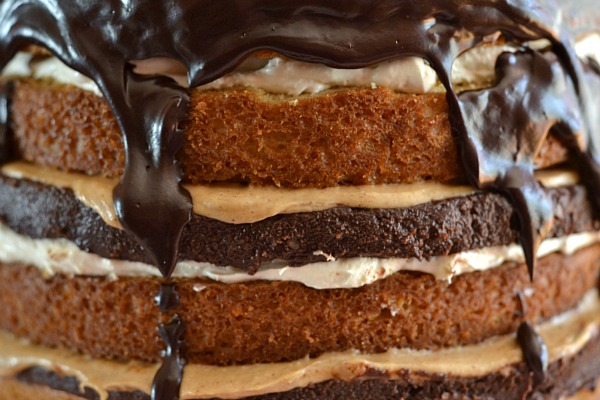 Please note that all recipes should be made at least a day before building the cake. This will give all of the ingredients a chance to set up in the fridge and will make stacking the layers easier. 
Graham Cracker Cookie Cake
recipe from Erica's Sweet Tooth 
1 cup unsalted margarine, room temperature
1 1/2 cups sugar
1/2 cup brown sugar
4 large eggs
2 tsp vanilla extract
3 cups all-purpose flour
2 cups graham cracker crumbs (from 9-10 crackers)
1 tsp salt
1/2 tsp baking soda
Click here for Graham Cracker Cookie directions. Use three 8-inch round pans. You will only need two for the cake so you can save the third cookie to snack on (or freeze for later).
Peanut Butter Cake 
1 1/4 Â cups all-purpose flour
1/2 tsp baking powder
1/2 tsp baking soda
1/4 tsp salt
5 Tbsp unsalted margarine, room temperature
1/4 cup chunky peanut butter
4 large eggs
1 tsp vanilla extract
1 cup soy milk
2 Tbsp lemon juice
1. Prepare two 8-inch round pans with cooking spray and and line with parchment paper.
2. Â Whisk together the flour, baking powder, baking soda and salt. Separately, mix together the soy milk and lemon juice and set aside (you are making homemade buttermilk)
3. In an electric mixer, beat the margarine and peanut butter on low until blended. Beat in sugar. Add the eggs, 1 at a time, then add the vanilla extract.
4. On low, alternately add the flour mixture and buttermilk mixture, starting and ending with the flour.
5. Divide the batter between the two pans and bake at 350 degrees F for 25-30 minutes.
6. Cool cakes on cooling racks.
Chocolate Ganache Cake
recipe adapted from 101cookbooks.com
16 oz chocolate, well chopped
16 oz whipping cream
4 teaspoons finely ground espresso
1/2 teaspoon salt
Click here for Chocolate Ganache Cake directions. Use two 8-inch round pans lined with parchment paper.
Marshmallow Fluff Frosting
1 cup margarine, room temperature
16 oz container Marshmallow Fluff
1 cup powdered sugar
1 tsp vanilla extract
1. Beat the margarine and powdered sugar until combined.
2. Mix in the fluff and vanilla extract and whip until light and fluffy.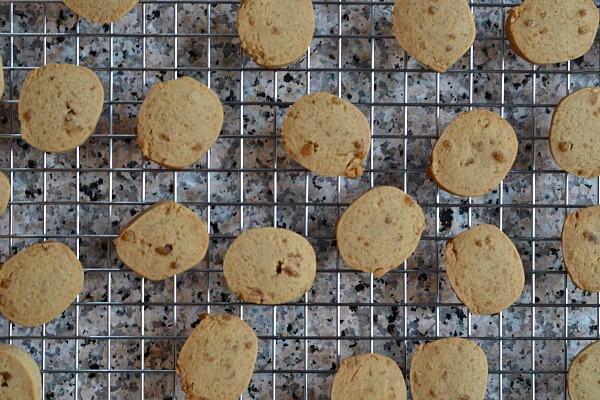 Speculoos Spread
makes 1 cup
2 dozen homemade Speculoos Buttons (you can also buy Lotus or Biscoff cookies)
1/2 cup coconut milk
1/4 cup brown sugar
2 Tbsp vegetable shortening, melted
2 tsp lemon juice
1/2 tsp cinnamon
1. Grind the cookies and brown sugar together in a food processor.
2. Add the coconut milk and blend.
3. Add the vegetable shortening and lemon juice and blend one more time. Refrigerate until ready to use.
Once all of the layers were ready, it was time to stack! Here's a great tip. Cut the cake board to the size of the cake (8 inches round) then spread a bit of the marshmallow frosting on the board. This will keep the cake steady as you stack the layers. Sliced the top off of one of the graham cracker cookie cakes and both peanut butter cakes to keep the s'mores cake level.
Now for the layers…graham cracker cookie cake on the bottom, then marshmallow frosting, chocolate ganache cake, speculoos spread, peanut butter cake, marshmallow frosting, chocolate ganache cake, speculoos spread, peanut butter cake, marshmallow frosting, and topped with graham cracker cookie cake.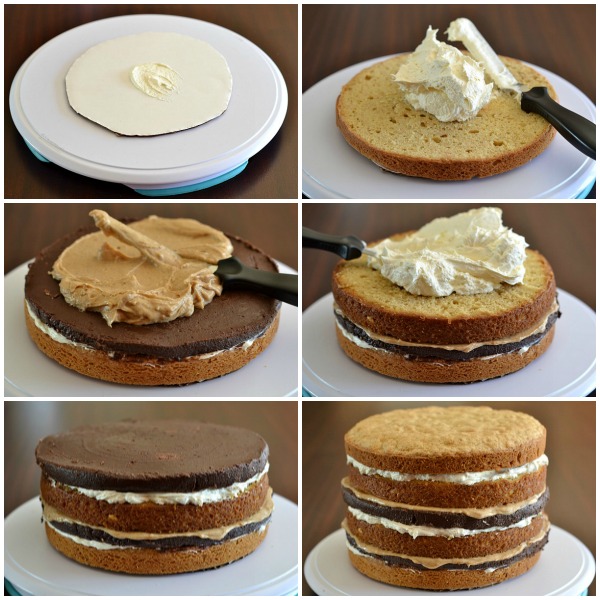 And last but certainly not least, I drizzled warm ganache right over the top.
Chocolate Ganache
6 oz. chocolate, chopped
1/2 cup whipping cream
1. Combine the chocolate and whipping cream and microwave for 1 minute. Stir and microwave for 30 seconds.
2. Stir until smooth and pour over cake.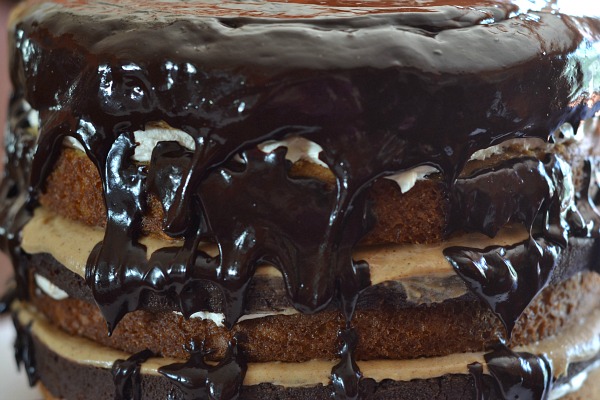 Okay, so can we talk about this cake now? Oh, we haven't been talking about it this whole time? I think I'm just delirious from all that sugar. Don't worry…I took lots of insulin for this one.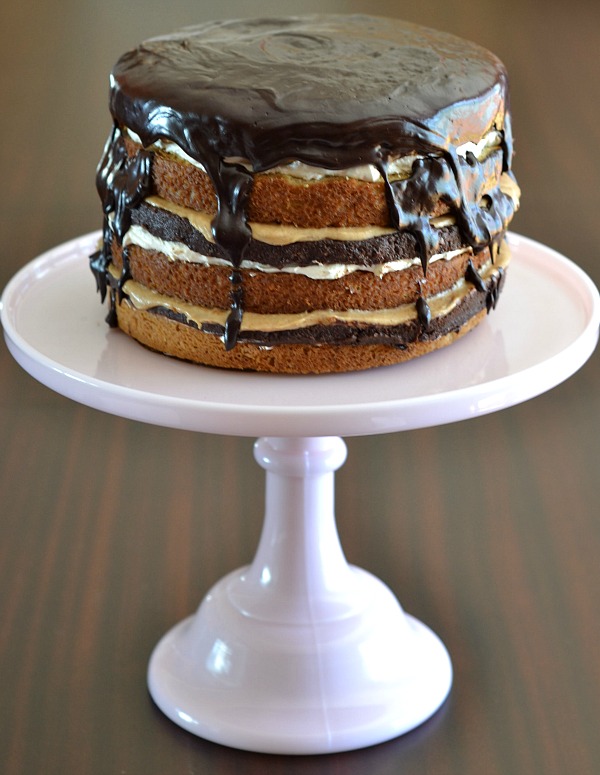 After drooling over the cake for a while (and refrigerating it for 30 minutes so it would be easier to cut), I finally dug in! One super long knife did the trick.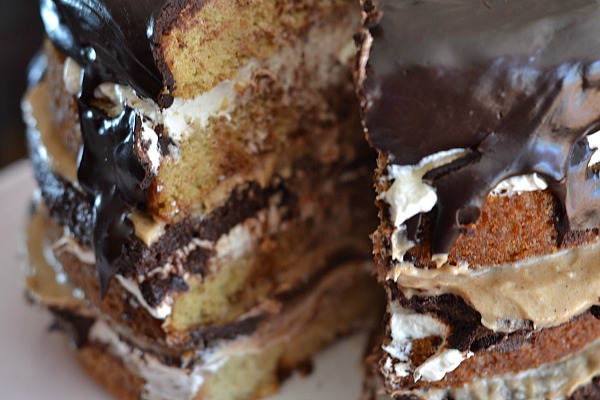 Yup, there it is! All those layers of rich cake, cookie, chocolate, speculoos and fluff. Oh yeah! Not much else I can really say about this. I think my sugar rush is crashing and it's time to take a nap.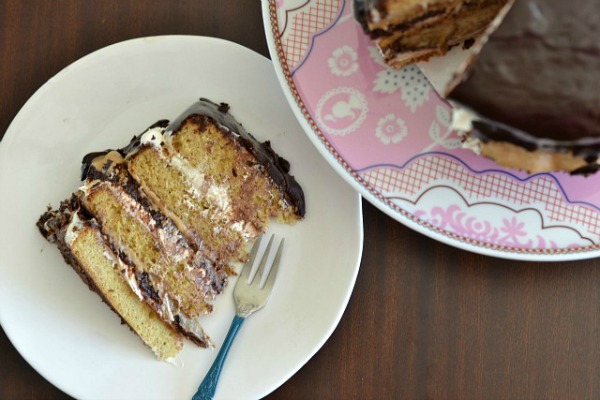 Happy 30th Birthday To Me!