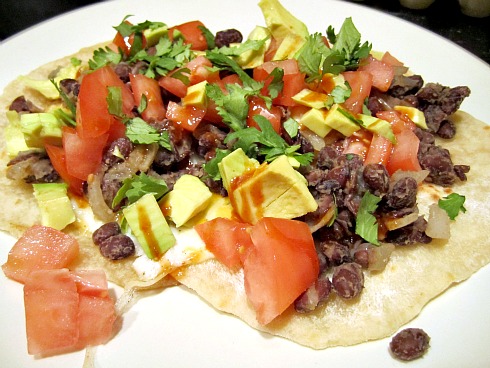 Happy Cinco de Mayo! I don't really celebrate this holiday, but why not use it as an excuse to cook something delicious?!? And I do love Mexican food. So I decided it was time to put together an American variation on huevos rancheros and enjoy this traditional Mexican breakfast dish for dinner with Justin. Instead of buying tortillas, I thought it would be more interesting to make my own and, boy, was it worth it! I don't think I can go back to store-bought flour tortillas (unless I am really lazy). They were just so simple to make and didn't take much time at all.
I'll begin with the homemade flour tortillas since these can be made in advance. I think I will double the recipe next time so I can use them all week.
Homemade Flour Tortilla Ingredients
makes 8 tortillas
each tortilla is 4 points on Weight Watchers
2 cups all-purpose flour
1/2 tsp salt
3/4 cup water
2 Tbsp olive oil
4 ingredients! That's it. Could it be any easier?!? I just mixed the flour and salt together then stirred in the water and oil. On a floured surface, I kneaded the dough 10-12 times, until smooth. If your dough is not as smooth as you want, you can add flour or water while kneading.
I divided the dough in to eight portions and, on a lightly floured surface, rolled each ball in to a 7-inch circle with a rolling-pin.
In a nonstick pan coated with cooking spray, I cooked each tortilla individually over medium heat for one minute on each side. The dough puffed up and browned lightly. I piled the tortillas on top of each other until they were all done, then covered the plate to keep them warm while I made the huevos rancheros.
Huevos Rancheros Ingredients
4 eggs (2 per person)
1 can black beans (drained and rinsed)
1 small onion, diced
2 tsp cumin
1 medium tomato, diced
shredded cheese (I used mozzarella and cheddar)
1 almost-ripe avocado, diced
fresh cilantro, chopped
lime juice
salt and pepper to taste
In a small saucepan, I heated up the black beans, onion, and cumin.
 I then fried up 2 eggs at a time, added freshly cracked sea salt and pepper, and added the shredded cheese at the end so it would melt and get yummy. I love when the cheese burns around the edges of the egg! Yum!
I placed the egg on top of two of the homemade warm flour tortillas (you can use one tortilla if you are trying to be healthy), then I topped that with the bean mixture. I proceeded to pile on the tomatoes, avocado, cilantro and lime juice. For a little extra touch, I added a chipotle hot sauce. Now THAT is dinner!